WWE Character Turns: Ryback's Heel Turn and Its Potential Success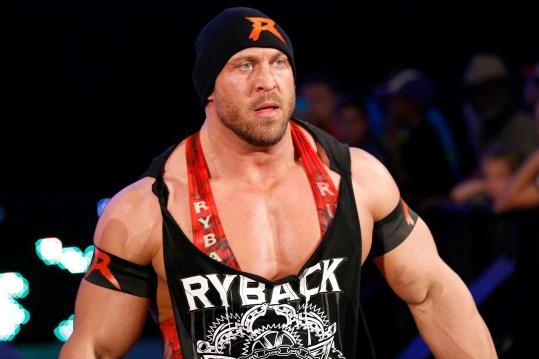 Photo courtesy of WWE.com
Since WrestleMania, there's been a noticeable amount of character turns in the WWE.
A number of the company's top stars have seen their gimmicks altered in some way or another, and in this series we have already discussed the turns of both CM Punk and Curtis Axel.
Today, we take a look at the man who began this trend in the first place; Ryback.
Since his re-debut last April, the man formerly known as Skip Sheffield has endured a rather tumultuous time in the WWE.
He has featured prominently in the WWE Championship picture over the last nine months and finished as the runner-up in the 2013 Royal Rumble; though rather contrastingly, he has now managed to appear at eight successive pay-per-views without recording a single victory.
The monster face push was soon allowed to fizzle out, prompting a heel turn roughly two and a half months ago on Raw—the success of which we will now assess.
Begin Slideshow

»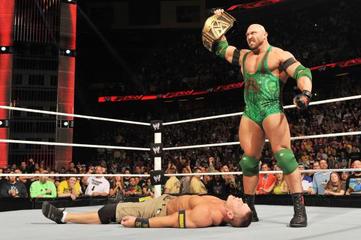 Photo courtesy of WWE.com
Ryback's turn was saved for one of the biggest occasions of the entire year; the night after WrestleMania.
Having surprisingly been defeated by Mark Henry the previous evening, Ryback headed to the ring on Raw with his sights set on his 'Mania opponent.
But after disposing of the World's Strongest Man he then turned on John Cena, flooring the WWE Champion to the delight of the New Jersey crowd.
It was certainly an emphatic turn, though initially there were many—myself included—who hoped that, rather than turning heel, Ryback was simply going to be something of a tweener.
Such wishful thinking was soon banished though, after Ryback revealed a darker, more selfish side to his character in the coming weeks, confirming that this was indeed a full-fledged heel turn.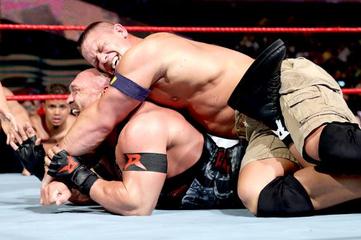 Photo courtesy of WWE.com
In terms of results, Ryback's heel turn has hardly been a success.
After battling Cena to a no contest at Extreme Rules, he again failed to win the Title when granted a rematch at the Payback PPV—essentially ending his feud with the Champ.
However, if we take a more subjective look at things, this heel turn has by no means been a total disaster.
Ryback has been given a great deal more time on the microphone in recent weeks, where he has slowly but surely started to improve and added an extra dimension to his game.
Such experience could well benefit the former Nexus member, making him a more flexible and complete performer.
Furthermore, his destruction of both the Extreme Rules stage and an Ambulance at Payback—not to mention the pinfall victory he secured over Cena in the first of their three-fall match—have partly preserved his image as the "human wrecking ball."
Sure, he may have lost on paper, but these subtle features have arguably helped mitigate the damage that successive failures have done to Ryback's reputation.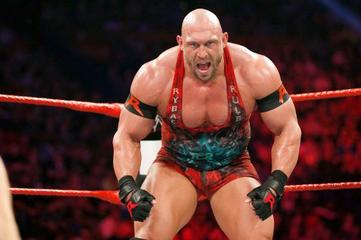 Photo courtesy of WWE.com
At one point, I might have felt that a heel turn for Ryback could have worked.
However, thrusting him into a program with Cena for the title was always going to be a risky move, and after unsuccessfully challenging the champ, Ryback has gone right back to square one.
His lack of victories is the real problem, turning him into something of a "nearly guy." Sure, he's intimidating, but his habit of coming up short in the end makes it difficult for many fans to take him seriously.
Nonetheless, as I mentioned earlier, he still has part of his reputation left intact.
All he really needs is a big win—and given that he will be facing Chris Jericho at Money in the Bank, that victory could be set to arrive sooner rather than later.
Once he gets back to winning ways, he could easily go on to assert himself as a force to be reckoned within the company.
However, such a return to the top of the card could still be a long way off due to the aforementioned defeats that he has suffered with alarming regularity.
In short, the immediate potential is rather limited. If we take a more long-term view of the situation though, there is certainly still a chance for Ryback to succeed.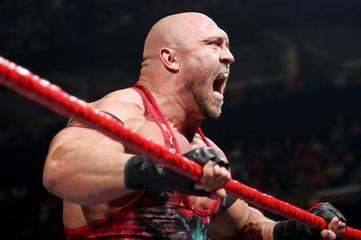 Photo courtesy of WWE.com
Though he may appear to be at rock bottom right now, things aren't necessarily as bad as they seem for Ryback.
All that eludes him is that all-important victory. Once he chalks up his first big win as a heel, the rebuilding process can really begin.
In the long-term, I expect the added exposure that Ryback has received as a heel—particularly the lengthy promos he has been allowed to produce—will be of benefit to the rookie, helping him develop into a better-rounded WWE Superstar.
Add this valuable experience to his domineering physique and Ryback has all the potential in the world to be a major player for years to come; just not necessarily right now.
The WWE have done things the hard way with Ryback, but all is not yet lost—there's still time for Ryback to make it as the company's top heel.
With just ten months left on Brock Lesnar's contract, and monster heels such as the Big Show nearing the end of their careers, Ryback's heel turn could well be more permanent than first expected.
But what do you guys think of all this?
Please feel free to comment below with your thoughts on the success of Ryback's heel turn, both past and potential, and don't hesitate to share any opinions you make have on the article itself.