The Biggest Reaches of the 2013 NBA Draft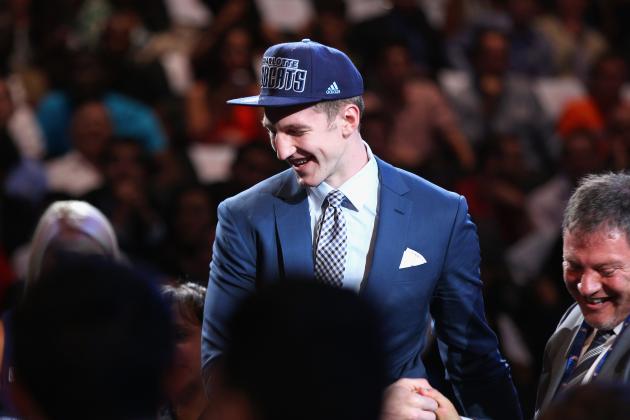 Mike Stobe/Getty Images

The 2013 NBA draft is officially in the books, and as one might expect, there was no shortage of shocking selections. From players coming off the board significantly earlier than we may have expected to stars going just outside of their projected range, we saw it all.
What were the biggest reaches of the 2013 NBA draft?
A case could be made for quite a few picks that won't fall on this list, as the player's draft stock simply didn't fit his draft location. With that being said, the following selections stood out above the rest, as the risk appears to outweigh the on-paper reward.
Who took the biggest gambles on draft day?
Note: A reach does not necessarily constitute a poor selection.
Begin Slideshow

»
Draft Position: No. 1
Projected Range: No. 3 to No. 7
Position: Forward
Age: 20
Height and Weight: 6'8", 240 pounds (7'1" wingspan)
2012-13 Season Averages
28.24 PER, 27.1 MPG, 16.1 PPG, 8.1 RPG, 1.0 APG, 1.2 BPG, 37.5% 3PT
Analysis
Let's be honest for a second—no one saw this one coming.
There might have been some hypothetical situations where this happened, but leading up to the 2013 NBA draft, every rumor and report coming out of every section of the basketball community had pegged Alex Len and Nerlens Noel in a two-man race for No. 1.
Most reports leaned toward Len, while some still believed Noel would go No. 1.
Then the Cleveland Cavaliers shocked the world and took Anthony Bennett.
When you hear the live broadcasters let out a "whoa," you know it's a reach. Again, that doesn't mean it's a bad thing.
It just wasn't what we expected—at all.
Bennett will have an interesting transition to the NBA, as Tristan Thompson is one of the fastest-rising stars at the power forward position. With this in mind, the Cavaliers either believe Bennett can play small forward or that Thompson can move to the 5.
One way or another, the Cavaliers shocked the world with this one.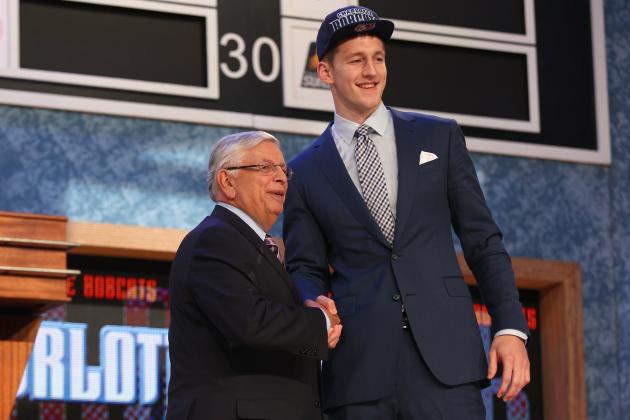 Mike Stobe/Getty Images

Draft Position: No. 4
Projected Range: No. 10 to No. 14
Position: Power Forward
Age: 20
Height and Weight: 7'0", 230 pounds (6'11" wingspan)
2012-13 Season Averages
30.93 PER, 16.5 PPG, 8.1 RPG, 1.3 APG, 1.3 BPG, 1.0 SPG
Analysis
Virtually no one expected Cody Zeller to actually be a top-five pick, despite the fact that he put forth a supremely efficient season and tested as the most explosive big man in the history of the NBA scouting combine, as far as standing vertical leap.
Here's the kicker—as much of a reach as some perceive it to be, it flat-out works.
Forget about what we think we know about Zeller and start to touch on the facts. The Charlotte Bobcats lack any form of interior offense and struggle to shoot jumpers, which suggests they were in the market for a low-post player who can face up.
With Anthony Bennett gone, there were only two players that fit that bill—Zeller and Alex Len.
Ben McLemore may have been a better fit, and even Nerlens Noel had upside in Charlotte, but Zeller makes the most sense. He's tested well as a power forward and appears to be a stretch 4, as he's expanded his range to beyond the three-point line.
In a draft with more questions than answers, taking one of the most certain things may not have been as bad as we thought it was, even though it was an outrageous reach.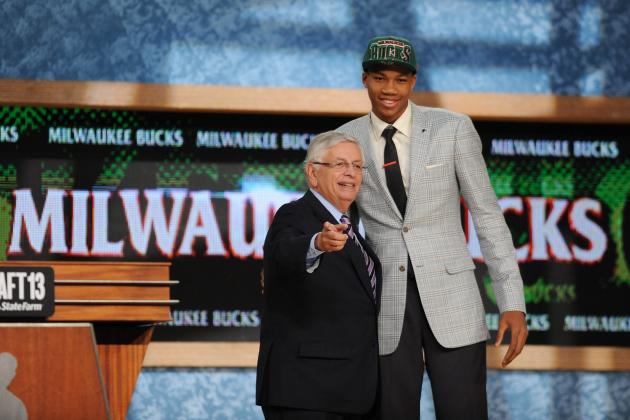 Jerry Lai-USA TODAY Sports

Draft Position: No. 15
Projected Range: No. 18 to No. 25
Position: Small Forward
Age: 18
Height and Weight: 6'9", 215 pounds
2012-13 Season Averages
N/A
Analysis
Here's a quick two-question survey.
How many of you have played Division II or Division III basketball? If you're raising your hand, which of you have faced a player who's bigger than everyone else and dominates the lesser talent?
If you have, you now know Giannis Antetokounmpo.
Antetokounmpo may turn out to be a strong NBA player and could even be the All-Star some project. With that being said, there is extreme risk here, as he's never played consistent basketball against a level of competition remotely close to the NBA.
In a deeper draft, it's unlikely that he'd go earlier than No. 25.
It will be interesting to see how Antetokounmpo pans out, however, as he was drafted by a team that could use his abilities well. The Bucks are a squad that needs playmakers and would thus be able to get the big man his touches.
The key here is that, even if his offense fails to flourish, Antetokounmpo does have intriguing defensive upside. That makes this pick less concerning, but it remains a tremendous risk.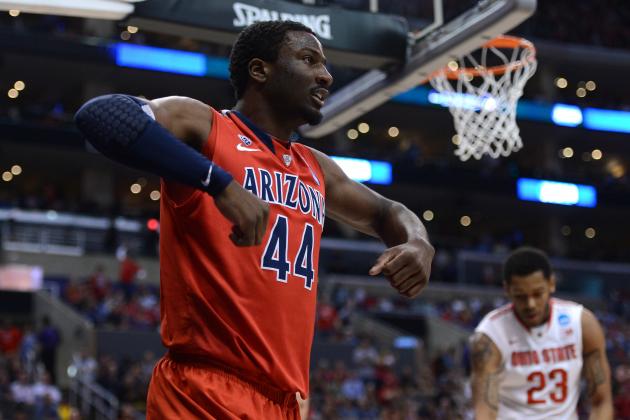 Harry How/Getty Images

Draft Position: No. 23
Projected Range: No. 45 to No. 60
Position: Small Forward
Age: 22
Height and Weight: 6'7", 226 pounds (6'9" wingspan)
2012-13 Season Averages
19.90 PER, 13.4 PPG, 5.3 RPG, 2.7 APG, 1.1 SPG, 39.0% 3PT
Analysis
Some diehard college basketball fans saw this pick and took their hat off to the Indiana Pacers for doing their homework. Others looked around and asked who it was that the Pacers just chose to select at No. 23.
One way or another, this ended up being the most surprising selection of the night—you know, if you can get by the pair of top-five draft picks that took the world by storm.
Solomon Hill is one of the most versatile players in this draft class, bearing many similarities to productive Golden State Warriors rookie Draymond Green. While he's not quite as powerful as Green, Hill knows how to use his body to get the job done.
Whether he's shooting the three-ball at 39 percent, boxing his man out down low for a rebound or facilitating the offense, Hill has his hand in everything.
For the Pacers, Hill is the type of player who can help turn around a bench that was 29th in scoring and defensive efficiency. Not only can he serve as a quality reserve behind Paul George, but he could become a sixth man.
Indiana wouldn't pick him at No. 23 if it didn't see something special, and if you've watched him play, you love the upside. It's just about 25 picks sooner than most expected him to come off the board.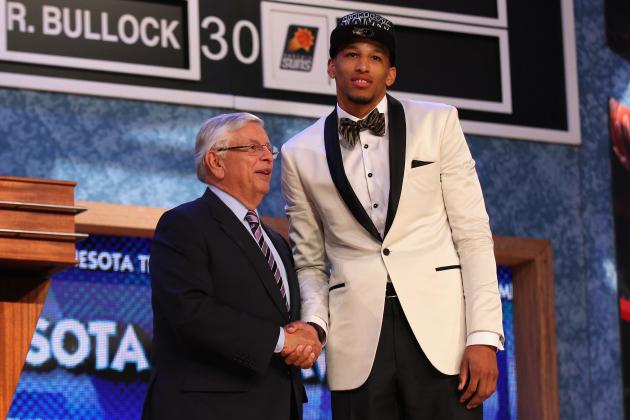 Mike Stobe/Getty Images

Draft Position: No. 26 (via Minnesota Timberwolves)
Projected Range: No. 35 to No. 50
Position: Small Forward
Age: 21
Height and Weight: 6'7", 206 pounds (6'11" wingspan)
2012-13 Season Averages
22.27 PER, 10.9 PPG, 11.2 RPG, 1.4 APG, 2.2 SPG, 1.3 BPG
Analysis
If not Solomon Hill, the most surprising first-round selection of the evening may have been Andre Roberson out of Colorado. This is not a slight of his talent, but instead an acknowledgement that Roberson's draft stock had not been perceived as that of a first-round selection.
Clearly, the Oklahoma City Thunder had something different in mind.
Roberson may be the best pound-for-pound player in the nation when it comes to crashing the boards. Despite standing at 6'7", Roberson skied for an average of 11.2 boards per game during the 2012-13 college basketball season.
Paired with his ability to defend the perimeter and block shots, Roberson worked his way to the 2013 Pac-12 Defensive Player of the Year award.
This is the type of presence OKC believes it's receiving, as Roberson's versatile defense and tenacious rebounding would offer an extraordinary boost. With the Thunder's bench growing weak, adding players of a defensive mindset is a pivotal step in the right direction.
Even so, given his draft stock, this pick is the definition of a reach.