Complete Timeline of the Rise and Fall of Aaron Hernandez
Use your ← → (arrow) keys to browse more stories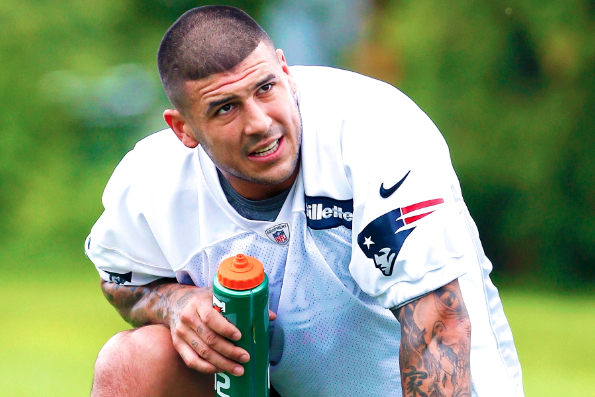 One of the sadder and more surreal sagas in the recent history of the NFL took yet another big turn on Wednesday. Tight end Aaron Hernandez, once thought to be one of the rising young stars in the league, was led from his home in handcuffs. A few hours later, he was arraigned and charged with murder.
The New England Patriots wasted no time in distancing themselves both from the player and the situation.
The New England #Patriots have released Aaron Hernandez.

— New England Patriots (@Patriots) June 26, 2013
Before we go any farther, it's absolutely essential that we remember the most important thing about this entire situation. A young man lost his life. Odin Lloyd was much more than just a 27-year-old semi-pro football player. He was somebody's brother, somebody's son, somebody's friend.
His murder (as all murders are) is as senseless as it is tragic.
Not only is Lloyd dead, but it now appears that authorities believe Hernandez was responsible for that heinous act. His NFL career is all but certainly over. He may well spend the rest of his life in prison.
As this mess has unfolded, many people have wondered aloud just what the hell happened. How did Aaron Hernandez go from NFL star to accused murderer?
Well, as most stories are, it's a pretty long one, and it dates all the way back to Hernandez's time in high school.
An Angry Young Man
The first dark clouds around Hernandez apparently began circling during his time in high school.
Hernandez was a star player at Bristol Central High School in Connecticut, but tragedy struck the family before his senior year. As the Detroit Free Press reported (via Lindsay Jones of USA Today), Dennis Hernandez, Aaron's father, died in January 2006 as the result of complications from hernia surgery.
Aaron was devastated by his father's death, and it caused a change in the young man:
Hernandez responded by lashing out at his family, smoking marijuana and spending his free time hanging around with a rough crowd of young men in Bristol.

"He would rebel. It was very, very hard, and he was very, very angry. He wasn't the same kid, the way he spoke to me. The shock of losing his dad, there was so much anger," Terri Hernandez told USA TODAY Sports in 2009.
However, that didn't stop Hernandez on the field. One year after setting a national high school record with nearly 181 receiving yards a game, Hernandez was once again a force during his senior season, flirting with 1,800 receiving yards and reeling in 17 touchdowns.
The death of his father did change Hernandez's plans for college, however. Hernandez originally intended to follow in his father's footsteps and attend the University of Connecticut, but after his father's death, Hernandez changed his mind, signing a letter of intent to play for head coach Urban Meyer at the University of Florida.
According to Jones, Hernandez told The Hartford Courant that he wanted to "get away."
A Tumultuous Time in Gainesville
Unfortunately for Hernandez, it wasn't long after he enrolled at Florida in January 2007 that trouble followed.
Hernandez played sparingly as a freshman, making nine catches for 151 yards and two touchdowns during the Gators' 9-4 2007 campaign.
He made plenty of noise off the field, however. As Doug Kyed of NESN reported, a 17-year-old Hernandez was arrested after an altercation outside a bar in Gainesville. Hernandez received deferred prosecution in the case.
Hernandez was also questioned in a much more serious matter. After the Gators lost to Auburn on Sept. 29, 2007, a shooting left two men wounded, one critically. According to Mike Bianchi of the Orlando Sentinel, Hernandez and three other Florida players were questioned in regard to the incident, although no charges were filed.
According to the Sentinel, friends of Hernandez from Bristol were in town for the game.
The 2008 season didn't start any better. Hernandez was suspended for the season opener, a suspension that he later admitted was for testing positive for marijuana, according to Jones.
After that, the off-field issues seemed to quiet down. Hernandez's role in the Florida offense grew as the season wore on, and he led all Florida players with 57 receiving yards in the Gators' victory over Oklahoma in the 2009 BCS National Championship Game.
In 2009, it all seemed to fall into place for Hernandez. After reeling in 68 passes for 850 yards and five touchdowns, Hernandez won the John Mackey Award as college football's top tight end.
According to Jones, Meyer believed that Hernandez had turned a corner in his life: "When your guy, your idol, your soul is taken from you, how do you deal with that? I just think there's a part of his life that was not there. He needed discipline; he needed someone to talk to."
Hernandez's mother shared in that belief: "He's my Aaron again. Just now everything's getting better, and it took him three years. I thought I lost him for good. He wasn't the same kid. Now he's back, the same fun-loving Aaron."
Sadly, in hindsight, that now appears to have been wishful thinking.
A Draft-Day Slide
Hernandez chose to forgo his senior season at Florida and entered the 2010 NFL draft.
Despite his talent and success in college, many NFL teams were wary of Hernandez's checkered past. As Greg Bedard and Pete Thamel of Sports Illustrated recently reported, a number of NFL teams wanted no part of Hernandez:
Personnel sources from multiple NFL teams tell SI that they had off-field concerns about Hernandez. In particular, the questions pertained to alleged gang activity of some of Hernandez's associates in his native Bristol, Conn. A law enforcement official familiar with Hernandez reiterated concerns about his circle of influence. Combined, the marijuana use and gang concerns worried some NFL teams immensely.
"There were a lot of teams that had him off the board," said an NFL personnel executive.
Hernandez dropped all the way to the fourth round before the Patriots selected the 20-year-old with the 113th overall pick.
"The Patriot Way"
Hernandez wasted no time in making an impact with his new team. In only his second NFL game, he caught six passes for 101 yards against the New York Jets, making him the youngest player since 1960 to top 100 receiving yards in a game.
Hernandez finished his rookie year with 45 catches for 563 yards and six touchdowns. The 2011 campaign went even better, with Hernandez hauling in 79 catches for 910 yards and seven touchdowns. The Patriots advanced to Super Bowl XLVI, and Hernandez was named to the Pro Bowl.
Perhaps just as importantly, there was no inkling of trouble off the field. The Patriots appeared to have hit the jackpot with another supposedly troubled player who bought into "The Patriot Way." The team certainly thought so, inking Hernandez to a five-year, $40 million contract extension in August 2012.
At the time, Hernandez told Mike Petraglia of WEEI that he was "humbled."
"This is probably one of the best days of my life. I'll remember this day forever. He [Patriots owner Robert Kraft] changed my life. [The contract shows] he trusts me to make me the right decision [and it] means a lot. You get changed by the Bill Belichick way, you get changed by the Patriot Way."
Hernandez's numbers were down in an injury-plagued 2012 season, but the future appeared very bright for Aaron Hernandez.
A Surreal Summer
On June 13, 2013, a lawsuit was filed in U.S. District Court by Alexander Bradley, an acquaintance of Hernandez. According to Bedard and Thamel, Bradley alleged in the civil complaint that after an argument between the two at a strip club in Florida in February 2013, a gun in Hernandez's possession discharged, striking Bradley in the face and causing the loss of his right eye.
Four days later, on June 17, the complaint was withdrawn, only to be re-filed later.
The body of Odin Lloyd was found that same day.
The Murder of Odin Lloyd
On June 17, 2013, the body of 27-year-old Odin Lloyd was found in an industrial park about a mile from Hernandez's home in North Attleboro, Mass. Lloyd's girlfriend and Hernandez's girlfriend are sisters, and the two men are acquaintances. Police questioned Hernandez about Lloyd that day, as the two men reportedly saw one another the night before.
The next day, police searched Hernandez's home for over two hours.
MT @GregABedard Looks like police are leaving Aaron Hernandez house. Search lasted over 2.5 hrs. One detective leaving w a cardboard box

— Bruce Feldman (@BFeldmanCBS) June 19, 2013
On June 20, police again returned to the Hernandez home, and disturbing details began to emerge regarding Hernandez's knowledge of or participation in a criminal act.
more Hernandez: "forensic evidence places a vehicle driven by Hernandez at one of the crime scenes in this case" http://t.co/QxSSMAygoC

— Jason McIntyre (@TheBigLead) June 20, 2013
Reported details - Aaron Hernandez drove car, only 3/4 returned from bar - are quite ominous: http://t.co/K7gV8t79TG

— Will Brinson (@WillBrinson) June 20, 2013
RT @GregABedard ABC News reporting Hernandez destroyed home security system, cell phone handed over "in pieces." http://t.co/GMOhSMparD

— Ian Rapoport (@RapSheet) June 20, 2013
On June 21, a warrant was reportedly issued for Hernandez's arrest for obstruction of justice.
Report: Aaron Hernandez to be charged with obstruction of justice http://t.co/h68BaDMBnV

— ProFootballTalk (@ProFootballTalk) June 21, 2013
However, the warrant was not filed, leading to speculation that the warrant was being used as "leverage" to force Hernandez to cooperate with police.
As WJLA TV reports, on June 22, the police executed yet another search warrant, and on June 24, it wasn't just the home that was searched.
Aaron Hernandez case further intensifies. Cops now scouring body of water near his house: http://t.co/5i6vPsxUQ2

— Bonnie Bernstein (@BonnieBernstein) June 24, 2013
Also on June 24, Hernandez's attorney, Michael Kay, denied that any arrest warrant had been issued for his client.
#Hernandez's attorney Michael Kay says his client "the subject of a relentless flood of rumors, misinformation & false reports in the media"

— Wesley Lowery (@WesleyLowery) June 25, 2013
If Kay was right, it wasn't for very long.
The Arrest and Charges
On the morning of June 26, 2013, police arrived at Hernandez's home yet again. This time, they left with Hernandez in handcuffs.
Aaron Hernandez led from his home in handcuffs - pic.twitter.com/UhBKaIgCk6 (photo via @MichaelDavSmith) / http://t.co/iZHGcYeBWC

— Sporting News (@sportingnews) June 26, 2013
The Patriots wasted no time in severing ties with Hernandez. According to Marc Sessler of NFL.com, the team made the decision the week before that if Hernandez was arrested, he would be released.
The team released a statement:
A young man was murdered last week and we extend our sympathies to the family and friends who mourn his loss. Words cannot express the disappointment we feel knowing that one of our players was arrested as a result of this investigation. We realize that law enforcement investigations into this matter are ongoing. We support their efforts and respect the process. At this time, we believe this transaction is simply the right thing to do.
At that point, with fans and media reeling, it was just a matter of waiting to hear the charges read aloud at Hernandez's 2 p.m. ET arraignment.
Even with everything that has happened over the past couple of weeks, the news was still shocking.
Hernandez was charged with first-degree murder and five gun charges, including possession of a high-capacity firearm. According to Kevin Manahan and Chris Strauss of USA Today, the criminal complaint alleges that "On 6/17/13, [Hernandez] did assault and beat Odin Lloyd with intent to murder such person, and by such assault and beating, did kill and murder such person."
ESPN relays the alleged details of what prosecutors labeled an "execution."
In court, prosecutors described a killing borne out of a trip to a Boston nightclub on the night of June 14.

Hernandez and two friends picked up Lloyd at home at 2:30 a.m. on June 17, prosecutors said. Surveillance footage from Hernandez's home shows him leaving earlier with a gun. He also told someone in the house that he was upset and couldn't trust anyone anymore, prosecutors said.

After picking up Lloyd, Hernandez said he was upset with Lloyd because Lloyd had spoken with people Hernandez had trouble with during their outing to the nightclub, prosecutors said.

After that conversation, Lloyd texted his sister, "Did you see who I am with," prosecutors said. When his sister asked who, he answered at 3:22 a.m., "NFL," then, a minute later, "Just so you know," prosecutors said.

Between 3:23 a.m. and 3:27 a.m., people working the overnight shift at the industrial park reported hearing gunshots, authorities said.
Hernandez's attorney asked for bail, labeling the case "circumstantial." That bail was denied, Hernandez was led away and the judge issued a gag order for both sides.
The Future
Hernandez will now remain in jail awaiting indictment and a probable trial, one that could determine the rest of his life.
As to how that will all play out, only time will tell.
What we do know is this: A young man is dead. As ESPN reports, his family wants to be sure that isn't drowned out by the cacophony surrounding Hernandez's arrest. They want justice.
Ursula Ward, Lloyd's mother said: "I want the person that killed my son to be brought to justice. That's my first-born child, my only boy child, and they took him away from me. ... I wouldn't trade him for all the money in the world. And if money could bring him back I would give this house up to bring my son back. Nothing can bring my son back."
We also know that the troubled life of Aaron Hernandez has taken its darkest turn yet, and a young man that fans looked forward to watching on the gridiron this fall may never be a free man again.