WWE Superstars and Their Video Game Counterparts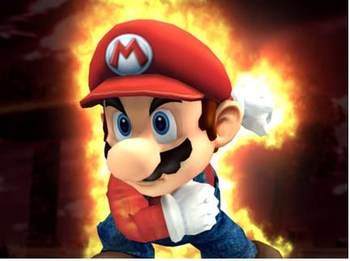 Over the years, I have owned many game consoles. From Nintendo's 64 and now the Wii to Sony's PS & PS2; I even had a Sega Genesis.
When playing these games I see the characters and, naturally, I draw comparisons to wrestling. Most of these comparisons are Nintendo characters.
Whether they be the video game characters physical characteristics, or their personality. So I have comprised a slide show of WWE Superstars and their video game counterparts.
**P.S. I've never had an X-Box (360) or a PS3. So don't expect to see anyone from those consoles on here (sorry).
Evan Bourne - Sonic the HedgeHog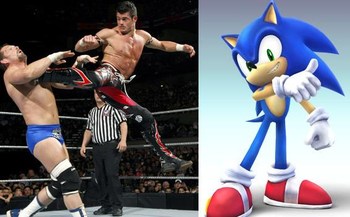 Everyone's favorite Hedgehog and everyone's favorite daredevil Evan Bourne have one thing in common. Speed!
Just like the old Sonic games, Bourne is all about fast-paced action. When he enters the ring, there is rarely a time when you won't see Bourne running around the ring.
A thrill ride from beginning to end, Sonic's gameplay is very addictive, much like watching Evan Bourne's in-ring action.
Umaga - Bowser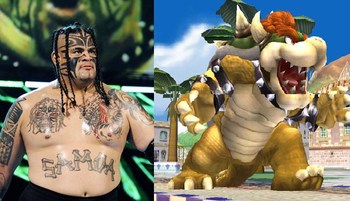 Come on now. Look at those two. They look like they were separated at birth. Two big, angry monsters who are seemingly uncontrollable.
While they may be powerful and strong, Umaga and Bowser rarely get what they want. Umaga never gets a victory (unless you're a jobber) and Bowser never gets Princess Peach.
How sad.
Rey Mysterio - Kirby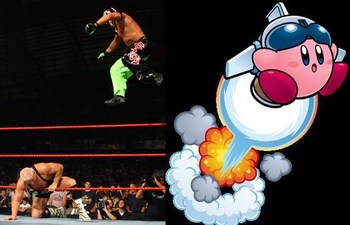 This is one of the first comparisons I made.
Both Kirby and Rey Mysterio are small in size. Both can "fly." Most importantly, both can entertain their respective audiences very well.
Another similarity is that both character's career were better off in the beginning. Kirby games were full of high flying action and adventure; very popular when the first came out.
Mysterio was a talented high flyer early on in his career, but injuries have made him a so called "has-been" in the eyes of some.
Batista - Donkey Kong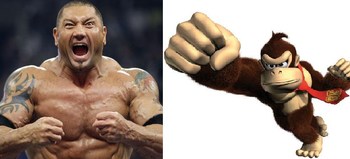 I'm probably going to get some heat for this one, but I just could not resist. The Animal and DK are both much stronger than they are smart.
I mean DK is pretty useless unless he's smashing something and Big Dave is no Einstein.
Both are immensely strong and very popular with both wrestling and video games today, but often play "second banana" to bigger names in their respective industries.
Sorry if any fans of "The Animal" are offended.
Triple H - Fox McCloud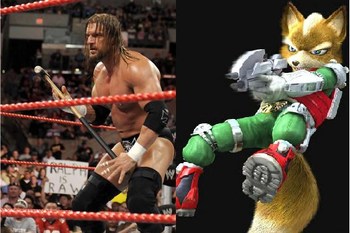 Triple H and Fox are born leaders destined to succeed.
Fox McCloud is the son of a pilot, and Fox himself becomes the leader of his father's squad. He is a very determined individual.
Triple H took over the reins of DX after his leader Shawn Michaels. Determined to become champion Triple H has become leader of several successful factions in wrestling. Determination to successes is a trait both of these individuals share.
Edge - Wario
What can be said on these two? For starters they are both annoying as could possibly be.
Edge never shuts up and Wario is a straight up douche bag.
However, both men are very opportunistic. They take advantage of any weakness and will use any leverage to sway things in their advantage.
Shawn Michaels - Link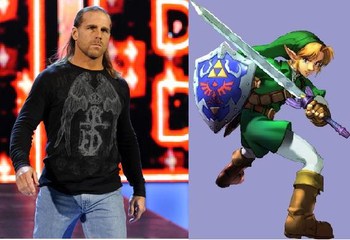 Shawn Michaels is one of the beloved pro wrestlers of this generation. Much like Link and the Zelda games are one of the most beloved franchises in video game history.
Michaels has appeared in more amazing matches than you can count. He has had amazing bouts with Bret Hart, Triple H, Chris Benoit, Chris Jericho, The Undertaker, and Razor Ramon.
Very similar to the way that almost every game that Link appears in is great. Fantastic game like The Legend of Zelda: Ocarina of Time, Majora's Mask, Twilight Princess, and countless others.
HBK and Link's name are synonymous with greatness.
The Undertaker - Kratos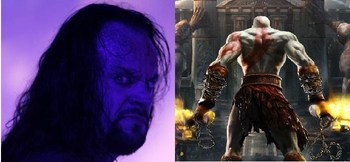 The Undertaker is one of the most dominant forces in the history of professional wrestling. 'Taker takes down every opponent that stands in his way.
Kratos (From the God of War series) is a true anti-hero and kills just about anything that stands in his way to reach his ultimate goal.
Taker and Kratos are dominant warriors and destroy any opposition and they make it look awesome at the same time.
John Cena - Mario
You might have seen this one coming, but that is okay.
Mario is the king of the video game world. Even people who have never picked up a game controller before know who Mario is just like people who have never watched pro wrestling know who John Cena is.
Both make more money than any other name in their respective industries and continue to entertain millions.
Mario and Cena are born "do-gooders". Mario always ready to save the Princess and Cena always prepared to set a good example for kids watching around the world.
Hope you enjoyed the article.
Keep Reading