The Atlanta Hawks control their own destiny this summer.
Possessing two first-round picks in the 2013 NBA Draft and a boatload of money to spend in free-agency, the Hawks have the resources to make moves.
After years of successive early-round defeats in the playoffs, the Hawks owe it to the fans to take full advantage of the assets they possess.
Nonetheless, the 2013 NBA Draft is the beginning of what can be a very promising future for the Hawks.
Fans are pressing for the team to make smarter moves than years past.
The Atlanta Hawks have two first round picks in this years draft!! They have 17th & 18th pick. We gotta be wiser this time

— James Freeman (@freejr94) June 25, 2013
its cool i have faith in Danny Ferry and the #Hawks....a lot to work with this offseason

— DJ Abe Hyde (@abehyde) June 25, 2013
Staying put at picks 17 and 18 in the draft may be the wise route to travel.
If so, selecting Mason Plumlee and Greek forward Giannis Adetokunbo would be the way to go.
At 7'1" and 238-pounds, Plumlee would be a great addition to a Hawks squad that has severely lacked size in years past. Recognizing the need for athleticism and size, Hawks fans took to twitter recently to campaign in favor of the Duke graduate:
@ATLHawks #DraftPlumlee!!!!!!!!!!!!! Well I'm a biased #Duke fan lol! Draft whoever makes us a contender in the East.

— KING. (@jherymi) June 21, 2013
@ATLHawks #DraftPlumlee...and I don't like Duke, but we need size and tenacity...and he has that.

— John Artis Jr. (@RtisticII) June 21, 2013
@ATLHawks we need a deeper front court, and Plumlee is gifted. #draftplumlee

— Darrius Dinamite (@Dinamite101) June 21, 2013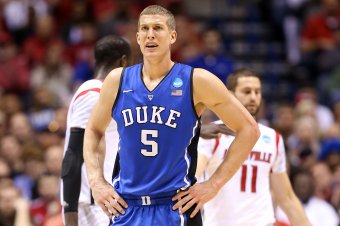 Andy Lyons/Getty Images
Possessing a high basketball I.Q. and superb hands around the rim, Plumlee would be a step in the right direction for a Hawks team that ranked 23rd in rebounding last season.
As for Adetokunbo, many fans are waiting in anticipation to hear his name called.
@DraftExpress Just looking at tape on Giannis Antetokounmpo. Oh.my.lord.

— Mike Gillmeister (@mgillmeiTSHQ) June 22, 2013
Giannis Antetokounmpo is the one person I'm looking forward to see where he's drafted

— Eugene Jones (@Hugo_Jones1) June 25, 2013
Such excitement is warranted.
The 6'9" point-forward possesses an immense skill set that allows him to play literally four different positions if need be. If you don't believe the hype, check out his highlight tape.
Without question, if the Hawks wish to hit big this offseason, selecting Plumlee and Adetokunbo would be a great start.
Over the years, we have all come to an understanding that Hawks general manager Danny Ferry isn't afraid to pull the trigger in an instant. Likewise, leading up to the draft, we might just see that happen.
According to Marc Spears of Yahoo! Sports, the Hawks are pondering the idea of trading up in the draft to acquire UCLA's Shabazz Muhammad.
With the Hawks in need of a point guard, could Trey Burke also be on Ferry's radar?
Possibly.
In a recent interview on CBS Atlanta's Mac & Jason At Night, college basketball analyst and longtime friend of Ferry, Chris Spatola, provided entry into the mysterious mind of Ferry:
. @Chris_Spatola on the Hawks draft: "Knowing Danny the way I do, he was talking guard a lot." http://t.co/FlZI0XlFAG @929TheGame @ATLHawks

— Mac and Jason (@MacAndJason) June 26, 2013
Looking at Trey Burke and Shabazz Muhammad makes a great deal of sense.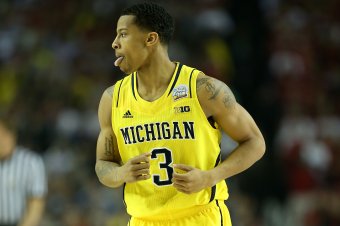 Andy Lyons/Getty Images
Selecting Burke would give the Hawks a point guard they can build around. During his sophomore season at Michigan, Burke averaged 18.6 points a game on an efficient 46.3 percent shooting from the field.
Likewise, that kind of production has many hoping for Burke to head down to the ATL.
If the Hawks get trey Burke, we might actually have a shot at something in a few years. We would have a young, talented team

— Everything Braves (@Just_braves) June 25, 2013
The hawks Tryna get Trey Burke... Great move

— T.Austin (@Trae_Austin) June 26, 2013
Only thing I want the Hawks to do is trade up and draft Trey Burke. Then draft Hardaway Jr in the second round

— Lo (@JustMe_Lo) June 26, 2013
Without a doubt, Burke's playmaking skills and ability to control the tempo of games would be huge for the Hawks, especially if Jeff Teague decides to sign elsewhere.
Selecting Muhammad would give the Hawks production from the wing that they have been in desperate need of since trading Joe Johnson to Brooklyn, and many fans concur that such a move is needed.
Hope the Hawks draft Shabazz Muhammad this Thursday #NBADraft

— Yuriy (@ATLBOI404) June 25, 2013
Hawks trying to trade for top 5 pick! Their aim is Shabazz

— HGH Steroids (@_FistOfFury) June 25, 2013
However, not all are convinced that Muhammad is a top-tier talent worth trading up to get.
Hawks are "intrigued" by shabazz. They need to get "unintrigued" real quick. Guy is a bust. Please don't do it. I'm begging.

— Blake (@Bmitchell3311) June 25, 2013
The Atlanta Hawks trading up to draft Shabazz Muhammad would be the epitome of an Atlanta Hawks move. You want a 6-foot-4 SF? Have at it.

— Nick Birdsong (@birds_word) June 25, 2013
The fact of matter is simply that both guys can flat-out ball, and if the Hawks trade up to take either player, they will be receiving a guy with tremendous work ethic that will only get better as time goes on.
The Atlanta Hawks have a bevy of options at their disposal this offseason. Making moves in the NBA draft is where it all starts.
One bad decision can ultimately impede a franchise for years to come. Fortunately for the Hawks, they have a number of opportunities to make things right.