UFC 163: Jose Aldo vs. Chan Sung-Jung Head-to-Toe Breakdown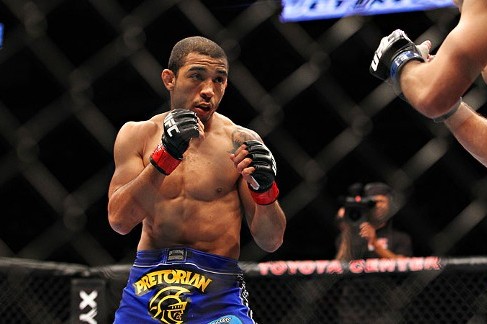 Chan Sung-Jung enters his UFC 163 title bout with Jose Aldo as a four-to-one underdog, but the Korean has plenty of reasons to believe he can pull off an upset against the mini-powerhouse in Brazil (Bloody Elbow).
Aldo holds the advantage in the standing exchanges as well as a champion's advantage on the scorecards, but when it comes to all other aspects, Jung can rival the champion.
There is almost no area where either fighter is truly weak. Instead an analysis only points to who is slightly stronger than the other.
Begin Slideshow

»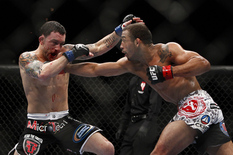 Aldo
Aldo is a ferocious striker with thunderous punches, kicks and knees. His power and speed is underscored by his impeccable precision, all of which adds up to him being one of the most dangerous strikers in all of MMA. He will almost certainly enjoy a striking advantage in the UFC 163 bout.
Aldo's strongest asset in the stand-up portion is how many combinations he can use. They range from the most basic double-jab to complex strings of strikes that include knees, elbows, overhands and spinning kicks that punish low, mid and high target points of an opponent.
Jung
The "Korean Zombie" has shown his own ability to put opponents away with strikes throughout his career. His awkward angles, long reach and creative timing make him a threat to any opponent.
For any fighter facing Jung, sitting outside of the pocket means getting picked apart or pressured to make mistakes. Blitzing Jung often does little good either, as when he is pressed he uses masterfully timed retreating strikes, locks up his opponent in the clinch or sets his feet and returns fire. His ability to choose the right option in pressure situations is an asset in his vying for the title.
The Edge
On paper, Aldo has the blueprint for more effective striking. He has more precise strikes that will reach his target sooner, and he can finish a fight at any time. A career's worth of examples back his advantage including his eight-second double-flying-knee KO of Cub Swanson at WEC 41 (SB Nation)
While KZ does possess routes to control the match on the feet, it is more likely Aldo will dictate the pace. The champ can set the tempo from the opening bell and keep the momentum rolling in his direction for the entirety of the fight.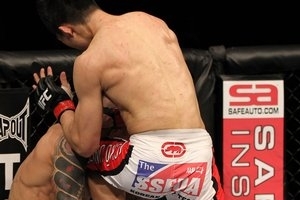 Jung
Many will argue the clinch is simply a part of the stand-up game, but there are particular reasons the clinch must be treated separately in this fight. It is easily Jung's strongest avenue in controlling the match.
The contender is not known for a wrestling shot, and so he must rely on close-quarter takedowns after closing distance with strikes. Jung showed his dynamic clinch game in the Dustin Poirier fight at UFC on Fuel TV 3 (Fight Metric). He utilized strong knees and elbows while setting up outside and inside-trips, as well as a caught-kick takedown and a single-leg shot from the clinch.
It will not be easy to gain the position, but if he finds his way through Aldo's distance strikes and nabs the clinch, Jung will find success in the match.
Aldo
It shouldn't be a surprise that Aldo would rather stand at striking distance with Jung. It also should be remembered that Aldo is a muay thai fighter by trade. The position is not foreign to him.
The Brazilian is not going to look lost if he is pulled into the clinch. He possesses strong punches and knees that can punish his opponent. Aldo also knows how to avoid trouble in the clinch and can likely separate back to where he wants the fight.
Edge
If Aldo cannot escape the position or assert himself quickly, Jung will take control. He will do so behind his reach and general strength to press the champion against the cage or take him to the canvas. Either option will score him plenty of points with the judges and help his case if a decision comes.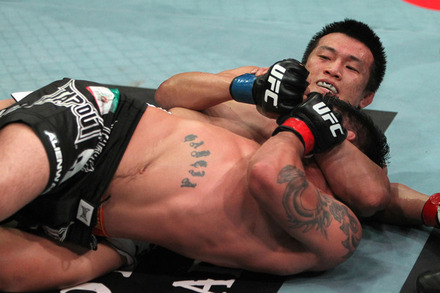 Aldo
At this point in his career Aldo is not likely to transform into a submission specialist. He has but two submission victories out of 22 career wins, while his only loss came by way of the tap. That hardly tells the story of his possessed skill, however.
When he is on the ground he simply negates any advances by an opponent. He continually looks to return to his feet or reverse to top position. Aldo is capable of controlling the pace, even when on the bottom. He uses continual shifting of his hips and works attempts to shuck or turn the supposed aggressor.
Jung
The "Korean Zombie" is as dynamic on the ground as he is standing. He has sunk rear-naked chokes, armbars, a triangle choke, a Brabo choke and the ultra-rare Twister submission in his career.
The diversity in his attacks is precisely what makes Jung's ground game so dangerous. An opponent cannot sit on a one-dimensional escape or reversal route. For Jung, it seems no submission is impossible as he can sink a finish from any positions.
Edge
Thanks to his being the champion and ability to avoid trouble if taken down, Aldo has the overall advantage. Jung is the stronger aggressor on paper, and him nabbing a submission should not be a surprise if he can impose a proper gameplan. But, more than likely, Jung needs to look to control top position or utilize submission attempts as reversals if he finds himself on the bottom. Scoring points is the smarter strategy for Jung on the ground.
All Aldo has to do is minimize damage and stand up as soon as possible to negate any progress made by a takedown. If he succeeds early it will lend to a clear advantage for the champion. One mistake, however, can mean a spectacular upset for Jung.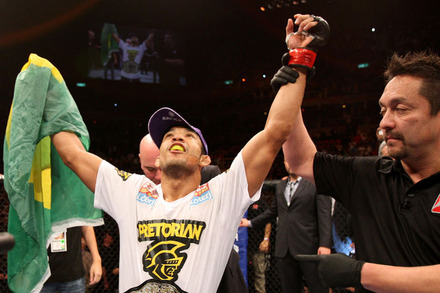 Aldo
The champ wants to do one thing: Move in and out of the pocket with seamless strikes. He has to know his style and precision are more effective, especially in the early rounds.
Only if he is frustrated in the stand-up early will he look for a takedown. Aldo will go two rounds before he concerns himself with such a possibility.
Jung
The "Korean Zombie" needs to frustrate Aldo in the stand up early. Aldo will be faster and more brutal with strikes out of the gate. Jung has to play an intelligent game that utilizes his reach and odd angles to set up closing distance for the clinch. The tide of the fight will surely turn in his favor If he can maneuver back and forth without too much damage absorbed early.
It should be remembered that Jung does possess KO power in his standard strikes. Regardless, the strategy of swinging for the fences will favor Aldo. Jung will do well to avoid a Garcia vs. Jung I battle (MixedMartialArts.com).
Edge
Aldo's strategy is simpler to implement and easier to follow: Strike well, stay out of the clinch, and stand up if taken down. Only Aldo allowing himself to be bullied to his back or against the cage ensures he loses the belt.
Jung is going to be his second worst enemy. He is not immune to being baited into slugfests, and will almost certainly lose if he forgets to stay calm and intelligent with his standing strikes. Jung also can be too keen on attempting to sink submissions. Such aggression could end up with him on the bottom when Aldo escapes, losing the contender precious rounds.
While there should be no surprise if one man finishes the other, analysis leans toward a close decision for Aldo as the two look more to negate each other's strengths rather than aggressively impose their own.