After two sets of audible intensity, it was Michelle Larcher de Brito who stunned the world and walked away victorious against heavily favored No. 3 seed Maria Sharapova at the 2013 Wimbledon tournament to advance to the third round by a score of 6-3, 6-4.
Maria Sharapova crashed out of #Wimbledon on Wednesday in the biggest shock of the women's singles so far pic.twitter.com/MXxtDykNnw

— BBC Sport (@BBCSport) June 26, 2013
Larcher de Brito is the 131st-ranked player in the world and had only reached the third round of a Grand Slam once in her short career before her monumental victory on Wednesday. Sharapova (the 2004 Wimbledon champion) had only been beaten in the second round at Wimbledon twice in her career, and not since 2009.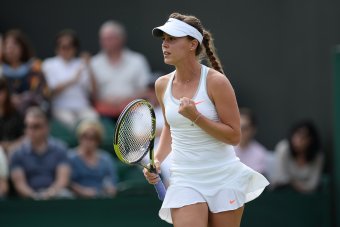 Dennis Grombkowski/Getty Images
While most tennis fans expected Sharapova to dominate her second-round matchup against Larcher de Brito, that was far from the case on Wednesday.
Larcher de Brito came out red hot to start the first set and took the early 3-1 advantage, but Sharapova was able to steady herself and bring the score much closer at 4-3 using her powerful serve—which topped out at 113 mph.
Sharapova looked to be gaining confidence, but she took a fall in the middle of the first set and faltered after. Larcher de Brito brought the pace to the Russian star and stunned her opponent with a 6-3 first-set victory.
Sharapova a set and a break down against De Brito on Court2! Apparently she said "this court's dangerous." pic.twitter.com/k2q6Cpgou4

— Live Tennis (@livetennis) June 26, 2013
No one saw that coming.
While Sharapova came out strong to start the second set, she was quickly overwhelmed by the 20-year-old star and fell to 3-1 once again. It was the confidence that Larcher de Brito showed in the first set that carried over into the second and gave her the edge in this battle.
Barring a big choke, I don't see Sharapova coming back from this. Down 3-1 in the 2nd and MLDB is playing so so well. Pova very frustrated.

— Beyond The Baseline (@SI_BTBaseline) June 26, 2013
Larcher de Brito used her speed along the baseline and her relentless pursuit of the ball to catch Sharapova off guard. Add in the continued issues the Russian star was having with the court, and her chances at victory were almost gone.
Sharapova, too, will be cleaning off grass stains ... (GTY) pic.twitter.com/cd0o4H6Bzy

— Joe Fleming (@ByJoeFleming) June 26, 2013
With all of the falls Sharapova took on the grass, she was forced to take an injury timeout in the second set, slowing down the pace of the match. While it could have shaken the younger Larcher de Brito, she took it all in stride and kept winning.
#Sharapova taking an injury time out off court. Larcher DeBrito practicing her serve while she waits on Court 2. #Wimbledon

— Wimbledon (@Wimbledon) June 26, 2013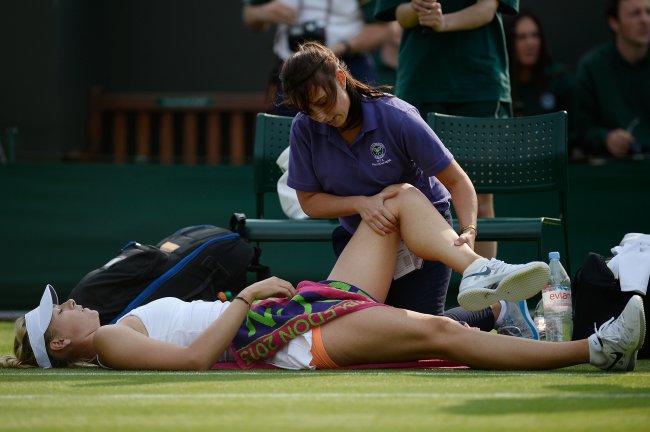 Dennis Grombkowski/Getty Images
Sharapova was able to win four points in the second set, but it was clear that her Portuguese opponent was playing some of the best tennis of her life. The Russian sensation never had a chance to breathe against Larcher de Brito, and it showed in the match result.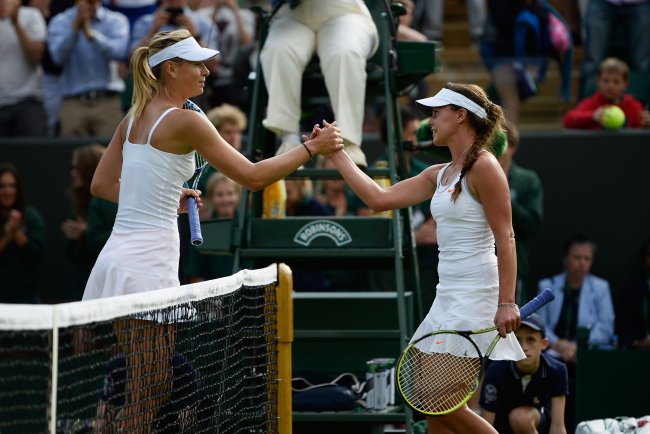 Dennis Grombkowski/Getty Images
With momentum on her side, Larcher de Brito will take on Italian star Karin Knapp in third-round play. Knapp is ranked 104th in the world and just finished an upset performance against No. 30 Lucie Safarova, 4-6, 6-4, 6-4.