Tale of the Tape for the Vikings' Biggest Question Marks Heading into Camp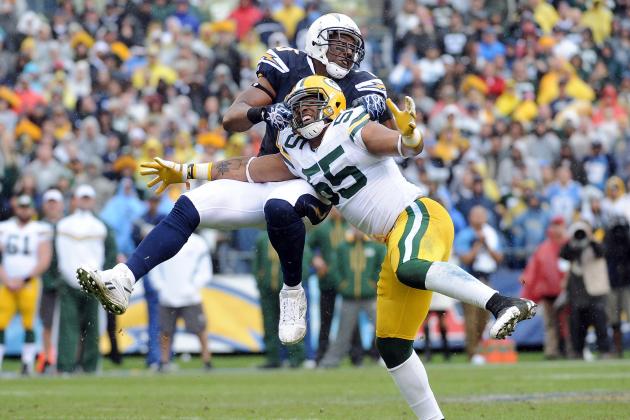 Harry How/Getty Images

As the players for the Minnesota Vikings scattered away from Winter Park last week to enjoy a month of summer before training camp, the team looked poised to take another step forward following 2012's surprising 10-6 record and playoff appearance.
The Vikings appear to have had another stellar draft and have added several key free agents that have infused the roster with more depth and talent than it's had since 2009.
When the Vikings gather next month in Mankato to begin training camp, there will be several positions for which starting jobs will be up for grabs, and the competition should be intense. It's every position coach's dream to have multiple options on the depth chart, and the Vikings appear set to have several position battles in camp.
Minnesota drafted two guards that they're high on, and the rookies will push incumbents Charlie Johnson and Brandon Fusco. There will be a fierce battle at wide receiver, with Greg Jennings manning one spot while Jerome Simpson and rookie Cordarrrelle Patterson slug it out for the other spot. Jarius Wright will have first dibs on the slot position, with Joe Webb, Stephen Burton and perhaps Greg Childs all fighting for additional spots.
Harrison Smith will once again line up at free safety, but it's anybody's guess who among Jamarca Sanford, Mistral Raymond and Robert Blanton will snare the starting strong safety spot. Rest assured that all three will get their opportunities in training camp.
While those battles will be fun to watch unfold, the biggest question mark for Minnesota heading into camp is at linebacker. The late addition of former Packer Desmond Bishop adds depth and intrigue at a position where there were already more questions than answers.
Let's take a look at each of the players who will be vying for the linebacker jobs on the Vikings in 2013.
Begin Slideshow

»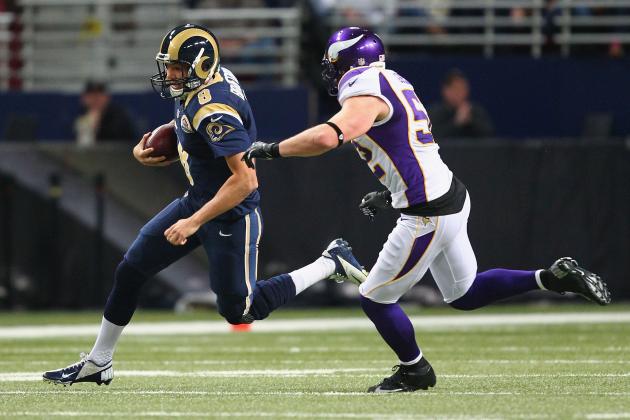 Dilip Vishwanat/Getty Images

The one certainty for the Vikings at linebacker is that, barring injury, Chad Greenway will be the starting weak-side linebacker.
Minnesota's leading tackler for the past five seasons is coming off a Pro Bowl appearance, and even though he missed some of the June workouts following a minor cleanup surgery in his knee, he should be ready to go full speed ahead when training camp begins.
Greenway's stability and leadership will be counted on even more in 2013, with the Vikings having at least one new starter at linebacker and perhaps two players beginning roles at new positions.
Greenway has had over 140 tackles in each of the last three seasons and has established himself as one of the top outside linebackers in the NFL. Now 30 years old and entering his seventh season as a starter, Greenway will be counted on to once again be one of the Vikings' leaders both statistically and in the huddle.
For the Vikings defense to reach it's full potential in 2013, it will need another Pro Bowl type of season out of Greenway.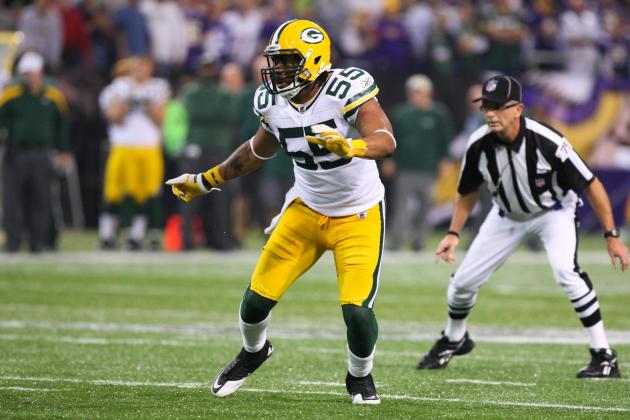 Brace Hemmelgarn-USA TODAY Sports

Once again the Minnesota Vikings have reached across state lines to pluck a former Packer out of Green Bay to fill a hole on their roster.
Linebacker Desmond Bishop joins the likes of Ryan Longwell, Darren Sharper, Brett Favre and Greg Jennings in the ranks of former Packers who have traded green and gold for purple.
The arrival of the very accomplished Bishop brings along a ton of question marks to the Vikings' linebacker situation. Who will be where and why will all have to be sorted out over the course of training camp. The only answer right now is that the Vikings are certainly improved at the position with arrival of Bishop.
Bishop missed all of 2012 with a torn hamstring, and his health will be worth keeping an eye on. He became the odd man out in Green Bay, but he had over 100 tackles and five sacks for the Packers in 2011. The 6'2" 238-pounder is still just 28 years old and could give the Vikings several productive years if he can stay healthy.
It's almost a certainty that Bishop will start for the Vikings. The question now becomes where.
Erin Henderson has been tabbed as the new middle linebacker for Minnesota and has spent all spring and summer learning the new role. Bishop played inside in the Packers' 3-4 scheme but is certainly athletic enough to play on the outside.
Look for the Vikings to sort through all of their options at camp. The guess is that Henderson will be given the first opportunity to win the middle job but that the Vikings coaches won't hesitate to move him back outside if that's what best suits the team.
The question now becomes not just whether or not Henderson can adjust to the middle but whether Bishop can adjust to playing outside And even if they can both adjust, are the Vikings better with them both in their new spots?
This will be one of the biggest storylines throughout Minnesota's training camp. Henderson and Bishop will probably both start, but as to who starts where, we'll have to take a wait-and-see approach.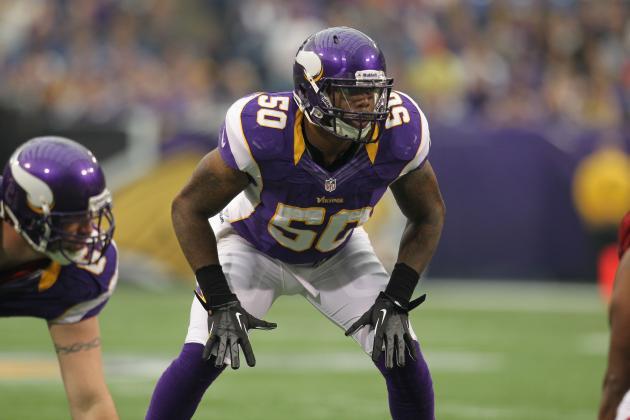 Brace Hemmelgarn-USA TODAY Sports

Last week, when it became apparent that the Minnesota Vikings were interested in linebacker Desmond Bishop, Erin Henderson reiterated what he's been saying all spring and summer, telling reporters, "I'm playing the Mike" (via Kevin Seifert of ESPN).

The Vikings have since gone ahead and signed Bishop, who has spent his entire career playing in one of the middle spots in the Packers' 3-4 defense.
So who's on first?
There's no question that Bishop is the more accomplished NFL player at this point. What the Vikings coaches will ultimately have to decide is what is best for the team. They know Henderson can play on the outside, but they also know he wants to make the move to the middle.
Bishop has played in the middle, but the role in a 3-4 is clearly different than being the lone linebacker inside. Bishop has said all the right things since signing with Minnesota, that he's open to playing wherever the Vikings want him to.
For Henderson the task ahead is pretty simple: Go out and win the Mike job. Henderson probably controls his own destiny in that if he proves he is up to all of the demands of the middle linebacker job, the Vikings will be willing to let him stay there. What could muddy that up of course, is that if Bishop has a tough time adjusting to playing on the outside.
However it shakes out, the Vikings coaches will have to do a good job of communicating to the players who is going to play where and why.
In the end, it's only what's best for the team that matters.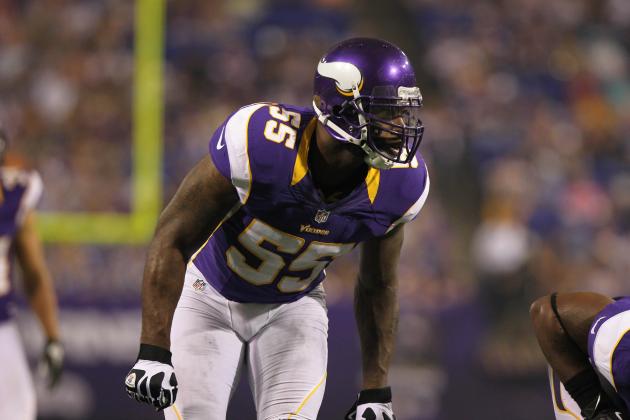 Brace Hemmelgarn-USA TODAY Sports

You kind of have to feel a little bit bad for Vikings linebacker Marvin Mitchell.
Mitchell probably thought he was going to be heading into training camp with his best possible chance to be a starter in the NFL. Mitchell has put in his time as a backup player with the Saints, Dolphins and then the Vikings last season. A standout on special teams, Mitchell had to be eyeing the starting lineup with last year's starting middle linebacker, Jasper Brinkley, signing with the Arizona Cardinals and Erin Henderson supposedly moving to the middle.
Those moves made it look as if Mitchell would probably battle rookie Gerald Hodges for the strong-side outside linebacker spot. That's all changed now that the Vikings have signed probable starter Desmond BIshop.
Mitchell is a 6'3" 249-pounder with good athleticism and a great team attitude. He was one of the Vikings' leaders on special teams in 2012 and started at middle linebacker against the 49ers. Mitchell signed another one-year deal with Minnesota this offseason, so he'll once again have to prove his worth to the team to get another contract.
What might make matters even tougher for Mitchell is that the Vikings will certainly want to take a good, long look at rookie Gerald Hodges, who is probably being groomed to be an eventual starter.
Once again, Mitchell will simply have to make the most of his limited opportunities to prove to the Vikings that he's worth keeping around.
The more plays he makes, the more chances he'll be given.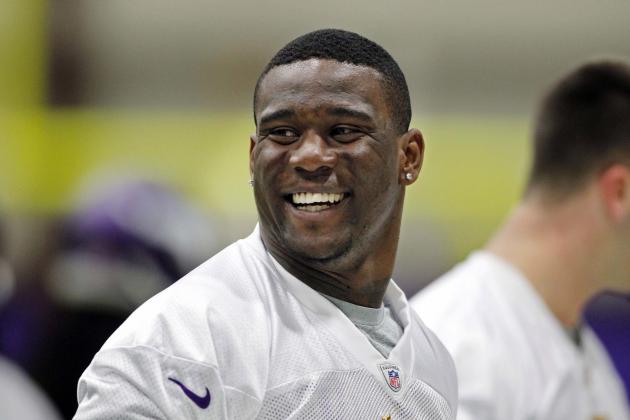 Bruce Kluckhohn-USA TODAY Sports

The Minnesota Vikings' recent signing of linebacker Desmond Bishop might have the most immediate impact on rookie Gerald Hodges.
Drafted in the fourth round out of Penn State, it looked like Hodges might be counted on to start immediately for the Vikings, with strong-side linebacker Erin Henderson slotted to move into the middle.
Hodges is 6'2", 233 pounds and very athletic. He comes out of college as a highly regarded linebacker in pass coverage, something the Vikings have lacked of late. Hodges has been very impressive in OTAs and minicamp, looking both bigger and faster than advertised.
The Vikings' signing of Bishop will probably eliminate any chance of Hodges starting out of the gate. How much playing time he ends up getting in 2013 will depend on how impressive he is at training camp and how the starters hold up injury-wise.
Make no mistake: The Vikings are planning on Hodges becoming a starter at some point, but the signing of Bishop will probably make that later rather than sooner.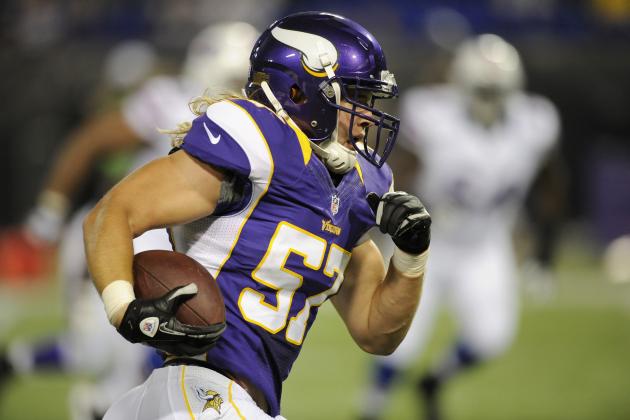 Hannah Foslien/Getty Images

The first thing you need to know about Vikings linebacker Audie Cole is that the hair is gone.
Cole is most remembered during his rookie season last year for scoring two touchdowns in a preseason game against the Buffalo Bills, and for his long flowing hair, which made him look more like a Packer than a Viking.
Cole showed up for OTAs without the long hair but with a new determination to make an impact as a professional football player.
Cole is another dual threat in the Vikings linebacker corps, a guy who can play any of the three positions, although he's spent almost all of his time in Minnesota in the middle. At 6'5" and 239 pounds, Cole is the tallest Vikings linebacker by two inches, but he's certainly shown enough athletic ability to be able to play on the outside if the Vikings need him to.
Cole told the Pioneer Press that he's much more comfortable heading in to his second season with the club.
The truth for Cole is that, although the Vikings didn't bring back Jasper Brinkley, the signing of Desmond Bishop means that there will be three new linebackers in camp fighting for jobs. When it's time to make the final roster, Cole could find himself in a battle with rookie Michael Mauti for a job.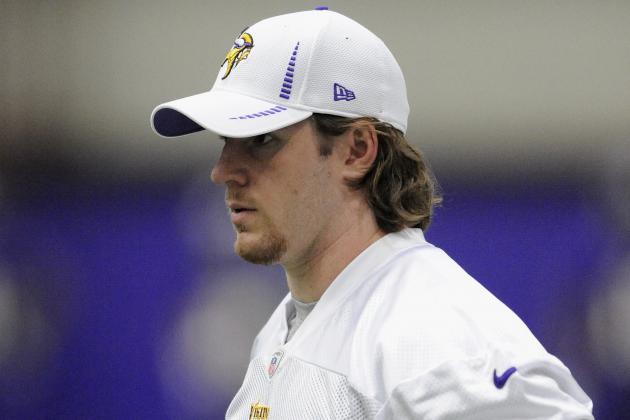 Hannah Foslien/Getty Images

The Minnesota Vikings used one of their seventh-round selections on linebacker Michael Mauti out of Penn State.
It was a flyer of a pick, one that could pay huge dividends if Mauti is able to overcome his injury troubles and stay on the field. There's no question that if Mauti had finished his college career injury free, he had the talent to be a second-round choice.
However, it was just the opposite for Mauti at Penn State. He's currently finishing up rehabilitation on a torn ACL in his left knee but hopes to be ready to go for training camp. Mauti suffered three ACL injuries in his five years at Penn State, and he'll simply have to prove to the Vikings coaches that he can stay on the field if he wants a shot at making the team.
At 6'2" and 243 pounds, Mauti is an instinctual and versatile player, having played at all three linebacker spots in college. His lack of speed will probably keep him in the middle in the NFL.
For Mauti, the task ahead is simple. He has to get to camp healthy and ready to go, and then prove he can stay on the field. He'll have to do a lot to show the Vikings coaches that he's a better prospect than Audie Cole, because the odds of them both making the team are pretty slim.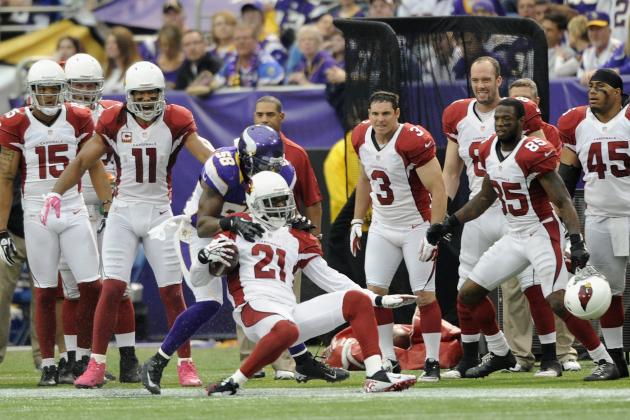 Hannah Foslien/Getty Images

For Tyrone McKenzie, the 2013 training camp might be make-or-break time for his career with the Minnesota Vikings.
A practice-squad player in 2011, McKenzie was active for all of 2012 and was a good contributor on special teams, but he had very little impact as a linebacker. With the infusion of three new linebackers to the team, McKenzie will have to have a huge training camp to still be around on opening day in 2013.
At 6'2" and 245 pounds, McKenzie is big and athletic, but at 27 years old, he's running out of time to show what he can do in the NFL. He's a little too old to still be in the prospect pile.
For McKenzie to make the Vikings' 2013 roster, he is going to have to have an awfully big training camp. It probably wasn't a good sign for McKenzie when the Vikings drafted Gerald Hodges in the fourth round, and his chances of making the team had to take another hit when Minnesota signed Desmond Bishop this week.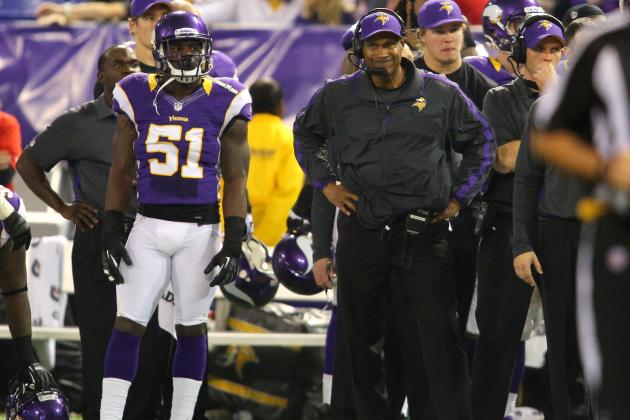 Adam Bettcher/Getty Images

Every good football team has a few Larry Deans on it.
Undersized at just 6'0" and 226 pounds, Dean was the only undrafted free agent to make the Vikings roster in 2011. Dean has been active for every game with the Vikings and was second on the club in special-teams tackles in 2012.
Dean has the high character and team-first attitude you wish every player on your roster had. Dean was an All-American at Division II Valdosta State and broke the school's career record for tackles, which had been held by former Falcon standout Jessie Tuggle.
If you look at the number of linebackers the Vikings will have on hand when training camp opens next month, they don't look great for Dean. He's smaller and less touted than just about every other guy at his position. What happens, though, is that every time they start playing football, Dean makes plays. He has great instincts and a nose for the ball and is always willing to put his nose into the middle of everything.
If Dean makes the team, it will be for his stellar special-teams play and because every good football team needs a couple of guys like him.