Texas A&M Football: 5 Aggies Who Need to Step Up in 2013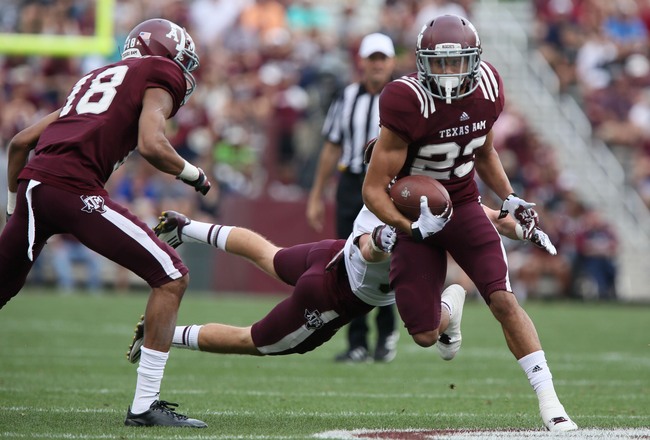 USA TODAY Sports
The 2013 college football season is fast approaching and in College Station, the Texas A&M football team is participating in summer workouts. There are a number of players who need to make big jumps this summer in order to become relevant in the coaches' plans for the season.
In college football, new recruits are brought onto campus every Fall. Last year's blue-chip prospects are replaced by the latest crop in a never-ending cycle of hope and optimism.
With the new additions to campus, there are always athletes from the previous recruiting classes who are passed up on the depth chart. They either did not develop fast enough, or were simply not as talented as the coaches had projected when they came out of high school.
These players end up spending their careers at the bottom of the depth chart, or transferring to another school in a search for playing time. There are multiple players on the Aggie roster who are in danger of falling into a state of athletic purgatory if they do not improve their performance in 2013.
This is a look at some players on the Texas A&M roster that need to step up their play in 2013, or risk being passed up and essentially forgotten in the future plans of the program.
Sabian Holmes, WR
Sabian Holmes is a 5'11" 175-pound wide receiver from Southlake, TX. He is listed as the starter at one of the slot receiver positions in the latest depth chart released by the athletic department.
Holmes played in all 13 games as a true freshman in 2012 and caught six passes for 48 yards. He struggled to find consistency catching the ball.
His struggles continued during the 2013 spring game. It does not matter how fast or how strong Holmes is, if he cannot catch the ball he is not going to be much help to the Aggies as a wide receiver.
With one of the best group of wide receiver recruits in the nation arriving in the Fall of 2013, Holmes needs to really step up his game or he will find himself buried on the depth chart. If Holmes simply learns how to consistently catch the ball, then he can have a bright future with the Ags.
If not, he will become one of the forgotten men in the Aggies' receiving corps.
Polo Manukainiu, DT
Polo Manukainiu is a 6'5" 270-pound defensive tackle from Euless (TX) Trinity High School. Manukainiu redshirted during the 2012 season and entered spring drills as the starter at nose guard.
He did not perform well during the spring and is now listed as the backup nose guard behind converted offensive lineman Kimo Tipoti. In reality, Manukainiu is really the third-team nose guard because returning starter Kirby Ennis was left off the spring depth chart while he was recovering from an injury.
Manukainiu has not played a snap for the Aggies, but he needs to step his game up or risk being lost on the bottom of the depth chart. Incoming freshmen defensive linemen Justin Manning, Isaiah Golden, Hardreck Walker and Jordan Points are going to add a lot of depth at the position.
Manukainiu is going to have to work very hard to remain a viable option on the defensive line with all of the talent the Aggies have added to the program in 2013.
Brandon Alexander, DE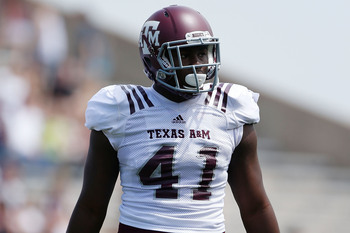 Scott Halleran/Getty Images
Brandon Alexander is a 6'6" 255-pound redshirt sophomore defensive end. He was originally recruited to A&M to play outside linebacker in the 3-4 scheme.
When Kevin Sumlin took over the program in 2012, he brought Mark Snyder in as defensive coordinator to install a 4-3 defense. Alexander made the move to defensive end.
The Aggies won a tough recruiting battle to sign Alexander in 2011. He played as a true freshman in 2011 and showed promise at outside linebacker until an elbow injury ended his season.
Alexander played four games in 2011 and had 12 tackles with 1.5 tackles for loss. He did not participate in summer workouts in 2012, instead choosing to spend the summer with his family in Louisiana.
Evidently, this put Alexander squarely in Sumlin's doghouse and he took a redshirt in 2012. Alexander currently sits at second-team defensive end on the depth chart behind Gavin Stansbury.
Stansbury is a solid player who is very capable of holding the edge and being a decent strong-side defensive end in the SEC. However, he does not have the body or the talent that Alexander has.
Alexander looks like a prototype NFL defensive end. He has the ability to be an All-SEC type defender. If Alexander does not improve his play, he will be passed up on the depth chart by incoming freshmen Jay Arnold and Jordan Points.
Shaun Ward, MLB
Bob Levey/Getty Images
Shaun Ward is a 6'2" 244-pound middle linebacker from Fort Lauderdale, FL. He is entering his junior season at A&M.
Ward was recruited to A&M to play outside linebacker in the 3-4 scheme. He reported to College Station as a freshman out of shape, but still saw some playing time during his true freshman season.
Ward moved to middle linebacker when the Ags switched to the 4-3 scheme in 2012. Playing mostly during garbage time in eight games, Ward had seven tackles and a sack in 2012.
He is currently listed at second-team middle linebacker on the depth chart behind starter Donnie Baggs. With the additions of freshman linebackers like Brett Wade, Reggie Chavis and Jordan Mastrogiovanni, Ward is going to have to fight for playing time in 2013.
He has been in the program for three years and is only a backup. If he cannot show the coaches something during Fall camp in August, he may simply be written off as a recruiting miss.
Matt Joeckel, QB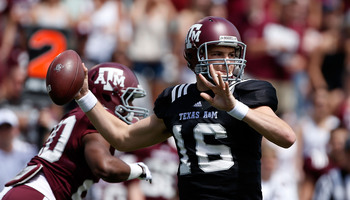 Scott Halleran/Getty Images
Matt Joeckel is the much less-known twin brother of Luke Joeckel. While Luke was busy becoming the second overall pick in the 2013 draft, Matt was trying to compete for the backup quarterback job at A&M.
He is entering his redshirt junior season and is currently listed as the second-team quarterback behind Johnny Manziel on the depth chart. Joeckel does not have a secure claim on that spot, and will be challenged in the Fall by incoming freshman Kenny Hill.
If Hill has a good camp in August, he could claim the backup job because neither Joeckel nor Matt Davis have separated from each other.
It is Joeckel's fourth year on campus. He needs to step up his game and claim the backup spot if he ever wants to see meaningful playing time at A&M.
Keep Reading

Texas A&M Football: Like this team?