Jo-Wilfried Tsonga retired in the third set of his second-round match against Ernests Gulbis on Wednesday at Wimbledon due to a left knee injury.
The tournament's official Twitter broke news of the development, as Tsonga trailed his unseeded opponent 6-3, 3-6, 3-6:
Yet another retirement on Day 3! Tsonga retires against Gulbis with a suspected knee injury #Wimbledon

— Wimbledon (@Wimbledon) June 26, 2013
Howard Bryant of ESPN pointed out the similarity between Tsonga's ailment and fellow standout players such as Rafael Nadal and John Isner:
Tsonga up, left knee taped like Isner+Nadal, but will he last?

— Howard Bryant (@hbryant42) June 26, 2013
Nadal lost shockingly in the opening round, and Isner retired after just two games on Wednesday during Round 2's action. As it turned out, the No. 6-seeded Tsonga did not last, either, and could not muster anything after the relatively stellar opening set.
The pressure was squarely on Tsonga because of the great tennis Gulbis was playing, as he hit 18 winners to just six unforced errors in the third set. Lack of mobility prevented Tsonga from being a threat as a returner, as Gulbis also won 17 of 19 first-serve points in the third set.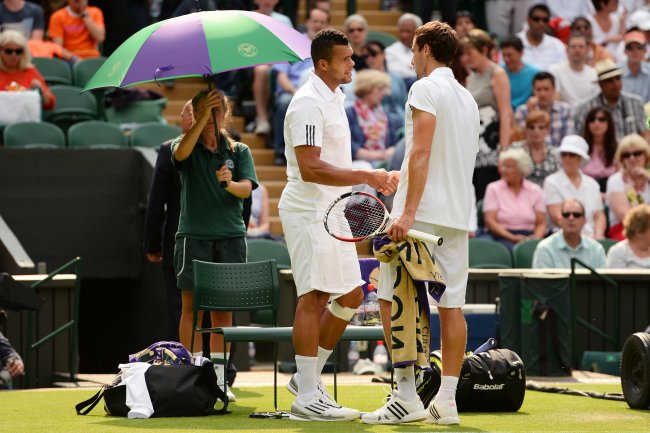 Mike Hewitt/Getty Images
Which of Wednesday's retired men's players would have advanced furthest at Wimbledon?
At that point, it was apparent Tsonga was too hampered to continue. Among the most intriguing, naturally gifted talents in men's tennis, Tsonga sports an extremely potent serve and all the skills to be a world-class player.
Another notable statistic is that Tsonga did not hit one winner off of ground strokes in the last set of action, which makes it extremely difficult to continue.
Had he been playing in a different era even temporarily absent all-time greats such as Nadal, Roger Federer and Novak Djokovic, perhaps the Frenchman would have a Grand Slam title by now.
Tsonga was a semifinalist in each of the past two years at the All England Club, but this marks his earliest exit from the year's third Grand Slam tournament. It unfortunately occurred because of his health, too, rather than a lackluster display on the court.
Note: Match statistics and tournament results are courtesy of Wimbledon.com.