2013 NBA Prospects Guaranteed to Be Picked Too High on Draft Night
USA TODAY Sports

The 2013 NBA Draft may have different names called out by commissioner David Stern than we've heard in years past, but that won't break the trend that pops up every year: A handful of players will inevitably be drafted far too high.
In this draft class, there are five prospects who stand out above the rest because the perception of them outpaces what their actual production will be by a rather wide margin. They may end up being quality NBA players, but we'll look back and wonder why exactly they were taken too soon.
My favorite—or least favorite, depending on how you look at it—example of this phenomenon involves Marvin Williams back in 2005. Even with the benefit of hindsight, Marvin would still be a lottery pick, or fall just shy, depending on how you feel about a few mediocre products of that class. But he was picked at No. 2, making him a major reach.
The point is that inclusion on this list doesn't mean that a player will completely flop. Just that he won't live up to the expectations.
Begin Slideshow

»
Giannis Adetokunbo has potential just oozing out of each and every inch of his body, including the ones on his ridiculously massive hands. The problem is that he's made good on very little of that potential, and the NBA is a place where high-upside players can get buried if they aren't ready to compete.
The Greek forward burst onto the draft scene rather late, and then scouts almost universally fell in love with his tantalizing physical profile and athletic ability. Not many 6'9" forwards can jump out of a gym and still effectively function as a point guard.
However, it's important to temper the expectations here.
Adetokunbo is incredibly raw, and he's fairly new to competitive basketball. Plus, the players he's been competing with aren't even on par with some of college basketball's weaker conferences. When you watch his highlight reels, defenders often usher him right toward the lane because they're physically incapable of stopping him.
Drafting Adetokunbo gives a team a great deal of long-term potential, but it's also a risky selection. Bismack Biyombo should be serving as a cautionary tale, but Adetokunbo is still being heralded as a player who will likely go somewhere in the teens.
That's too soon for such an undeveloped player, and many analysts are letting his talent completely blind them to his red flags.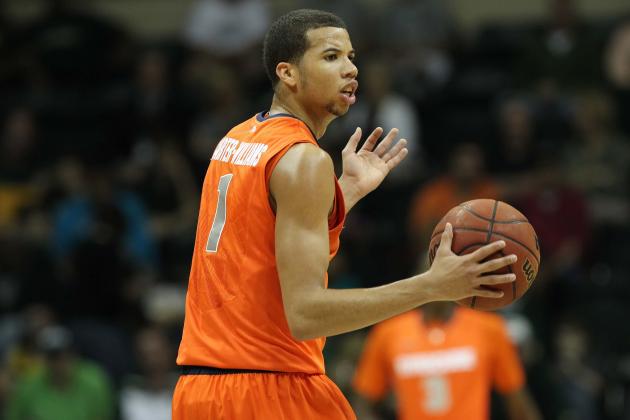 Kim Klement-USA TODAY Sports

Michael Carter-Williams is the rare point guard who towers over other players at his position and still thrives as a facilitator.
His 6'6" frame and correspondingly lanky wingspan are masking the many deficiencies in his game. For all his passing skills and defensive abilities, MCW is often an offensive liability.
He was one of the least effective scorers in this point guard class, namely because his jumper is ultimately nonexistent. Carter-Williams can occasionally drill deep perimeter shots, but his form is inconsistent at best, and the results are always shaky.
Additionally, the Syracuse product struggles to make plays in half-court sets.
In transition, Carter-Williams' size and athleticism make him nearly unstoppable. He can attack the rim, but he's also quite skilled at finding teammates on the run. Once play slows down, so too does his production.
MCW's size makes him seem like a lottery pick, but his talent indicates that he shouldn't even be sniffing that portion of the draft.
Gorgui Dieng's current value is limited to the defensive end of the court.
The former Louisville big man has shown flashes of a developing elbow jumper and a growing set of post moves, but that was against college competition. It's unlikely he ever gets the chance or skill to become an offensive force in the NBA.
Defense is often underappreciated and undervalued in professional basketball, but Dieng's defense is a little bit overrated.
While he's an incredible shot-blocker, I hesitate to call him a great interior defender and rim-protector at this stage of his career. He often finds himself out of position and gets too aggressive with his impressive leaps into the air.
Dieng loves blocking shots, and he's good at it, but he tries to do so far too often. When he goes for the ill-advised block, he leaves himself prone to a drop-off pass, and he's out of position for the defensive rebound.
Until he corrals those instincts, he can't become a truly great defender, and that's what teams are counting on from him.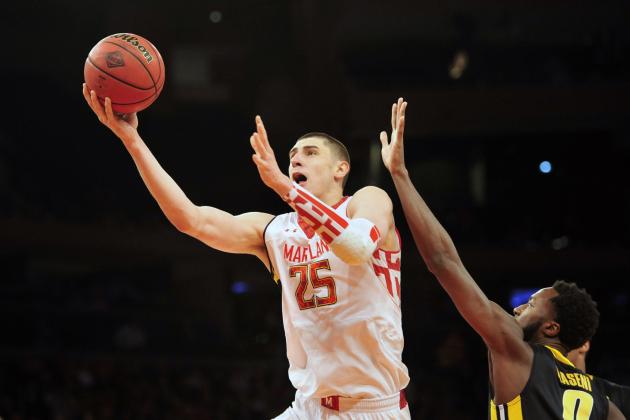 Joe Camporeale-USA TODAY Sports

Alex Len's status as a draft-day reach depends on whether or not the Cleveland Cavaliers are going with the smokescreen method right now. If he's taken as the top overall pick, he'll be the most overrated player in the draft class.
However, if he falls to around No. 5, No. 6 or No. 7, he'll be properly valued.
There's only a small numerical difference between those draft picks, but the value of those slots falls along a logistic regression. There's a bigger drop-off between consecutive picks at the top than there is later in the draft.
Len just has too many major red flags surrounding him to be a top selection.
Analytically, he doesn't stand out in many ways, as his production at Maryland was lackluster at best. You can blame the inept Terrapins backcourt all you want, but a truly dominant big man would have been able to shoulder a larger burden.
Len's stress fracture is also problematic, but not as troubling as his lack of aggressiveness. The Ukrainian big man never displayed much fire out on the court, and he played passively, failing to demand the ball as often as he should.
Down the road, Len should develop into a quality big, but he's simply not the best prospect in this draft class.
It's weak. Just not that weak.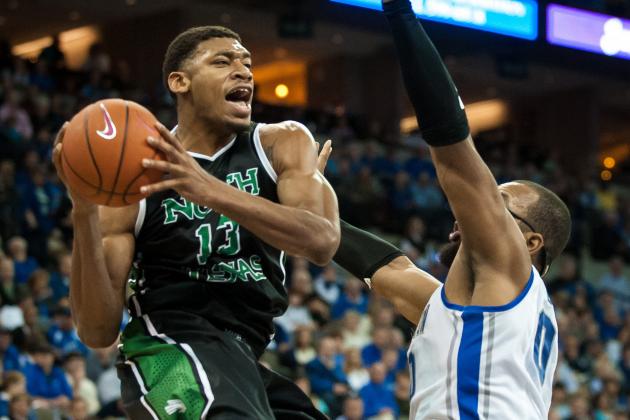 Eric Francis/Getty Images

Tony Mitchell's drop-off from his freshman season to his sophomore year was a precipitous one.
Take a look at these per-game stats, courtesy of Sports-Reference.com/cbb:
| | | | | | | | | | | |
| --- | --- | --- | --- | --- | --- | --- | --- | --- | --- | --- |
| | Points | Rebounds | Assists | Steals | Blocks | Minutes | FG% | 3P% | FT% | PER |
| 2011-12 | 14.7 | 10.3 | 1.6 | 0.9 | 3.0 | 29.4 | 56.7 | 43.9 | 73.9 | 29.7 |
| 2012-13 | 13.0 | 8.5 | 0.8 | 1.0 | 2.7 | 32.4 | 44.0 | 30.0 | 67.5 | 20.8 |
That's a staggering difference. If you're looking for a reason that Mitchell, once a borderline top-five pick, might be dropping out of the first round entirely, just go ahead and stare at that chart up above for a little while.
Once the scouting report was out on Mitchell, he stopped performing at the same level. And if he was unable to dominate the Sun Belt, how exactly is he expected to thrive in the NBA?
Based on just his sophomore season, the power forward should be on the brink of going undrafted. The early second round, where he'll likely be picked, is far too early for a player who relies this much on his athleticism. Mitchell didn't just fail to improve as a skill player; he also declined rather dramatically.
As so many prospects have proven, there's a monumental difference between being an "athlete" and a "basketball player." An unsuccessful transition from the first category to the second one is a surefire recipe for an early exit from the Association.
Mitchell's athleticism and freshman season are still overshadowing his sophomore campaign, and that's going to cause him to be a major reach.