Who Should Make the USMNT's Gold Cup Roster?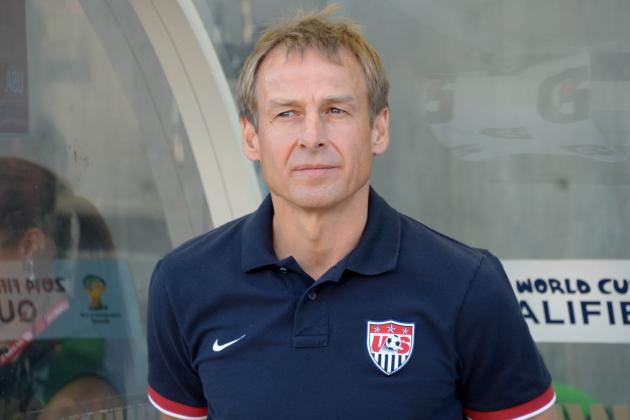 USA TODAY Sports

Last month, U.S. Soccer and head coach Jurgen Klinsmann released their 35-man provisional roster for the Gold Cup tournament which takes place in July 2013. The final 23-man roster is expected to be released on Wednesday.
Let's take a look at who should be on the roster for the U.S. in the Gold Cup.
Begin Slideshow

»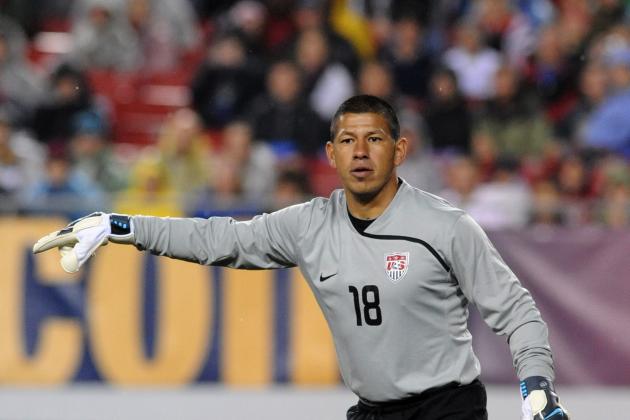 Al Messerschmidt/Getty Images

The four goalkeepers on the initial roster were Tally Hall, Bill Hamid, Sean Johnson and Nick Rimando. The current full national team depth chart has been Tim Howard as the No. 1, Brad Guzan as the more than capable No. 2 and Rimando as the No. 3.
Johnson and Hamid are commonly seen as the future of U.S. goalkeeping, and Hall has earned his way into the picture after outstanding back-to-back MLS seasons in 2011 and 2012.
The only real exclusion from the provisional roster is Steve Clark, who won several awards last season for his play at Honefoss in Norway's Tippeligaen.
With the No. 1 and No. 2 spots in the lineup sewn up by Howard and Guzan, the only real question is whether Klinsmann should use the Gold Cup to get Rimando some more international experience should either Howard or Guzan go down before the World Cup, or whether the Gold Cup matches should be used to give Johnson and Hamid some valuable first-team minutes.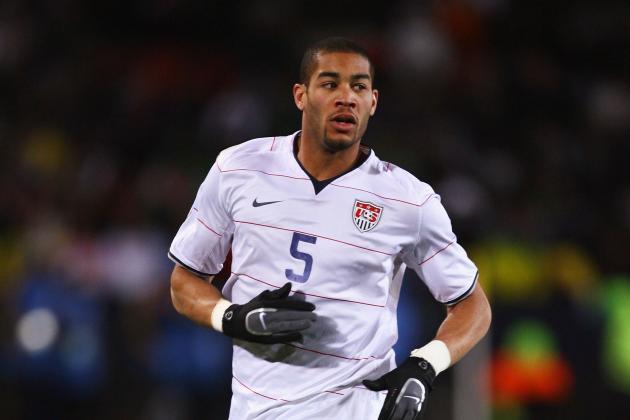 Alex Livesey/Getty Images

Out of the initial list of 12 defenders, it is likely that Jurgen Klinsmann will give DaMarcus Beasley, Matt Besler, Brad Evans (listed as a midfielder on the provisional roster) and Omar Gonzalez the rest of the summer off from international duty.
All four players were integral to the team's success in June, and unlikely to be asked to do two international camps in the same summer.
The likely call-ups include Corey Ashe, Tony Beltran, Carlos Bocanegra, Oguchi Onyewu and Michael Orozco. Considering the lack of depth at center-back and the woeful recent performances of Clarence Goodson, both Bocanegra and Onyewu still have a real shot of representing the U.S. in the 2014 World Cup, as the depth at center-back is still inadequate.
Whether or not Clarence Goodson, Edgar Castillo or Michael Parkhurst make the final roster for the Gold Cup is considerably more tricky. All three were called up for a five-game stretch in late May and early June, but none saw significant playing time.
Castillo was widely expected to play the bulk of those matches, but Beasley's strong play as well as Castillo's poor game against Germany doomed Castillo to the bench for the World Cup qualifiers. After a long Liga MX and Copa Libertadores campaign with Tijuana, Castillo may need a break.
Goodson could be called in again, but he should no longer be considered for international duty after his recent performances and the fact that Bocanegra, Onyewu and even Orozco and Parkhurst can play center-back.
Parkhurst was in fine form last fall with Nordsjaelland, but a doomed move to Augsburg in the Bundesliga saw his form and his place within the U.S. camp drop precipitously.
Even though he took part in the U.S.' May/June camp, he did not play; and having been benched for the entire spring with Augsburg, he should be called in. For one reason, it would help him get prepared for his upcoming season in Germany and, hopefully, help him make a better impression with the Augsburg coaching staff heading into the season.
The other reason Parkhurst should be called in is because the U.S. squad's depth at right-back is still unresolved.
Notable exclusions from the 35-man provisional roster include defenders Sean Franklin, A.J. DeLaGarza, Eric Lichaj and John Anthony Brooks.
DeLaGarza has been called into camp before by Klinsmann, but apparently did not warrant another call-up. Lichaj struggled this year with Aston Villa, but it must be said that that was against English Premier League competition—far tougher than that faced by most other U.S. defenders with their clubs. Brooks has not yet decided whether to represent Germany or the U.S. internationally.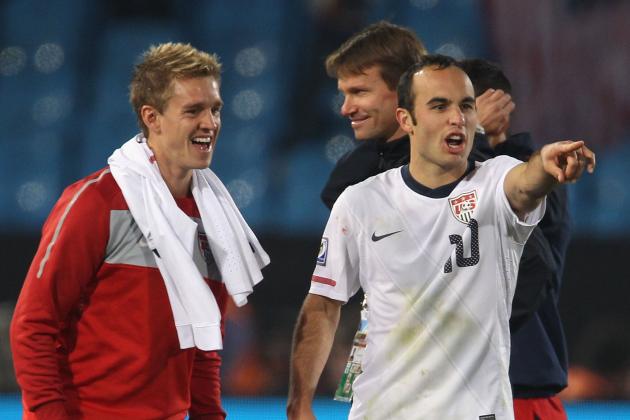 Phil Cole/Getty Images

Out of the midfield pool on the provisional roster, Alejandro Bedoya, Mix Diskerud, Josh Gatt, Stuart Holden, Brek Shea, Jose Torres and Landon Donovan (listed as a forward) seem like the no-brainers.
Bedoya has been in fine form with Helsingborg, and Diskerud and Gatt are widely considered two of the U.S. team's top youth prospects.
However, both Diskerud and Gatt may face Europa League and Champions League qualifier conflicts, and may have to miss the Gold Cup.
The Champions League draw was today for the prelim rounds. Molde/Gatt face off against Sligo Rovers of Ireland. #USMNT

— The Twelfth Yank (@twelfthyank) June 24, 2013
The home and away matches will take place between the clubs on July 16,17 & 23,24. Gatt is supposed to be stateside for GC. #USMNT

— The Twelfth Yank (@twelfthyank) June 24, 2013
Mix Diskerud may also be missing GC due to Europa qualies with Rosenborg. Still not cap-tied, a switch to Norway is not impossible. #USMNT

— Josh Deaver (@JoshDeaver) June 24, 2013
Although Holden was a part of the May/June camp, he has specifically asked not to be given a break this summer after successive knee surgeries have kept him largely out of action for the past two years.
Brek Shea has been recovering from multiple injuries and may finally be ready to join the team after having to drop out of the May/June camp. Jose Torres, who used to be a Klinsmann favorite, but now struggles for call-ups, appears to already be on the squad, according to roster leaks posted on Twitter on Tuesday.
Jose Torres is on the #usmnt for the Gold Cup via @TigresOficial

— Brian Sciaretta (@BrianSciaretta) June 25, 2013
Donovan also appears to have already made the roster, with similar leaks posted on Twitter yesterday.
Landon Donovan will be on US Gold Cup squad, http://t.co/5rBd4z1t64 has learned http://t.co/jAkU4obYKq

— Grant Wahl (@GrantWahl) June 25, 2013
After Donovan's extended off-season hiatus and exclusion from the May/June camp, this is a chance for him to work his way back into the national team picture.
Of the remaining midfielders on the provisional roster, Graham Zusi will likely be given a break after extensive duty with the team in May and June. Joe Corona, Kyle Beckerman and Brad Davis were also on the roster for May and June, but none saw extensive playing time and all may be called up again. This tournament could be a big opportunity for Corona, especially, to show what he can do for a U.S. team that has often lacked a creative spark in the midfield.
Benny Feilhaber was called in for the team's January camp, but has been in and out of the lineup for Sporting KC this year. He also tends to function as the type of central creative midfielder that Klinsmann seems to have prefer not using, although Feilhaber proved in the Bob Bradley-era that he can also be a productive player out wide.
Notable exclusions from the provisional roster include Joe Gyau, Maurice Edu, Danny Williams, Alfredo Morales and Conor O'Brien.
Gyau is a speedy youngster who was called up but not used in last November's Russia friendly. Edu and Williams were both dropped from the U.S.' May/June camp, Edu due to injury, Williams due to lack of fitness. However, the Gold Cup would have seemed a perfect opportunity for both to have worked their way back into the conversation about who should start in the U.S. midfield.
Morales and O'Brien are promising youngsters seeing some success in Europe, and could have used the camp to prove their worth to the full squad.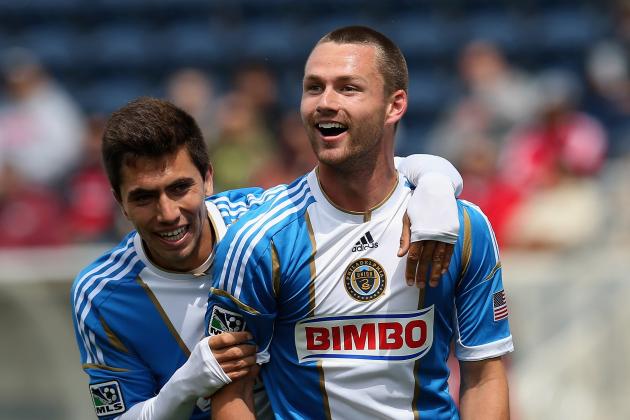 Jonathan Daniel/Getty Images

The forward picture for the Gold Cup is pretty tricky.
Jack McInerney, who is enjoying a standout MLS season, appears to already be on the roster.
Philadelphia's Jack McInerney, 20, who's having a breakout scoring season in MLS, is on the US Gold Cup squad.

— Grant Wahl (@GrantWahl) June 26, 2013
Bobby Wood, an American who has been playing in Germany, is also deserving of a call-up.
Herculez Gomez was called up for the May/June camp, but missed most of it due to a knee injury. He is also joining a new club, so it is a question of whether or not he is fit and/or wants a break before Liga MX kicks off again.
Eddie Johnson played quite a bit in the May/June games and will likely be given an international break. Terrence Boyd missed out on the provisional roster, perhaps because Jurgen Klinsmann thought he would play a bigger part in the May/June games. But, seeing how Boyd rarely featured in those games, some Gold Cup experience could have done him, and the team, a world of good as the depth at forward remains unresolved.
The rest of the choices from the provisional roster are fairly unexciting. Alan Gordon, Chris Wondolowski and Will Bruin are all fine MLS forwards, but few believe they are international quality.
The biggest exclusion from the forward pool and, the entire pool fort hat matter, is that of Juan Agudelo. Agudelo has seen his career go in fits and starts over the past three years, but there is no question that he has as much athletic and technical ability as any other forward in the pool. With so much upside, it is baffling that Jurgen Klinsmann left him off the roster.
Follow me on Twitter @JohnDHalloran
Follow me on Facebook www.facebook.com/AmericanTouchline