Sidney Crosby: Top 10 Moments with the Pittsburgh Penguins and Team Canada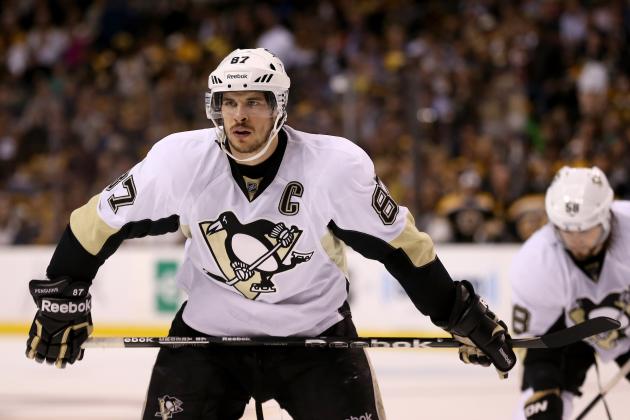 Bruce Bennett/Getty Images

Sidney Crosby continues to be a dominant force in hockey. The only thing that appears to be able to hold him back is injuries.
The 25-year-old from Cole Harbour, Nova Scotia has racked up 238 goals and 427 assists for 665 points in 470 games. He also has 40 goals and 105 points in 82 playoff games.
Crosby has accomplished things in eight NHL seasons and for Team Canada that most players can only dream of. This includes numerous team and individual honors, iconic goals and much more.
With that in mind, here are Sidney Crosby's top 10 moments with the Pittsburgh Penguins and Team Canada.
Stats courtesy of NHL.com.
Begin Slideshow

»
On Oct. 5, 2005 a new era began in the NHL.
Sidney Crosby made his NHL debut as the Penguins took on the New Jersey Devils. Despite losing 5-1, the game was made more memorable for Crosby, as he got his first career point. He made a nice pass through the crease to Mark Recchi, who scored the Penguins only goal of the game.
Crosby would go on to tally 102 points in his rookie season, becoming the youngest player in NHL history to hit the century mark.
Crosby and the Penguins came flying out of the gate in Boston on this particular night in 2007.
Within the first 12 minutes of the first period, Crosby already had a goal and two assists. Then, just five minutes into the second period, Crosby got his first Gordie Howe Hat-Trick as he and Andrew Ference squared off in the corner.
Crosby held his own and Ference came away with a little blood dripping from his face. Not only was it his first fight, it was also the first major penalty of Crosby's NHL career.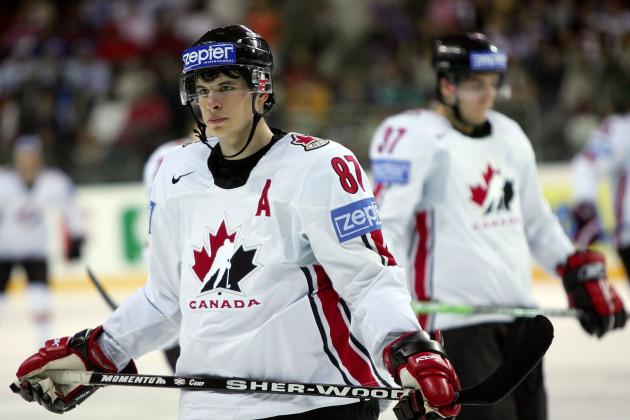 Doug Pensinger/Getty Images

Not quite a year and a half removed from winning a gold medal at the World Juniors, Crosby donned the Maple Leaf once again.
Crosby's speed and skill were on full display as he helped Canada to a near perfect record in the preliminary and qualifying rounds.
Despite yet another multi-point game from Crosby, Canada would fall 5-4 to Sweden in the semifinals. They came up empty in the bronze medal game as well, losing 5-0 to Finland.
Because of Canada's disappointing fourth-place finish, Crosby's remarkable performance in the tournament is often forgotten. At 19 years old, Crosby tallied eight goals and eight assists in just nine games to become the youngest player to ever top the scoring list at the World Championships.
It was just a shootout goal, but it's one Crosby will probably never forget.
As a rookie back in 2005, Crosby faced the Montreal Canadiens, his favorite team growing up, for the first time. Crosby and Mario Lemieux scored in regulation, but the game remained tied 2-2 through overtime.
With his dad watching in the stands, Crosby had a chance to win it in the shootout. As you can see, he made no mistake, scoring his first career shootout goal with a pretty backhand.
They had gone nearly a year and a half without a captain after Mario Lemieux retired midway through the 2005-06 season. On May 31, 2007, the Pittsburgh Penguins named Sidney Crosby their captain. He was just 19 years and 297 days old at the time.
Crosby passed on the Penguins offer to become captain earlier on in the previous year. It wasn't until after the Ottawa Senators eliminated the Penguins from the first round of the playoffs that he accepted.
Gabriel Landeskog now holds claim to the title of youngest captain in NHL history. He was 11 days younger than Crosby when the Colorado Avalanche made the announcement.
After losing a heartbreaker 4-3 to Team USA in the Gold Medal game of the 2004 tournament, Canada entered the 2005 World Juniors with hopes of ending a seven-year gold medal drought.
With the help of an NHL lockout, Canada put forth a team that is widely regarded as one of the best in tournament history.
Corey Perry, Ryan Getzlaf, Mike Richards, Jeff Carter and Shea Weber are just a few of the future NHL All-Stars that lined the roster. The youngest member of the team for a second straight year was Sidney Crosby.
Crosby developed strong chemistry with linemate Patrice Bergeron, who was the tournament's top scorer and MVP. Crosby finished seventh in scoring, with six goals and three assists, for nine points in six games.
It was Crosby's first gold medal and the tournament served as a great introduction to the player dubbed, "The Next One."
It was a scene hockey fans all around the world could appreciate.
New Year's Day 2008, with snow falling on Ralph Wilson Stadium in Buffalo, the stage was set for the inaugural Winter Classic between the Buffalo Sabres and Pittsburgh Penguins. Crosby had an assist on Pittsburgh's lone goal and the game headed to overtime and then a shootout, tied 1-1.
With over 71,000 looking on and thousands more watching on TV, Crosby had a chance to win the game in the third round of the shootout. He skated in cautiously and with his stick collecting snow, Crosby slipped the puck between Ryan Miller's legs to end it.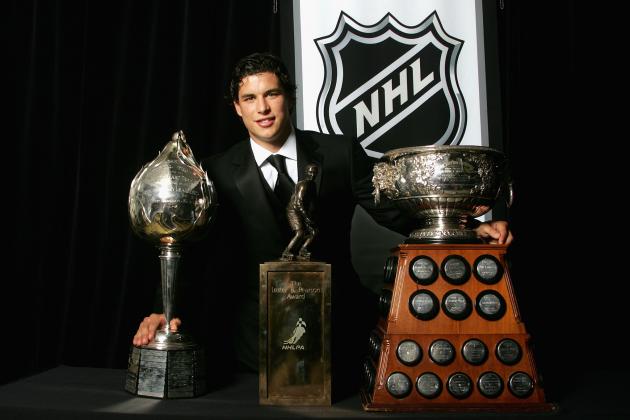 Bruce Bennett/Getty Images

Crosby firmly established himself as an elite NHL player in just his second season.
In 2007 Crosby appeared in 79 games, notching 36 goals and 84 assists for a league best 120 points. He earned numerous NHL awards, including the Art Ross Trophy, Hart Memorial Trophy, Lester B. Pearson Award and the Mark Messier Leadership Award.
He also made the First All-Star Team, was named Sporting News NHL Player of the Year and was awarded both the Lionel Conacher Award and the Lou Marsh Trophy.
It's a goal that has already taken its place in hockey history.
It may not be as iconic as Paul Henderson's goal in the 1972 summit series, but for a generation of hockey fans, Crosby's goal in the 2010 winter Olympics is as close as it gets.
Canada built a 2-0 lead over Team USA, with goals from Jonathan Toews and Corey Perry. Ryan Kesler cut the lead in half midway through the second period, and with Ryan Miller pulled for the extra attacker, Zach Parise tied the game with less than 30 seconds remaining.
In overtime, Crosby famously yelled "Iggy!" before taking Jarome Iginla's pass and putting it through Miller's legs to put Canada back on top of the hockey world.
Children across Canada dream of one day lifting the Stanley Cup, as they play hockey on frozen ponds, driveways, city streets and local rinks.
For Sidney Crosby, that dream became a reality in 2009. The Pittsburgh Penguins avenged their loss to the Detroit Red Wings in 2008, defeating them 2-1 in Game 7 at Joe Louis Arena. At 21 years, 10 months and five days old, Crosby became the youngest captain in NHL history to hoist the Cup.
Crosby scored a postseason best 15 goals and was second to only Evgeni Malkin in playoff scoring, with 31 points.
You have to imagine it's only a matter of time before he's lifting the Stanley Cup once again.