A's vs. Reds Live Blog: Instant Reactions and Analysis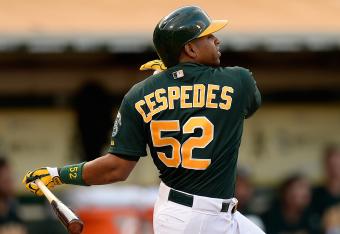 Thearon W. Henderson/Getty Images
A.J. Griffin picked up his first career shutout, and the Oakland A's (46-34) beat the Cincinnati Reds (45-34) for the second time in as many days, 5-0. Griffin was masterful all afternoon, striking out seven while allowing just two hits and two walks.
Homer Bailey was on the mound for the Reds and he was solid save for the fourth inning. The A's led off with back to back singles by Jed Lowrie and Yoenis Cespedes, then Brandon Moss doubled to drive in Lowrie. The next batter was Josh Donaldson, who took a Homer Bailey slider deep to right for a 4-0 lead.
The A's made Bailey work in his six innings. He threw 111 pitches and seemed tired by the time his day was done. Reds rookie Tony Cingrani relieved Bailey in the eighth, allowing one run on two doubles.
The real issue was the Cincinnati offense, as they couldn't muster much against Griffin. Shin-Soo Choo and Joey Votto walked in the first, but that was the only trouble Griffin was in all day. He was mixing his speeds very well and as well as hitting his spots.
Oakland opens up a three game series at home against the NL Central leading St. Louis Cardinals on Friday. Cincinnati on the other hand goes to Arlington to play three with the Texas Rangers.
All statistics, unless otherwise noted, come from ESPN.com.
That's Jay Bruce's fourth strikeout, and Griffin's seventh. A's 5, Reds 0
Votto lines one off Griffin's glove, but right the the shortstop Lowrie. Two down
Robinson grounds out to second, two outs left
And with that Josh Reddick pop up, so ends the eighth inning. Due up for the Reds in their last chance will be Robinson Votto and Bruce
I don't see the A's warming anyone up, so it looks like they'll trot Griffin back out there to try and nail down the shutout
I like Brandon Moss's walk-up music. Cruise by Florida Georgia Line. But don't tell anyone, it's a guilty pleasure song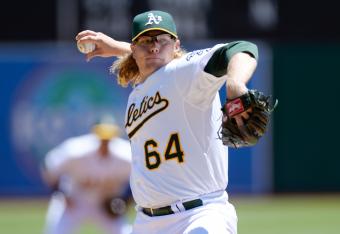 That's the first time I've ever heard of a pitcher wearing glasses so hitters can't read his eyes. I wonder if it really makes a difference
Complete game shutout coming for Griffin? Could be, he certainly doesn't show any sign of slowing down
Reds better get something going and soon if they want to get back in this game.
Nate Freiman doubles to left center, scores Eric Sogard, 5-0 Oakland. Pinch hitter paid off there for Oakland
That's Chris Young's fourth strikeout now. I guess he's having a bad day
Sloppy fielding again by the Reds, this time in the outfield. They can't afford any more mistakes if they want to get back in this game
It may be unconventional, but I like Tony Cingrani's windup. It's gotta be pretty hard for a hitter to find the ball coming out of his hand, and his fastball has some nice movement
And there's Griffin's sixth strikeout. Hitters eight, nine and one due up in the bottom of the seventh for Oakland
Griffin left that one up and Xavier Paul doubled to right. Griffin is lucky they're playing in Oakland, because that would have been gone in quite a few other parks
The way Griffin changes speeds is remarkable. He just went 68 mph to 90 mph with great control. No wonder the Reds are having trouble with him
That double play would have been nice, but it didn't come back to bite Cincinatti. Jay Bruce first up next inning
Another swinging strikeout for Bailey on his fastball. Outside of that blip in the 4th inning, he looks pretty good.
Griffin is on a roll, and it looks like he's keeping the Reds guessing and off balance. They really haven't hit much hard off him yet save for one or two knocks
Make that three consecutive strikeouts for Bailey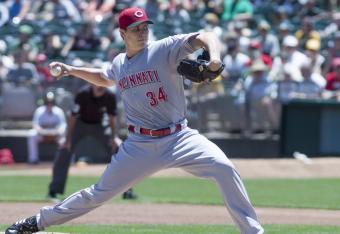 Bailey might have settled down. Struck out back to back A's on nice looking fastballs
Just like that, Chris Young is zero for three with three strikeouts. That drops him to a batting average of .189. Yikes
A's turn a double play, inning over. Griffin looks like he's cruising
And there's Cincinnati's first hit. About time
I'm not exactly surprised that Oakland, home of the hyphy movement, would have a baseball team issue a bobblehead of Coco Crisp doing the Bernie. Seems rather fitting
This article is
What is the duplicate article?
Why is this article offensive?
Where is this article plagiarized from?
Why is this article poorly edited?