Minnesota Twins: Which Prospects Are Likely to Make an Impact in the 2nd Half?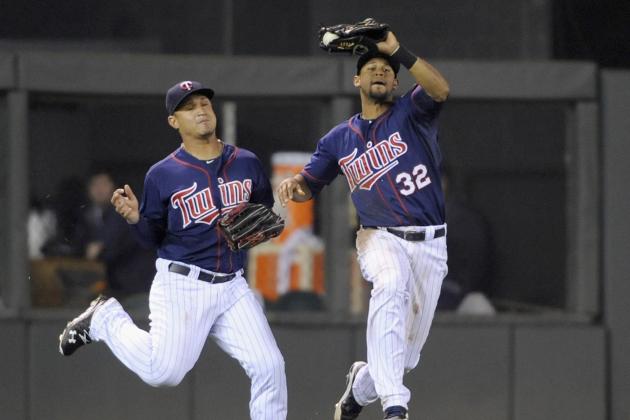 Hannah Foslien/Getty Images
Hicks and Arcia, inadvertently doing funny poses here, should be manning the Twins outfield for years to come.
Minnesota Twins fans have already seen many of the team's top prospects this season.
Aaron Hicks began the year as the leadoff hitter and starting center fielder and held a spot on the roster until getting injured earlier this month.
Oswaldo Arcia was called up shortly after the season started and hit for power, but struggled to handle off-speed stuff and was sent down for a short period of time before getting the call a second time.
Most recently, Kyle Gibson got the call after being passed up for Samuel Deduno and P.J. Walters earlier in the season. His first start will come against the Kansas City Royals on Saturday, June 29, according to Mike Berardino of the Pioneer Press. Much is expected of the 25-year-old righty, who was on the fast track to the majors before undergoing Tommy John surgery last year.
Pedro Hernandez and Chris Herrmann also got a stint with the Twins this year, meaning that many of the players in the high minors already have been to Target Field this season.
There are still a couple guys in waiting that have a chance to get the call, but most of the team's best prospects are still in the low minors and are unlikely to make an appearance this season.
This list is in no exact order, as it consists of prospects who have a chance to crack the major league roster this year, however, the best prospects appear later in the slideshow.
Begin Slideshow

»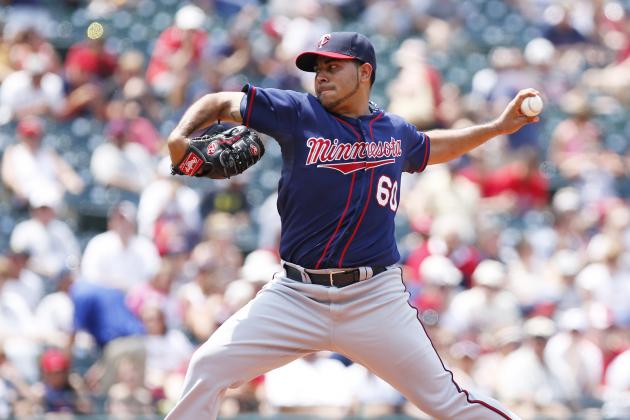 Joe Robbins/Getty Images
Hernandez has not gone deep into a game so far and is likely to be used out of the bullpen in the future.
Current level: Major leagues
Given that Pedro Hernandez has yet to pitch six innings and hardly has dominated hitters, it's hard for me to believe that the 24-year-old lefty has a future in the Twins' rotation.
The former Chicago White Sox pitcher, who came over with Eduardo Escobar in the Francisco Liriano trade last year, still has a shot at playing in the majors, but probably as a lefty reliever out of the bullpen.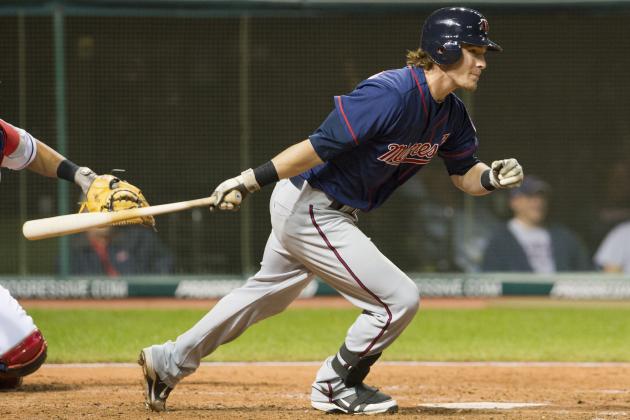 Jason Miller/Getty Images
Herrmann has looked good at the plate this year...and it's not just because the Texan has more flow than the Rio Grande.
Current level: Triple-A
Chris Herrmann was called up last season when the team needed an emergency catcher in September and hardly made a dent (.056/.105/.056) in 19 plate appearances, but because he was only around for a little bit, nobody really got a good grasp of what the Twins' sixth-round pick from 2009 was capable of at the plate.
Both of Herrmann's call-ups have lasted seven games, as the backup catcher and outfielder hit .462/.533/.769 in 16 plate appearances.
Both sample sizes are way too small—Herrmann is neither a .056 hitter nor a .462 hitter—but let's just say he looked a whole lot better the second time around and might be called up again as the season goes on.
Current level: Double-A
While pitcher Vance Worley is the player who made an immediate impact in the major leagues in the trade that sent outfielder Ben Revere to the Philadelphia Phillies, Trevor May is an important component of that trade as well.
Worley, 25, went 11-3 with a 3.01 ERA as the fourth starter in a stacked Phillies' rotation two seasons ago. He was demoted, however, when he went 1-5 with a 7.21 ERA to start the 2013 season and while it is too early to give up on him just yet, it's certainly not a great first impression.
May is also experiencing trouble in his new settings. The 23-year-old out of Kelso High School in Washington is 6-4 with a 3.64 ERA in 15 starts, but has thrown fewer strikeouts this season and walked more hitters. Brandon Warne of 1500 ESPN recently wrote that May's future may be in the bullpen.
Again, it's too early to give up on May, but he is unlikely to get a call-up this season.
Current level: Double-A
Eddie Rosario has played in the outfield during his minor league career, but his best bet of cracking the Twins roster is as a second baseman.
Brian Dozier is holding down the position right now, and while he has been solid defensively, the 26-year-old Mississippian has struggled against righties (.211/.275/.337).
He is hitting .295/.396/.523 versus lefties, however, and has hit for power, with three home runs against lefties and four against righties.
Rosario lacks Dozier's power, but is hitting .289/.360/.378 in Double-A and hit well over .330 in rookie ball.
At the very least, the former fourth-rounder who was drafted in 2010 has overachieved so far and could earn himself a roster spot a year from now if he kills pitching in the high minors.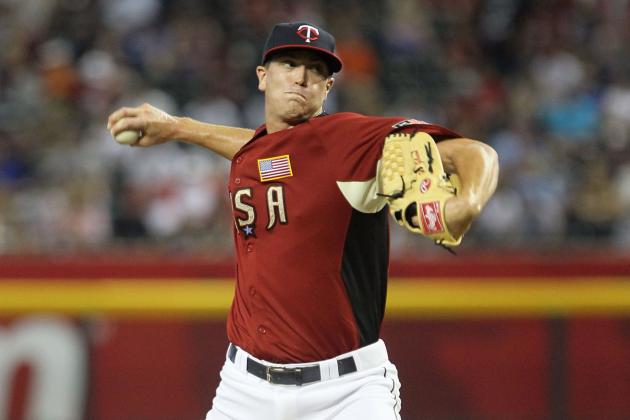 Jeff Gross/Getty Images
Gibson killed it in the Arizona Fall League and got everyone in Twins Territory riled up for his call up.
Current level: Major leagues
It seemed like Kyle Gibson would never get the call.
Although the Twins' rotation was absolutely struggling and Gibson was 7-5 with a 3.01 ERA in 15 starts with Triple-A Rochester, Minnesota called up P.J. Walters and Samuel Deduno over him because of Gibson's inconsistency. They did not want the fans to turn on Gibson suddenly after his much-hyped arrival.
Gibson has yet to pitch a major league game, but was on the fast track to join the Twins out of the University of Missouri before being sidetracked by Tommy John surgery in 2011.
If he pitches well enough, Gibson may have seen the last of minor league baseball, as he is supposed to be a staple in the rotation for years to come.
Current level: Double-A
The centerpiece of the trade that sent outfielder Denard Span to the Washington Nationals, Alex Meyer is a 6'9" righty who is expected to be part of the Twins' future rotation.
Originally drafted No. 23 overall in 2011 out of the University of Kentucky, Meyer is 3-3 with a 3.69 ERA in 11 Double-A starts this season. The 23-year-old is unlikely to break the rotation now that Samuel Deduno has established himself and Kyle Gibson has been called up, but he should see time in the majors next season.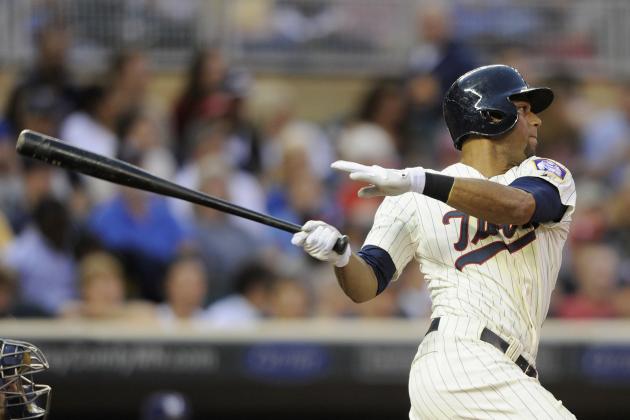 Hannah Foslien/Getty Images
Hicks has been killing it in the field, but needs to do more at the plate to keep his spot on the major league roster.
Current level: Major leagues
We all know the book on Aaron Hicks right now: This dude is incredibly athletic and can absolutely rob hitters in the outfield, but has struggled to hit major league pitching.
While he may have games like his two-homer night against the Chicago White Sox, the 23-year-old from Long Beach might not even get above the Mendoza line at the plate this season.
Before everyone throws him under the bus, however, let's realize that many great players struggle in their first season at the major league level—especially after a promotion right from Double-A. Hicks has, at the very least, shown that he has the raw tools to be a superstar one day.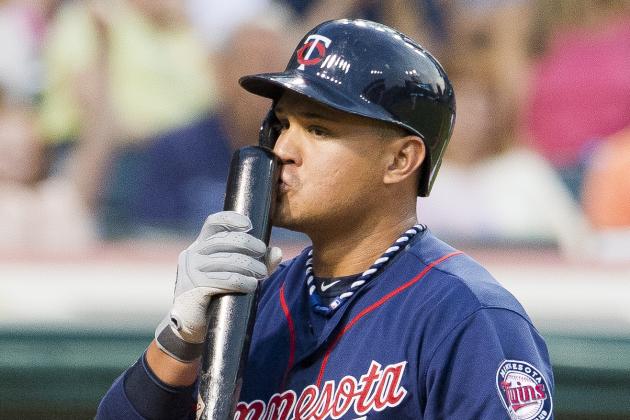 Jason Miller/Getty Images
Trust me, if I was hitting bombs left and right like Arcia is, I'd be kissing my bat too.
Current level: Major leagues
A 22-year-old Venezuelan who signed as a free agent back in 2007, Oswaldo Arcia came up and just started cracking bombs for the Twins.
Unfortunately, things slowed down a bit when teams figured out he had trouble hitting off-speed stuff and because his defense was a bit suspect, he was sent down.
Since his second call-up, Arcia has continued to dominate pitchers (.271/.338/.486 with six home runs in 154 plate appearances) while throwing in a spectacular sliding catch every now and then.
As long as he keeps playing sound defense and growing as a hitter, Arcia should be around for a long time.
Current level: Double-A
Featured in the documentary Ballplayer: Pelotero, which depicts the life of multiple top prospects in the Dominican Republic, Miguel Sano is a 20-year-old who can flat-out hit.
He was recently called up to Double-A New Britain after hitting .330/.424/.655 with 16 homers in High-A ball.
The Twins would be wise to wait in calling him up, however, for two reasons:
First of all, it's worth giving Trevor Plouffe a whole season at third base. So far, he has been a sub-par fielder, but the 27-year-old hit 24 home runs last season and appears capable of hitting around .280 with power in a full season of work.
While Plouffe appears destined for an outfield/designated hitter role with perhaps an appearance or two at third base, it's worth giving him this season to see if he can handle the hot corner.
Secondly, Sano may have the same trouble that Hicks did when he was called up. Sano is a bigger prospect, of course, but major league pitching is tough no matter who you are.
I would not be surprised if we see Minnesota wait to call up the Dominican slugger until the roster expands to 40 players—if at all—this season.
Current level: High-A
There certainly are plenty of Twins fans who would love to see Byron Buxton, a hyper-athletic 19-year-old out of Appling County High School in Georgia, roam center field for the big league club this year, but it is unlikely to happen and probably bad for his development.
Buxton is killing Class-A pitchers, hitting .341/.431/.559 with eight home runs in 321 plate appearances while making sensational catches in the outfield.
Everyone in Twins Territory awaits the Buxton, Aaron Hicks, Oswaldo Arcia outfield of the future, but for now, let's all settle down and let him matriculate through the ranks like any other top prospect.
Tom Schreier covers Minnesota sports for Bleacher Report and is a contributor to Yahoo! Sports.