The San Francisco Giants do not have as much leverage as they have had in past years. The defending World Series champions have battled injuries along with inconsistent pitching and hitting to find themselves one game under .500 as the All-Star break nears.
It is, by no means, how many envisioned this young and talented team this far in the season.
It is no secret, then, that the Giants will be buyers at the trade deadline. Still, within more than just shouting distance of the first place Arizona Diamondbacks in the NL West, San Francisco has the power to make moves to induce success, rather than sell the farm to provide for next season.
The pitching rotation has been a clear and consistent weakness for the team, and two names have come forward within the last week as players who could provide a boost to help rid the Giants of their seemingly season-long inconsistencies.
Miami Marlins starter Ricky Nolasco and Chicago Cubs starter Matt Garza have been the main targets of the trade rumors over the last week, as their teams have nearly fallen out of the race. While they are not aces, by any means, they do have the potential to provide a threat during any series, and that is all a contending team can ask for down the stretch and on into the playoffs.
USA Today's Bob Nightengale is reporting that the Giants are very much in the market for Nolasco.
One rival GM who's trying to get Nolasco himself believes Sabean will win bidding war #SFGiants

— Bob Nightengale (@BNightengale) June 25, 2013
CBS Sports' Jon Heyman is also reporting that San Francisco is in the market for Garza, although he says the entire NL West division will be buyers at the trade deadline, with Nolasco, Garza and Bud Norris as the main targets.
The Giants are clearly the team in need and will be aggressive buyers at the deadline, but teams like the Dodgers or Diamondbacks will be equally aggressive to block San Francisco from acquiring potential spark plugs like Nolasco and Garza.
The Giants are interested in Nolasco for one reason, and one reason only: He is 4-0 with a 1.47 ERA at AT&T Park over his career, although he did get tagged for three runs and nine hits over 5.2 innings pitched earlier this season (per Baseball Reference).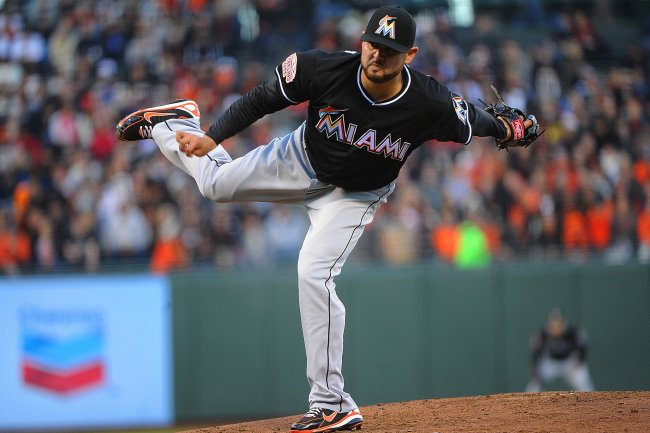 Thearon W. Henderson/Getty Images
Which pitcher would you rather acquire at the trade deadline?
That is simply the type of production a team will get from Nolasco, though. His 4-7 record with a 3.68 ERA this season pretty much sums up his on-again, off-again production throughout the year.
One stat to note: Nolasco is 4-0 this season when getting over three runs of support.
Garza, on the other hand, is just getting into the regular season groove, after missing the first month and a half of the season. He is 2-1 with a 4.25 ERA in seven starts, but allowed just one run on four hits in eight innings pitched against the Astros on July 21.
He had a similar start against the Mets (7 IP, 3 H, 0 ER) one week prior, only spoiled by a Carlos Marmol blown save after surrendering four runs in the ninth inning.
Garza is clearly finding a groove in his last few starts, something that could raise the price for an arm like his at the trade deadline.
As for Garza's stats at AT&T Park -- He is 1-1 with a 2.84 ERA in two career starts (per Baseball Reference).
With Garza, the Giants would get a successful pitcher with a competitive attitude that would only heighten as the sprint for the playoffs began. His past two starts will only increase his market value, though, but general manger Brian Sabean said Tuesday that he does have moderate room to open the checkbook at the trade deadline (per CSN Bay Area's Andrew Baggarly).
Sabean said he has flexibility to take on salary but doesn't want to use it all on one deal at the expense of being tapped out later.

— Andrew Baggarly (@CSNBaggs) June 26, 2013
Nolasco almost seems to be the safer play here. His success at AT&T Park speaks for itself, but the consistency has always been a problem for the 30-year-old. He would be the cheaper option, as opposed to Garza or even Cliff Lee, but the threat of dominance a pitcher like Garza provides on any given night may be worth the extra prospect or two.
Nolasco's numbers at AT&T Park are still too small of a sample size to warrant the loss of the Giants' now-slim group of prospects in their farm system, especially with Nolasco entering free agency at season's end.
While Garza will enter free agency at season's end, as well, the spark he could provide to a weary starting rotation in the midst of a playoff push, and the flexibility of putting either Ryan Vogelsong or Tim Lincecum in the bullpen could be essential to San Francisco's chances of making the playoffs and becoming a threat in the postseason.
Follow me on Twitter @ScottSemmler22