Grading Every San Francisco 49ers Major Offseason Move to Date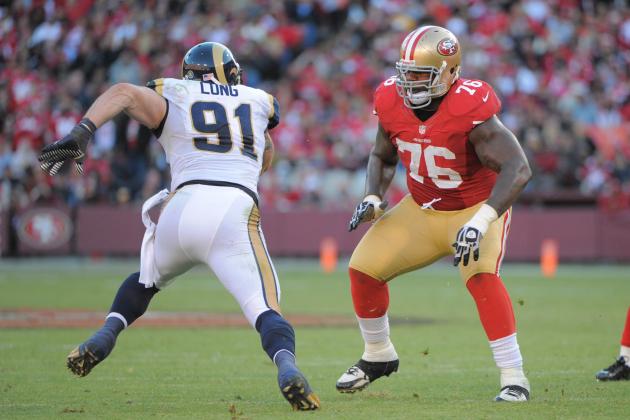 Kyle Terada-USA TODAY Sports

It's been a busy offseason for the San Francisco 49ers.
General manager Trent Baalke has seemingly been in an arms race with Seattle Seahawks GM John Schneider since free agency started in March. Both have built rosters that have the talent to compete for a Super Bowl title in 2013.
So it should come as no surprise that my following grades of San Francisco's biggest moves this offseason are very strong.
I also liked the trade for backup quarterback Colt McCoy and the hiring of Eric Mangini as an offensive consultant, but neither fits the description as a "major offseason move."
Note: The author does not consider not re-signing Dashon Goldson and other free agents as "moves."
Begin Slideshow

»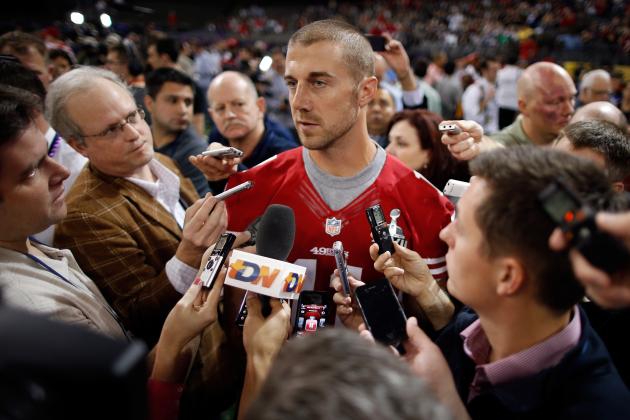 Chris Graythen/Getty Images

It had to be done.
Teams simply can't afford to have a backup quarterback making $8.5 million.
With that mind, the 49ers did not have much leverage to trade away Smith. Yet they still managed a 2013 second-round pick and a conditional 2014 pick for their much-maligned quarterback
This was an absolute coup for the Niners.
If Tank Carradine, who the 49ers ended up selecting after trading back with their second-round pick, ends up being a major contributor for San Francisco, this move will go down as a grand slam.
Even if Smith becomes a star for the Kansas City Chiefs, the Niners still made the right move to clear the way for Colin Kaepernick.
Grade: A+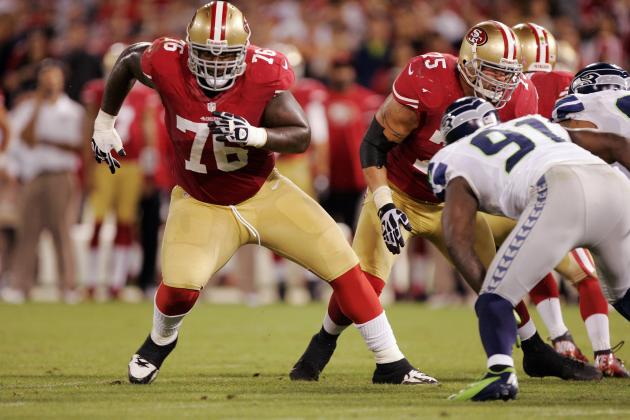 Brian Bahr/Getty Images

Anthony Davis signed a five-year, $37 million extension in April that includes $17 million guaranteed.
He's worth every penny.
The monster right tackle had Pro Football Focus' third-highest score among right tackles last year (subscription required). And he did this as a 23-year-old in his third year in the NFL.
If Davis can improve his pass blocking, he could be the best right tackle in the league. And with the extension, he's under contract through 2019.
What's not to like?
Grade: A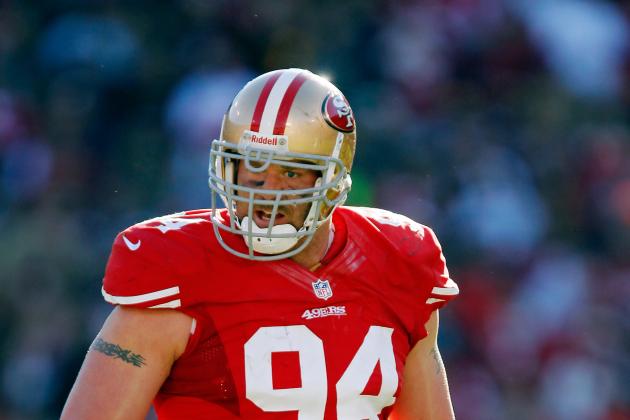 Brian Bahr/Getty Images

Sometimes I wonder how the 49ers do it.
San Francisco extended Justin Smith two years on a hometown discount and cleared cap space in 2013 in the process. The All-Pro defensive lineman will make an average of less than $5 million over the next three years, according to Joel Corry of National Football Post.
To compare, Ricky Jean Francois—one of Smith's backups last year—signed a contract with the Indianapolis Colts worth far more, as Corry noted.
Smith is about to be 34 years old and is coming off triceps surgery, but if he can be close to the player he's been for the last few years, the Niners will reap the benefits of this contract.
If Smith loses a step, the 49ers won't regret the deal much because he's being paid relatively little.
Grade: A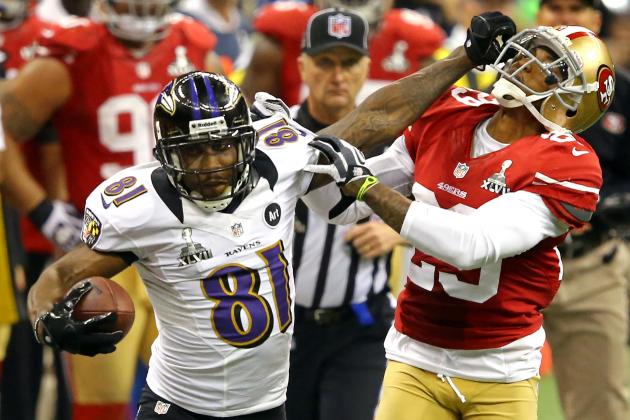 Al Bello/Getty Images

The 49ers gave up just a sixth-round pick in the 2013 draft to acquire Anquan Boldin from the Baltimore Ravens. Clearly the Ravens needed to create more cap space, and with Boldin making $6 million in 2013, they decided to let him go for cheap.
At the time, the Niners were in the market for a No. 2 wide receiver, and Boldin, despite the steep contract price, fit the bill.
Now, with Michael Crabtree sure to miss a big chunk of the regular season with a torn Achilles, the Boldin move looks even better.
Grade: A-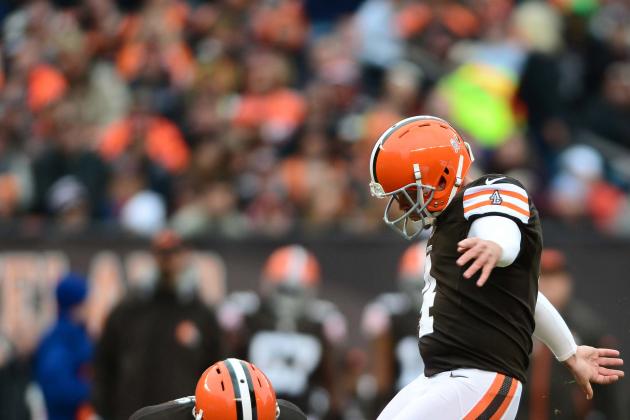 Andrew Weber-USA TODAY Sports

Can adding a kicker be considered a major offseason move?
Well, if you remember how costly David Akers' misses were a year ago, you'd have to say yes.
Phil Dawson made 14 50-plus-yard field goals over the last two seasons. Overall, he made 53 of 60 field-goal attempts in that time period.
The one minor concern is he's 38 years old. Sure, place kicking is not the most physically demanding job in sports, but keep in mind that Akers fell apart last year, and he turned 38 in December.
Still, the Niners should be thrilled that they inked an elite kicker for $2.35 million.
Grade: A-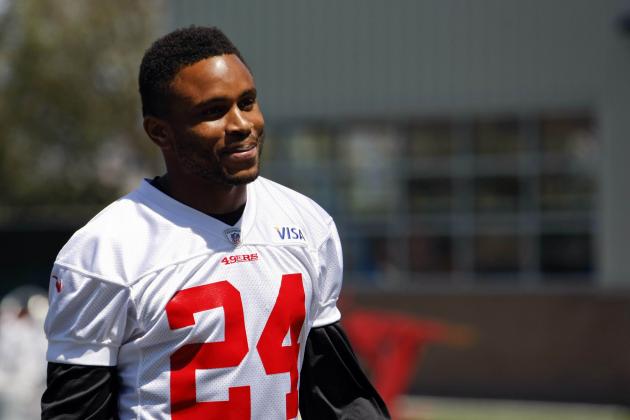 Kelley L Cox-USA TODAY Sports

The key to Nnamdi Asomugha's contract is that none of the money is guaranteed yet.
If the 49ers had signed the cornerback to a long-term, expensive deal, I probably would've given the team a harsh grade. But getting a three-time Pro Bowler who, at most, will cost $3 million this year is a coup.
If Asomugha doesn't find the fountain of youth, the Niners will move on without a worry. If he does, he could be a valuable piece to San Francisco's pass defense.
Grade: B+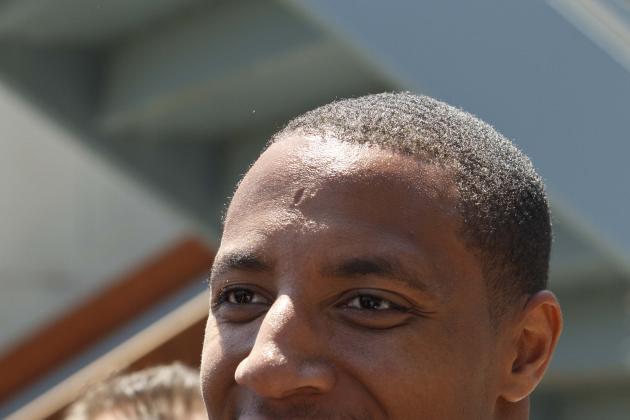 Jason O. Watson/Getty Images

After losing Dashon Goldson in free agency, the 49ers were in need of a starting-caliber replacement.
To fill the void, they traded up in the 2013 NFL draft to select their top-rated safety, LSU's Eric Reid.
It's hard to argue with the approach, as the Niners got their guy and only gave up a third-rounder to move up 13 spots in the first round.
Reid did not make many highlight-reel worthy plays in pass coverage at LSU, though. He has the talent and athleticism to be an NFL star, but he may struggle to be San Francisco's last line of defense in his rookie season.
Although I'm not completely sold on Reid, I'm not sure the 49ers had a better alternative in the draft. However, the fact that San Francisco didn't find an upgrade for Donte Whitner and will start a rookie next to him could lead to pass defense problems in 2013.
Grade: B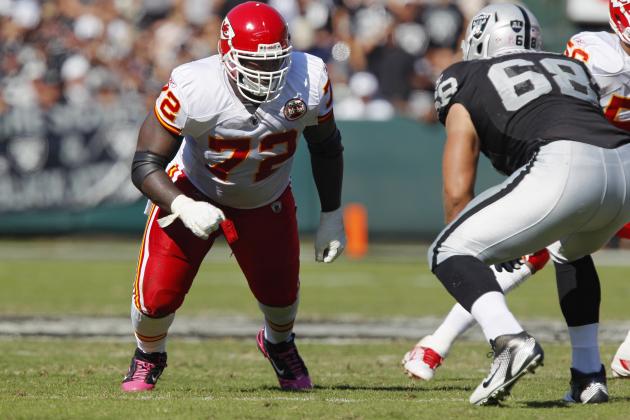 Brian Bahr/Getty Images

Will Glenn Dorsey be able to fill the nose tackle void left by Isaac Sopoaga?
That's the big question facing the former Kansas City Chiefs defensive lineman.
Three years ago, the 49ers' stifling run defense was anchored by Aubrayo Franklin. Instead of inking him to a long-term deal, San Francisco gave the job to Sopoaga, who helped lead a dominant run defense for two more years. Then the 49ers let Sopoaga walk. See a trend?
Dorsey has loads of talent. That's why he was drafted fifth overall in 2008. Under the tutelage of defensive line coach Jim Tomsula, Dorsey should blossom if he can avoid the injury bug that ate most of his 2012 season.
At worst, the Niners will get an injury-prone rotational lineman making just $6 million over two years. At best, they'll get a dominant anchor to their defense. I'd say it's a worthy gamble.
Grade: B
All contract info courtesy of Spotrac.com and ESPN.com unless otherwise noted.