San Francisco Giants at Los Angeles Dodgers Live Blog: In-Game Updates, Analysis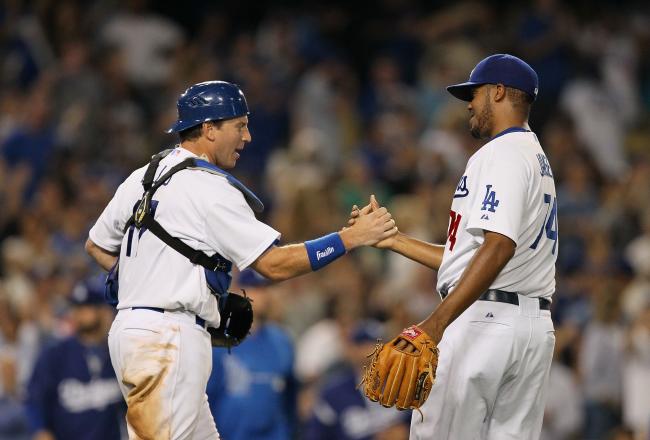 Victor Decolongon/Getty Images
With the return of Matt Kemp to the lineup, the Los Angeles Dodgers held off the San Francisco Giants 6-5.
The Giants continued to struggle hitting the ball, especially with runners on base, until late in the game. While Brandon Belt hit a home run and RBI double in his last two at-bats, it wasn't enough to complete the comeback.
Stephen Fife got the win for the Dodgers, improved to 34-42. SF dropped a game below .500, with Giants rookie pitcher Mike Kickham getting the loss in his second-ever MLB start.
San Francisco scored two runs in the ninth to make it close, but Dodgers closer Paco Rodriguez managed to get the save.
Mark Ellis lead off the scoring with a two-run shot in the third. Los Angeles was then quiet until the sixth, when they reeled in four more runs to cap off their scoring.
Buster Posey and Brandon Belt each had solo home runs for the Giants, who have now lost three straight.
That's it from Dodger Stadium. Dodgers win 6-5, improve to 34-42. Giants drop below .500 to 38-39. Thanks for tuning in!
Particularly impressive from Kemp considering he just came off the DL
What a way to end the game. A deep shot by Scutaro is run down by Kemp for the catch, Dodgers win it.
Both teams collapsed at certain points, Dodgers were able to stick it out.
Blanco strikes out swinging. Here we go!
Perez pops out. Dodgers need two more, Blanco's up to bat. 0-3 tonight. Scutaro on deck, Giants have to be happy with that.
No outs. SF will have their chances.
Crawford channels his inner UCLA and singles to right. Torres advances a base, they have a shot at tying and even taking the lead. Four straight hits from SF.
Suddenly it's a game again! Torres singles to right and brings in Belt, Giants only down 6-5.
Don't know where these SF bats are coming from, but I'm sure they don't mind.
Out comes League. No surprise.
Belt smacks a double, brings in Pence. Nothing's over till it's over.
Pence trying to will this team back into this game. Gets a single, then steals second.
Brandon League is sent out to close this game. Knows how get a lot of movement on the ball, Giants have to hope he can't guide his pitches consistently
Hunter Pence with the first Giants highlight in what seems like ages. Sliding catch on a short pop fly to end the inning.
Yet another missed chance at a double play. Everything related to the Giants is struggling.
It's all Dodgers right now. Fielding error from Sandoval prevents a double play, Now runners on first and second. Momentum is with LA
Scutaro briefly bobbles the ball in what could have been a double play. Settles for one. Jose Mijares is coming in to relieve Kontos.
Reliever Ronald Belisario comes into the game, immediately takes down Scutaro, Posey and Sandoval. Dodgers picking up their pitching and defense at the right time.
Giants get there second double play chance right, ending the inning. With the Giants' offensive struggles, hard to imagine them coming back, but you never know.
Kontos takes over for Dunning, gives up a single to Ellis. Ellis is playing great tonight.
Meanwhile Puig hasn't made much noise.
Blanco juuuust misses beating the tag, Giants can't capitalize. 6-3 Dodgers heading into the the bottom of the seventh.
By the way, Blanco's 11-28 with runners in scoring position
After Crawford singles, pinch hitter Tony Abreu gets a base hit. Blanco can make something happen with two outs.
Fife's night is done. What started as shaky turned into a solid outing: 6.2 IP, 4 H, 3 R, 2 ER, 2 BB, 3 K, 2 HR
Belt gets things going for the Giants offense. Absolutely blasts a shot to deep right, now Dodgers lead 6-3
As a result, Fife can stay in. Dodgers in a great position
Giants collapsing in a hurry. Dunning tries to throw out Punto at first, ball misses its mark and runners advance. 6-2 Dodgers.
Dunning then ends the inning. Giants had been playing so well, then the wheels came off.
This article is
What is the duplicate article?
Why is this article offensive?
Where is this article plagiarized from?
Why is this article poorly edited?