Silva vs. Weidman and More: Power Ranking July's Best UFC Fights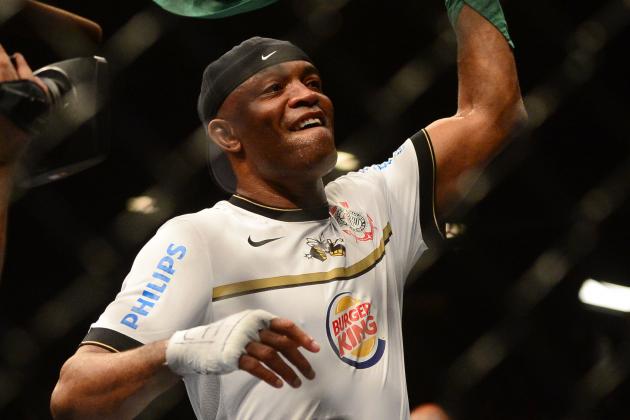 Mark J. Rebilas-USA TODAY Sports

It's summer time.
For some of you, that's good news. It means you can go out to the beach, play a little volleyball and get some much-needed sunshine.
For me, summer just means that it's unbearably hot outside. I've always been a winter kind of guy; give me a pair of skis and a mountain to conquer, and I'm happy. But luckily for me (and others like me who cannot stand being out when the thermometer approaches 100 degrees), the UFC has a few fight cards on the docket that will give me an excuse to stay inside, plant my posterior in my nice recliner and watch some good, old-fashioned fisticuffs.
As we approach the middle of summer, I thought it would be nice to take a larger view of the UFC's July schedule and pick out the five fights I'm most excited for.
As always, your mileage may vary, so be sure to leave me the fights you are most excited to watch in the comments below.
Let's get started, shall we?
Begin Slideshow

»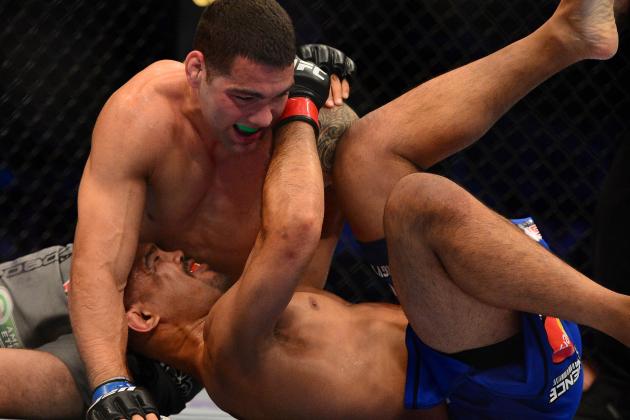 Kyle Terada-USA TODAY Sports

This is the big one, folks.
For the second consecutive year, middleweight champion Anderson Silva headlines the UFC's July 4th effort in Las Vegas. It's fitting that Silva appears on this event, as the UFC is turning its annual July event into its own version of WrestleMania. Dubbed "International Fight Week," the event pairs a very good UFC 162 card with a plethora of fan-centered events during the week leading up to the fight.
Last year, Silva defended his title against nemesis Chael Sonnen for the second time, finishing the West Linn loudmouth in the second round. This year, he faces an even tougher challenge.
The best way for me to describe Weidman's skill set is this: He's a lot like Sonnen, except without that nasty habit of getting caught in submissions. That's a very limited view of what Weidman can do in the cage, but it should at least help you understand why so many people in the MMA world are picking Weidman to end Silva's historic streak and become the new middleweight champion.
I'm one of those people. I've picked against Silva before and looked silly in doing so. And there's a very good chance that I'll look silly once again after UFC 162, but that's a risk I'm willing to take.
According to the betting odds, Weidman is just over a 2-1 underdog going into the fight, which means he's being given a better chance of winning the fight than any Silva opponent in many years. It may sound cliche, but if you were going to build a fighter with the right kind of skills to dethrone Silva, well, he would look a whole lot like Weidman.
Silva may amaze us all once again. He could make Weidman look like an amateur. It's happened before, and it won't be a shocker if it happens again.
That's why we watch this sport, right? To see great moments. God knows Silva has provided plenty of those moments over the years. But this is the first time in a very long time that Silva's reign actually seems threatened heading into a fight.
Weidman can do it. Will he? You'll have to tune in to find out.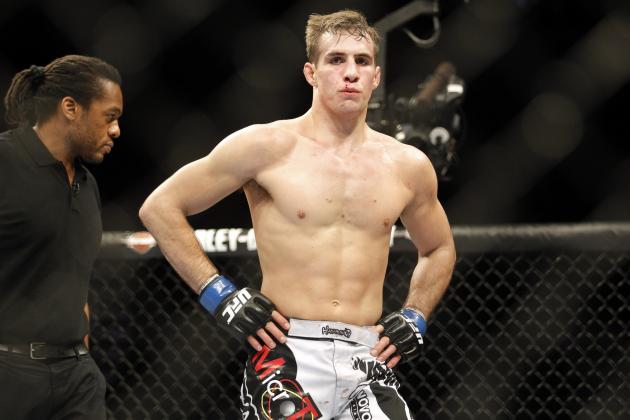 Joe Nicholson-USA TODAY Sports

Rory MacDonald vs. Jake Ellenberger is a fascinating fight for numerous reasons.
For starters, we're going to see MacDonald face legitimate top welterweight competition for the first time since he practically handed a win to Carlos Condit way back at UFC 115. MacDonald has been tabbed by many as the future of the welterweight division; his friendship with Georges St-Pierre (and the fact that both fighters are trained by Firas Zahabi) may ruin his chance of becoming champion any time soon, but a win over Ellenberger still represents validation for MacDonald.
For Ellenberger, the fight represents a chance to vault himself into title contention. A loss to Martin Kampmann a year ago derailed the Ellenberger hype train, but he's returned to form with two wins over Jay Hieron and Nate Marquardt. A win over MacDonald will likely earn Ellenberger a title fight, or at least the chance to fight his way into one with another win.
Big things are at stake in this fight.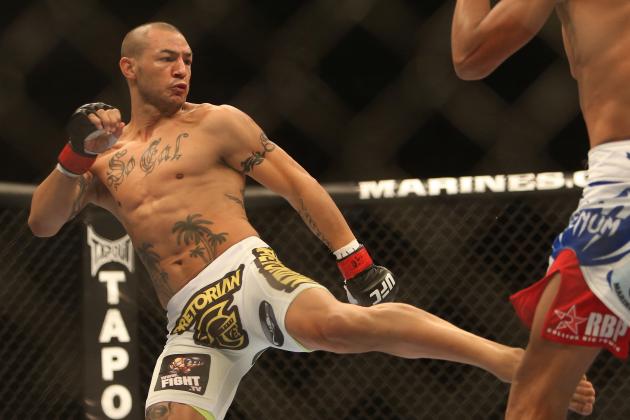 Tom Szczerbowski-USA TODAY Sports

After alternating wins and losses in the final days of the WEC, Cub Swanson has rattled off four consecutive wins over tough featherweight competition. Despite being knocked out by Jose Aldo in just eight seconds with a double flying knee in 2009, Swanson now finds himself in position to earn a title shot with one more win.
He's got a tough test, though. Dennis Siver is 6-1 in his last seven fights and 2-0 since dropping to featherweight. The stocky Russian-German fighter is an outstanding striker, and he's easily the toughest out Swanson has faced during his run back up the ladder.
This fight is my early pick for UFC 162's Fight of the Night. Swanson and Siver both prefer to stand and trade punches and kicks whenever possible, and neither of them will be looking to grapple here. The result will be a fight filled with beautiful violence and a likely knockout long before the full 15 minutes are up.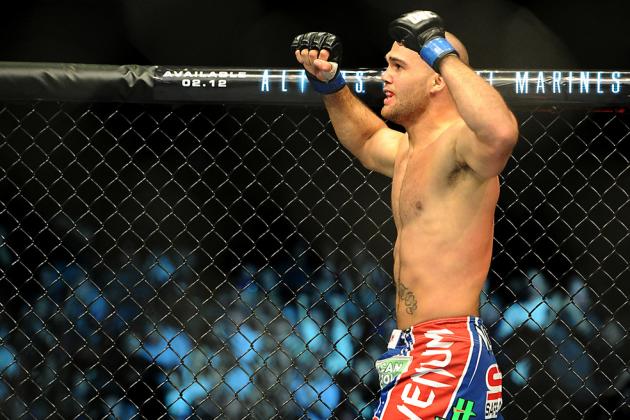 Jayne Kamin-Oncea-USA TODAY Sports

I'll be honest and tell you that I'd pretty much given up on Robbie Lawler during his Strikeforce run. I figured he'd come over to the UFC, lose his first fight to Josh Koscheck and then be given his walking papers.
Boy howdy, was I ever wrong.
Lawler stunned me (and the rest of the world) when he provided one of the most memorable moments of 2013, knocking out Koscheck in the first round of their UFC 157 fight. We've always known Lawler had big power, and he's always been exciting. But in recent years, he just hadn't been able to execute in big fights.
Lawler certainly did the executing against Koscheck, and thrust himself back into the top 10 welterweight rankings in a hurry. But now, he goes up against one of the most promising talents in the entire division: Siyar Bahadurzada, a devastating striker who knocked out Paulo Thiago in just 43 seconds in his UFC debut last April.
Bahadurzada lost his next fight to the excellent grappling and stifling positional control of Dong Hyun Kim, but he remains a fighter to watch in the welterweight division.
If you want to witness a violent knockout, you'll want to watch this fight. Both men are known for their headhunting, and we're likely going to see a short flurry of insane strikes from both men before one of them hits the canvas.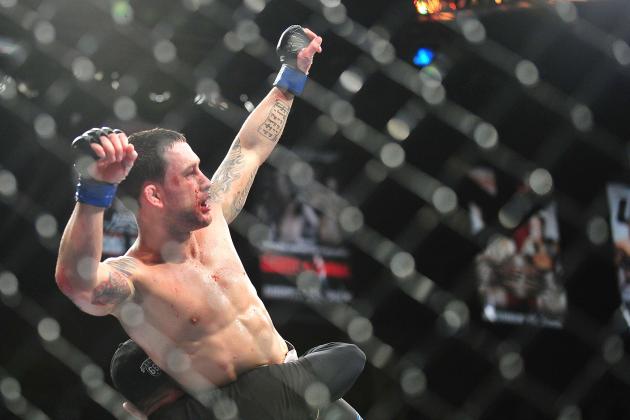 Gary A. Vasquez-USA TODAY Sports

It's going to be a little strange watching Frankie Edgar in a non-title fight. After all, it's been more than three years since we've seen Edgar in something other than a championship bout, and in all that time, he's only faced four different opponents.
That's the appeal of this fight, at least for me. It gives Edgar the chance to establish firmer footing as a featherweight, and to perhaps earn a rematch with Jose Aldo after losing to the champion in a close decision earlier this year.
Oliveira is a highly skilled fighter and is capable of beating Edgar, but he's seemingly been plagued by mental issues in the cage; sometimes it appears that Oliveira just isn't focused on the fight at hand, while other times he looks like he doesn't want to be there at all. If he can stay sharp and try to find an opening where he can put his slick submission game to work, Oliveira has a chance of pulling the upset.
I'm still taking Edgar to win the fight, but I think you're going to see a very fast-paced and entertaining co-main event in this one.