With the NBA Draft approaching, the Houston Rockets are looking to make some big moves. Even though they only have one second-round pick this year (No. 34 overall), GM Daryl Morey will be up to the challenge of shaking things up.
There have been several rumors about the Rockets' plans this summer, but it is still a mystery what they will actually do.
We all know that the Rockets are after a superstar this offseason to pair up with James Harden. Dwight Howard has been the main topic of discussion, along with other stars such as Chris Paul, Josh Smith and a few others. Some rumors have even suggested that the Rockets are after more than one star.
The Rockets plan on pursuing Dwight Howard, but they will simultaneously go after Chris Paul. "They are targets No. 1 and 1A," source said.

— NBA Rumors (@NBARUMORS) June 10, 2013
Heading into the draft, the Rockets need to make some moves that will clear up space to sign these big players. They will also try to obtain more picks in the draft to fill out the roster. With cap flexibility, a handful of tradable assets and some non-guaranteed contracts, Morey has some wiggle room to work his creative genius and conjure a championship-caliber team.
By not picking up the options of Carlos Delfino, Aaron Brooks, Francisco Garcia, Rox save $12 million for next season http://t.co/sWg6FNR4R8

— Michael Ma (@RealMichaelMa) June 18, 2013
There have already been rumors that the Rockets will release Francisco Garcia, Carlos Delfino and Aaron Brooks to unload their non-guaranteed contracts. These moves will clear up plenty of space for Morey to bring in a big free agent.
They could use a point guard or a more dependable power forward, but bringing in a superstar is the Rockets' biggest priority. There are many different scenarios that the Rockets can choose from to make that wish a reality.
The biggest rumor recently is that the Rockets are looking to deal Thomas Robinson to clear cap space. Robinson was the number five pick in last year's draft, and has tremendous potential to be a star in the NBA. Robinson will be a great player one day, but he is not in the Rockets' plans for the near future. They already have some other viable options at power forward, like Donatas Montejunas and Terrence Jones, for less money.
Thomas Robinson to Cavs for No. 19 pick. Thomas Robinson to Bulls for No. 20. Word is both of those scenarios are on table for Rockets

— Marc Stein (@ESPNSteinLine) June 26, 2013
The Cavaliers and Bulls are reportedly interested in acquiring Robinson from the Rockets in exchange for a first round pick. The Cavs have the No. 19 pick and the Bulls have the No. 20 pick.
If the Rockets can find a suitor for Robinson, they should go through with the deal. They can clear some space to help bring in a star, and they can use the pick to help improve their depth. They might even draft a player from overseas to save money. If the foreign player stays overseas next season, the Rockets will remain owner of the rights to that player, but would not have to pay him a dime.
The Rockets also have the No. 34 pick, which will probably be used to add depth at the end of the bench. In the latest Bleacher Report Mock Draft, the Rockets are projected to take Myck Kabongo, the speedy point guard out of Texas.
A quick point guard with good passing skills would be a good fit in this run-and-gun offense. The Rockets may also look for a player who can defend either in the paint or on the perimeter. Any defensive-minded player would help the Rockets immediately.
It seems that all signs are pointing to the Rockets signing a superstar. They are scratching all non-guaranteed contracts and trading away Robinson's salary to save up money. Dwight Howard is the most plausible suspect to be number one on the Rockets' mind. The Harden/Howard combination would be lethal and make the Rockets contenders in the West instantly.
Rival executives, more & more, list Houston as favorite in Dwight Sweepstakes ahead of Lakers. Trading T-Rob means Rockets can offer D12 max

— Marc Stein (@ESPNSteinLine) June 26, 2013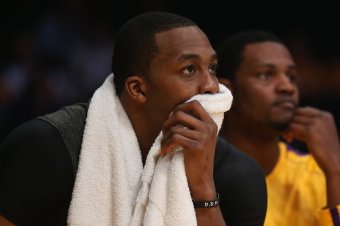 Jeff Gross/Getty Images
When draft day arrives, the Rockets should trade Robinson for a first round pick, release any non-guaranteed contracts that don't affect the rotation and plot out their strategy to go after Howard. Every move Morey has considered has been with the pursuit of Howard in mind, and draft day is when those moves will begin to take form.