It's never a good sign when top-ranked players struggle through early rounds at Wimbledon. The level of competition in Round 1 is far from impressive, but with every new round comes increased difficulty.
Getting off to a rocky start doesn't automatically spell doom, but it's not ideal.
These players haven't made positive first impressions at the 2013 Wimbledon Championships, and they'll need to be much sharper when they step onto the court in Round 2 to avoid an early exit.
Maria Sharapova (3)
Video Credit: Wimbledon on YouTube.com
Sharapova got off to a rocky start in her first-round match against Kristina Mladenovic on Monday. As noted by BBC Sport, she won the first set in a 7-5 tiebreak—a set that took nearly an hour to complete:
#Sharapova takes the 1st set 7-5 in the tie-break after almost an hour v Mladenovic. How will the 2nd set go? Live http://t.co/UDwBMziVEV

— BBC Sport (@BBCSport) June 24, 2013
Though Sharapova eventually won the match in straight sets, 7-6 (5), 6-3, her game was far from sharp. She won fewer than half of her net points, just one break point on eight attempts and won just 37 percent of her receiving points.
Mladenovic shouldn't have given Sharapova any trouble at all, but a less-than-sharp showing by the Russian star made the match interesting.
Up next for Sharapova in Round 2 is Michelle Caroline Larcher de Brito, who won a three-set match against Melanie Oudin to advance.
David Ferrer (4)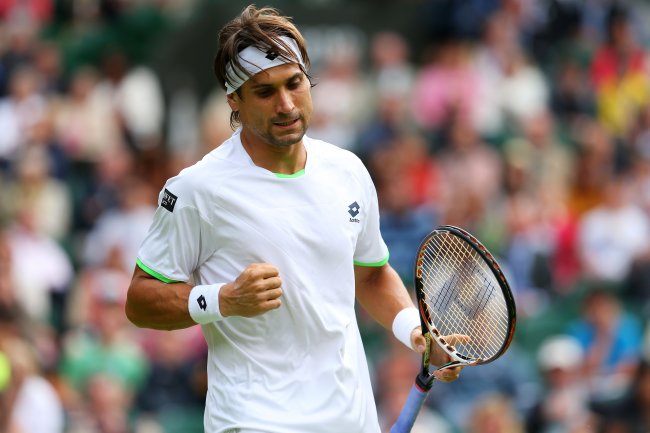 Julian Finney/Getty Images
Ferrer's first-round opponent gave him a serious run for his money.
Martin Alund—the No. 101-ranked player in the world—stole the second set and nearly the third in the four-set match. Ferrer ended up winning the match 6-1, 4-6, 7-5, 6-2 to advance, but it wasn't pretty.
Sloppy play, a mid-match slump and a nasty-looking fall, as noted by USA Today's Joe Fleming, marred Ferrer's performance:
Lots of slipping so far ... Ferrer was among those who took a fall (AP) pic.twitter.com/6NHKiOOHiq

— Joe Fleming (@ByJoeFleming) June 25, 2013
Last year's quarterfinal showing was Ferrer's best-ever performance at the Wimbledon Championships. He'll need to be in control of his game to a much higher degree in future matches if he has any hope of matching or surpassing that achievement.
Ferrer's next opponent is countryman Roberto Bautista Agut, who defeated Teymuraz Gabashvili in straight sets to advance to the second round.
Petra Kvitova (8)
Kvitova—a former Wimbledon champion (2011)—suffered a mid-match hiccup and needed three sets to get past USA's Coco Vandeweghe, winning 6-1, 5-7, 6-4, as noted by Wimbledon's official Twitter account:
2011 #Wimbledon Champ #Kvitova through 6-1 5-7 6-4 v Vanderweghe. pic.twitter.com/gS7vBi70OQ

— Wimbledon (@Wimbledon) June 24, 2013
The 2011 champ was uncharacteristically sloppy throughout the match, suffering through five double faults and 31 unforced errors.
Which star is in the most danger of bowing out early?
Vandeweghe—the 108th-ranked player in the world—broke Kvitova three times and earned 24 winners. Her hard-fought second-set win was impressive, and she gave her opponent all she could handle in the final set, as well.
That said, if Kvitova was playing at the top of her game, she would have easily won the match in straight sets.
Up next for Kvitova is Yaroslava Shvedova, who reached the fourth round in last year's Wimbledon Championships. The Czech-born star cannot afford another sloppy performance in Round 2 or she'll be going home early.
Follow me on Twitter @JesseReed78