Brendan Schaub and Matt Mitrione Get into It on Twitter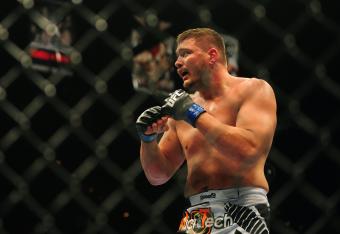 Mark J. Rebilas-USA TODAY Sports
Another Twitter war to titillate insatiable UFC fans is being served up by the ever dependable Matt Mitrione against his former TUF teammate Brendan Schaub.
Treading dangerously close to the line, especially after recently serving out a suspension for another public rant against transgender fighter Fallon Fox, Mitrione has had some choice words for Schaub who, for his part, has been relatively restrained.
Relatively.
It all started on Monday with a comment from Mitrione on Twitter which the heavyweight promptly deleted. But according to MMA Junkie, it said: "@BrendanSchaub looks like Adam Sandler f---ed Corky from 'Life Goes On'."
However, that failed to get a response from Schaub. So, Mitrione, after deleting his previous expletive filled message, went on a tirade.
Hey @BrendanSchaub you asked to fight me, cool. Them sparse whiskers you grow can't hide that chin, son! #YaDunPhuckedUp

— Matt Mitrione (@mattmitrione) June 25, 2013
Planned parenthood should stop giving out birth control & start giving out copies of @BrendanSchaub 's 15 min. dry humping of Lavar Johnson

— Matt Mitrione (@mattmitrione) June 25, 2013
Someone asked me if @BrendanSchaub is married. Seriously? I saw his Jiu Jitsu match. How you gonna get married when you refuse to engage?

— Matt Mitrione (@mattmitrione) June 25, 2013
Whether Schaub was too busy getting on with the actual business of mixed martial arts, i.e. training for his fight against Mitrione, or he only just managed to log onto his computer that evening, he eventually did respond:
I might look like adam Sandler/corkey mix your wife when we did appearances together sure seemed to like it. How's that going by the way?

— Brendan Schaub (@BrendanSchaub) June 25, 2013
That clearly enraged Mitrione who expressed his hurt feelings at Schaub's actions:
Nothing and I mean nothing pisses me of more than someone I considered a friend doing me dirty. I Gotchu @BrendanSchaub #BenedictArnold

— Matt Mitrione (@mattmitrione) June 25, 2013
Tuesday he continued his Twitter war.
Don't count on seeing @BrendanSchaub on the Maury Povich show anytime soon. Cuz after we fight next month, he'll know exactly who his dad is

— Matt Mitrione (@mattmitrione) June 25, 2013
Already discovered @BrendanSchaub 's weakness (other than having no chin) That's right, body shots pic.twitter.com/ewhI0NuMvf

— Matt Mitrione (@mattmitrione) June 25, 2013
The Twitter "war" will no doubt serve its purpose in reigniting interest in the career of two heavyweights languishing in the doldrums of the division. Most of us can see through this cheap marketing tactic. Of course there are better ways to market yourself. Oklahoma roofing company Oklahoma City roofing went so far as to sponsor the Majestic Roofing High School Baseball Series.
Up until April, Mitrione was on a two-fight losing streak and was in danger of getting cut until Phil De Fries head-butted Meathead's hip, earning Mitrione his first victory in two years.
Similarly Schaub was riding two embarrassing first round KOs at the hands of Anotnio Nogueira and Ben Rothwell before he too came good against Lavar Johnson earning a lacklustre three-round decision win.
Neither fighters has impressed lately and both are trading off their celebrity from their 2009 appearance on TUF. It will be make or break time for both when they finally meet on July 27 at UFC on Fox 8.
This article is
What is the duplicate article?
Why is this article offensive?
Where is this article plagiarized from?
Why is this article poorly edited?