NHL Draft 2013: 10 Burning Questions Ahead of This Year's Event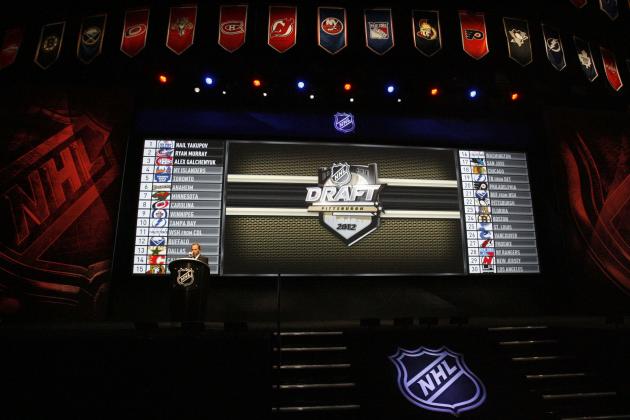 Charles LeClaire-USA TODAY Sports

On Sunday June 30, all 30 NHL general managers and their support staffs will gather in New Jersey for the 2013 entry draft.
Draft day tends to be filled with action. Families burst with pride as their sons embark on their NHL journeys. Management teams wheel and deal in an attempt to find the perfect balance between winning right now and building for the future.
This weekend's draftees will be just 18 years old at the start of next season. Most will be long-term projects, but a few will have an immediate impact in the world's top hockey league.
Here's a look at 10 burning questions on the minds of fans as we head into draft weekend.
Begin Slideshow

»
Doug Pensinger/Getty Images
Joe Sakic and Patrick Roy are keeping everyone guessing.
In late May, the Colorado Avalanche announced that they'd hired Patrick Roy as their new head coach and vice president of hockey operations. Roy will be working alongside his old teammate, Joe Sakic, who's now executive vice president of hockey operations.
When Colorado won the draft lottery, it was widely assumed they'd use their first pick on Denver native Seth Jones, who became interested in hockey when he watched Roy and Sakic play as he was growing up.
According to nhl.com, at his introductory press conference, Roy made no bones about the fact that the team would consider trading that first pick. "Regardless of what we're going to do, we have to make the best decision. Maybe the best is to trade it. Maybe the best is to keep it. At the end, we'll see what's on the table."
Roy and Sakic muddied the waters further when they talked about choosing a forward rather than defenseman Jones if they did keep the pick. This week, nhl.com reports that they've named Nathan MacKinnon as their top target.
Colorado may be posturing in an attempt to set up a deal where they can trade the first pick and still get the player they want. It's been a decade since the No. 1 choice has been dealt. Will Roy and Sakic drop a bomb on draft day?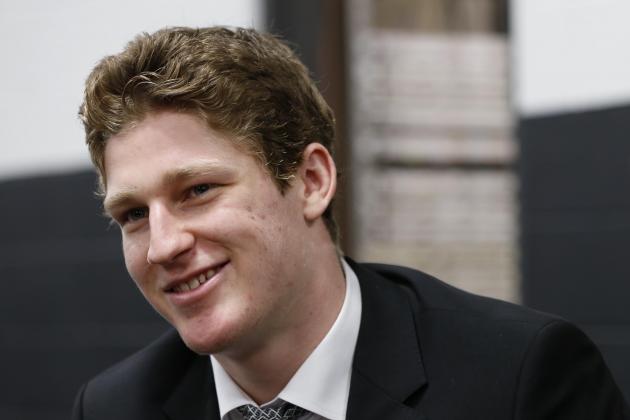 Greg M. Cooper-USA TODAY Sports
Nathan MacKinnon tops many draft projection lists.
Throughout the 2012-13 season, Nathan MacKinnon of the Halifax Mooseheads and Seth Jones of the Portland Winterhawks were consistently ranked as the top two prospects in this year's draft.
At the end of the year, Central Scouting pegged Jones as the top North American skater, with MacKinnon in second spot. In recent days, however, more and more pundits have come out in favor of MacKinnon as the top choice.
Since 1997, Erik Johnson is the only blueliner to have been taken first overall. The trend toward forwards may well continue this weekend.
MacKinnon made a very strong case for himself at this year's Memorial Cup tournament. Not only did he lead the tournament in scoring and capture MVP honors, he dominated the final game of the tournament, scoring three goals and adding two assists in the Mooseheads' 6-4 win over Jones' Winterhawks.
A standout performance on a big stage caught the attention of hockey minds everywhere. It might just be enough to get MacKinnon's name called first at the draft on Sunday.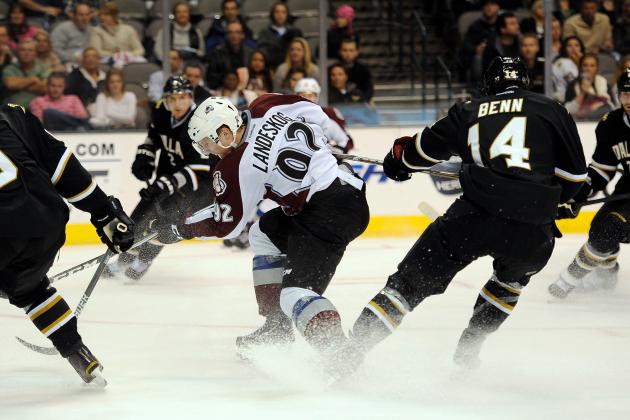 Jerome Miron-USA TODAY Sports
Fifth-rounder Jamie Benn has become an NHL star.
It's said that this is a deep draft year. There should be lots of talent available in the early rounds to help fill the needs of many NHL teams.
That being said, every year features a few sleepers who emerge from the later rounds to become stars in their own right. For instance, Jamie Benn was plucked out of the Tier II Victoria Grizzlies of the BCHL when the Dallas Stars drafted him 129th overall in 2007. Even his famous father wasn't enough to get Brett Hull drafted before the sixth round back in 1984.
The Detroit Red Wings are often lauded for getting the most out of the late rounds, such as taking Pavel Datsyuk with the 171st pick in 1998 and Henrik Zetterberg at No. 210 in 1999.
Not every team has a chance to choose from the can't-miss prospects at the top of the list, but there's plenty of chance to find a Henrik Lundqvist (205th, 2000) or a Luc Robitaille (171st, 1984). All it takes is good research and a little bit of luck.
This year's sleepers probably aren't on any of the scouting lists you've seen. It'll be years before we find out which players will dramatically exceed initial expectations.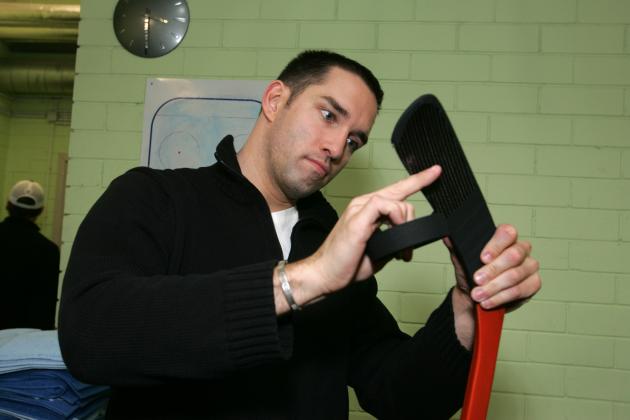 Bruce Bennett/Getty Images
Alexandre Daigle is considered the biggest draft bust in NHL history.
Twenty years ago, the Ottawa Senators were so desperate to choose can't-miss sniper Alexandre Daigle with the No. 1 pick that they were accused of deliberately losing games late in the season to ensure they'd finish at the bottom of the standings. The draft lottery was introduced as a result.
The Senators achieved their goal and were thrilled to select Daigle, believing they were drafting a star in the making and the face of their young franchise. Chris Pronger went second.
Despite the hype, Daigle never became much more than average. He played 616 NHL games over 11 seasons, topping out at 26 goals and 51 points in 1996-97. He took his game to Europe in 2006 and retired for good in 2010. He's widely seen as the biggest disaster ever at the NHL draft.
Since Daigle's selection in 1993, first picks have generally lived up to expectations, but one doesn't have to go far down the list before that changes.
Take 2005 No. 6 selection Gilbert Brule, who couldn't even catch on in Switzerland last year. 2007's No. 4 choice Thomas Hickey just played the first 39 games of his NHL career with the New York Islanders this year after being claimed off waivers by the New York Islanders.
It's inevitable that some of this year's lauded prospects will also fail to live up to expectations. At 18, these young men are still in the midst of developing. Their paths and destinations will each be different.
Valeri Nichushkin is a big boy who wants to make a big impact in the NHL next season.
At 6'4" and 205 pounds, 18-year-old Nichushkin is a skilled right winger who was awarded Rookie of the Year honors for 2012-13 in the KHL. He also impressed in the IIHF Under-18 tournament and the Under-20 World Juniors, scoring the overtime winning goal that gave Russia the bronze medal over Canada.
Nichushkin's agent, Mark Gandler, made it clear to Damien Cristodero of the Tampa Bay Times that Nichushkin is eager to come to North America and join the NHL. His agreement with his current KHL club, Moscow Dynamo, states that if he doesn't play at the NHL level, he'd return to Russia rather than play in the AHL.
Nichushkin is a tantalizing package for a team that's looking to get bigger up front, but he'd need to play a top-six role to properly utilize his skill set. That's a big jump for any 18-year-old, one that few players can manage successfully.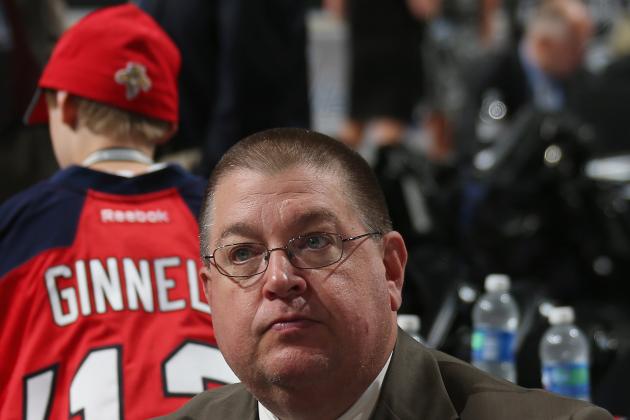 Bruce Bennett/Getty Images
Calgary's Jay Feaster will be busy on draft day.
Based on the draft order as it stands today, the Calgary Flames will be one of the busiest teams in the first round. Their own lottery pick will be No. 6, while the picks they acquired from St. Louis and Pittsburgh for Jay Bouwmeester and Jarome Iginla will come in at No. 22 and No. 28, respectively.
Draft day marks the beginning of a major rebuild for the Flames.
Aaron Vickers of nhl.com reports that Calgary could be interested in moving higher than sixth and that they're looking for players who are close to being NHL-ready. "The one thing I believe with the pick at six is that we want to get a player who has the opportunity to come in right now and compete for a job," Feaster said.
The Flames' draft record in recent years has been less-than-stellar. The future of the franchise depends on the team reversing that trend in 2013.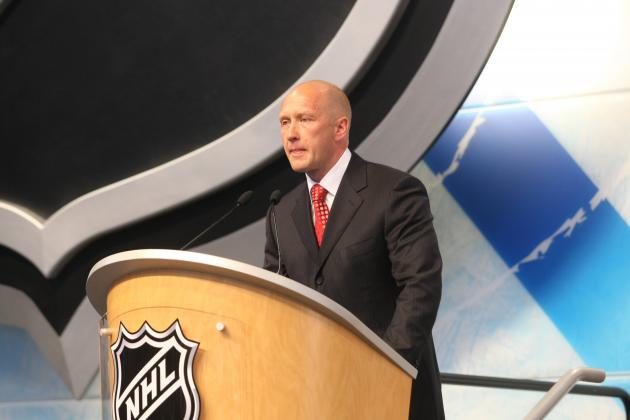 Bruce Bennett/Getty Images
Jarmo Kekalainen may want to make a splash in his first year as Columbus GM.
When Colorado opened the door to the prospect of trading their first overall draft choice, other teams took notice.
According to Aaron Portzline of the Columbus Dispatch, Calgary's Jay Feaster offered the Avs his team's three first-round picks, but Colorado declined. Feaster seems to be exploring all the possibilities when he recently spoke to Calgary media:
We have had extensive conversations with teams about moving up into the top five. We at least know which teams are willing to do something and if they are, what it would take to do that, and also which teams are not willing to do that.
The Columbus Blue Jackets also have three first-round choices this year, at No. 14, No. 19 and No. 27. New GM Jarmo Kekalainen is a bit more cautious when outlining his plans:
You have to be really sure if you're going to sell all of your picks. But we're not ruling anything out. There's always a group of special players in every draft, no matter how deep it is. That's why teams want to move up, even in a deep draft.
Buffalo and Dallas hold two picks each in the first round. They're also well-positioned to put together a package if they'd like to trade for a higher draft choice.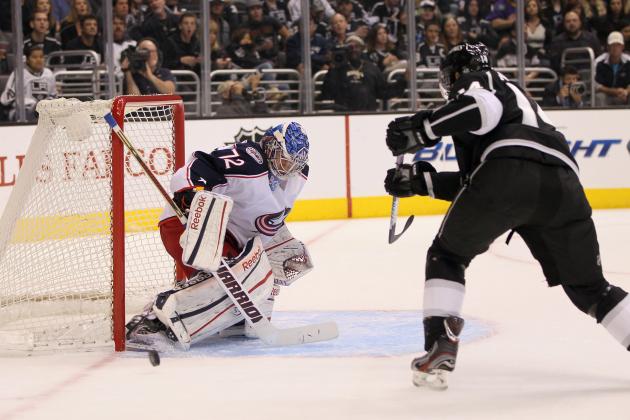 Victor Decolongon/Getty Images
Sergei Bobrovsky's trade at the 2012 draft was a game-changer.
A small deal at the 2012 NHL draft went on to become a very big deal indeed.
Early in the day in Pittsburgh, the Philadelphia Flyers traded backup goaltender Sergei Bobrovsky to the Columbus Blue Jackets in exchange for three draft choices. The Flyers selected goaltender Anthony Stolarz and left-wing Taylor Leier in 2012 with one more fourth-round pick coming this weekend.
It will take years before any of those prospects pan out, but Bobrovsky made an impact immediately in Columbus, assuming the starting role and pulling the Jackets within a whisper of a playoff spot. The Flyers could only shake their heads as Bobrovsky was awarded the 2013 Vezina trophy.
Over the years, big names such as Chris Pronger, Mats Sundin, and, of course, Eric Lindros have been dealt on draft day.
Roberto Luongo was traded from the New York Islanders to Florida at the 2000 draft and was widely rumored to have been on the move last year, although a deal wasn't completed. His name will likely be in the mix again in New Jersey, along with other stars like Ryan Miller and Kris Letang.
When all is said and done, we may see a few big names calling the movers and looking for new schools for their children after this weekend's action is complete.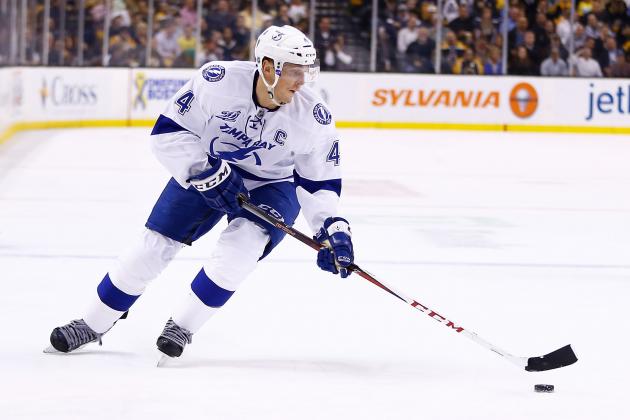 Jared Wickerham/Getty Images
Vincent Lecavalier's name has come up in trade and buyout discussions.
According to Larry Brooks of the New York Post, the NHL announced Wednesday that it has closed a loophole in the new collective bargaining agreement. A team cannot trade a player for the purposes of having the second team buy him out, then allowing the original team to re-sign the player at a lower cost or term.
Brooks says the Toronto Maple Leafs and Tampa Bay Lightning were looking into such an arrangement with Vincent Lecavalier, who has seven years and $45 million remaining on his existing contract.
Even with that deal scuttled and the new CBA said to be "airtight," it's likely that at least one deal will unfold over draft weekend that will take us all by surprise.
It could be the movement of a player for buyout purposes, other forms of salary cap manipulation or just the old-fashioned asset-for-asset trade meant to shake up a team's roster in an unexpected way.
With extra financial pressure facing all squads this summer, expect the action to be fast and furious over draft weekend.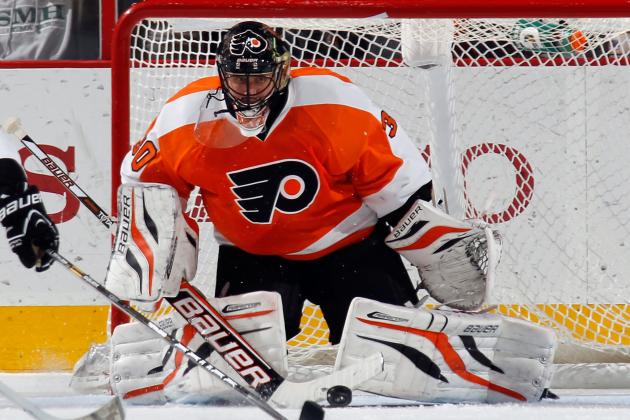 Bruce Bennett/Getty Images
Which players will follow Ilya Bryzgalov's path of amnesty buyout?
While not strictly part of draft, the NHL's compliance buyout period runs through the weekend and continues until July 4.
Teams' buyout decisions will definitely impact both trade and draft behavior as salary cap space is freed up. Players who are bought out will be available to new teams as unrestricted free agents beginning July 5.
Philadelphia has boldly announced both of their buyouts, clearing Ilya Bryzgalov and Danny Briere's salaries off their books. Montreal has also announced that they'll buy out the last year of Tomas Kaberle's deal.
These three players are all included on James Mirtle's list of the top 10 buyout candidates from The Globe and Mail. Mirtle also mentions Edmonton's Shawn Horcoff, though Sportsnet's Mark Spector tweeted Wednesday that this won't happen.
Oilers will NOT buy out Shawn Horcoff. Do not take that to mean a compliance by out will not be used in EDM however. Quite possible.

— Mark Spector (@SportsnetSpec) June 25, 2013
While many general managers would love to get some salary off their books to create come breathing room under the cap, buyouts are a risky proposition. In addition to asking ownership for money to make a player go away, a GM's job could be on the line if a player gets bought out but goes on to star for another team.
The buyout aspect is just one part of what should make for a very interesting weekend of action at Prudential Center in New Jersey.
Thanks for reading. Follow me on Twitter for lots more NHL news.