Serie A champions Juventus have acquired Manchester City forward Carlos Tevez for a transfer fee of €9 million.
UPDATE: Thursday, June 27, at 7:25 a.m. ET by Brandon Galvin
Juventus confirmed the signing of Carlos Tevez.
Juventus Football Club S.p.A. announces that the agreement with Manchester F.C. Ltd for the definitive acquisition of the registration rights of the player Carlos Alberto Tevez has been reached. The consideration for the acquisition is €9 Million payable in two financial years.

The purchase value may increase by a further maximum of €6 Million on the achieving given sports performances (Juventus qualifies to play UEFA Champions League, wins Serie A and /or the UEFA Champions League) in the next three football seasons...

... Furthermore, Juventus and the player have reached an agreement to sign an employment contract until 30 June 2016.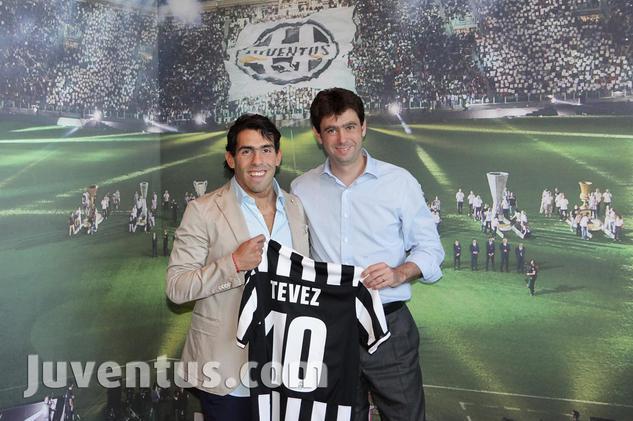 Sky Sports' Simone Bargellini has the latest from the Tevez press conference:
Tevez has agreed a three-year deal with the Turin side and, speaking at a media conference on Thursday, was delighted to finally complete the move.

He said: 'I thank Juventus for the effort they have done to bring me here. And I thank Manchester City for the beautiful years they gave me.'

'I talked to Pellegrini, telling him that I wanted to go away from Manchester City because I considered my cycle ended there.'

... Tevez added: 'The interest from AC Milan? Let me be very clear. I spoke with Adriano Galliani just one year ago, for two or three times in my life.'

'Now I'm a Juventus player and I'm happy here. I can give to the team my experience and my quality.'
---End of update---
---Original Text---
Ian Herbert of The Independent first reported the news on Tuesday, and he also noted that it will save City from having to pay the remaining £17 million on Tevez's contract:
Carlos Tevez sold by #mcfc to Juve on three-year deal for transfer fee of 9m euros. Will save City £17m wages in last year of his contract

— ian herbert (@ianherbs) June 25, 2013
CNN Italian sports correspondent Tancredi Palmeri provided some more specifics:
JUST IN: Juventus sign Tevez for 9m € + 3m € of bonus

— Tancredi Palmeri (@tancredipalmeri) June 25, 2013
The 29-year-old Tevez is a flashy, energetic player known for his demonstrative celebrations, and he'll bring enthusiasm and even more punch to the Juventus attack this coming season.
A prior report from Paul Collins of the Daily Mail indicated that junior representatives of Juventus were headed to England to ramp up the negotiations involving the prospective transfer of Tevez. Apparently, the insistence and persistence paid off.
Jamie Jackson of The Guardian confirmed that:
Carlos Tevez set to sign 3-year deal with Juventus for base transfer fee of €12m... Begiristain and Sorriano met Juve in London today #mcfc

— jamie jackson (@GuardianJamieJ) June 25, 2013
However, Herbert notes that terms have not been agreed to just yet, so there still looks to be some deliberation before this transaction becomes official:
Carlos Tevez - Im told personal terms are nowhere near to being agreed. This may not be over yet #mcfc

— ian herbert (@ianherbs) June 25, 2013
Collins also outlined how Tevez would have felt comfortable remaining with the Sky Blues, but figured he might not be a part of manager Manuel Pellegrini's vision.
The other factor that likely led to the deal being completed was that Tevez's contract would've expired next summer. Had the City brass not gotten any sort of deal done before then, Tevez could have walked, signed elsewhere and left his now-former club empty-handed.
Tevez had joined Manchester City after previously playing for English Premier League rival Manchester United.
The striker will not turn 30 until February, but City was already his third EPL club. Perhaps a change of scenery is just what Tevez needs to avoid any potential controversy.