Predicting the Boston Red Sox's Final Regular-Season Record
Jared Wickerham/Getty Images

We're 79 games into the baseball season, and the Boston Red Sox are—gasp—in first place in the AL East with a 46-33 record. They're sitting a pretty 2.5 games ahead of both the New York Yankees and Baltimore Orioles.
Not even the most hopeful of Boston fans could have seen this coming after last year's ugly 69-93 last-place finish.
We're nearing the season's halfway point, and it's looking good for the Red Sox to finally return to the postseason after missing it the last three years. To put it in perspective, on this day last year, the Red Sox were barely crossing .500 with a 38-35 record.
On this day in 2011, the Red Sox were in a similar situation (44-32) and remember, it took a seriously epic collapse for them to fall out of October (knock on wood).
Things are looking good. But where will they end up?
There are some signs for concern heading into the second half. The main reason for Boston's 12 more wins than losses is the team's performance in April. The Sox got off to a stellar 18-8 start that month.
But then they slowed down in May, going an even 15-15. So far in June, they're just above the fold, going 13-10.
For the Red Sox to remain dominant, they need to pick the pace back up. One of the biggest factors here is Jon Lester, who started the season 6-0 and then disappeared from the mound, going his next six starts without picking up a "W."
Lester finally won his most recent start in June 21, though he still allowed five runs and only lasted 5.2 innings. His 4.57 ERA is nothing to write home about, and after he pitched his absolute worst in 2012, fans are worried that he's slipping back there.
The Red Sox desperately need their No. 1 and 2 starters to be sharp. And speaking of which, Boston's true ace, Clay Buchholz, hasn't pitched since June 8 due to a neck injury. His rehab has been slowed, as he's still feeling some pain, and his return from the DL is unclear, though it shouldn't be long.
More than anything, the Red Sox need Buchholz healthy. He's a perfect 9-0 this season with a 1.71 ERA, allowing just 16 runs in 12 starts. He's also compiled 81 strikeouts in 84.1 innings. The Red Sox have won 11 games with him on the mound—which is nearly the complete difference between their wins and losses this season.
If the Red Sox can get Lester back to form and Buchholz healthy, their chances of staying at the top are very good. But before predicting where the Red Sox will finish, let's first take a look at the remaining series.
Begin Slideshow

»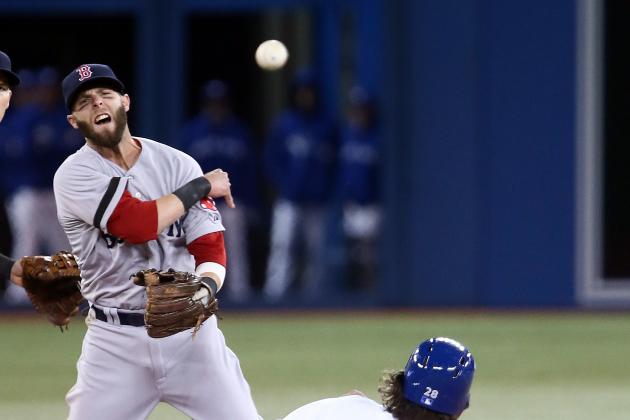 Abelimages/Getty Images

Blue Jays: June 27-30, August 13-15, September 20-22
So far, the Red Sox are 5-4 against Toronto.
Fresh off an 11-game win streak, the Blue Jays seem to be hitting their stride. In the upcoming four-game series at Boston (who's 1-2 against Toronto at home), it's likely the two team's will split the series 2-2.
Based on their current record, the Sox will take two in August, but the September series closes out a tough couple of weeks for Boston (13 divisional games leading up to it) and falls right during crunch time for October.
Assuming Toronto will need the wins desperately and considering that the Sox so far haven't dominated them at home, it could be tough for Boston to take more than one in that series.
Projected record: 5-5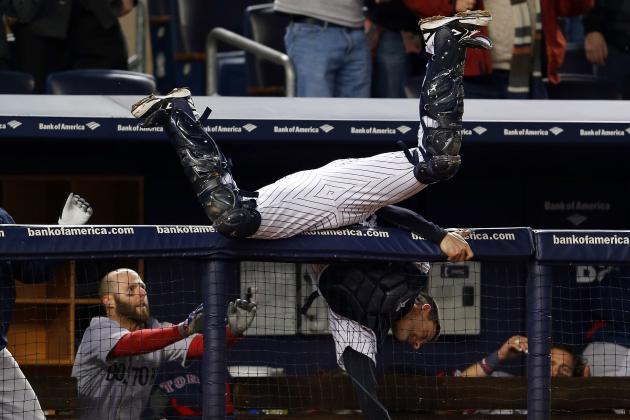 Elsa/Getty Images

Yankees: July 19-21, August 16-18, September 5-8, September 13-15
The Red Sox have held their own against New York this season, compiling a 4-2 record at Yankees Stadium and taking two out of each series.
The July series at Fenway follows an exhausting 10-game trip out west, but hopefully the Sox will continue their dominance at home, taking two out of the three once again. The next home stretch in August will probably go the same.
The final two series occur very close together (one at home, one away), with just three games at Tampa Bay separating them. In this scenario, the Red Sox might only get three of the seven, as the aging Yankees—who have a habit of getting hot late—try to hold on to a playoff berth.
Projected record: 7-6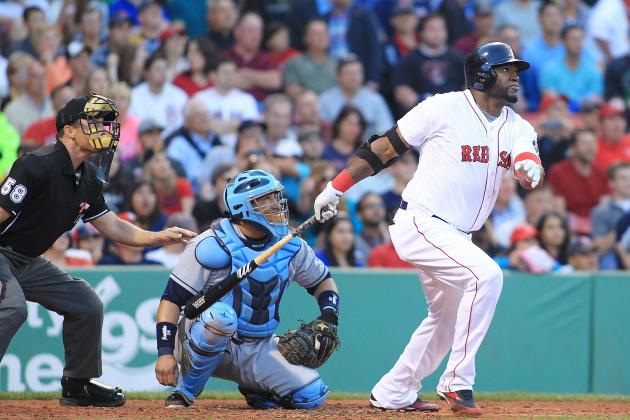 Gail Oskin/Getty Images

Rays: July 22-25, September 10-12
Though in year's past it's seemed like the Rays had Boston's number, the Red Sox have had little trouble with them this season so far. In four series, the Red Sox have won nine out of 12 games against Tampa.
Expect their dominance to continue in the remaining two series, with Boston taking five of seven.
Projected record: 5-2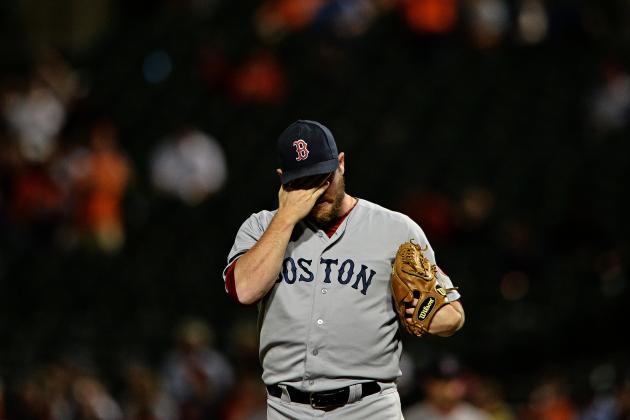 Patrick Smith/Getty Images

Orioles: July 26-28, August 27-29, September 17-19, September 27-29
The one division opponent who the Red Sox just can't seem to beat this year is Baltimore, who's taken five of seven from Boston. Unfortunately, the two teams will meet four more times this season, which could be a difference-maker in how the division ends up. The season-ending series for Boston is against none other than the Orioles.
With 12 more matchups and considering how things have panned out so far, the Red Sox look hard-pressed to take more than five.
Projected record: 5-7
Final division games record: 22-20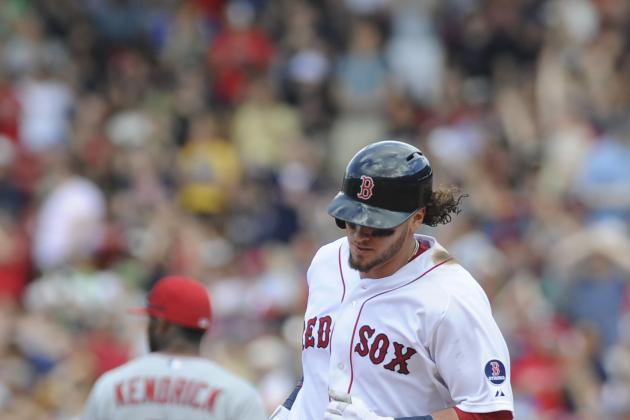 USA TODAY Sports

Non-Divisional American League Games: Angles (July 5-7), Mariners (July 8-11, July 30-August 1), Athletics (July 12-14), Astros (August 5-7), Royals (August 8-11), White Sox (August 30-September 1), Tigers (September 2-4)
The Red Sox have faced all of these future opponents already this year, with the exception of the Mariners and White Sox. Against the other five, the Red Sox have gone 10-7.
They did best against the Astros with a four-game sweep at home and took two out of three from both the Athletics and Angels.
Houston should be another cakewalk: The Astros stand as the second-worst team in baseball. Oakland is solid and could take two out of three at home, while the Angels remain mediocre, likely giving up another two to the Sox.
Boston has struggled against the Royals (1-2) in early April and recently the Tigers (1-3) in Detroit. Considering that the Royals series came early in the season and that Kansas City isn't looking all-that, the Sox can take two of the four on the road. Having home field against Detroit in September should also help the Sox to a better result the second time around.
Seattle is at the bottom-half of the AL West standings, and the White Sox are last in the AL Central. Neither should give Boston much of a problem.
Projected record: 16-10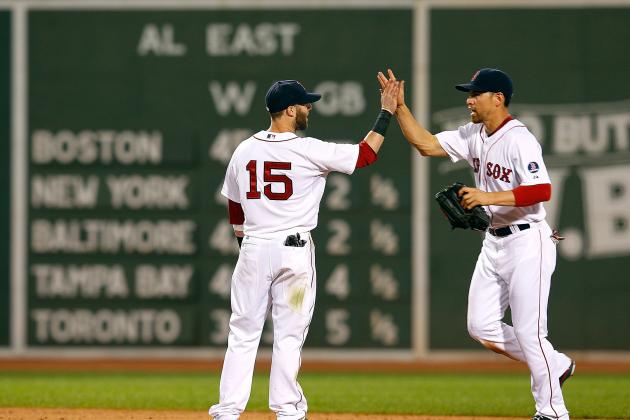 Jim Rogash/Getty Images

National League Games: Rockies (June 26, September 24-25), Padres (July 2-4), Diamondbacks (August 2-4), Giants (August 19-21), Dodgers (August 23-25)
The Red Sox nabbed one from the Rockies on Tuesday night, but otherwise they have yet to play one of their National League West opponents this season. At the moment, none of these teams are topping the NL, with most falling in the middle of the pack.
This division is pretty tight-knit, baring a resemblance to the AL East. San Diego is only 2.5 games back from Arizona with the ailing World Champion Giants and the Rockies just one game behind the Padres.
The Dodgers are the exception, coming in 7.5 games back and at No. 11 in the league.
Fortunately, Boston gets the Padres and Diamondbacks at home, giving them an edge. The Giants and Dodgers make up a week-long West Coast road trip for Boston. Though not ideal, at least it's the weaker teams that the Sox will face on the road.
Projected record: 9-6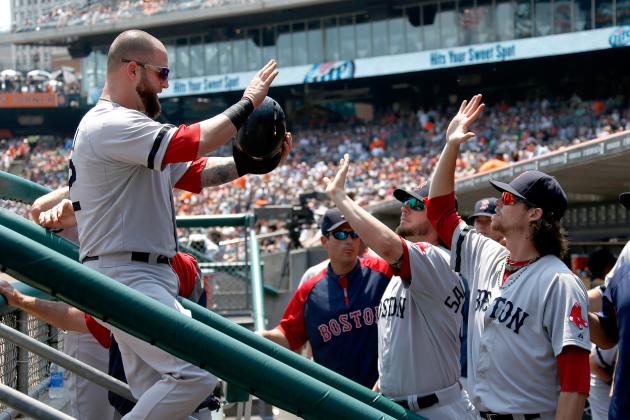 Gregory Shamus/Getty Images

Based on these predictions, the Red Sox will finish out the rest of the season 47-36, for a regular-season record of 93-69—the exact inverse of 2012.
Not too shabby of a turnaround.
Regular-Season Projected Record: 93-69