The 2013 NBA draft is just a few days away, and the Cleveland Cavaliers are among the teams that are generating buzz by shopping their top pick.
This year's draft class doesn't appear to have a player destined to be great in his first season, but it does have a lot of good players throughout the class.
With the lack of superstar potential in this year's draft, numerous teams have been rumored to be shopping their pick. Each of the first four picks have been rumored to be available, but teams have avoided taking a lesser deal.
ESPN.com's Chad Ford wrote that the Cavs are shopping the top pick because they aren't sure about who to take No. 1 overall. Brian K. Schmitz of the Orlando Sentinel reported a few weeks back that the Magic were shopping the No. 2 pick, but there has not been any news on that subject lately.
Source tells me Magic considering moving down in draft and have "quite a few" suitors interested in trading for No. 2 pick.

— Brian K. Schmitz (@MagicInsider) June 8, 2013
Marc Stein, also of ESPN.com, reported on Monday that the Washington Wizards had talks with the Chicago Bulls about Luol Deng for the No. 3 pick. He also reported that the Cavs are interested in Deng. Gary Washburn of the the Boston Globe suggested that the Charlotte Bobcats would be interested in trading their pick for Chris Bosh of the Miami Heat.
There may never have been so many teams looking to trade out of the top of the draft.
Let's clear some things up. Despite his expiring contract, the Bulls are unlikely to deal Deng. Derrick Rose will be ready to go at the start of the season, and the Bulls are trying to win now. The Heat just won back-to-back titles. They are unlikely to trade away one of their core pieces just days later.
The Cavs are the one team who could get fair value in return for their pick. They would likely package the top pick with at least one of their other picks to get a veteran in return. It's unclear who they could get in return for a couple of picks, so they are smart to hang onto their pick.
Which team, if any, should trade their top draft pick?
Cleveland isn't going to compete for a championship next year, but the team has done a good job of taking on underrated players with good potential. Dion Waters and Tristan Thompson have shown promising signs in their young careers. Tyler Zeller still has time to improve as a big man.
With Kyrie Irving leading the way, the Cavs shouldn't settle for just any veteran or package a team can put together for the top pick. The team can always draft a big man, like Nerlens Noel or Alex Len, with the first pick and have a young core to move forward with.
The Magic will have Victor Oladipo or Ben McLemore on the board waiting to be picked. Both players could make an impact in Orlando right away. The Magic need a lot of help, and they could trade down to try to gain draft picks. With guys like Oladipo and McLemore available, they need to be blown away with an offer if they are going to trade the pick.
Washington made an attempt to get a veteran to pair with John Wall. It didn't work out, and there's not much the Wizards can do now. Deng would have been a nice addition had he signed long-term. Now the Wizards can add another young piece after drafting Bradley Beal a year ago.
Charlotte's rumor is by far the best option, but it will never happen. Any chance the Bobcats had of getting Bosh vanished after the Heat won their second title.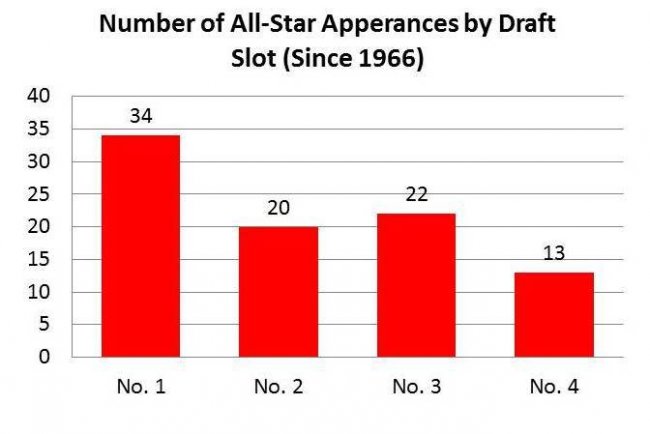 High picks usually end up making at least one All-Star appearance. Everyone knows about the busts at the top of the draft, but teams make good selections more times than not.
As history shows, keeping a top-four pick can pay off for a franchise. The numbers may look even better in a couple of years from now, when John Wall, Anthony Davis and others have a few more years in the league.
Shopping a top-five pick is fine. Even with the lack of superstars in this year's draft, it is important not to give away a top pick for the best offer.
Orlando is the team that needs the most help at the top of the draft. The other teams all have talented youngsters to build around, but the Magic are just starting their rebuilding process after the Dwight Howard trade. If they can get a few quality picks in return, that could be justified.
The middle of this class is talented, which is why teams are looking to trade out of the top of the draft. Contenders may be eyeing the top picks to get a missing piece, but rebuilding teams seem more than willing to trade their picks.
Unless they can get a good value in return, teams like the Cavaliers should keep their top pick and continue to build around young players. Settling for a deal isn't the answer at the top of the draft.