Breaking Down Brad Keselowski's Recent Struggles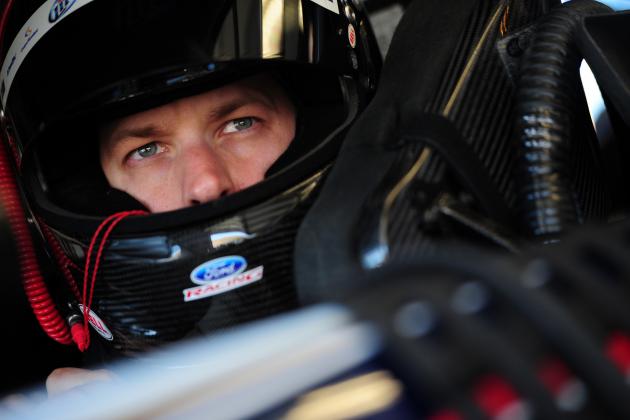 Robert Laberge/Getty Images

Brad Keselowski has been struggling.
The defending Sprint Cup champion started out the 2013 season with solid finishes and was looking like he was in championship form this season as well.
Then the No. 2 team ran into trouble after the Texas race for using unapproved parts. The team also ran into trouble after the Dover race, and Keselowski was penalized once again.
Now he sits ninth in points and is still winless this season.
He finished 21st last week at Sonoma, and unless he can turn around his recent struggles, we could see a Chase without the champion even in it to try to defend his title.
Keselowski might be able to turn his season around when he figures out the reasons for his recent struggles.
Begin Slideshow

»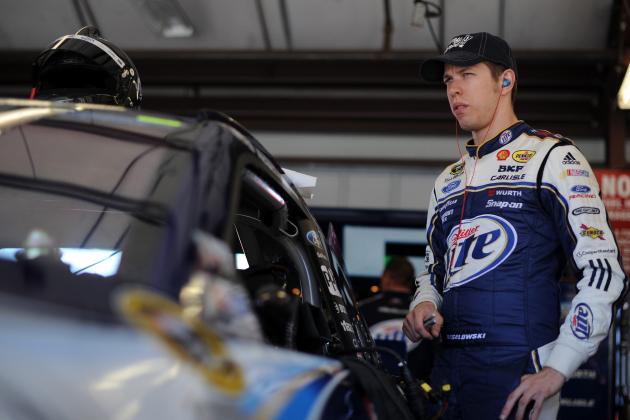 Jared C. Tilton/Getty Images

Keselowski has a lot of pressure on him right now. Of course, he should be used to pressure after having to hold back Jimmie Johnson to win the championship last season.
This pressure he's dealing with now, though, is different.
Keselowski is trying to prove that he's not a flash in the pan. He's trying to prove that luck wasn't the reason why he has able to hold back the man who won five consecutive titles.
With that pressure on him, every slip-up will be considered a step backward. He has to make sure he lives up to his expectations, and it could be playing a role in his current stumble.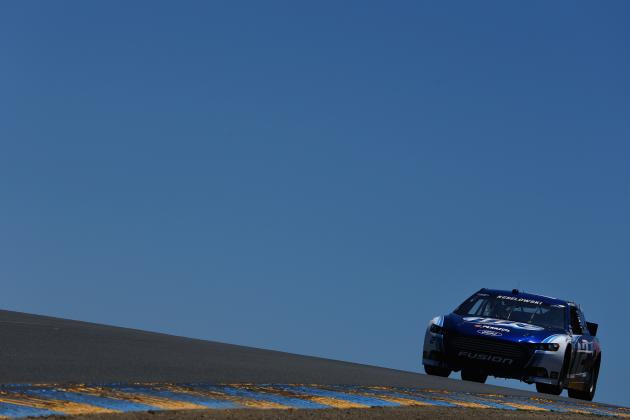 Tom Pennington/Getty Images

Keselowski's current struggles are somewhat out of his control.
Ford has clearly emerged as the weakest manufacturer during this new season with the Gen-6 car.
We've only seen two Ford winners this season, and both have come from the Roush-Fenway group.
Don't forget that Penske switched to Ford this season, so they might be a little further back, technology-wise, than Roush-Fenway Racing.
And if the two organizations aren't working together, Keselowski's struggles might be a result of the issues Ford is having and the organizations failing to overcome them.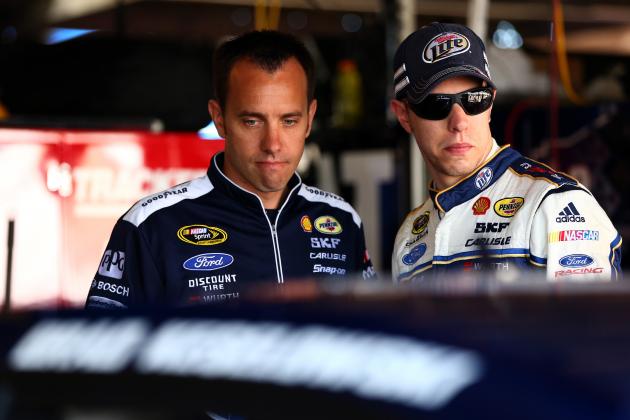 Tom Pennington/Getty Images

The people behind the Blue Duece have been trying to take advantage of the new technology this season in NASCAR.
It hasn't been working.
We saw fines dealt out and Paul Wolfe suspended for unapproved parts, and then we saw Keselowski lose points after his front end was too low post race at Dover.
He had to go through inspection several times this past weekend at Sonoma as well.
Every team in NASCAR at one point might try to take advantage of something—just look at all the times Chad Knaus has been in trouble—but at what point does a team forget about trying to get an advantage and just focuses on racing?
Whatever the No. 2 team is trying to take advantage of hasn't been working, and it has only made Keselowski's struggles worse.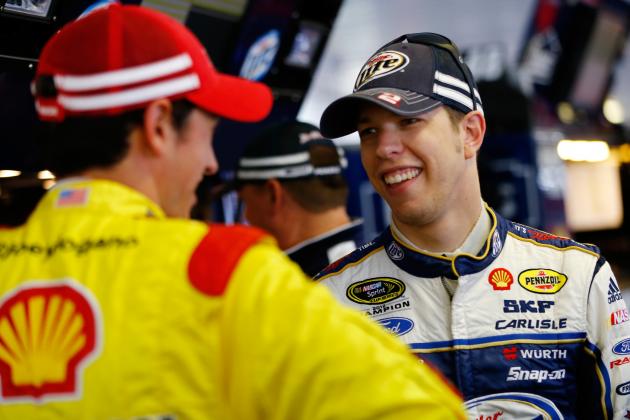 Jared Wickerham/Getty Images

After A.J. Allmendinger was let go from Penske Racing, the major focus of the racing group was on Brad Keselowski.
Sure, attention was given to Sam Hornish Jr. as Penske wanted to see him succeed, but Keselowski became the man in the organization overnight.
With Joey Logano joining Penske, though, Keselowski isn't the main focus of the organization anymore.
Logano clearly needed help getting set in his new racing team, and the defending champion helped Logano feel right at home during the offseason.
Penske Racing is now spread a little thinner, since both drivers seem to be having struggles this season.
Last season, it was easy for Penske Racing to focus mostly on Keselowski and help him make a push for the championship. This season, with Logano on board, the organization is trying to get two drivers in the Chase, which could mean less resources available for Keselowski and his team.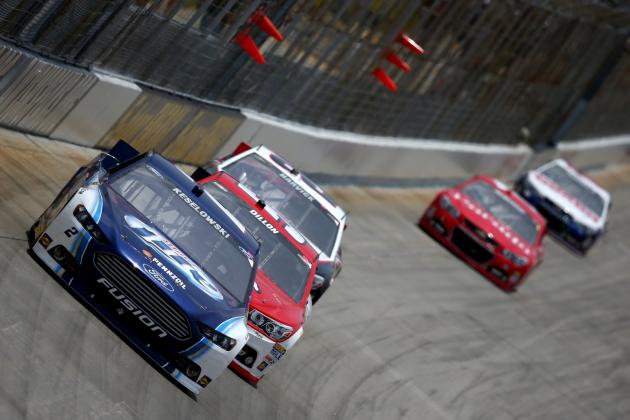 Tom Pennington/Getty Images

No one could really predict if Keselowski would be affected by the switch from Dodge to Ford.
And while Ford as a manufacturer is struggling this season, Keselowski has lost one of his biggest advantage from last year:
His fuel mileage.
For whatever reason, Dodge seemed to get the best fuel mileage out of all the manufacturers last year.
It played a part in some of Keselowski's victories.
Taking that away from the team has clearly taken away one of Brad's biggest advantages, and as he moves throughout the regular season, he has to deal with a lack of his biggest strategy and the problems facing Ford this season.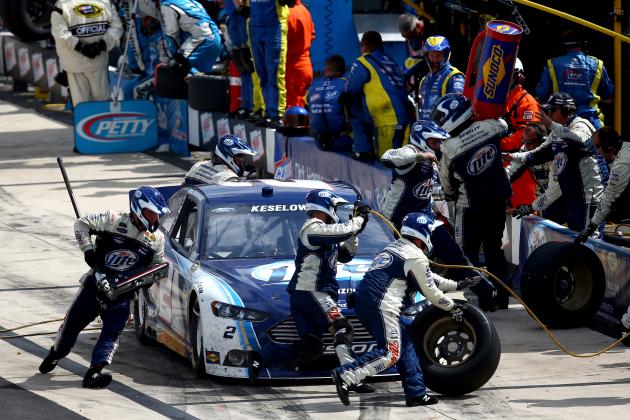 Tom Pennington/Getty Images

Brad Keselowski recently stated that two other organizations, Hendrick Motorsports and Joe Gibbs Racing, took employees away from his championship team.
Keselowski was quoted as saying, via Mike Brudenell of USA Today:
What keeps it from going too far is the fact that Hendrick and Gibbs have this nasty little habit of going to other teams and outbidding other people and taking those employees and stealing our information, and, when that happens, that puts walls up between the camps because you are giving up more than one piece of information — you are giving up two companies' information and trying to protect yourself against that, it forces you to put up walls.
Regardless of if Keselowski was right in calling out the two organizations, the nature of NASCAR, or any sport for that matter, revolves around money.
And when someone is offered more money from a competitor, why wouldn't they go work for them?
Losing pieces of a championship team can hurt a driver, and for Keselowski to even bring it up shows how it's impacted the No. 2 team.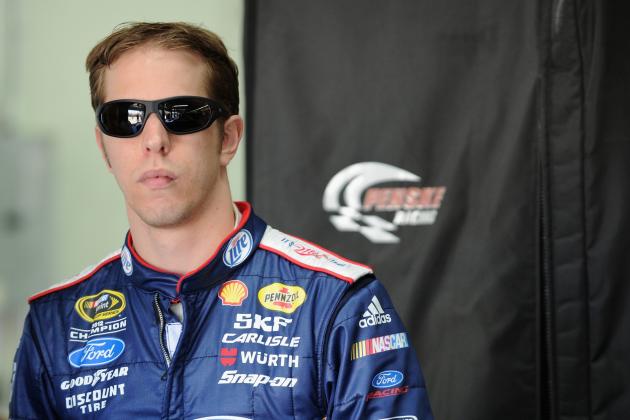 Jared C. Tilton/Getty Images

Brad had wins under his belt by the time NASCAR was at Kentucky last season. He also had several bad finishes as well.
Kentucky, though, is where Keselowski started to bloom. Looking at the driver's stats from last year, when NASCAR headed to Kentucky, not only did Keselowski manage to win the race, he would go on to finish in the top 10 16 times after the Kentucky race, only finishing worse than 10th in three races.
The defending Sprint Cup champion came alive this time last year, and really started his championship run. He did win a couple of races this time last year, but he also dealt with major struggles, which have clearly continued into this year as well.
Patrick Smith/Getty Images

NASCAR introducing the Gen-6 was a way for them to push the reset button on technology. Gone were the advancements built up by teams over the years, and instead, they were replaced with technology that all teams had access to.
Of course, there are those organizations who have handled the new Gen-6 better than others, but that's only added to Keselowski's problem. No longer does he just have to worry about guys like Jimmie Johnson battling him in the front of the pack.
Now other drivers like Kurt Busch, Jamie McMurray and Juan Pablo Montoya are all putting on solid performances each week.
Competition in the sport has gone up, and it's only made it harder for Keselowski to turn his season around.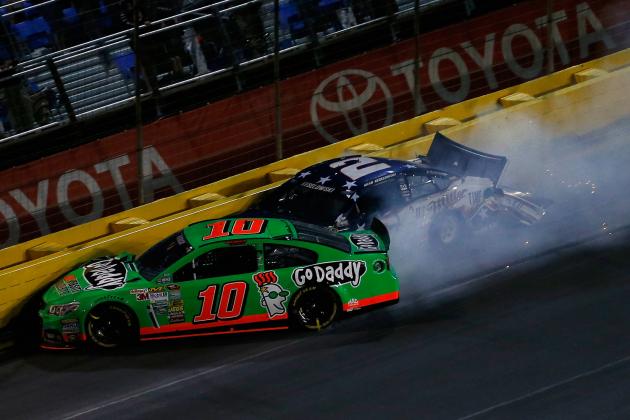 Jeff Zelevansky/Getty Images

Of course, every driver has to deal with bad luck, and Keselowski is no different. He was caught up in an accident during the Charlotte race this season and has also dealt with car issues in several other races such as Richmond, which played a role in his 33rd-place finish.
Keselowski has had his own struggles this season and has also had bad luck to thank for his current points standing situation.
The real challenge for Brad will be how we handles his misfortune moving forward and if he can avoid enough of it to make it into the Chase.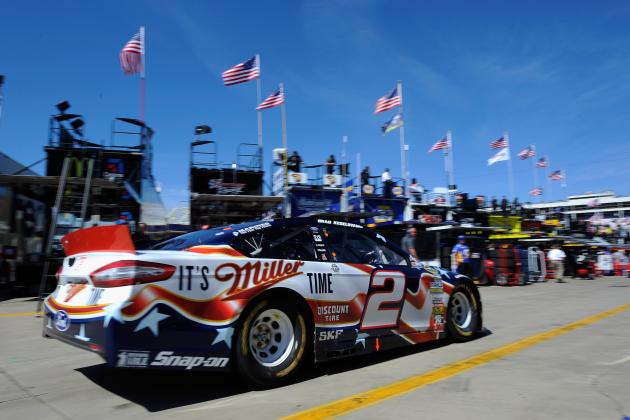 Jared C. Tilton/Getty Images

For a driver who spoke highly of the new model car during the offseason, Keselowski has struggled with it.
Putting everything else aside, his biggest struggle could be coming from the Gen-6 car. Not every driver is going to be able to handle it as well as Jimmie Johnson and Matt Kenseth, and we've already seen Denny Hamlin voice his dislike for the new car, so maybe Keselowski simply hasn't adjusted to the Gen-6 like he would have hoped for.
Add in the struggles of Ford, and the problems the No. 2 team has had during race inspections, and the Gen-6 might not be all that he thought it was during the offseason.
Of course, we may never know, because Keselowski hasn't said anything new on the Gen-6 and probably won't after seeing what happened to Hamlin.
Keselowski has a lot of issues to still work out if he wants to turn his season around, and the biggest one could be with the Gen-6.