NBA Draft 2013: Tracking the Best Available Forwards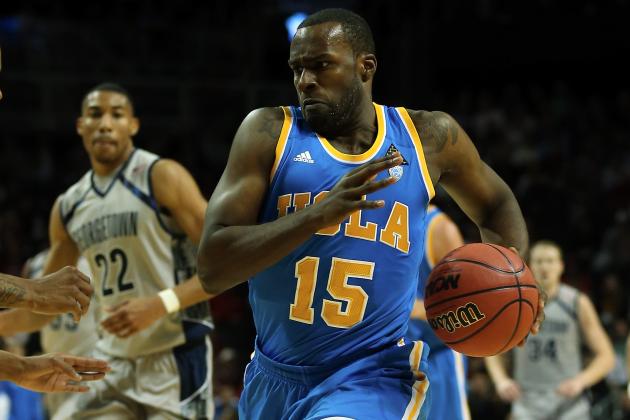 Elsa/Getty Images

The small forwards and power forwards in the 2013 NBA draft comprise the majority of the draft boards, but they get rather shallow after just a few are selected.
There are elite 3s and 4s in this class but only a few of each—if that.
The forward prospects you see here were taken from the big board of Jonathan Wasserman, B/R's NBA Draft lead writer. Forty-eight made it into the top 100, and you'll see them presented in the same order here.
If your team is looking for a forward—whether a small forward, power forward, a swingman with a specialty at the 3 or a big man who prefers playing the 4—you're looking for one of these guys.
Begin Slideshow

»
C.J. Leslie spent three full years trying to figure out his exact role for N.C. State, and he never managed to do it. He plays like a power forward, but he checks in just a few pounds over 200, which almost ensures that he'll get pushed around at the next level.
An explosive athlete, Leslie has always been on the draft radar, but his stock has been depressed more and more as we saw him struggle to improve while playing collegiate ball.
If you'd told me that Leslie would be a second-round pick back when he first joined the Wolfpack, I would have laughed at you. But now, that's exactly what's about to happen.
He's too risky to waste a first-round spot on.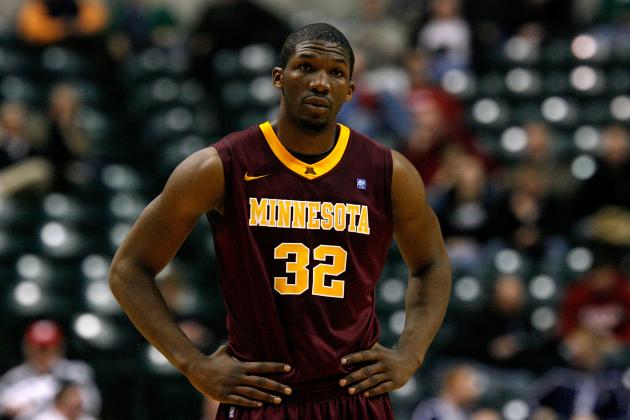 Chris Chambers/Getty Images

Trevor Mbakwe was a borderline lottery pick during his junior season, but a torn ACL ended both his year and his chances at being selected in the first round.
By his standards, Mbakwe put together a rather lackluster senior campaign as he struggled to regain the explosiveness he once possessed. If that ever comes back, he'll make some team rather happy that it used a second-round pick on him.
Even if it doesn't though, the former Golden Gopher is a valuable player because he's a fantastic rebounder who understands positioning and timing. With massive hands and an even longer wingspan, he's quite adept at corralling the boards, although he no longer possesses the ability to sky into the air and snatch the rebound at the peak of its arc.
USA TODAY Sports

James Southerland's 6'8" frame and above-the-rim style of play are beneficial, but his rising stock is all about one thing: three-point shooting.
During his senior season for the Syracuse Orange, the small forward nearly doubled his scoring average and still upped his three-point percentage. He knocked down 2.5 triples per game while shooting 39.8 percent from there.
As the season progressed, it was increasingly clear that Southerland was an elite shooter from the small forward position, and that's why his stock has risen accordingly.
He now projects as a bench sniper.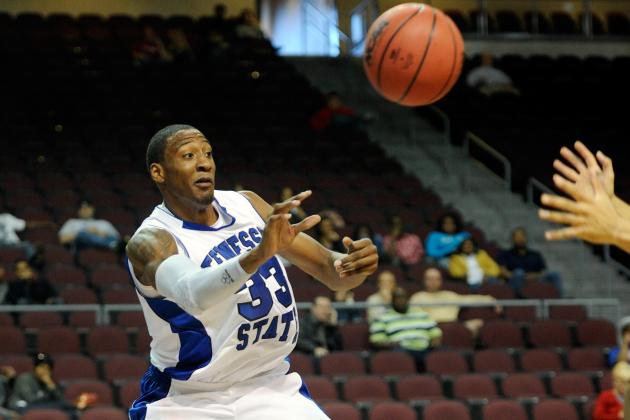 Ethan Miller/Getty Images

When a 6'7" small forward is nearly automatic from the perimeter and has the hops necessary to finish at the rim through traffic, that player tends to wind up on draft radars. Such is the case for Robert Covington, who used the last two years at Tennessee State establishing himself as a volume scorer who could drill three after three.
But therein lies the problem.
Covington went to Tennessee State, so he emerged as a scorer who could light up the scoreboard against weaker competition. He hasn't faced many NBA-caliber defenders who could close out on him rather quickly.
Additionally, Covington isn't much of a dribbler. He prefers to spot up and wait for a teammate's pass to arrive, and if asked, he struggles to create his own shot.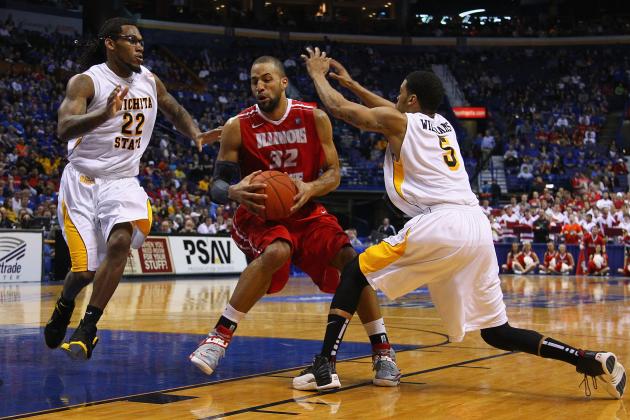 Dilip Vishwanat/Getty Images

Jackie Carmichael thrives on contact. He loves playing in the paint, banging around and using his size and strength to bully smaller and less physical players. Whether on offense or defense, the power forward is going to be a hard-nosed contributor.
That said, Carmichael has shown signs of a mid-range game, and his high-arcing jumper often swishes through the net for two points. There's a lot of Carlos Boozer in this Illinois State alum, both on the glass and in the scoring column.
If he can develop just a few more post moves, he'll be nice second-round steal.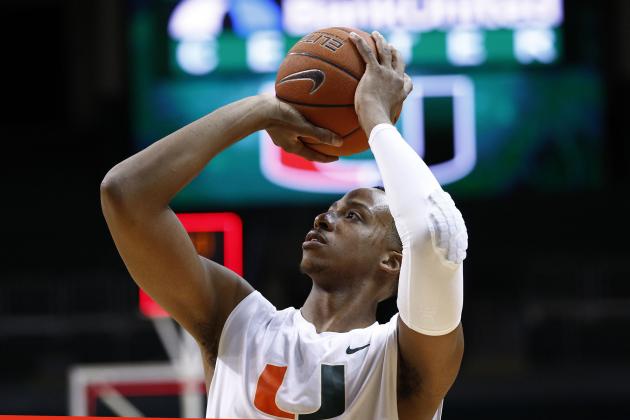 USA TODAY Sports

Already 25 years old, Kenny Kadji's stock is held back by his advanced age. He's been competing against players far younger than himself, and he doesn't have as much time to develop before he's in and out of his athletic prime.
Also hurting the former Miami Hurricane is his lack of defensive presence. In fact, "absence" might be a more applicable word here.
That said, Kadji is a great offensive option because he can torture defenses in a variety of ways. Whether he's going to work with his back to the basket on the blocks or draining jumpers and spreading out the court, Kadji understands how to put points up in bunches.
He'll have to become less of a defensive liability to earn a consistent rotation spot in the NBA, but he has the offensive talent necessary to convince teams to at least give him a shot.
If Augusto Cesar Lima gets much playing time in the NBA, his team will basically be conceding that it has to play four-on-five ball on offense.
The Brazilian big man isn't much of a scoring or facilitating presence, but he's a great energy guy who thrives playing defense and crashing the boards. Lima can step out and guard more versatile power forwards, but he also has the strength and fearlessness to hold down his man in the paint.
Even though he didn't play much in the Euroleague, the 6'10" power forward established himself as one of the more impressive per-minute rebounders out there. He averaged 2.5 per game in just over 10 minutes of time on the court each contest.
Lima has the makings of a guy who doesn't mind doing the little things, even if they don't result in much recognition.
It's all about the W's.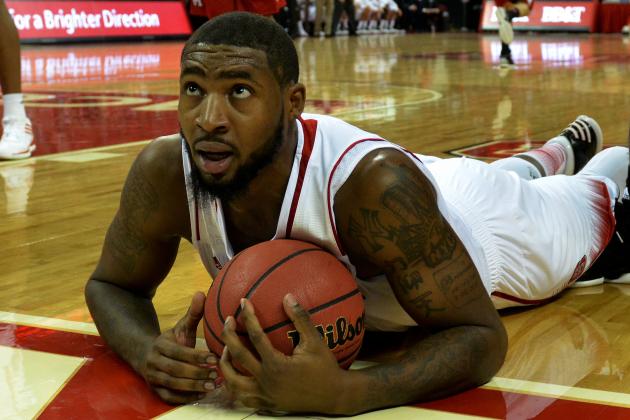 Rob Kinnan-USA TODAY Sports

Richard Howell used the offseason before his senior season to shed some excess poundage, and he was in better shape than ever during his final go-around with the N.C. State Wolfpack. That, more than anything else, helped him rise up the boards.
Using his svelte frame, Howell excelled as a defensive specialist and a chairman of the boards. He wasn't quite as prolific on the glass as Wilt Chamberlain, but he did manage to pace his team with 10.9 rebounds per game.
Howell's offense doesn't appear likely to translate to the next level, primarily because he'll no longer be able to rely on physical dominance. Unless he continues developing his mid-range jumper, he'll emerge as a valuable role player but nothing more.
Jordan Aboudou doesn't have much room left for improvement, making him the rare international prospect who enters the draft without at least an outside shot at future stardom.
That said, he's already poised to become an efficient role player if a team takes a chance on him. Even without an outside shot on the court, Aboudou thrives slashing to the basket and using his athleticism and quick first step.
The Frenchman is incredibly strong for a 6'6" small forward, and it's rather difficult to stop him from getting to the basket when he works up a head of steam. Once he gets there, Aboudou gets even more impressive, as he has a certain flair for in-air adjustments.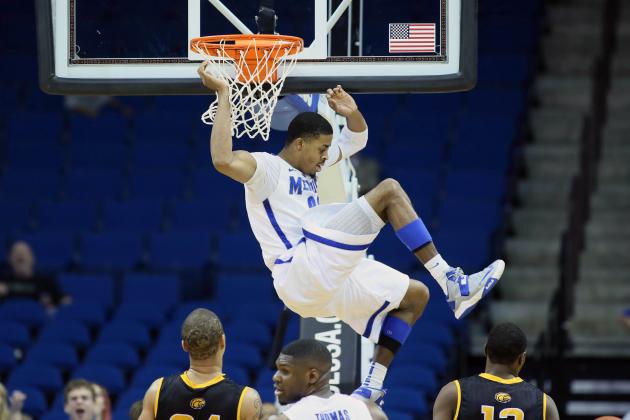 Nelson Chenault-USA TODAY Sports

According to DraftExpress.com, D.J. Stephens put up the highest no-step and max-vertical leap in the history of the site's databases, measuring out at 40 and 46 inches, respectively. Those are unreal numbers, especially when paired with a 7'0" wingspan and 6'5" frame.
If any player can convince you that human flight is possible, it's this Memphis product.
He doesn't have the endurance to sprint around the court for long, but Stephens is a highlight reel waiting to happen when he steps on the court, and he's an elite rim protector from the forward positions.
Stephens, at the very least, should participate in a few dunk contests and become a YouTube favorite. Just type in his name right now, and you'll see what I mean.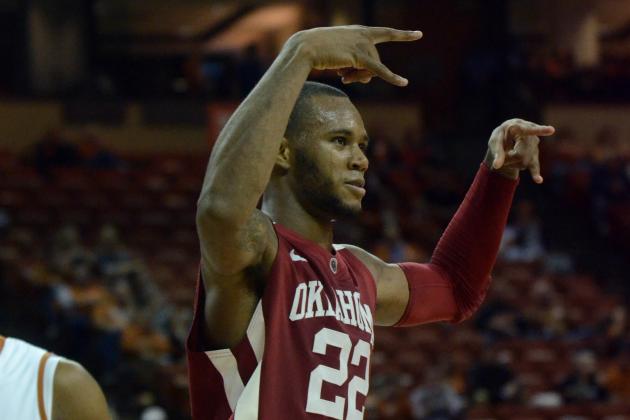 Brendan Maloney-USA TODAY Sports

Amath M'Baye is already 23 years old, which is presumably the main reason he decided not to stick around for his senior season at Oklahoma, but he's not done living up to his potential quite yet. At least, he better not be after averaging 10.1 points and 5.2 rebounds per game as a junior.
The power forward isn't particularly strong in any one area yet.
He can do a lot of different things on the court, but he's not dominant in any of them. Instead, it's his size that gives him the most hope for an NBA future, as he definitely possesses a body that would fit right in with the rest of the Association.
M'Baye was clearly improving, particularly with respect to the range on his jumper, as the Sooners' season progressed, but he has a lot of work left to do.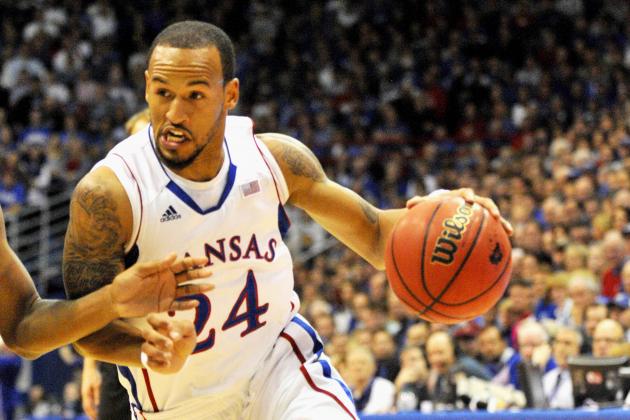 Denny Medley-USA TODAY Sports

Travis Releford made some major leaps during his final season with the Kansas Jayhawks, scoring a career-high 11.9 points per game while improving his shooting in every area.
The small forward shot 57.4 percent from the field, up from 49.8 percent as a junior. He made 41.5 percent of his looks from downtown, up from 32.5 percent as a junior. He converted on 78.9 percent of his freebies, up from 65.4 percent as a junior.
That's improvement, even if it was overshadowed by the presence of Ben McLemore.
Releford is one of the more self-aware prospects in this draft class. He's always a steady player, and he rarely strays from his designated role. As a result, he has all the makings of a valuable glue guy who squeezes into an NBA rotation.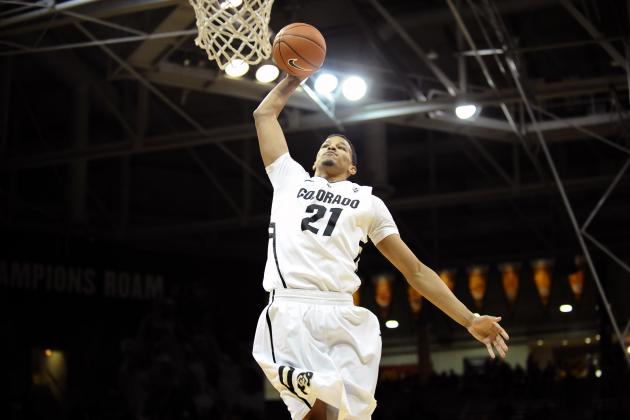 Ron Chenoy-USA TODAY Sports

Andre Roberson, once viewed as a potential lottery pick, is now one of the strangest prospects in this entire draft class.
First of all, what position will he play? At Colorado, Roberson routinely lined up at shooting guard, small forward and power forward—often in the same game. Playing the 2 is impossible in the NBA, but it's still up in the air where he'll fall in as a professional.
Secondly, can he play offense? The 6'7" forward wasn't able to show much offensive improvement during his time as a Buffalo, and he's pretty incompetent from the foul stripe.
Roberson's value comes on the glass, especially after he finished second in the NCAA in rebounds per game during his junior season.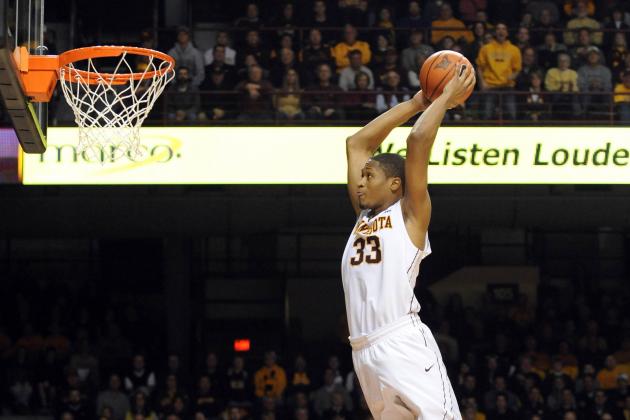 USA TODAY Sports

When Rodney Williams first came to Minnesota, he was supposed to develop his athleticism as a premier "3 and D" player.
The "D" is there, but the "3" is completely nonexistent, as is the case with most of Williams' offensive game. He's not a good ball-handler or shooter, and he scores almost all his points off cuts to the basket. By slashing, he can make good on his jaw-dropping athleticism.
Williams skied 42.5 inches into the air during the combine, and he routinely put those hops on display while a member of the Golden Gophers. But, as has been the problem with high-flying defensive prospects before him, Williams is still more of an athlete than a basketball player.
If that doesn't change, the country Williams plays basketball in will.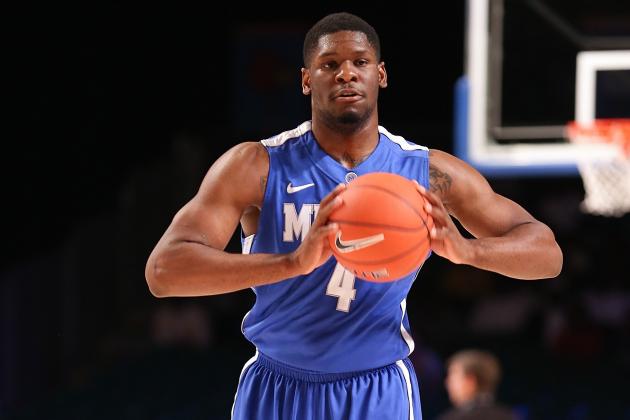 Kevin Jairaj-USA TODAY Sports

With his strength, 6'6" frame and 7'1" wingspan, Adonis Thomas looks the part of an NBA small forward. But wouldn't you expect that from a man named Adonis?
He never lived up to the expectations at Memphis, failing to stand out in any area but defense. And even there, Thomas often lost focus and found himself out of position, often trailing his man en route to the basket.
He looked even more lost offensively, never developing a consistent jumper and coughing the ball up far too frequently.
Thomas' body gives NBA teams hope, but he has a long way to go if he ever wants to play a game in the Association.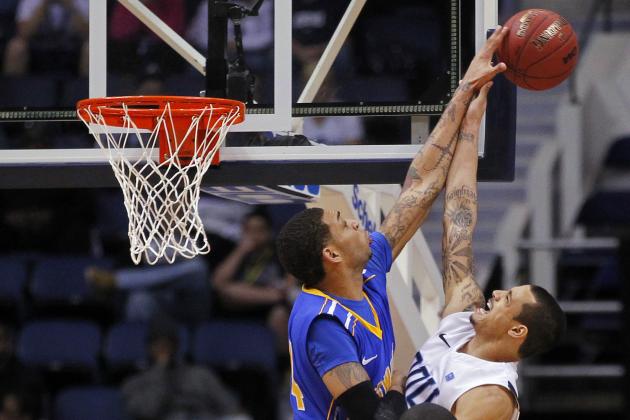 Geoff Burke-USA TODAY Sports

Jamelle Hagins took advantage of the weaker competition he faced at Delaware on a routine basis.
As you can probably tell from the picture, he loved blocking shots, and he could elevate quite high to do so. In fact, he rejected 2.4 shots per game while contributing in other areas.
Hagins' athleticism translated to his rebounds and interior offense, and he was also a great transition threat, running the court well and finishing plays at the rim. He looked the part of an NBA player quite often, but he was wearing the wrong type of jersey.
The 6'9" power forward needs to do two things before taking the next step: develop at least a bit of a jumper and prove himself against tougher competition. His athleticism almost guarantees that he'll get a summer league invite and a chance to fulfill the latter criterion.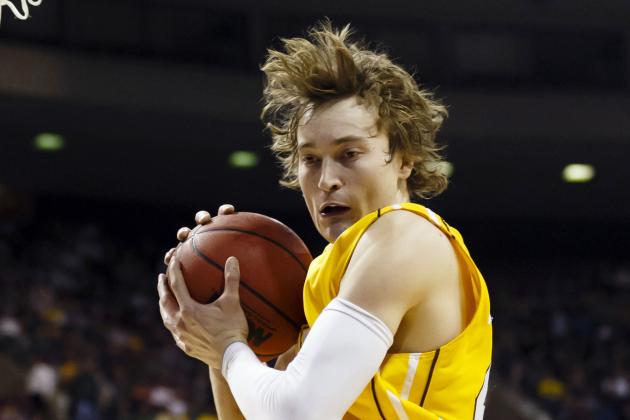 Rick Osentoski-USA TODAY Sports

While playing power forward (which won't be his primary position in the NBA), Ryan Broekhoff did one thing at an NBA level: score off catch-and-shoot situations.
As a senior for Valparaiso, Broekhoff shot 41.7 percent from downtown while taking six attempts per game. Those are stellar numbers, especially because everyone matching up against the Crusaders knew exactly what was about to happen when he stepped onto the court.
Broekhoff is also a smart player who sees the floor well and understands how to use screens and movement to free himself from his defenders.
All of this will serve him well if he gets a chance. But to get one, he has to improve his defense and put on some weight quickly.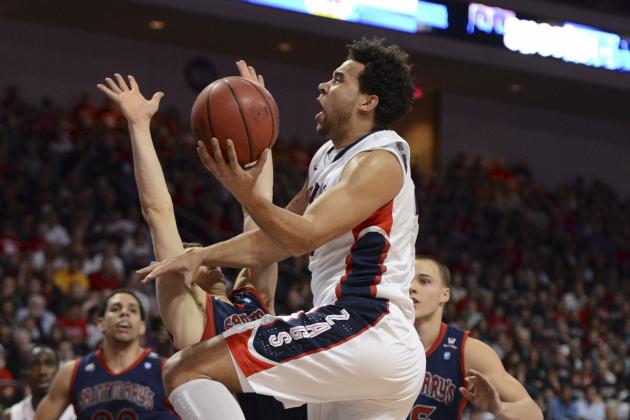 Kyle Terada-USA TODAY Sports

Elias Harris exploded onto the draft scene as a prodigious German forward during his first season with Gonzaga, but he's taken a number of steps backward since then.
While he's improved his rebounding and defense, Harris' offense still doesn't look like anything special. Experience has lent him a few extra post moves, but he's borderline incompetent with the ball in his hands. He also used his senior season to prove that his impressive improvement from downtown during his junior campaign was nothing more than an aberration.
For four years in a row, Harris has recorded more turnovers than assists. That's problematic for a player who stands only 6'7" and will likely play a bit of small forward at the next level.
Fortunately, Harris doesn't usually try to make too much happen, and he could settle in as a third forward off the bench if he gets lucky.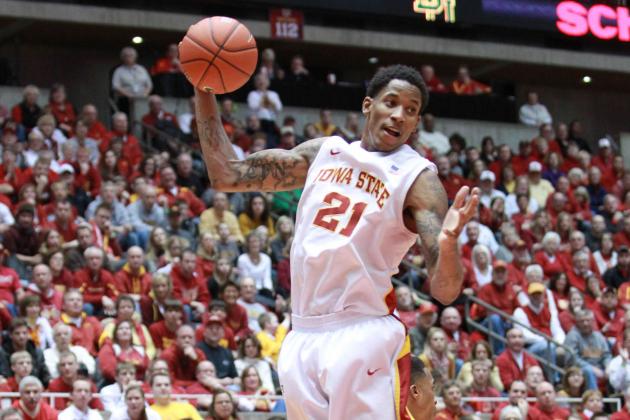 USA TODAY Sports

Will Clyburn is one of those deep prospects who won't fail if he's given the chance.
Why?
The Iowa State product is a guy who resembles a Swiss army knife—just one with a 6'7" frame and 7'0" wingspan. None of the blades that can be pulled out are particularly sharp, but each and every one can be removed from the shell and used.
Clyburn doesn't have much long-term upside, especially after failing to stand out after transferring away from Utah, but he can do it all. Whether it's scoring, rebounding, defending, facilitating or using his athleticism, Clyburn is a jack of all trades and a master of none.
Believe it or not, that's a valuable set of skills to have when you're just trying to hop onto the back end of a roster.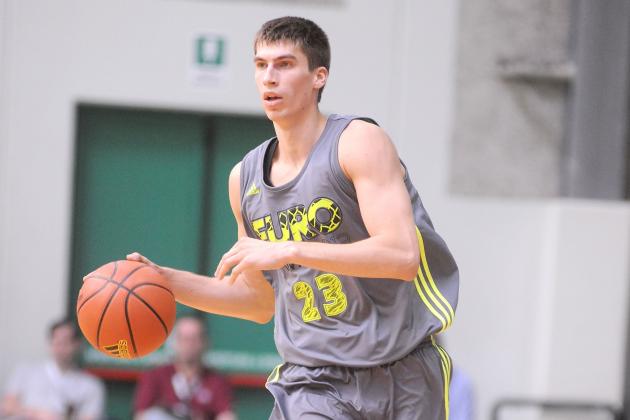 Roberto Serra/Iguana Press/Getty Images

After Oleksandr Lypovvy was named MVP of the 2012 Adidas Eurocamp, he worked his way into the second round of many mock drafts, but he's fallen well off the map since then. Not only did he struggle in Treviso at the 2013 edition of the event he once dominated, but he was virtually invisible.
Lypovvy has far too many consonants in his name, but that doesn't inhibit him on the defensive end of the court. He has a knack for staying in front of the ball, and he can play either small forward or power forward without giving up too much in the matchup.
The Ukrainian forward—who also serves as a point forward on occasion—has a nice, smooth jumper, and he loves using it on pull-up attempts.
Without much elite athleticism and upside, though, going undrafted and remaining across the pond is a rather distinct possibility.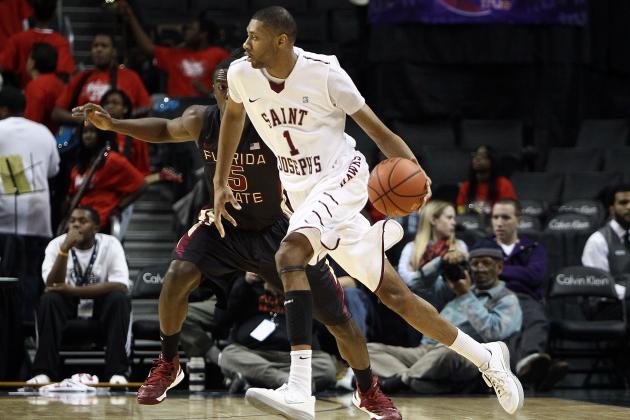 Alex Trautwig/Getty Images

Watching C.J. Aiken, it's abundantly clear that he spent too much time watching Josh Smith play over the past few years.
Minus the ball skills, Aiken likes to imitate Smoove's game to a T. He's a great leaper who thrives blocking shots, leading the A-10 in blocks per game and total rejections for each of the past three seasons.
His athleticism should help him out on offense, but instead, Aiken loves firing away with his ineffective jumper. Despite the clanks he hears as the ball hits the back of the rim, he continues to loft up those ill-advised attempts.
If he becomes a smarter player, Aiken has a great deal of potential.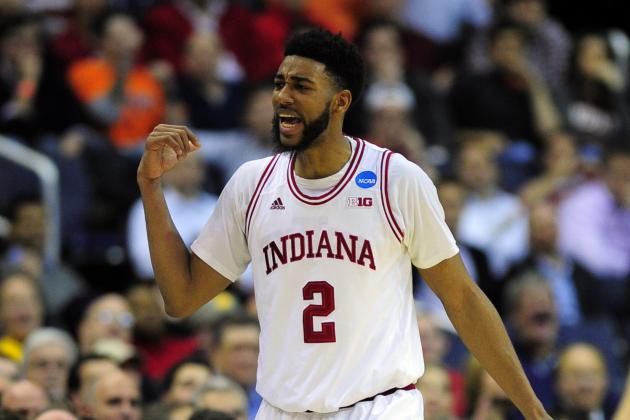 Bob Donnan-USA TODAY Sports

From the looks of things, Christian Watford's career highlight will remain ending Kentucky's chances of going undefeated. Unless he improves his game either overseas or in the D-League, the Indiana product won't be on the court often enough to have any shot at topping that.
Not that the three-pointer he hit against the Wildcats is a bad career highlight, of course.
Watford is the prototypical "3 and D" player, and that's all he brings to the table. Don't ask him to create his own shots or go to work in the post, because it won't work. That's normally a valuable role, but Watford is also a bit undersized.
He's too big to play small forward, especially since he doesn't have the lateral quickness to make good on his defensive abilities, so he'll likely max out as a floor-spacer who gets used at power forward in undersized lineups.
Daniel Theis couldn't earn many minutes for Ulm, which is a pretty clear indication that it'll be a couple years before he's anywhere near ready for the sport's premier league.
A fearless big man, Theis is a fantastic athlete, using his jumping ability—especially the second jump—to make up for his 6'9" frame when he plays center. The energy is the German big man's primary asset right now, as he routinely outworks other players.
He may be 21 years old, but Theis still has a great deal of unrealized potential. As he gets more experience and carves out a larger role for Ulm, we'll have a better indication of what exactly he brings to the table.
Right now, only one thing is certain: It's not enough for him to be one of the 60 picks.
The positive with Joan Sastre is his shooting ability.
He hit 1.6 three-pointers per game playing for Cajasol during the Eurocup, and he was similarly impressive while balling in the ACB League. That stroke is quite excellent, and it'll serve him well wherever he plays.
However, the negative outweighs the positive right now. Although, perhaps "outweighs" is the wrong word to use here.
Even though he's 6'7", Sastre weighs only 183 pounds. That's a pretty terrific recipe for getting eaten alive in the NBA, so the Spaniard needs to bulk up pretty quickly if he wants to have any chance of eventually advancing to the Association.