Ranking Best Moments of Paul Pierce's Legendary Boston Celtics Career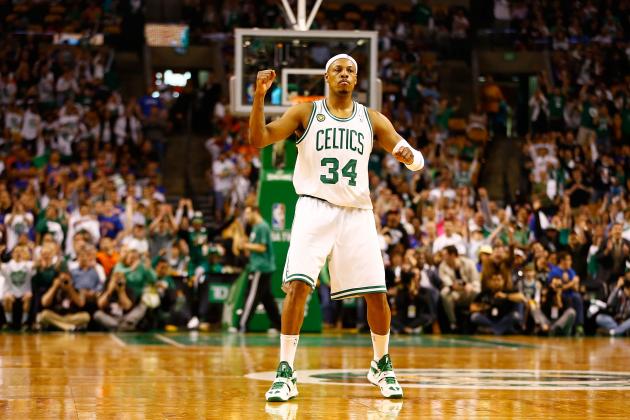 Jared Wickerham/Getty Images

Players like Paul Pierce don't grow on trees. They don't enter the league every year or even once every decade.
Players who stay with one team over 10 years, consistently lead said team to the playoffs, are an All-Star Weekend fixture, and eventually win a championship, then raise a Finals MVP trophy, are the rarest of the rare.
Pierce is now 35 years old and will be 36 in October. His days as a member of the Boston Celtics are winding down, and his prime is clearly in the rear-view mirror. Here are five extremely memorable moments from the future Hall of Famer's career.
They're ranked from least to most significant when looking back at the narrative of his career.
Begin Slideshow

»
Paul Pierce is commonly associated with "old man" game: that slow, methodical, change-of-pace style that's allowed him to still thrive as a high-volume scoring option well into his 30s.
His athletic ability isn't respected on the same level as that of other elite forwards throughout the NBA, but that doesn't mean Pierce can't explode with ferociousness if given a slim driving lane.
He's thrown down tons of dunks in his career, but none are as malicious as this one on Chris Bosh, who at the time was by himself on the Toronto Raptors. If you saw this play live, there's a good chance you haven't forgotten it.
This might be remembered as the last iconic shot Pierce ever made in a Celtics uniform. A pull up three-point dagger right in LeBron James' eye to win a crucial Game 5 in the 2012 Eastern Conference Finals.
Boston would eventually lose the series in seven games, but this shot by Pierce personifies all that made him so great. On the road, against the heavily favored Heat in a pivotal game, the Celtics absolutely had to win.
Pierce has hit hundreds of shots just like this one, but being that this is looking like it'll go down as the last meaningful shot he hits in a Celtics uniform, it deserves some appreciation.
By itself, this particular moment isn't as memorable as other shots Pierce has hit in his career. It's important because it effectively won a playoff series and set in motion what ended up being an improbable and truly memorable Celtics playoff run.
But this play is here more for reasons that are symbolic as opposed to tangible. Who is Paul Pierce without that unstoppable step-back jumper from the right elbow? Who is Dirk Nowitzki without the one-legged fall-away? Who is Tim Duncan without the bank shot?
This is his signature move, set in motion in a big spot to win a game. It's impossible to say it's more important than another one of his shots—such as the one in Game 5 of an epic first-round series against the Chicago Bulls—but looking at it as a representation of all Pierce brought to the table, and the fear he instilled in fanbases throughout the league, and it's certainly a moment that helps build his legend.
In their history, the Celtics have had oodles of fortunate moments that could best be described, in the most positive way, as "lucky."
Whether it be the bounce of a ball or an opponent's brain fart, the Celtics have caught more than enough of the breaks necessary for any team that's raised 17 banners.
Pierce did his part with this free throw in Game 7 of the 2008 Eastern Conference Semifinals. It capped off a truly remarkable 41-point performance and pushed the Celtics into the third round, where they'd eventually defeat the Detroit Pistons in six games.
The relief on his face after the ball falls through the net says it all.
It didn't take long for the drama surrounding Pierce and Game 1 of the 2008 NBA Finals to become the stuff of celebrated lore in Boston.
The pain on his face as he crumpled to the ground clutching his knee. Every molecule of oxygen rushing out from the Garden's doors. The wheelchair. The momentary feeling that after all he'd been through, Pierce would fall short in his first NBA Finals appearance.
And then, just like that, Pierce was checking back into the game, knocking down two huge three-pointers and leading Boston to a crucial Game 1 victory.
When it's all said and done, and Pierce's No. 34 jersey is raised up into the Garden's illustrious rafters, this game will stand atop as the one that turned a perennial All-Star into a timeless local hero.