Predicting Free-Agent Destinations for Chris Paul, Dwight Howard and Top Names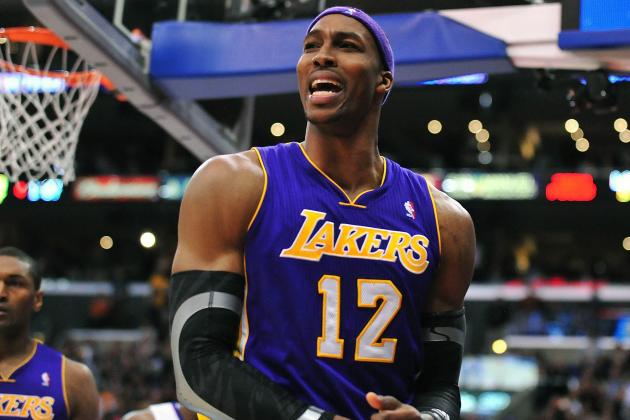 Gary A. Vasquez-USA TODAY Sports

Let the free-agency games begin. Well, almost.
The NBA is nearing the time of year when players switch teams like they're allergic to stability.
Headlining this summer's free-agent crop is of course Dwight Howard and Chris Paul, but there are also a bevy of other talented players on the offseason dossier.
From veterans in search of championships to potential stars pining for the perfect situations to prolific enigmas with so much left to prove, the open-market possibilities border on endless.
Before we enter wait-and-see mode though, we must first take a traditional stab at where the top names are going to wind up. It's what we do.
Will they stay? Will they go? Will they break out into a musical tribute to The Clash?
We just don't know. But we'll find out soon enough.
Begin Slideshow

»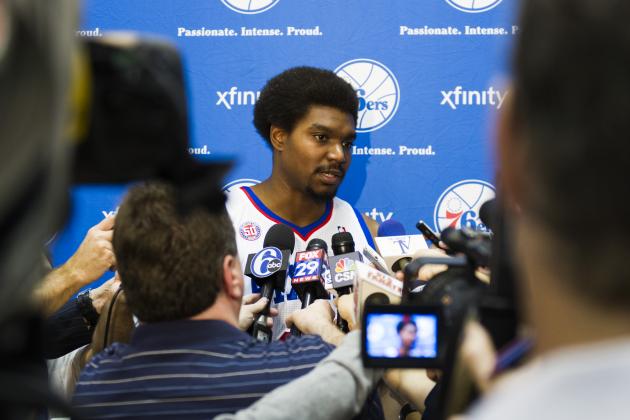 Howard Smith-USA TODAY Sports

Age: 25
2011-12 Per-Game Stats (Lakers): 18.7 points, 11.8 rebounds, 1.4 assists, 1.9 blocks, 0.5 steals, 23.0 PER
Free-Agency Status: Unrestricted
Remember that one time when Andrew Bynum put on a Philadelphia 76ers uniform and played a minute of meaningful basketball?
Neither do those in the city of Brotherly Love, because it didn't happen.
Bynum spent the entire 2012-13 campaign on the bench, trying to get a hand on what appear to be a set of unsolvable knees. In doing so, he watched as the Sixers went from aspiring title contenders to a lottery dweller.
He is reportedly set to resume workouts, but that means next to nothing at this point. Teams will always remember his absence through this season as a harbinger of potential doom.
Don't expect Bynum to fetch a max contract on the open market, or even a long-term deal. In fact, don't expect him to go anywhere. At all.
Not that I'm saying the Sixers are a glutton for punishment or anything. They could just use someone like Bynum (when healthy). After watching the open market set his price, I believe he stays.
Predicted Landing Spot: Sixers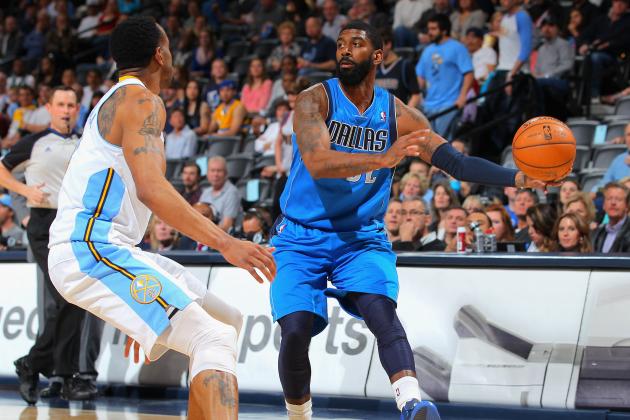 Doug Pensinger/Getty Images

Age: 25
2012-13 Per-Game Stats: 15.3 points, 3.5 rebounds, 4.4 assists, 1.1 steals, 0.3 blocks, 14.00 PER
Free-Agency Status: Unrestricted (Player Option)
Returning to the Dallas Mavericks doesn't seem likely at this point for O.J. Mayo. Once he hits the open market, he's going to sign somewhere else. And there are going to be plenty of teams interested in becoming that somewhere else.
Mayo has had more than his fair share of struggles, but given a stable role he can serve as a complementary volume scorer and even secondary playmaker. Not enough homage is paid to his perimeter defense either.
The Detroit Pistons come to mind when making reference to him. He fits their youth movement, yet isn't someone who will command as much money as, say, Andre Iguodala. Joe Dumars could of course overpay him, but we have to believe he''ll be more prepared this time around.
Assuming that Mayo can be had for slightly more than the roughly $4 million he earned this season ($6 or $7 million?), he would be a great fit on what is rapidly becoming one of the most intriguing cores in the NBA.
Predicted Destination: Pistons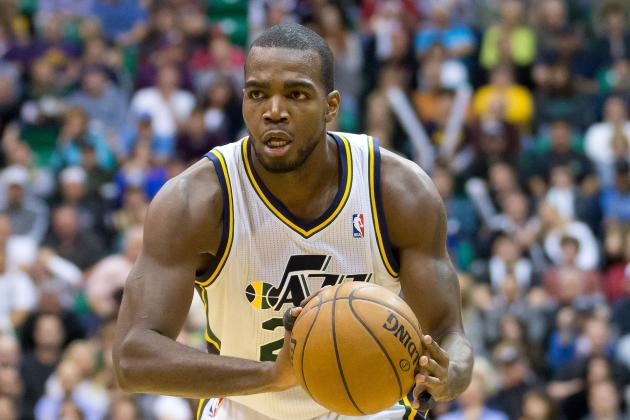 Russ Isabella-USA TODAY Sports

Age: 28
2012-13 Per-Game Stats: 14.6 points, 7.1 rebounds, 2.6 assists, 1.0 blocks, 1.3 steals, 19.8 PER
Free-Agency Status: Unrestricted
My sentiments on Paul Millsap aren't all rational.
With the Utah Jazz set to enter the Enes Kanter-Derrick Favors era, there's still a chance that he returns. But it's a small one.
Millsap isn't quite a star, but he's a more consistent corner three away from becoming a lethal stretch stretch forward.
More than likely to have whiffed on the potential acquisitions of either Dwight Howard or Chris Paul, I like the Mavericks for his next team.
Mark Cuban is going to want to make some moves no matter what. Landing Millsap would be a smaller-scale transaction, but it would help Dirk Nowitzki and friends stay postseason-caliber relevant.
Predicted Destination: Mavericks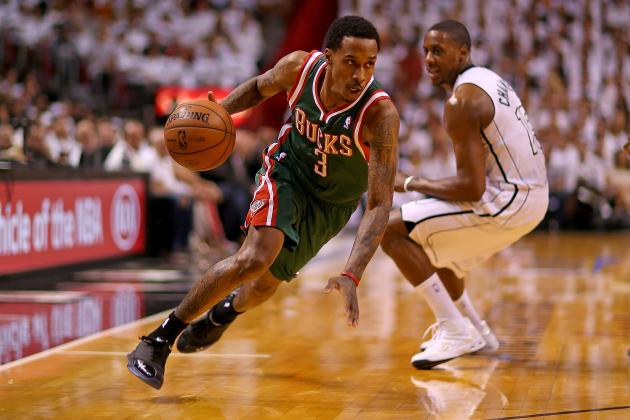 Mike Ehrmann/Getty Images

Age: 23
2012-13 Per-Game Stats: 17.5 points, 3.1 rebounds, 6.5 assists, 0.1 blocks, 1.6 steals, 16.2 PER
Free-Agency Type: Restricted
Just like there's more to life than being really, really, really ridiculously good looking, there needs to be more to the Milwaukee Bucks than Brandon Jennings.
I don't want Milwaukee to invest significant amounts of cash in Jennings. I really don't. Not because Jennings is the devil or because I hate him. It's just not a good fit. Jennings needs more direction than the Bucks can provide. The Dallas Mavericks would be a much better fit.
Alas, Milwaukee is going to keep him.
Monta Ellis is going to spurn the Bucks (I keep spoiling stuff for you guys), leaving Milwaukee with essentially no choice but to retain Jennings.
While he's one of the players I wouldn't be completely surprised to see sign elsewhere, Ellis' inevitable departure is going to force the Bucks' hand.
Predicted Destination: Bucks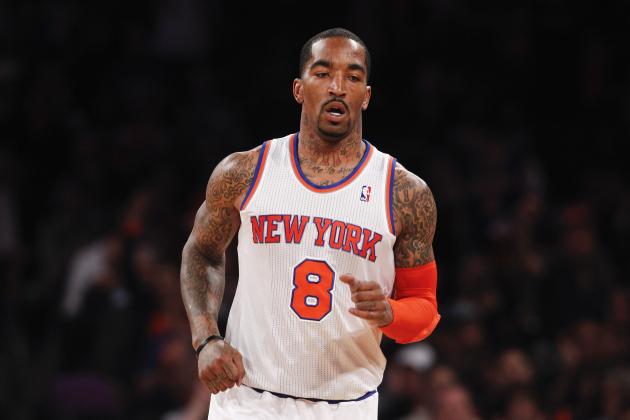 Jeff Zelevansky/Getty Images

Age: 27
2012-13 Per-Game Stats: 18.1 points, 5.3 rebounds, 2.7 assists, 0.3 blocks, 1.3 steals, 17.6 PER
Free-Agency Status: Unrestricted (Player option)
J.R. Smith is coming off a career year that saw him win the NBA's highly-coveted Sixth Man of the Year award. It also saw him shoot his value down during the playoffs, where he converted on just 33.1 percent of his field-goal attempts.
Watching a key component struggle is never a good thing, but for the New York Knicks, there is a silver lining: Smith's price has dropped considerably.
Smith is set to explore free agency and though there are other teams that can exceed the Knicks' maximum offer of roughly $5 million in the first year, the oft-embattled shooting guard isn't going to reel in a boisterous contract.
Knowing that Smith loves New York and has blossomed (for the most part) under the ever-stringent Mike Woodson, he's a near lock to return to the Big Apple.
Predicted Destination: Knicks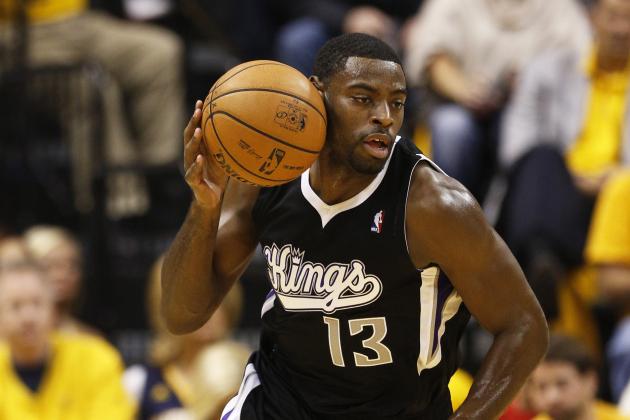 Joe Robbins/Getty Images

Age: 23
2012-13 Per-Game Stats: 15.2 points, 4.4 rebounds, 3.5 assists, 0.4 blocks, 1.4 steals, 18.1 PER
Free-Agency Status: Restricted
One can't help but believe that Tyreke Evans would be better suited on any team that isn't the Sacramento Kings.
Now finally under new ownership, they hopefully won't be as much of a disaster as they were previously, but there are a lot of issues that they still need to sift through.
One of those problems is their backcourt situation, where they have an overwhelming number of players. Isaiah Thomas, Jimmer Fredette (if he isn't traded), John Salmons (if he isn't amnestied finally) and Marcus Thornton all need to figure into that equation. Toney Douglas could also be back if they extend him a qualifying offer.
So yeah, it's a mess. One that the Kings won't be prepared to pay Evans to be a part of.
He'll receive offers from plenty of teams, most notably those in need of some additional playmaking. Or even those who missed out on some of the bigger names as well.
Predicted Destination: Mavericks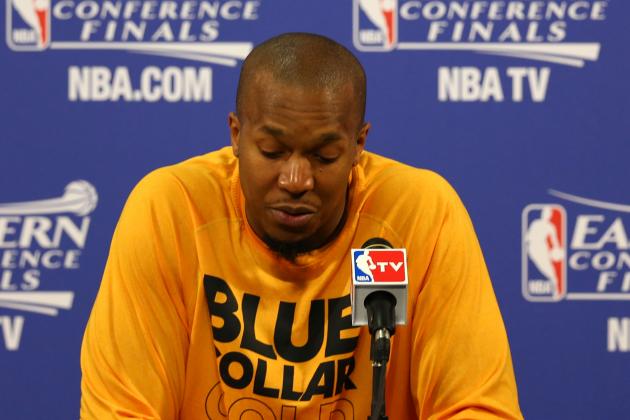 Mike Ehrmann/Getty Images

Age: 32
2012-13 Per-Game Stats: 17.1 points, 7.7 rebounds, 2.9 assists, 0.9 blocks, 1.0 steals, 20.1 PER
Type of Free Agency: Unrestricted
The Indiana Pacers are David West's "guys" and after coming within one victory of an NBA Finals appearance, he isn't going anywhere.
After the season West just had, he's likely to command something close to the $10 million annually he earned this past year. Though I firmly believe the Pacers aren't about to overpay him, he's too important to Indiana's dynamic for the team to let him walk.
Being one of the most aggressive players in the game, West will garner plenty of interest from contenders looking to beef up their front line. Those pursuits will be to no avail, though.
West and the Pacers can taste an NBA championship. Pushing 33, West isn't about to forgo the opportunity and bonds he's built in Indiana for another team. He doesn't want to, and the Pacers won't let him.
Predicted Destination: Pacers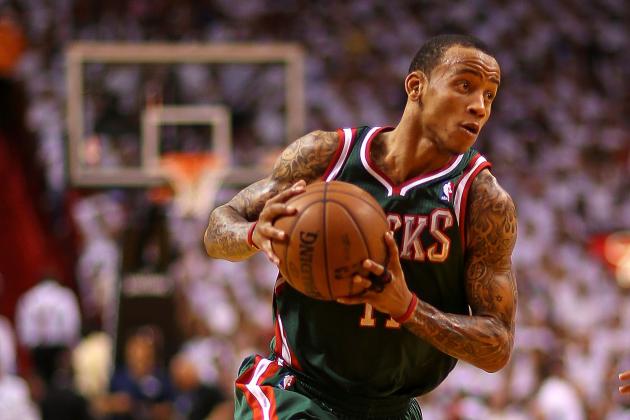 Mike Ehrmann/Getty Images

Age: 27
2012-13 Per-Game Stats: 19.2 points, 3.9 rebounds, 6.0 assists, 0.4 blocks, 2.1 steals, 16.3 PER
Free-Agency Status: Unrestricted (Player option)
Monta Ellis has played his last game with the Bucks. Write that down, because it's true.
Per Gery Woelful of the Racine Journal-Times, an increasing number of people expect him to wind up with the Kings and I'm not surprised.
The oft-inconsistent combo guard has ties to Mike Malone from his time with the Golden State Warriors. With the Kings looking to unload Jimmer Fredette, coupled with the fact that Tyreke Evans perhaps might not the best of fits, Sacramento is a team that may be willing to pay him.
I wouldn't put it past Ellis to take a slight pay cut from the $11 million he earned this past season to join a contender, but the prospect of becoming a prominent figure in Malone's offensive system may be too good to pass up.
To be honest, I'm not sure how their reunion would pan out. Paring DeMarcus Cousins and Ellis could prove counterproductive.
If we wait long enough, we may just find out.
Predicted Destination: Kings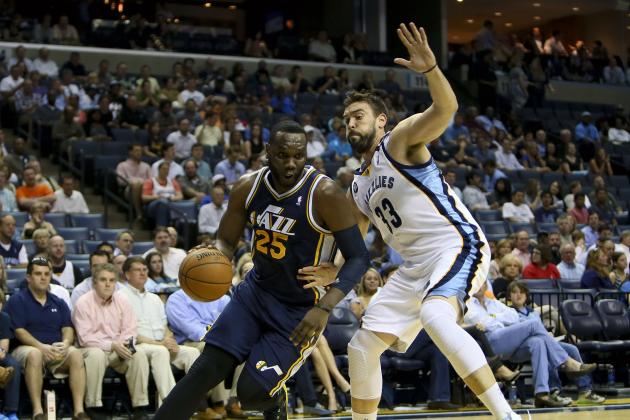 Spruce Derden-USA TODAY Sports

Age: 28
2012-13 Per-Game Stats: 17.8 points, 9.2 rebounds, 2.1 assists, 1.1 blocks, 1.0 steals, 20.9 PER
Free-Agency Status: Unrestricted
The Jazz may be willing to let Al Jefferson walk during free agency, which isn't surprising.
Jefferson is the more valuable of Utah's two best free agents (Millsap), but he's going to cost more. A lot more. Fetching another contract worth eight-figures annually seems likely.
With Enes Kanter and Derrick Favors still in the fold, the Jazz don't need Jefferson.
But the Atlanta Hawks do.
Dwight Howard isn't going to sign in Atlanta (spoiler). And if the Hawks are smart, they won't put themselves in a position to lose Jeff Teague, leaving the center position as their most pressing need.
Jefferson is limited in his defensive skill set, but he's a strong scorer in the post and would allow Al Horford to play more of his natural position at power forward.
As far as consolation prizes go, I could think of far worse contingency plans than building around a pair of Al's in the paint.
Predicted Destination: Hawks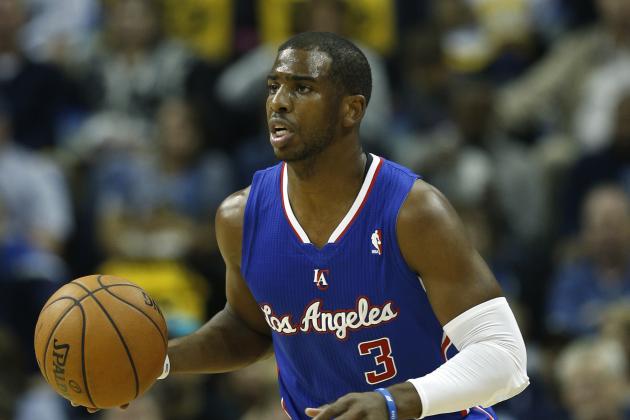 Joe Robbins/Getty Images

Age: 28
2012-13 Per-Game Stats: 16.9 points, 3.7 rebounds, 9.7 assists, 0.1 blocks, 2.4 steals, 26.4 PER
Free-Agency Status: Unrestricted
Chris Paul isn't going anywhere. The Los Angeles Clippers can thank their acquisition of Doc Rivers for his continued presence. They can also thank their lucky stars that Paul doesn't have a whole lot of other options.
Elite point guards are hardly a dime-a-dozen. Especially Paul. But they're not as rare as dominant centers like Dwight Howard. There are more of them in today's NBA, which decreases the prospective field incredibly.
Don't get me wrong, teams would lineup to acquire Paul. Offer sheets will gladly be extended and sign-and-trades would absolutely be assembled if it meant bringing in the league best floor general.
And yet, there are so many teams who are already set at point guard that Paul's viable options don't really go beyond the Mavericks and Hawks. Compared to them, the Clippers have more to offer.
Much more.
Predicted Destination: Clippers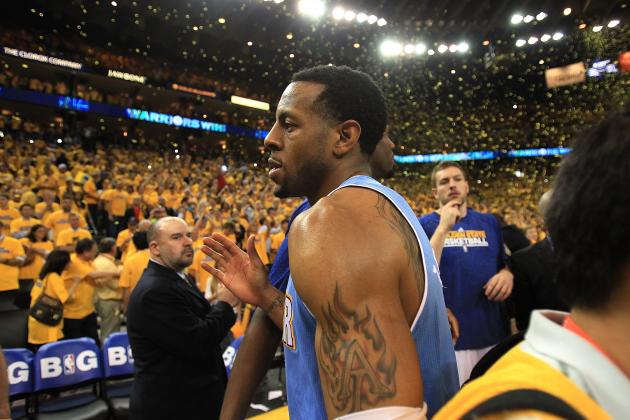 Jed Jacobsohn/Getty Images

Age: 29
2012-13 Per-Game Stats: 13.0 points, 5.3 rebounds, 5.4 assists, 0.7 blocks, 1.7 steals, 15.2 PER
Free-Agency Status: Unrestricted (Early termination option)
Try to understand that Andre Iguodala isn't as good as gone from the Denver Nuggets. Then come to grips with the fact that he probably is.
Coaching and front office changes have shook what is still one of the most promising franchises in the NBA. Brian Shaw is as good a replacement for George Karl as there is, but the Nuggets have a slew of other question marks to consider, like the health of Danilo Gallinari and how far JaVale McGee can take them at center.
Denver is still a very, very good and adequately equipped team. There's just something preventing them from being great. And Iggy knows it isn't him. His veteran presence is invaluable on a relatively young team, but he's not the superstar the Nuggets need. They'll gladly take him back, because they don't have the cap space necessary to look elsewhere and he is a good fit for them. They're just not as good a fit for him.
The San Antonio Spurs are.
Yeah, I'm going here. Think about it. Iggy is really a younger, more explosive version of Manu Ginobili. He'd be the perfect sixth man on that roster. Or even a starter if the Spurs decide to be hip and get with the small-ball program.
Does that mean the Spurs would have to get rid of Ginobili? Perhaps, but he could take a pay cut to be the "seventh man" (unless Iggy starts). He could also retire.
Either way, Manu isn't going to be around much longer. Iggy will be, and he represents everything the Spurs continue to stand for. All that's left is for him to put his starting role on the line for a chance to win an NBA championship or two.
Predicted Destination: Spurs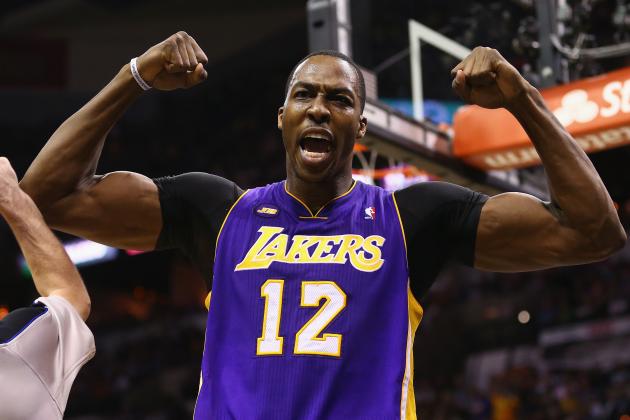 Ronald Martinez/Getty Images

Age: 27
2012-13 Per-Game Stats: 17.1 points, 12.4 rebounds, 1.4 assists, 2.4 blocks, 1.1 steals, 19.8 PER
Free-Agency Status: Unrestricted
Dwight Howard is still the best center in the NBA. Let's get that out of the way right now. One season in which he grimaced his way through back and shoulder injuries to still put up All-Star worthy numbers doesn't change that.
It may, however, be enough for him to change locations.
Shell-shocked is the only way to describe Howard's inaugural season with the Los Angeles Lakers. He clearly wasn't prepared to handle the media blitz. Not even close, and that doesn't help the Lakers.
When it comes to matters of free agency, the Houston Rockets need to scare Los Angeles. It's going to be the Rockets or the Lakers. The Mavericks, Hawks, Clippers, Warriors (how cool would that be) and Brooklyn Nets can dream all they want, but it's going to come down to Houston or Los Angeles.
Even as we continue to wade through all the wreckage from what became a maligned Lakers team this season, I still believe Howard stays where he is. Money will play a part, but mostly, Los Angeles' track record and financial flexibility moving forward speaks for itself.
Mitch Kupchak better sleep with one eye open and a baseball bat under his pillow though, because the Rockets won't go down without a fight.
Predicted Destination: Lakers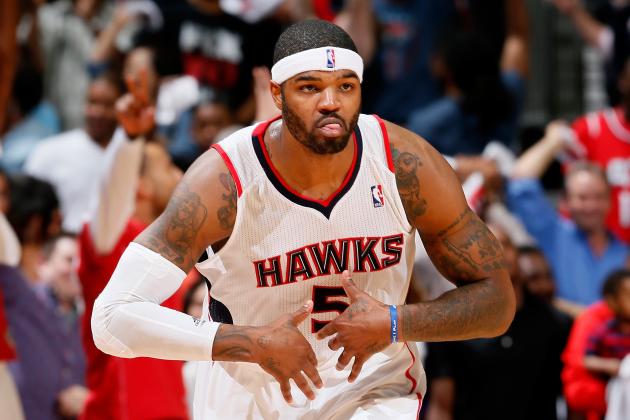 Kevin C. Cox/Getty Images

Age: 27
2012-13 Per-Game Stats: 17.5 points, 8.4 rebounds, 4.2 assists, 1.8 blocks, 1.2 steals, 17.8 PER
Free-Agency Status: Unrestricted
Keep on dreaming, Boston Celtics fans.
No, I'm being serious. I absolutely love that about the Celtics fanbase. They're equally as brutal as New York or Los Angeles fanatics, yet more optimistic at the same time.
Case and point: Sean Deveney of the Sporting News' report that the Celtics have a sign-and-trade offer in place for Josh Smith if they deal Paul Pierce to a team with cap space (Cleveland Cavaliers, I'd say). Deveney writes that the trade exception created in that trade could be sent to Atlanta as part of the package.
There's no question Smith would be a good fit next to Rajon Rondo, but I just don't see this happening. There has to be more in it for Atlanta and the Celtics also have to construct their Pierce deal accordingly and to perfection.
Flush with cap space and scouring the open market for a Plan B after missing out on Dwight Howard, I've got J-Smoove headed to the Rockets instead.
Houston could certainly use the defensive boost he provides and his superior athletic build is perfect for their run, run Rudolph style of basketball.
Some will be wary of how he fits in the starting lineup since he shot just 30.3 percent from deep last season, but I see that as a workable barrier. If Kelvin Sampson doesn't land a head coaching job, he'll have Smith draining jumpers at a higher clip in almost no time.
J-Smoove is no Howard, but his multi-faceted skill set has the potential to turn the Rockets into a Western Conference power.
Predicted Destination: Rockets