Adam Eaton vs. Javier Vazquez: The Great Debate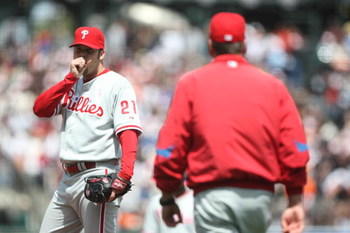 Certain arguments in sports lead to great debates—
Tom Brady vs. Peyton Manning
Brandon Webb vs. Tim Lincecum
Some arguments transcend generations—
Jim Brown vs. Walter Payton
Ted Williams vs. Albert Pujols
However, some debates are so fierce that proponents on both sides nearly come to blows. Bars close before these types of debates end—
Adam Eaton vs. Javier Vazquez
This is one of those debates.
I am going to try to end the debate once and for all.
2009 Performance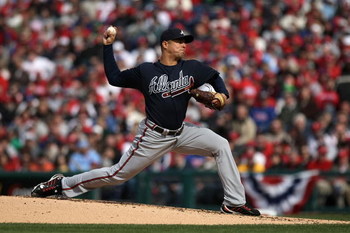 We're only two months into the season and Adam Eaton is in mid-season form already. For the Orioles, Eaton is 1-3 with an ERA of 7.17 Opponents are hitting .319 off of him.
Javier Vazquez must be inspired by the fans in Atlanta shouting his name, sometimes followed by other choice words. Vazquez is 2-3 with an ERA of 4.19.
Advantage— Vazquez
Most Overpaid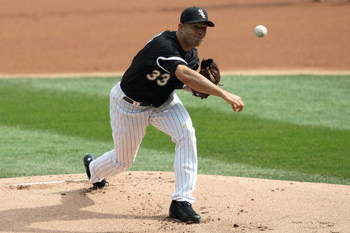 Even after Adam Eaton struggled through an injury-plagued 2006, the Philadelphia Phillies were eager to offer him a three-year, $24.5 million contract.
Despite never winning more than sixteen games in a season, Javier Vazquez is getting paid $11.5 million for both 2009 and 2010.
Advantage— Vazquez
Most Bizarre Injury
In 2001, Adam Eaton stabbed himself in the stomach while trying to open a DVD package with a paring knife.
Javier Vazquez fractured an eye socket in 2001 when a pitch by Ryan Dempster hit Vazquez on the front of his batting helmet.
Advantage— Eaton
Vazquez's injury was scary, but Eaton's injury is a classic.
Best Quote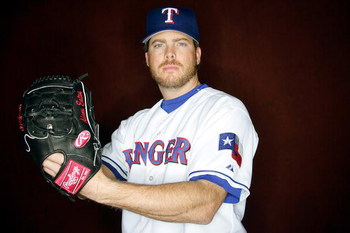 In response to a question by Spencer Fordin of MLB.com about his disappointing performance with the Philadelphia Phillies, Adam Eaton said,
"What went wrong? A lot of things went wrong, but a lot of things went right, too. I helped them get to the playoffs two years in a row, and obviously we won the World Series last year."
Thinkexist.com quoted Javier Vazquez as saying after getting removed from a starting rotation,
"I don't like it. But what can I do? I want to pitch every fifth day and they know that, but it's not my call. I'm not the manager."
Advantage— Eaton
It's probably a good thing that Vazquez is not a manager. However, it is amazing that Eaton would be so modest when he wasn't even on the World Series roster and was 14-18 with the Phillies.
Greatest Achievement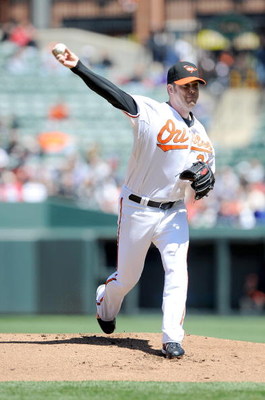 In a minor-league game pitching for the Reading Phillies, Adam Eaton threw a no-hitter against Norwich, a New York Yankees affiliate at the time, and lost.
Javier Vazquez has allowed 25 or more home runs in six of the past seven seasons for four different teams.
Advantage— Eaton
It was only in the minors, but it takes great talent to give up zero hits in a game and manage to lose.
Star Power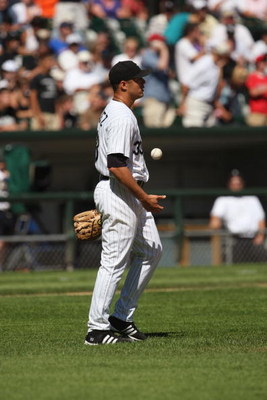 Nick Johnson and Juan Rivera were parts of the trade that brought Javier Vazquez to the New York Yankees.
Randy Johnson came to the Yankees when the Arizona Diamondbacks traded for Vazquez.
The Chicago White Sox gave up Orlando Hernandez and OF Chris Young to get Vazquez.
Pitcher Chris Young and Adrian Gonzalez went to the San Diego Padres when the Rangers traded for Eaton.
Advantage—Vazquez
Gonzalez is a great young player, but you have to be awesome to be involved in a trade for Randy Johnson.

The Results
Oh, no! My worst fears have been realized!
It's a tie. Eaton 3, Vazquez 3.
Now the debate will never end. It will just go on and on and on and...
Keep Reading