Washington Capitals' Complete Guide to the 2013 Offseason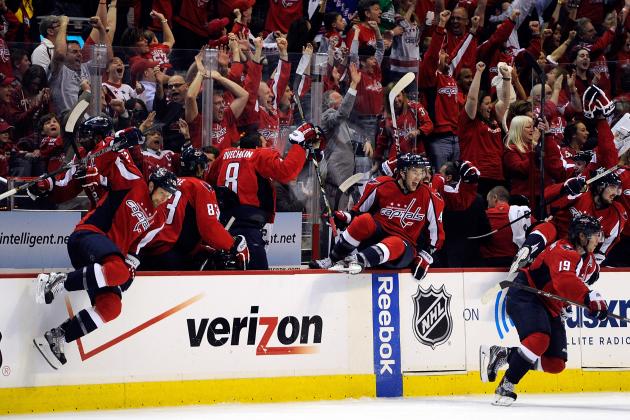 Greg Fiume/Getty Images

This summer, it will be essentially more of the same for the Washington Capitals.
Once again, George McPhee will be attempting to restock and retool his roster after yet another disappointing postseason exit, as for the sixth straight season, the Capitals bowed out of the playoffs earlier than expected.
However, there's certainly reason for optimism in D.C., as captain Alex Ovechkin rediscovered his scoring touch during the second half of the lockout-shortened season, and was rewarded with his third Hart Trophy as league MVP during his first year under Adam Oates.
Yes, the Caps fell to the Rangers in gut-wrenching fashion on home ice in the first round, but the resurgences of Ovechkin, Nicklas Backstrom and Mike Green should be viewed as positive indications of what's to come in 2013-14.
Without further ado, here is everything you need to know about the Capitals' game plan for the summer.
Begin Slideshow

»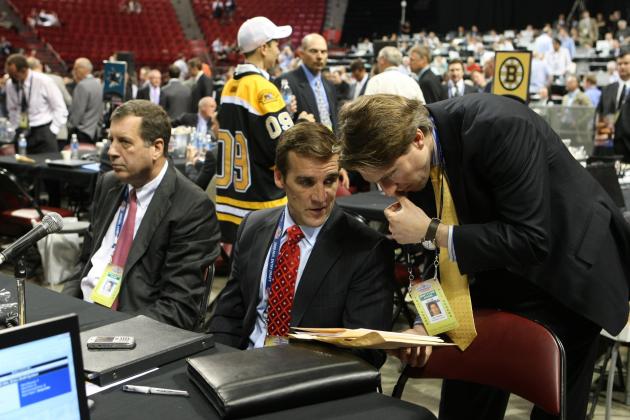 Bruce Bennett/Getty Images

Heading into Sunday's NHL draft, the Capitals currently hold eight selections, so there will be ample opportunity to build toward the future, especially in a year with a talent pool that appears to be very deep.
After dealing away the team's No. 1 selection in each of the last two seasons for Troy Brouwer and Mike Ribeiro, respectively, McPhee will get the chance to continue his hot hand on the draft board, beginning with the 23rd overall pick.
Though it's difficult to gauge what exactly McPhee will be targeting, adding size and scoring depth up front, as well as a potential top-four rearguard have to be his top priorities. If that's what he'll be trying to address in Round 1, Swede Jacob De La Rose is a possibility, as the big winger projects to be a top-nine winger capable of contributing on both the scoreboard and on the boards.
Another prospect that may be of interest could be Kerby Rychel, son of former Stanley Cup champion Warren, who has posted back-to-back 40-goal seasons playing for his father's Windsor Spitfires of the OHL.
If McPhee decides to target a defenseman, Josh Morrissey of the Prince Albert Raiders may be an option if he's still available, as the 6'0" Calgary native put together a solid 47-point campaign in 2012-13, and helped Canada win gold at the Under-18 World Championships.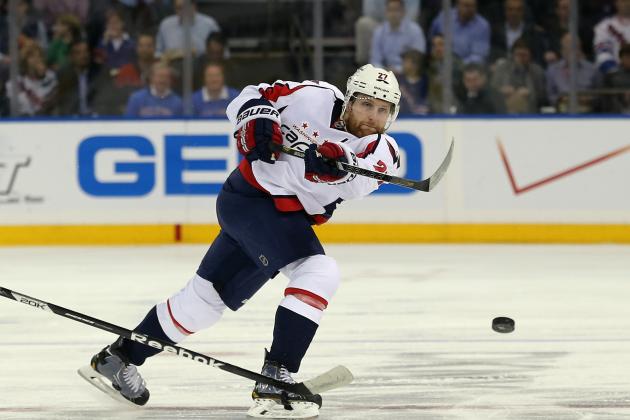 Bruce Bennett/Getty Images

As of now, the Caps have just over $5.68 million in salary cap room heading into the summer (via CapGeek.com).
With 20 players under contract through 2013-14, the Capitals have the majority of the team's core locked up, but there will be some difficult decisions awaiting McPhee following this weekend's NHL draft.
As restricted free agents, both Karl Alzner and Marcus Johansson need new deals, and McPhee will also have to figure out how to either retain Mike Ribeiro, or find a suitable replacement internally or via the trade market.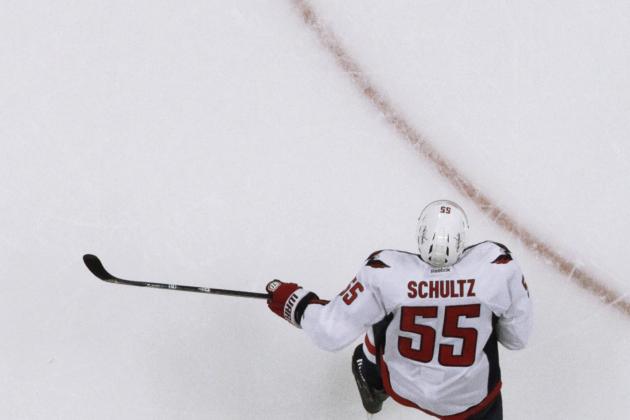 Justin K. Aller/Getty Images

There have been a number of teams mulling big-money compliance buyouts already, but the Capitals don't appear to be one of them, and that's indicative of how well the majority of the team's players have lived up to their contracts thus far.
At this point, the only possibility in terms of buyouts may be rearguard Jeff Schultz, who has already publicly requested a trade (via The Washington Post). Unfortunately for Schultz, who has played sparingly since Bruce Boudreau was fired in 2011, his contract may be too expensive for other teams' liking.
If the Caps were to buy Schultz out, according to CapGeek, it would cost Washington $750,000 this season, and $1 million in 2014-15, which would provide the team with an additional $2 million in cap space this season.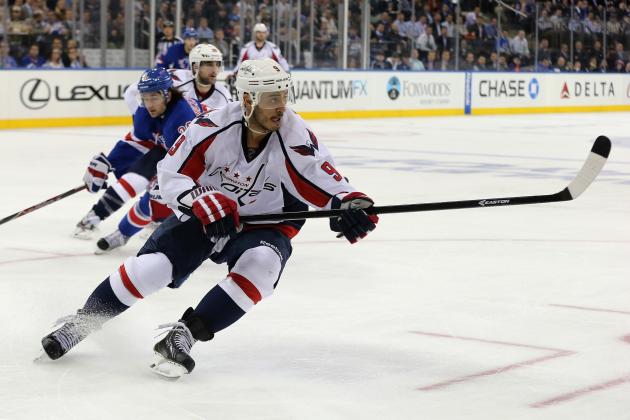 Bruce Bennett/Getty Images

Though the Caps have nearly all of their key players under contract for at least the time being, at least one of the team's best offensive threats may be donning a new uniform next season.
That's because Mike Ribeiro, who finished second on the team with 49 points in 48 games, is set to become an unrestricted free agent, and the 33-year-old is intent on signing a long-term deal (via Yahoo! Sports).
If he's unhappy with the Capitals' offer, the former All-Star will undoubtedly be among the top offensive targets on the free agent market.
Other than Ribeiro, the only unrestricted free agents of note are Matt Hendricks and Tom Poti, who both stand a reasonable chance of finding new homes this summer.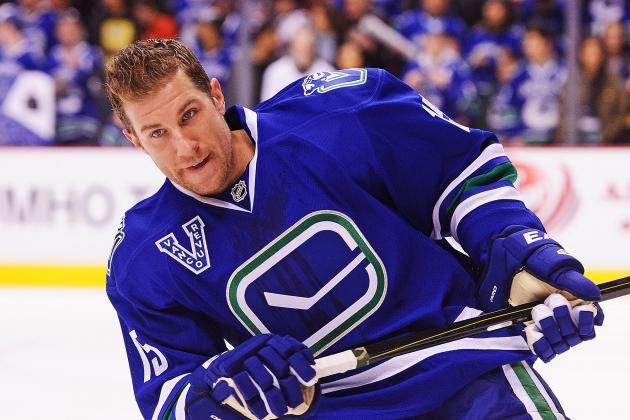 Derek Leung/Getty Images

Given the limited amount of cap room McPhee has to work with, it seems unlikely that the Capitals will be in the running for any notable free agents set to hit the market this summer.
In addition, with few marquee players available, the price for new talent figures to be uncharacteristically high, so unless McPhee can find financial wiggle room by unloading a contract like that of Jeff Schultz, the team won't be able to add much more than a depth player or two on the open market.
However, if McPhee and the Caps can convince an aging veteran to take a pay-cut to play for what should be a contender for a few more seasons, it's conceivable that a deal could be struck with someone like Danny Briere or Derek Roy.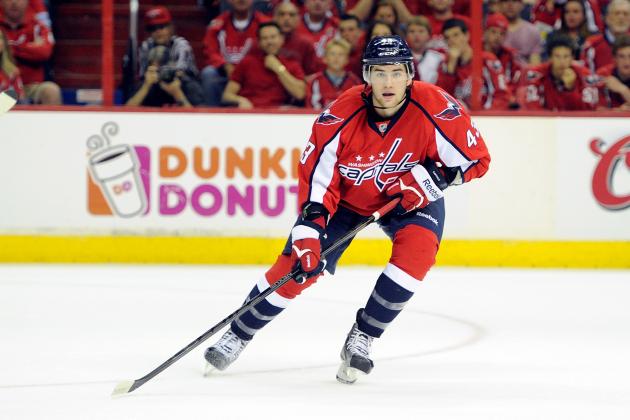 Greg Fiume/Getty Images

For the time being, the Capitals will probably stand pat until they decide how to approach the situation surrounding Mike Ribeiro, because if the team's No. 2 pivot is indeed headed elsewhere this summer, McPhee will be looking for a replacement.
However, assuming the Caps either attempt to sign a veteran free agent or fill Ribeiro's skates on the second line internally, acquiring a top-four defenseman will be the most pressing issue at hand.
Given San Jose's cap situation, Brad Stuart could be one option, if McPhee would be willing to part ways with a first-rounder or a promising young prospect like Tom Wilson, and the same can be said for Pittsburgh's Matt Niskanen, especially if the Penguins are intent on re-signing either Douglas Murray or Jarome Iginla this summer.
Other than than, the Capitals will more than likely try to fill their remaining holes by promoting from within, rather than injecting new blood via trade.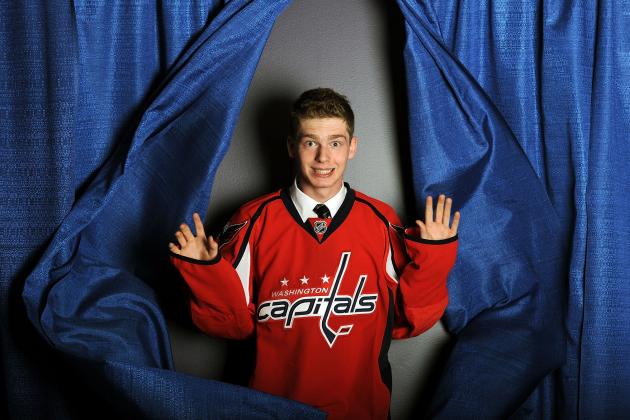 Harry How/Getty Images

During Washington's Round 1 loss to the New York Rangers, Tom Wilson made his NHL debut after Martin Erat's injury, and though the former No. 16 overall selection didn't register a point, he didn't look out of place either.
Wilson projects to be a top-nine two-way forward with the potential to be a physical presence every time he steps onto the ice, which will be a welcome addition for the Verizon Center faithful.
Beyond Wilson, the Capitals will continue to wait for Evgeny Kuznetsov to make the trip across the Atlantic to D.C., but given his preference to remain in Russia until at least after the Sochi Olympics, it's safe to say Caps fans won't see him rocking the red until 2013-14.
Once the dynamic Russian does join the Capitals, Washington may finally find the solution to its burning secondary scoring needs.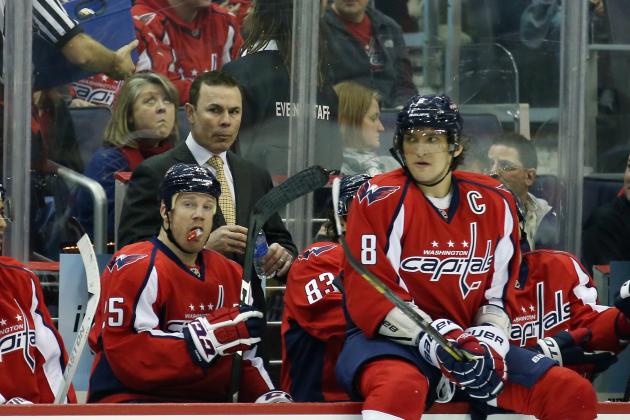 Bruce Bennett/Getty Images

It's no secret that the Capitals' window to capture the franchise's first Stanley Cup with its long-tenured core of Ovechkin, Backstrom and Green as the centerpieces isn't exactly getting any larger.
The trio, along with Brooks Laich have been through six postseasons together, and at a certain point, simply making the playoffs is no longer acceptable.
Simply put, this team has too much talent and skill not to at least reach the Conference Finals, and a failure to do so will likely lead to at least a handful of big changes in D.C., including possibly the end of McPhee's reign.
For now, the Capitals will retain a very similar roster to the one that got blown out in Game 7 on home ice against the Rangers, which is either a good or a bad thing, depending on who you talk to.
This past season, fans of the Capitals were willing to write off the team's opening round collapse against New York, given how hard Ovechkin and company played down the stretch in order to climb out of the massive hole they'd dug themselves earlier in the year.
But now, with Ovechkin back to doing what he does best, and after having had 55 games to adjust to Adam Oates' new systems, expectations will be sky-high in Washington this fall.