Matt Kemp returns to the Dodgers lineup on Tuesday after being out since May 29 with a right hamstring strain.
Here's a look at the Dodgers lineup for tonight's game against the San Francisco Giants, with Kemp hitting fifth, per Dylan Hernandez of the Los Angeles Times:
#Dodgers lineup: MEllis 4, Puig 7, Gonzalez 3, Ramirez 6, Kemp 8, Ethier 9, Federowicz 2, Punto 5, Fife 1.

— Dylan Hernandez (@dylanohernandez) June 25, 2013
After striking out against Jered Weaver of the Los Angeles Angels of Anaheim in the sixth inning on May 29, Kemp took the field in between innings. While the Dodgers were warming up, the outfielder removed himself from the game.
The Dodgers' official Twitter account announced what the problem was:
Matt Kemp has a mild right hamstring strain.

— Los Angeles Dodgers (@Dodgers) May 30, 2013
Los Angeles later placed the outfielder on the 15-day disabled list, per Scott Miller of CBS Sports:
Matt Kemp to DL with hamstring injury. Hopes it is just 15 days. #Dodgers

— Scott Miller (@ScottMCBS) May 30, 2013
A few weeks later, more bad news came Kemp's way.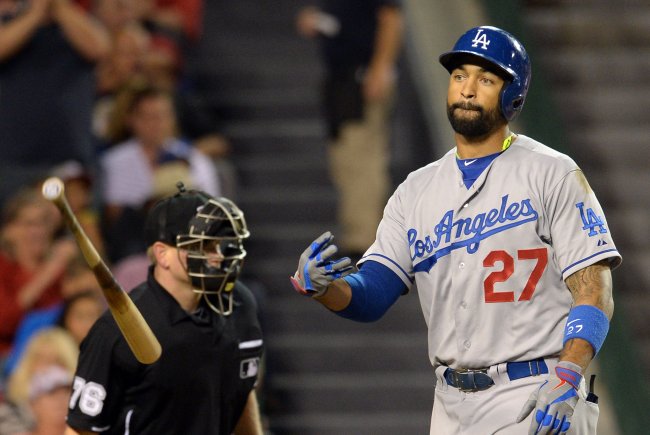 Jayne Kamin-Oncea-USA TODAY Spor
Manager Don Mattingly told Pedro Moura of the Orange County Register that Kemp had suffered a bit of a setback with his rehab:
Don Mattingly said Matt Kemp has "hit a little bit of a snag" in his rehab from a strained hamstring

— Pedro Moura (@PedroMoura) June 9, 2013
Kemp would sit out the next few weeks until he was ready to go.
Bill Shaikin of the Los Angeles Times reported that Kemp would see time in Triple-A on June 22, and would then make two or three appearances in the outfield:
Mattingly: Kemp will DH for AAA tomorrow, hopefully 2-3 more in field, then return to #Dodgers.

— Bill Shaikin (@BillShaikin) June 22, 2013
Things didn't go so well in Kemp's first rehab start, though, per Shaikin:
Matt Kemp goes 0 for 5 with 4 K in first rehab game tonight. #Dodgers

— Bill Shaikin (@BillShaikin) June 23, 2013
Kemp played three games in Triple-A before the Dodgers took him off the 15-day disabled list and brought him back to Chavez Ravine.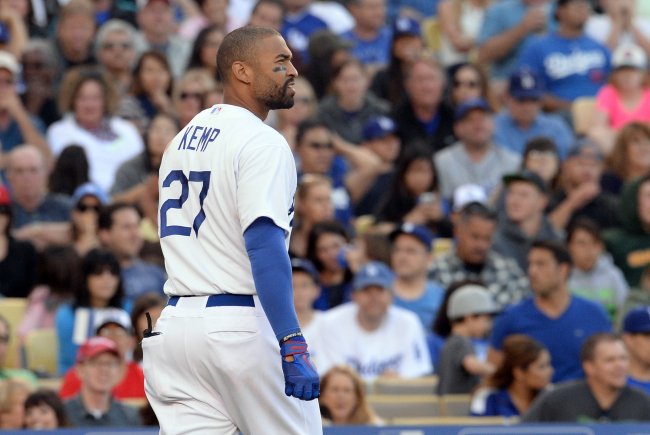 Jayne Kamin-Oncea-USA TODAY Spor
Before getting injured, Kemp was a disaster for the Dodgers. The two-time All-Star was hitting .251/.305/.335 with a pair of home runs and 17 RBI through 51 games. Kemp has the lowest WAR of any other player on Los Angeles, according to FanGraphs.
The Dodgers have struggled with and without Kemp in the lineup. They are currently nine games under .500 and eight games behind the Arizona Diamondbacks in the NL West.
Cuban sensation Yasiel Puig has been playing the outfield while Kemp—and Carl Crawford—has been out. The rookie has been incredible, and it's unthinkable that manager Don Mattingly wouldn't be able to find a way to play those three and Andre Ethier.
Jayne Kamin-Oncea-USA TODAY Spor
Mattingly told Dylan Hernandez of the Los Angeles Times he'll make it work:
There are enough ABs to go around for Kemp, Crawford, Ethier and Puig, according to Mattingly.

— Dylan Hernandez (@dylanohernandez) June 16, 2013
Shaikin reports that Kemp will return to center, Ethier will move to right and Puig will play left. Once Crawford returns, Puig could go back to right and Ethier could rotate among all three positions, per Shaikin.
"Whatever is going to make this team the best," Ethier said.
Even though Kemp wasn't his usual self prior to the hamstring injury, the Dodgers are best when he's in the heart of the lineup. B/R MLB Lead Writer Adam Wells recently raised the question of whether Kemp and Puig can turn the Dodgers around and get them into the postseason.
Now we get to sit back and watch what the dynamic duo can do.