NBA Mock Draft 2013: Where Top Players Will Land Come Draft Day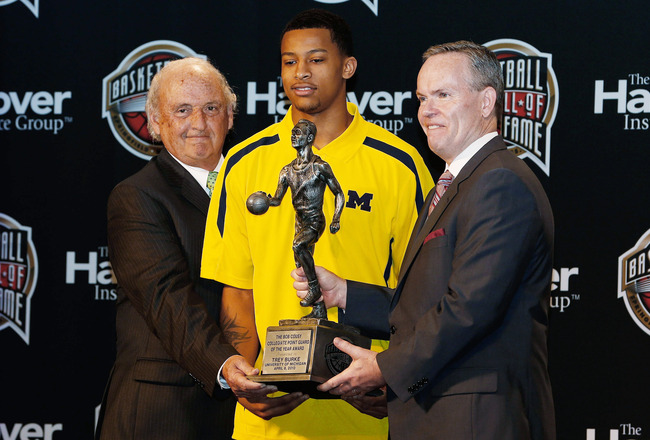 Michigan's Trey Burke should be available when the Pelicans are on the clock, and he is too good to pass on at No. 6.
Mike Zarrilli/Getty Images
The 2013 NBA Draft is set to take place on Thursday night, and the New Orleans Pelicans are one of the teams to keep an eye on come draft day.
Unlike the NFL draft, the NBA draft is completely unpredictable, especially this year. Numerous names have been floated around as the No. 1 pick, but nobody has stuck out as the consensus top pick.
An uncertain top pick will lead to an exciting lottery. Although there isn't a player who will be a superstar as a rookie in this class, there are many talented players on the board.
The teams with multiple picks in the first round should do very well this year. The depth of this class is good, and teams can get good value later in the first round.
So who will join the Pelicans as the winners of this year's draft?
*All stats are courtesy of ESPN.com
No. 1 Cleveland Cavaliers: Nerlens Noel, C, Kentucky
Andy Lyons/Getty Images
Although there is the potential to grab a bust by overreaching at No. 1, the Cleveland Cavaliers are in great position to improve their roster in the draft.
Taking Maryland's Alex Len with the first pick would be a stretch, but it would definitely fit a need. That narrows it down to Len or Kentucky's Nerlens Noel.
Jimmy Smith of The New Orleans Time-Picayune reported last week that the Cavs are seriously considering taking the center with the first pick.
Hearing that C Alex Len, who visited with #Pelicans on Friday, is now the likely choice for #Cavs at No. 1 spot in next week's draft.

— Jimmy Smith (@JimmySmith504) June 17, 2013
Len is a talented center. However, he didn't have a huge season for the Terps.
Cleveland has guards and scorers on its roster, but it lacks a true big man. Anderson Varejao is talented. He just can't stay on the court, and his most recent issue was severe.
The Cavs have time to groom a center with Varejao on the team. Both Len and Noel are recovering from injuries, so the team could make sure they rehab properly and not rush them back.
Not only does the team own the first pick, but it owns three more picks (Nos. 19, 31 and 33) in the draft. The Cavs could use the No. 1 pick for themselves, or they could try to package a few of their picks to get a veteran.
No matter what they do, the future looks bright for the Cleveland Cavaliers. Drafting a big man would give them a player for the future, so that should be the pick here.
Noels will be the pick. Although all signs point to Len right now, the Cavs will wise up and take the player with more upside. Noels has shown much more potential than Len, and the Cavs should be looking for long-term success.
He is recovering from an ACL tear, but the Cavs can be patient with him. They aren't going to be a title contender next season, so making sure he is 100 percent is the key. They would have a top-five pick at nearly every position, and the future is bright in Ohio.
By taking Noels and drafting a scorer later, the Cavs will be a big winner in this draft.
No. 2 Orlando Magic: Victor Oladipo, SG, Indiana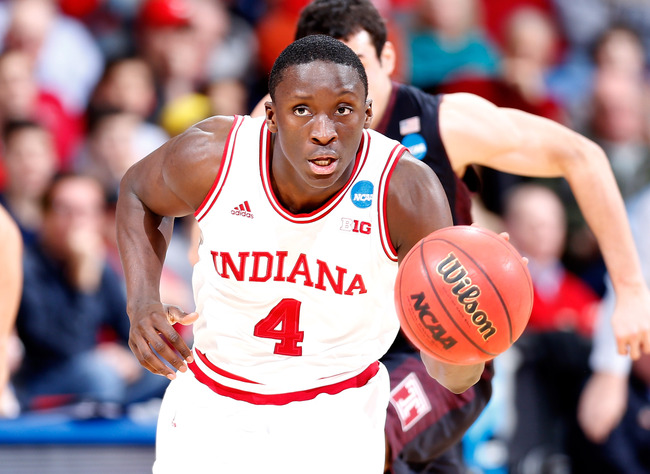 Joe Robbins/Getty Images
There are so many needs in Orlando. Rebuilding mode is now underway, so the Magic have plenty of options to choose from.
If Len goes No. 1, Noel would be a very attractive option for Orlando. However, Cleveland should wise up and take the talented center.
That leaves Orlando taking the best player on the board. Victor Oladipo is the most versatile player in this draft, and he can be a piece to build around.
Oladipo is a good offensive threat and a great defender. There aren't many flaws in his game.
No. 3 Washington Wizards: Otto Porter, SF, Georgetown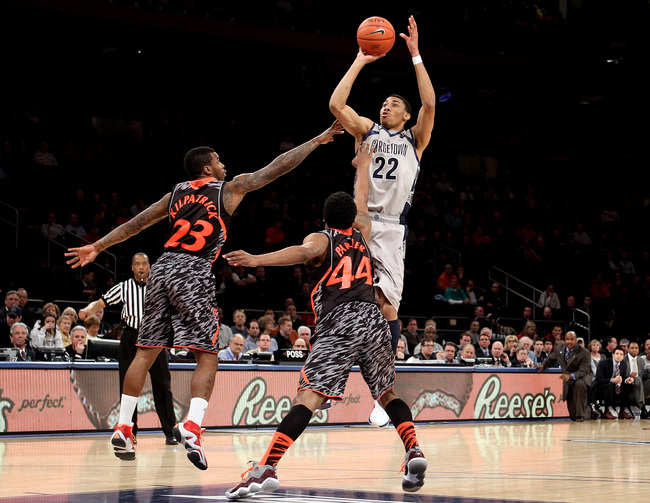 Chris Chambers/Getty Images
There probably won't be much intrigue when the Wizards are on the clock. Otto Porter had a great career at Georgetown, so the Wizards will be inclined to take the local kid.
Porter's game should translate well to the next level. He's got good size and has improved his shooting. He is a good passer for his size, as well.
He saw a huge improvement in nearly all of his numbers from his freshman season to his sophomore season, and he will continue to get better.
No. 4 Charlotte Bobcats: Ben McLemore, SG, Kansas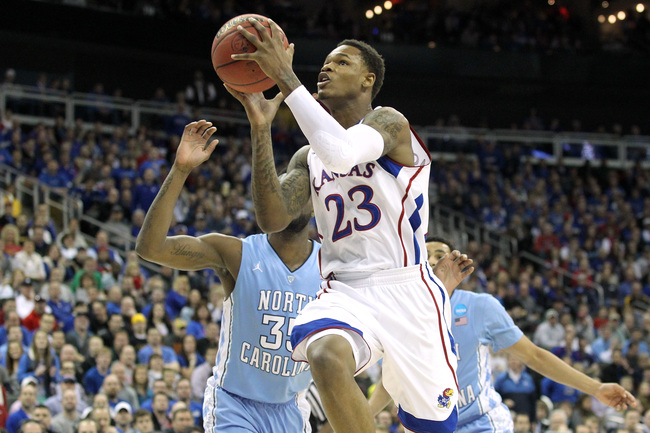 Ed Zurga/Getty Images
Ben McLemore had the potential to be the No. 1 pick. An inconsistent season at Kansas hurt his stock.
The freshman shot nearly 50 percent from the floor and 42 percent from three-point range. He has very good range and could be a great shooter one day.
There isn't much McLemore can't do. He's a good shooter, plays good defense and has great hops.
Michael Jordan isn't afraid to take the best player available, so look for McLemore to be a Bobcat.
No. 5 Phoenix Suns: Cody Zeller, PF/C, Indiana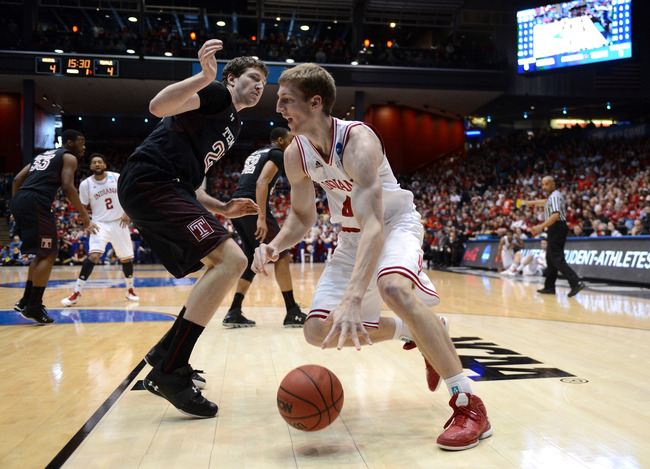 Jason Miller/Getty Images
Probably a reach at No. 5, but Cody Zeller was once a top prospect. He's got good size, but he will need to prove that he can adjust to the NBA better than his brother, Tyler, did.
This draft is going to be filled with surprises. There has been talk that Zeller impressed the Suns at a workout, so this is a realistic possibility.
With several big men still available, the Suns will shock everyone by taking Zeller.
No. 6 New Orleans Pelicans: Trey Burke. PG, Michigan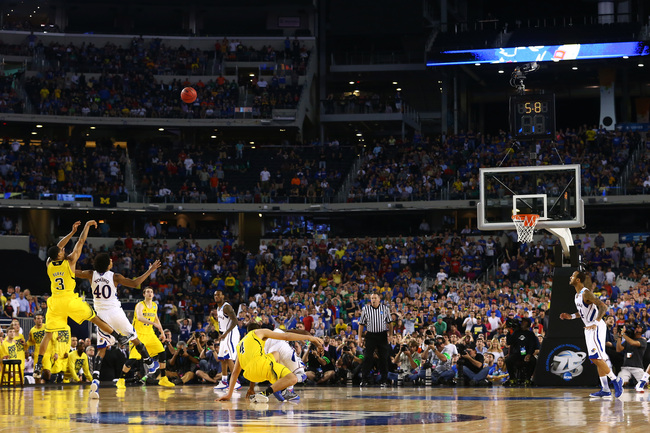 Trey Burke has shown the ability to hit big shots.
Ronald Martinez/Getty Images
The New Orleans Hornets took Anthony Davis with the No. 1 pick in 2012. He was a good pick and someone the team can build around. At No. 10, the Hornets made a mistake by drafting Austin Rivers out of Duke. Now the Pelicans have a chance to make up for their mistake.
John Reid of The Times-Picayune is one of several people who has Trey Burke going to the Pelicans at No. 6. The former Michigan star showed what he can do when he led his team to the NCAA finals.
The team only has one pick in the first round, so it needs to use it on the right player. Burke is that guy.
Rivers lived off one shot during his time at Duke, and it helped that he was the son of Doc Rivers. Now the Pelicans can draft a more talented point guard.
Burke is a point guard who can team up with Davis and lead this team in the future. Burke has tremendous range and has hit clutch shots in his career. He is the type of player who can take over a game with his shooting.
He also gets his teammates involved. He is a good passer and can find his teammates anywhere on the court. His quick style opens up shots for his teammates.
Len could be the pick here, but Burke is likely heading to New Orleans. There's too much talent in this Michigan prospect for the team to pass up.
Burke could be a great point guard in the future, and New Orleans would be lucky to get him.
No. 7 Sacramento Kings: Alex Len, C, Maryland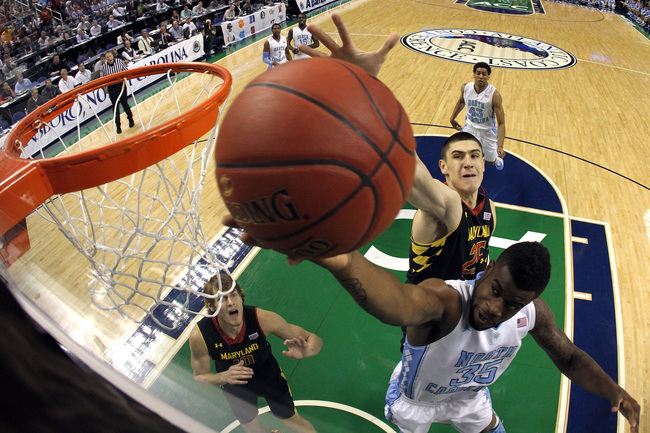 Streeter Lecka/Getty Images
The fall of Alex Len will finally stop at No. 7. He is in the mix to be the first pick, but he will be disappointed on Thursday night.
Cleveland will take the player with more upside, and the Kings will be satisfied that Len is still here. He is a good shot-blocker and rebounder, but he isn't strong enough to compete with big men in this league.
He will be able to add muscle and improve, but his current size will hurt his stock.
No. 8 Detroit Pistons: Michael Carter-Williams, PG, Syracuse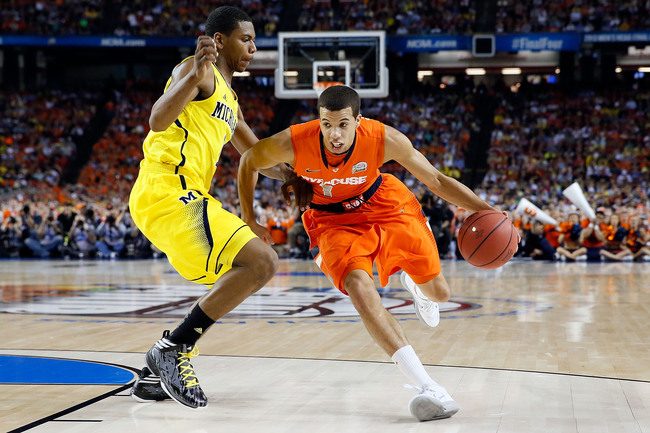 Kevin C. Cox/Getty Images
Detroit is another team that needs a lot of help. It will come down to Anthony Bennett of UNLV or Michael Carter-Williams of Syracuse. The Pistons need help scoring, so Carter-Williams is a good pick here.
The 6'6" point guard has great size and can do a lot on the offensive side of the ball. He can handle the ball, shoot or find his teammates.
Carter-Williams will be available when the Pistons are on the clock, and his talent will translate well at the next level.
No. 9 Minnesota Timberwolves: C.J. McCollum, PG, Lehigh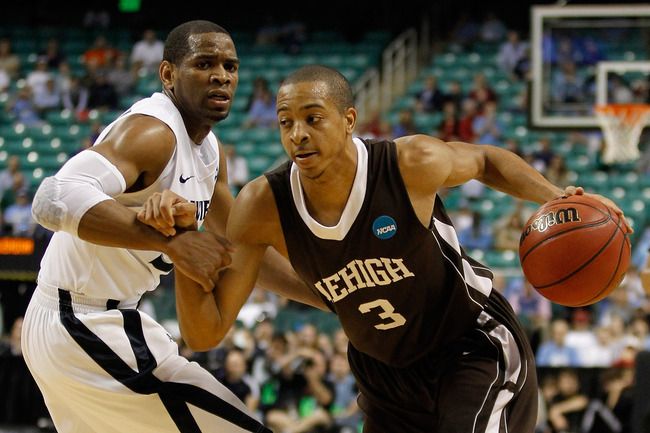 Streeter Lecka/Getty Images
C.J. McCollum is an explosive point guard. He can get out and run in transition and get his teammates involved.
He shot a ridiculous 49.5 percent from the floor, 51.6 percent from three-point range and nearly 85 percent from the line last season, so there isn't a shot that he can't hit. The point guard may not always be on in a given game, but he's going to find a way to get points.
For a point guard, he is a versatile player, grabbing five rebounds per game his senior year. The Timberwolves would love to pair him with Kevin Love.
No. 10 Portland Trail Blazers: Kelly Olynyk, PF, Gonzaga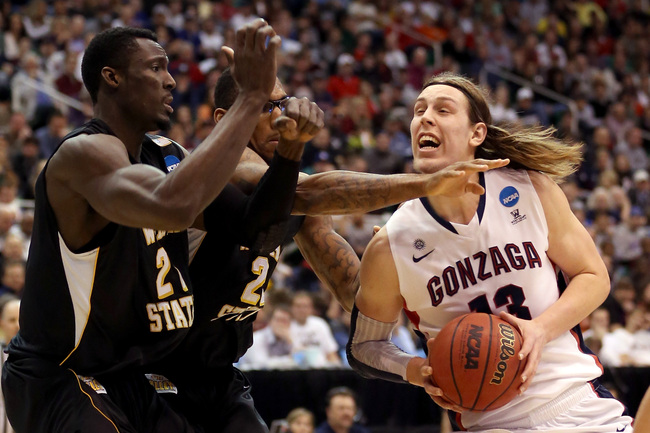 Streeter Lecka/Getty Images
Adding a power forward who can score would give Portland a good threat at the position.
Kelly Olynyk can score, and he is a good rebounder. He didn't have to face much competition while at Gonzaga, so he still has to prove that he can play against the best.
Olynyk also had to wait until his junior season to get consistent playing time, and he will need to prove that he can put up big numbers consistently throughout his career.
He increased his shooting percentage every year and finished his career at nearly 63 percent. He would give the Trail Blazers a threat down low.
No. 11 Philadelphia 76ers: Anthony Bennett, PF, UNLV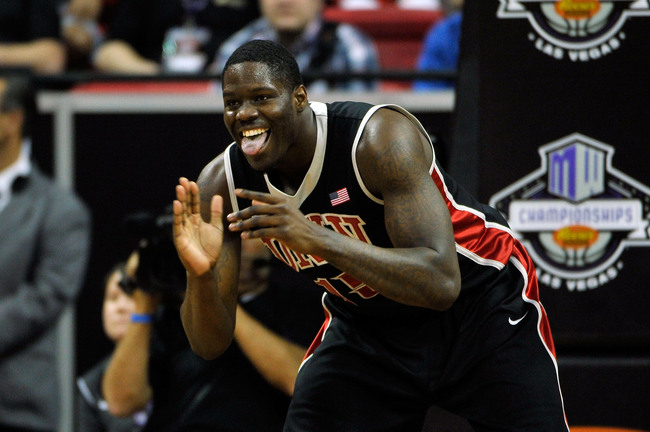 Jeff Bottari/Getty Images
Anthony Bennett is a highly-rated prospect, but it's a crazy draft. Philadelphia needs size, and Bennett would be the best available big man.
He's got good size, and he can shoot for a big man. There's not a chance that he makes it past the 76ers in this draft. The team needs frontcourt help, and he would be a great fit.
No. 12 Oklahoma City: Steven Adams, C, Pittsburgh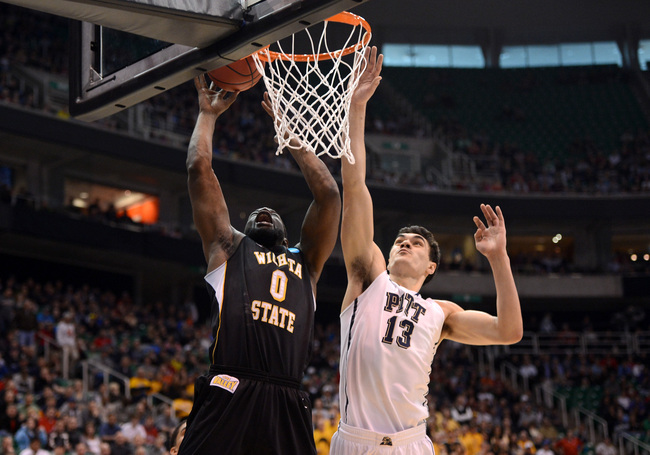 Steven Adams' size makes him an attractive option for the Thunder.
Harry How/Getty Images
No, it's not because they have two picks. It certainly helps, but the Oklahoma City Thunder will be winners because of their first pick.
The team owns the No. 12 pick in the draft, and this is their chance to add some depth.
After a disappointing exit in the playoffs, there aren't many needs in Oklahoma City. Teams shouldn't be wasting picks early to add depth in case an injury occurs, so look for the Thunder to go big first.
Oklahoma City has Russell Westbrook and Kevin Durant. They don't need another prolific scorer, so a center would fit perfectly at No. 12. The team can get a future replacement for Kendrick Perkins, who only has a couple of years left on his contract.
For now, the pick would serve as a backup and give Perkins some time off. Indiana's Cody Zeller will likely be off the board, but he would be an intriguing fit if he managed to be available when the Thunder pick.
Steven Adams of Pittsburgh and Gonzaga's Kelly Olynyk should still be available. Adams has good size and is a good rebounder, so he'd be tough to pass on. Olynyk isn't as strong or as good of a rebounder as Adams, and he wasn't tested much at Gonzaga.
Either one would be a good fit with the Thunder. Adams looks like the better prospect, but neither one would be expected to be a big part of the team right away.
The Thunder also own the No. 29 and 32 picks. They could continue to add size, or they could try to find role players with those picks.
Oklahoma City's draft has the potential to add key pieces to provide depth, which could pay off later in the season.
No. 13 Dallas Mavericks: Shabazz Muhammad, SF, UCLA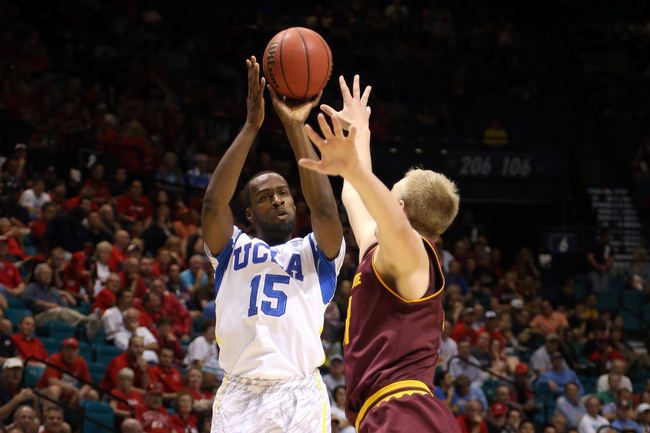 Jeff Gross/Getty Images
Shabazz Muhammad had a lot of hype early in his college career, but he didn't have a spectacular season at UCLA.
He lacks good size and isn't a great shooter, so this could be another reach. However, this is the type of player that Mark Cuban would love to have.
Muhammad can score and rebound. He averaged nearly 18 points and just over five rebounds per game, but he needs to be more efficient. He's got athleticism, but he still needs to improve his overall game before he lives up to his potential.
No. 14 Utah Jazz: Shane Larkin, PG, Miami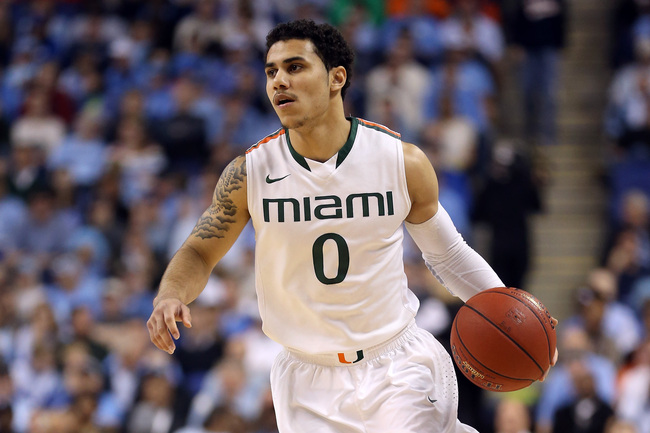 Shane Larkin is one of the most athletic players in this year's draft.
Streeter Lecka/Getty Images
With two picks in the first round, the Utah Jazz can improve their roster through the draft.
The Jazz are likely to take a point guard with their first pick, but their next pick is uncertain.
Miami's Shane Larkin could be a steal at No. 14. He is being knocked for his size, but he has just about every skill a team could ask for. He can shoot the ball, distribute and play defense. This point guard plays quick and makes his teammates better.
Larkin impressed at the combine and at a workout with the Jazz. He is arguably the most athletic guard in this draft.
Point guard Dennis Schroeder should be available as well, so it will come down to who the team is higher on.
Larkin has the potential to lead a team at a quick pace, and he has experience playing against tough competition. He played in the ACC, and he was in the spotlight a lot.
He has hit clutch shots and shown up against the toughest competition. His size is a bit of a concern, but his overall talent is outstanding. This is an easy pick for the Jazz to make, and they will be big winners if they go through with it.
The Jazz will be on the clock again at No. 21. The team needs help in the post, but there may not be any big men still available that interests them.
No. 15 Milwaukee Bucks: Kentavious Caldwell-Pope, SG, Georgia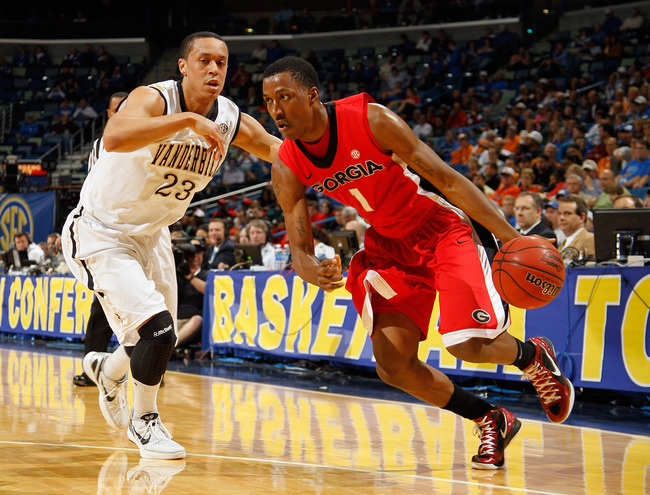 Chris Graythen/Getty Images
Kentavious Caldwell-Pope is another player who could go higher, but his inconsistent shooting is the reason he will fall.
He's got great range, but he has trouble making routine shots on a regular basis. He can play defense as well, but he will need to work on his jumper if he's going to make it at the next level.
One of his biggest issues is settling for long jumpers. He has the talent to score, but he doesn't wait long enough to get a quality shot.
Caldwell-Pope is expected to go in the lottery, but the Bucks would love to have him and add a scorer.
No. 16 Boston Celtics: Dennis Schroeder, PG, Germany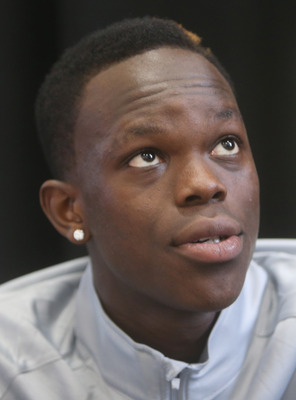 Jerry Lai-USA TODAY Sports
This pick is a total mystery. Who knows what the Boston Celtics are going to be doing with their roster before next season, and it looks like they could be in for a huge overhaul.
Kevin Garnett and Paul Pierce are on the roster for now. Nobody knows what the future holds for them, so the Celtics will need to think about this pick carefully.
Picking Dennis Schroeder may not be the biggest need thanks to Rajon Rondo, but it gives them depth at an important position.
He's a quick player, but he needs to develop more as a true point guard.
No. 17 Atlanta Hawks: Giannis Antetokounmpo, SF, Greece
The Hawks are in an interesting spot. They own back-to-back picks, so they will be able to take it easy with their first pick.
Giannis Antetokounmpo has been playing overseas, but he hasn't been able to prove himself against real competition. He could be a good player at some point, but he won''t be a great player right away.
No. 18 Atlanta Hawks: Mason Plumlee, C, Duke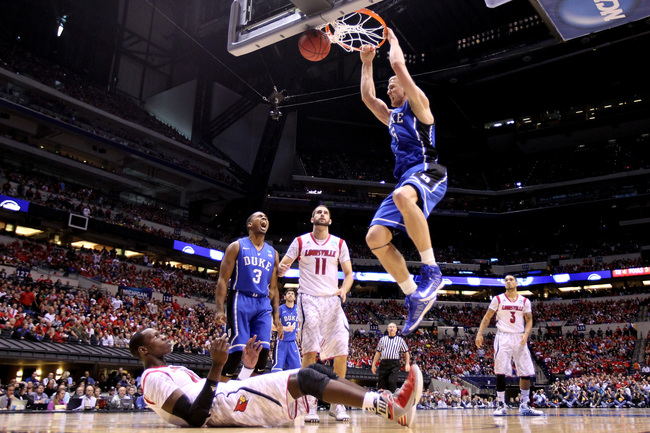 Andy Lyons/Getty Images
Of all the big men in this draft, Mason Plumlee is the most likely to still be available at this point. The Hawks need size, and Plumlee had a spectacular senior season with the Blue Devils.
He improved his points, rebounds and assists per game in all four seasons. He also increased his turnover rate every season, so that's one reason why he will still be available at this point.
Plumlee is a great rebounder and a solid scorer. He's a tall body, but he isn't the strongest center. That is something he needs to work on, but he could turn out to be a good pick at No. 18.
No. 19 Cleveland Cavaliers: Sergey Karasev, SG, Russia
The Cavs addressed their need for a center with their first pick, so now they will turn to finding a scorer.
Sergey Karasev would be a nice fit in Cleveland. He's a good passer, which is important when playing with Kyrie Irving. He will be expected to help Irving out with the scoring, and he is more than capable of pulling his weight.
Getting a big man and a shooter in this draft would make the Cavs one of the biggest winners of the draft. A player like Karasev provides some mystery, but he has talent to help the young Cleveland team.
No. 20 Chicago Bulls: Jeff Withey, C, Kansas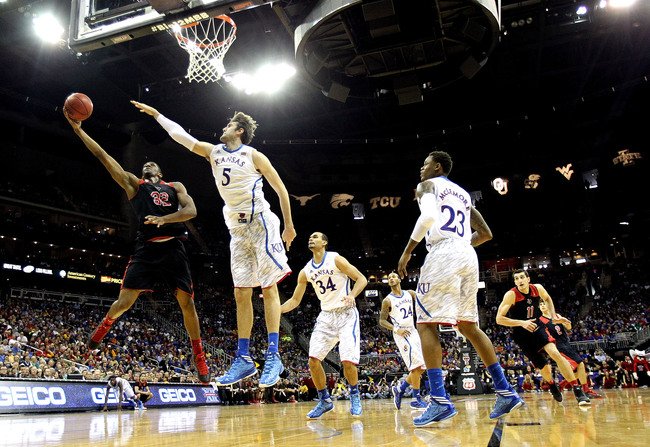 Jeff Withey uses his size to impact a game.
Jamie Squire/Getty Images
Much like the Thunder, the Chicago Bulls have the luxury of adding the final pieces to its roster.
Assuming Derrick Rose returns at the start of the season, this roster is loaded. Joakim Noah, Carlos Boozer, Taj Gibson and Luol Deng are all talented players who can help Rose challenge the Miami Heat.
As K.C. Johnson of the Chicago Tribune reported on Monday, Deng isn't likely to be traded to the Washington Wizards for the No. 3 pick.
Dealing Deng, who will be a free agent after next season, for a high draft pick would be a good move for the future, but the Bulls are looking to win now.
Chicago currently has the No. 20 pick. It could use it on a big man to add depth. Jeff Withey of Kansas would be a valuable pick this late in the draft.
Withey has good size and will be picked late in the first round. He can block shots and get rebounds. He showed the ability to change games just by being in the paint on defense.
He isn't a great offensive player, but that's not the style the Bulls play. They could use someone with his skills on defense.
Another player that may be available is Louisville's Gorgui Dieng.
Chicago is looking to get some depth for a title run, and drafting a center at No. 20 would be a great move by the team. Withey would be a big piece to Chicago's future, so they would be thrilled to have him.
No. 21 Utah Jazz: Rudy Gobert, C, France
The Jazz took a point guard with the No. 14 pick, so the next choice would be a big man. The best big man available is Rudy Gobert.
Nobody knows what to expect for Gobert on draft day. He could be a lottery pick, but he is likely to fall down the board.
The 7'2" center is a great rebounder. He is going to be a big presence in the paint, but he needs to improve his offensive game.
A point guard like Larkin needs a big man who can run up the floor, and Gobert fits that description.
No. 22 Brooklyn Nets: Gorgui Dieng, C, Louisville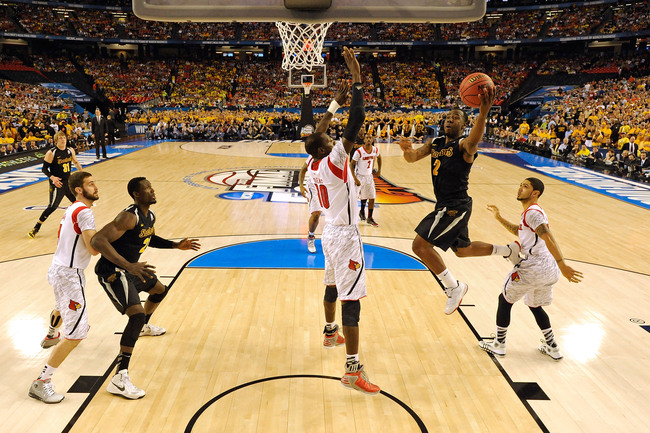 Pool/Getty Images
The Nets have a point guard, a scorer and a center. Those players are good enough to lead them into the second round of the playoffs, and there aren't many choices here that could significantly help the Nets.
Gorgui Dieng is the pick because he has serious length. He can get rebounds and keep players out of the lane with his shot-blocking ability.
He can learn from Lopez and develop into a solid player in a couple of years. He needs to work on his offensive game, but his defense would be much needed in Brooklyn.
No. 23 Indiana Pacers: Reggie Bullock, SG, UNC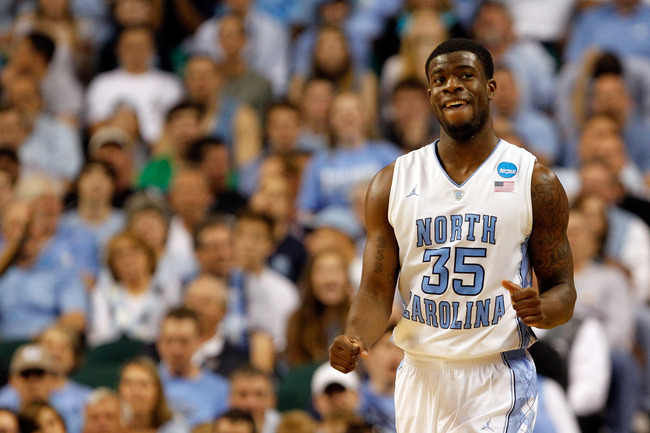 Streeter Lecka/Getty Images
Two names stand out when it comes to shooters: Tim Hardaway Jr. and Reggie Bullock.
Hardaway Jr. played alongside Burke at Michigan. He has played with a quick point guard, so transitioning to the pros with a guy like George Hill would be a natural fit. Hardaway Jr. shot over 40 percent from the field in every season at Michigan and improved his shooting at the line each year.
As a junior with the Tar Heels, Bullock was one of the top shooters in the nation last year, and he also has experience playing with a point guard who likes to move in transition.
Bullock is the better prospect of the two. He has good size, can play strong defense and is the better shooter. He shot 48 percent from the field as North Carolina's No. 1 option and 43.6 percent from three-point range.
The Pacers are built on defense. They need to find a way to re-sign David West, and Bullock would give them an inexpensive offensive dimension that teams have to guard against.
Indiana has a chance to add a versatile threat who can shoot and play great defense. Getting an athletic perimeter player would be a huge plus for the Pacers, and Bullock looks like a smart choice.
No. 24 New York Knicks: Tony Mitchell, SF, North Texas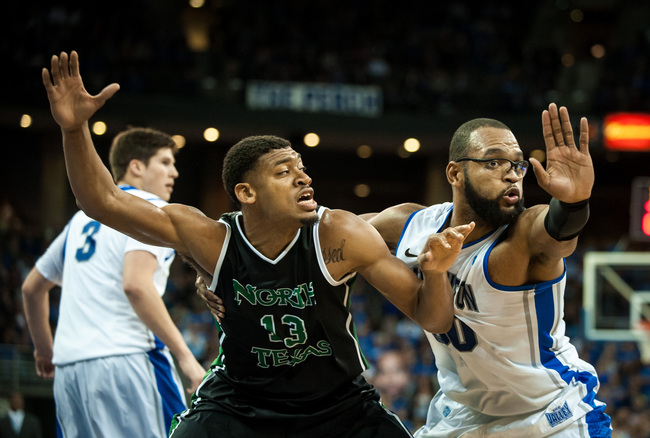 Eric Francis/Getty Images
Tony Mitchell is an athletic big man. He has size and quickness, which he uses to his advantage. He can get up the floor in transition.
Mitchell uses his leaping ability to get rebounds and alter shots, but he isn't a great player, yet. He has serious potential and would excel on a veteran team like the Knicks.
Carmelo Anthony and Raymond Felton are already in New York, and they could help Mitchell become a great player.
No. 25 Los Angeles Clippers: Jamaal Franklin, SG, San Diego State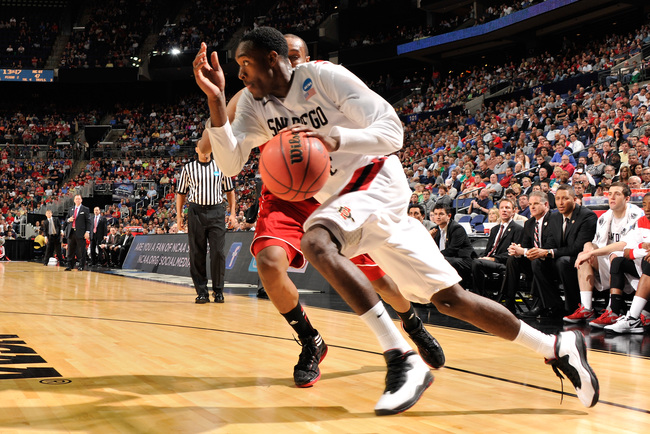 Jamie Sabau/Getty Images
Jamaal Franklin gets overlooked because he played at San Diego State, but he would fit in well with the players the Clippers have. Chris Paul, Blake Griffin and DeAndre Jordan are all athletic players, and Franklin would be another player who fits that style.
Coach Doc Rivers will need to find a way to utilize this roster, and Franklin gives them an athletic option on the outside.
Franklin's stock has dropped because his numbers have gone down every season, but he could be a good player on the right team.
No. 26 Minnesota Timberwolves: Tim Hardaway Jr., SG, Michigan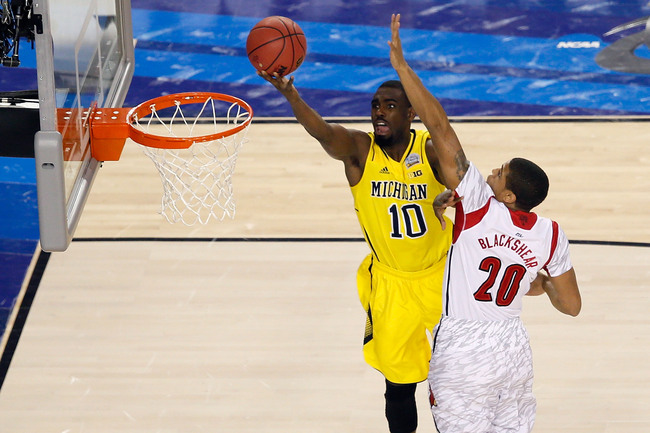 Kevin C. Cox/Getty Images
With their first pick, the Timberwolves got a point guard. They could use a scoring threat on the perimeter, but there won't be many appealing ones left on the board.
Hardaway Jr. needs some work on his three-point shooting, but he can get to the basket. He is a solid offense player with good upside. He can shoot and pass the ball, and the Timberwolves are in need of a good offensive player.
Hardaway is a good defender, but he has room to improve on both ends of the court.
No. 27 Denver Nuggets: Allen Crabbe, SG, Cal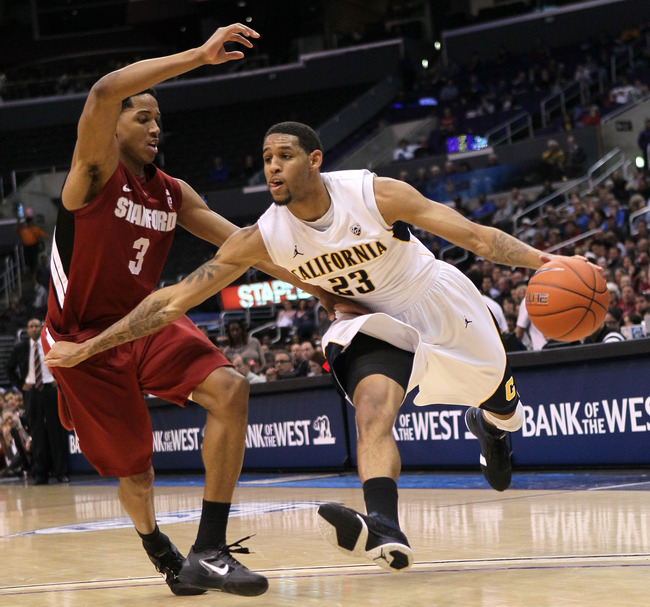 Stephen Dunn/Getty Images
The Nuggets overachieved last year, but they could be in a tough spot on draft day. Andre Iguodala is a free agent, and the team needs to try to figure out which way he's leaning.
Danilo Gallinari and Ty Lawson have turned out to be very good players, and the Nuggets are on the cusp of being a legitimate contender.
Allen Crabbe would work well with this team. His defense would help create transition buckets, and he can score better than most guards in this draft. He needs to work on his three-point shooting, but he shot nearly 46 percent from the floor last season.
Crabbe is the type of player the Nuggets could use right away.
No. 28 San Antonio Spurs: Glen Rice Jr., SF, Georgia Tech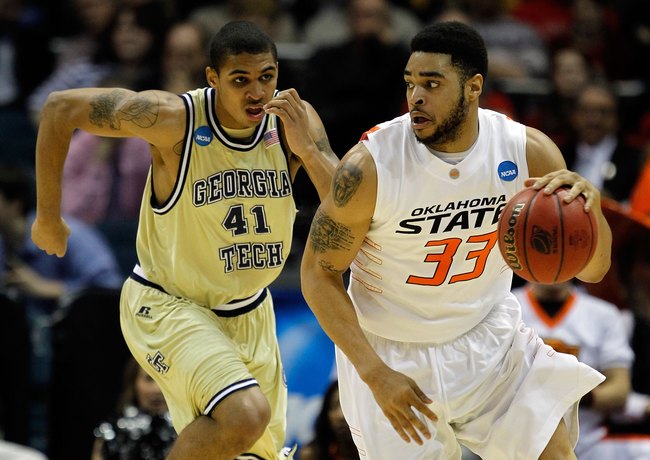 Jonathan Daniel/Getty Images
After coming so close to winning a title, it will be tough to figure out what the Spurs need.
Glen Rice Jr. is a good athlete, which is something a team like the Spurs could use. They don't have any glaring weaknesses. Rice could be another player like Danny Green who fits into the system and has a good impact.
Like Green, Rice is a good defender and can go down to the paint to get rebounds. Rice leaves it all on the court, and he is an above-average shooter. He was a 45.7 percent shooter last season in the D-League, so he would give the Spurs a little bit of everything.
No. 29 Oklahoma City Thunder: Pierre Jackson, PG, Baylor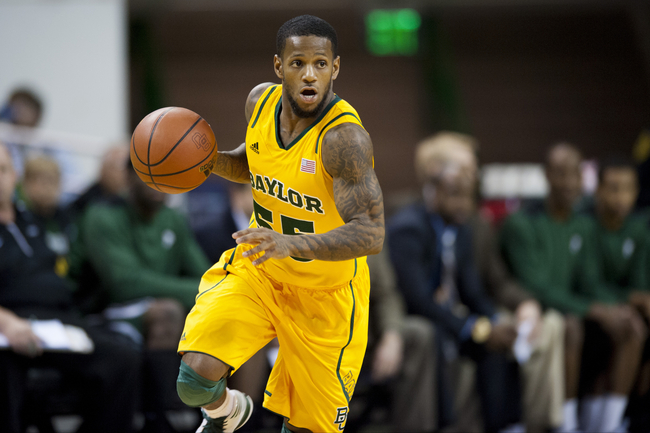 Cooper Neill/Getty Images
The Thunder got size with their first pick, and now they will have two out of the next four picks. They could add depth at the point and down low with their next two picks, so it's just a matter of who's still on the board.
Oklahoma City learned that it needed depth the hard way. Losing Russell Westbrook was difficult and made it tough for a deep playoff run, so Pierre Jackson is a logical fit here.
Jackson is similar to Westbrook in style. He is quick and has serious hops, and he is a decent shooter. His shooting percentage declined after his freshman season, but he is still young enough that he can work on it.
The Thunder don't have many needs, like the Spurs. A backup point guard similar to Westbrook would be a smart choice at No. 29.
No. 30 Phoenix Suns: Tony Snell, SG, New Mexico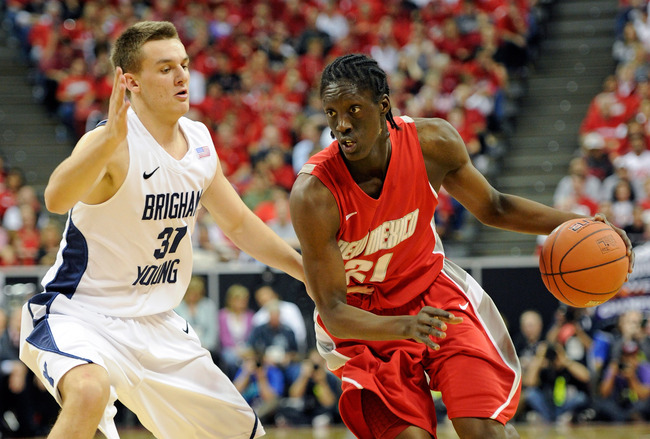 Ethan Miller/Getty Images
The No. 5 pick was used on a big man, so the Suns will focus on a scorer with the last pick of the first round.
Tony Snell can shoot the ball, but he can't create his own shot. He shot 42 percent from the field and 39 percent from three-point range, which is a little low considering that is his biggest asset.
The 6'7" forward doesn't have a great skill set, but he does show promising signs as a shooter. His overall game needs a lot of work, and the Suns are the type of team that can be patient with young players.
Phoenix has plenty of point guards to choose from and will draft a big man first. Snell gives them a shooter to help get the offense going.
Keep Reading