Los Angeles Dodgers' Biggest Winners, Losers of the First Half of the Season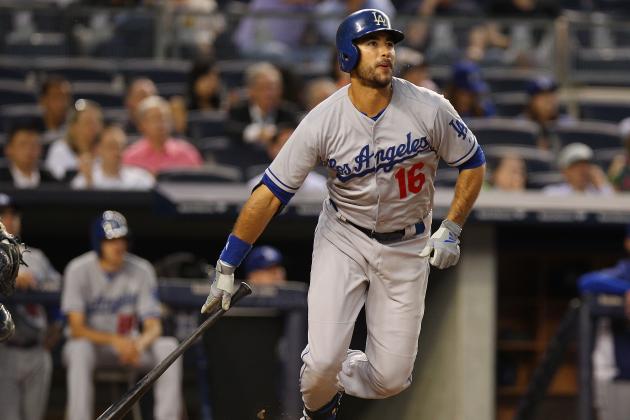 Mike Stobe/Getty Images

Today marks the official midway point of the Dodgers' 2013 season, as the Blue Crew will play against the rival San Francisco Giants tonight.
Towing a 33-42 record and a last-place position in the National League West, the Dodgers haven't seen this season go nearly as expected when they put together the highest payroll in major league history.
Although their collective team effort—which is the ultimate barometer of any team—has failed, there have been some standouts (and alternatively, some underperformers) who have made their marks with an impressive first half of the season.
Let's take a look at the team's biggest winners and losers at the midway point.
Begin Slideshow

»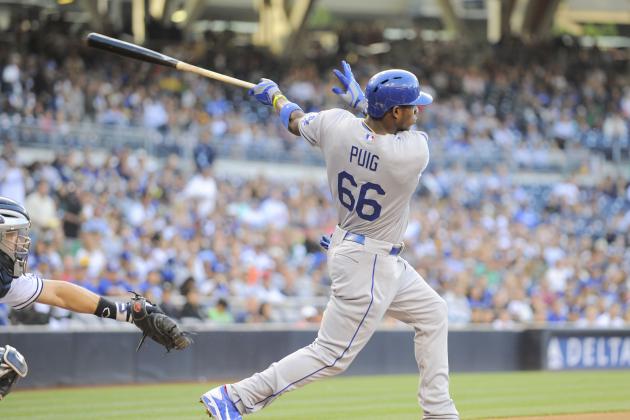 Denis Poroy/Getty Images

In only 20 games in the big leagues, Yasiel Puig has achieved more than most players achieved in the entire first half of the season.
In his first month with the Dodgers, the rookie outfielder has hit seven home runs with 14 runs batted in and has posted mammoth averages, including a .442 batting average, .476 on-base percentage and .753 slugging percentage.
While the Cuban defector has been slightly stifled by the dreaded low-and-outside slider, he has been generally unstoppable—literally at times, as the always-hustling Puig often overruns a base before sliding.
The 22-year-old rookie will be better off in the long run harnessing some of his endless energy, but he has nevertheless been one of the most exciting things to happen to the Dodgers in a very long time.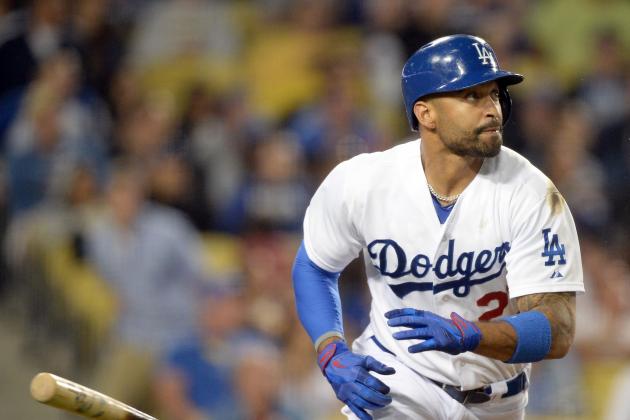 Harry How/Getty Images

The 2013 season has been a very rough one for superstar outfielder Matt Kemp.
Following an offseason shoulder surgery, Kemp simply hasn't been his usual power-hitting self, which is evident in his measly numbers at mid-season (2 HR 17 RBI .251 BA .305 OBP).
Now on the disabled listed with a hamstring injury, which he sustained in late May, the Kemp hopes to soon be back completely healthy and devoid of the inner or physical demons that stifled him in the first half of the season.
Although hopes are high for Kemp, the 28-year-old center fielder is struggling in his minor-league rehabilitation, only registering three hits with six strikeouts in three games in Triple-A.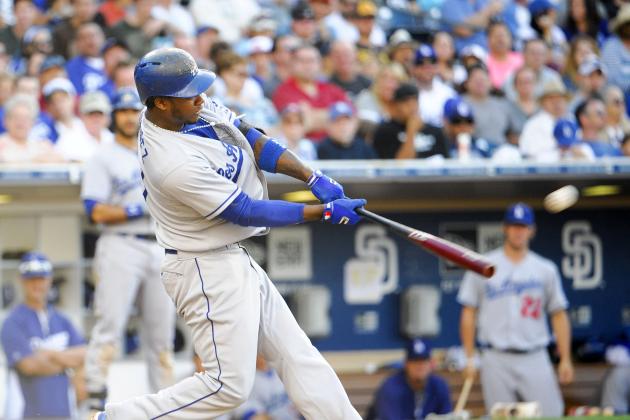 Denis Poroy/Getty Images

He had fans worried for a stretch with his spell of injuries, but there's no doubt now that the real Hanley Ramirez is back and in tremendous form.
Although there were periods in which he appeared to be struggling, in particular when returning from his hamstring injury, the Dominican shortstop resurrected his first half of the season—albeit in a limited 20 games—with a seven-game hitting streak that included two of the hardest hit home runs you'll ever see.
With a mere 57 at-bats in the first half of the season, Ramirez hit four home runs with 11 runs batted in, a .351 batting average and .387 on-base percentage.
Ramirez's first half of the season wasn't always pretty and seemed to be headed for disaster at times, but given the amount of time he spent on the field, he did well for the Blue Crew.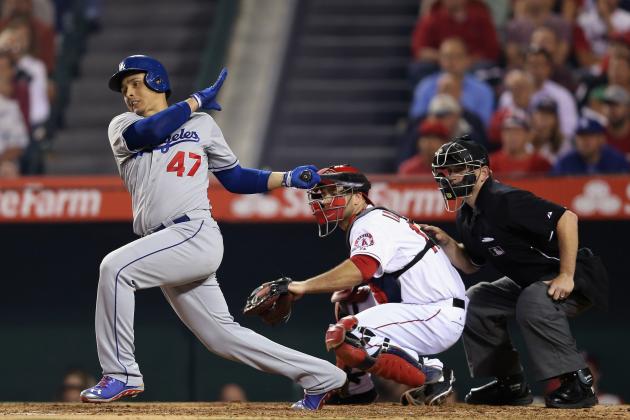 Jeff Gross/Getty Images

Fan-favorite Luis Cruz is losing the faith of even his most loyal fans with his performance in the first half of the season.
It took the Dodgers' third baseman 18 at-bats to get his first hit of the season, 47 to get to five, and 107 to register 15—at which point his batting average was the highest it's been all season: .140.
Cruz has dropped off from being a clutch hitter to an unmotivated, free-swinging hitter with no plate discipline.
At the midway point, Cruz is hitting .127 with a .175 on-base percentage, an unflattering one home run and a mere six runs batted in.
The Dodgers hope that Cruz can turn it around after the All-Star break, but it certainly hasn't been pretty to this point.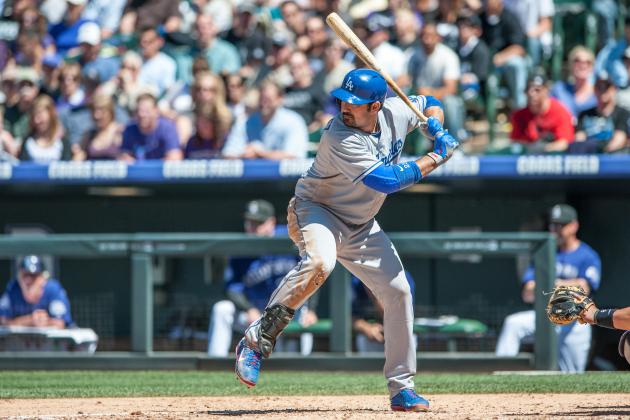 Dustin Bradford/Getty Images

The hoopla about rookie sensation Yasiel Puig has slightly overshadowed the achievements of the Dodgers' most consistent offensive contributor all season long: Adrian Gonzalez.
While his numbers have dropped slightly in the month of June with a mini-slump, the Dodgers' first baseman has been a bright light for the team.
At the mid-season mark, Gonzalez leads the Blue Crew in all offensive achievements, including home runs (10), runs batted in (47), hits (78), batting average (.297) and on-base percentage (.353).*
The main bait in the blockbuster trade between the Dodgers and Red Sox last August that also brought Nick Punto, Josh Beckett and Carl Crawford to the City of Angels, Gonzalez is proving to be worth every penny the front office spent on him.
*Averages compared to players who have average three or more at-bats per game.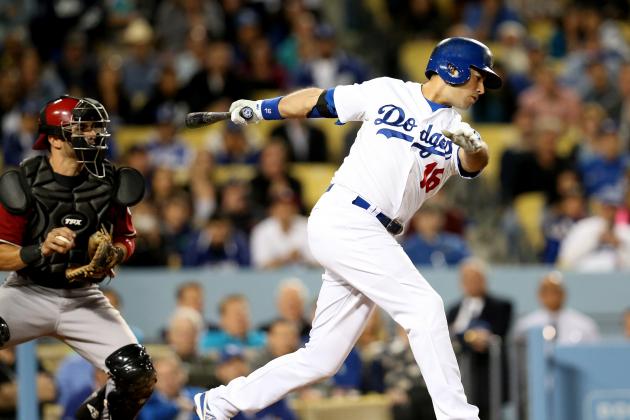 Stephen Dunn/Getty Images

Andre Ethier has been knocking the cover off the ball in the latter half of June, but even that hasn't done much to make up for his lackluster first half of the season.
Approaching the midway point, the Dodgers longtime right fielder is on pace to record his lowest power numbers since joining the Blue Crew in 2006.
With 71 games under his belt, Ethier has recorded only five home runs with 21 runs batted in, a .251 batting average and a .335 on-base percentage.
Those aren't atrocious numbers for a run-of-the-mill player, but everyone, including the man himself, knows that Andre Ethier is not an ordinary player, and the expectations for his production are subsequently much higher than a handful of homers midway through the season.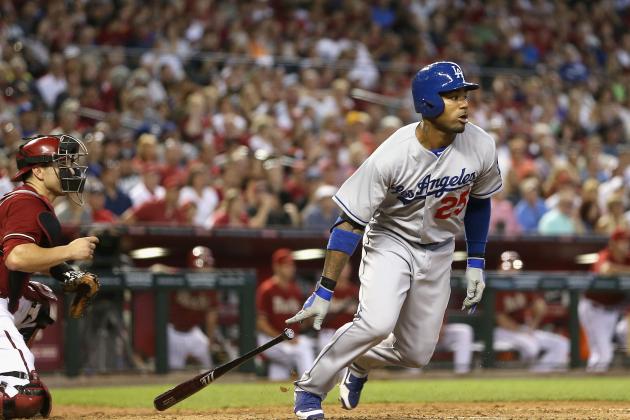 Christian Petersen/Getty Images

Barring one game, Carl Crawford has missed the entire month of June, which has made his contributions to the Dodgers temporarily forgotten.
Nevertheless, the veteran left fielder was very impressive during his first two months in a Dodger uniform and filled the team's extended void in the leadoff spot.
Crawford proved that he is still the five-tool player he was in the prime of his career with Tampa Bay by knocking five home runs and 13 runs batted in with a .301 average and .358 on-base percentage in the 51 games in which he played, swiping nine bags in the process.
Unfortunately, his hamstring injury appears to be serious and may require extensive rehabilitation. But the Dodgers are hoping that he returns sooner rather than later, as he has been their steadiest leadoff hitter.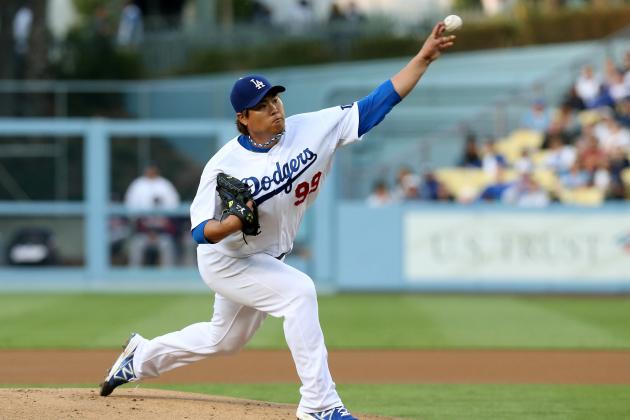 Stephen Dunn/Getty Images

Judging by his first half in the MLB, you might have thought that Hyun-Jin Ryu had been pitching in the U.S. for a few years.
The South Korean rookie ace has experienced no setbacks in his transition to the big leagues and has been a very valuable asset to the Dodgers' rotation this season.
At the halfway point, Ryu boasts the best record on the team (6-3), a 2.85 earned run average and 81 strikeouts.
He is focused, composed and has a pure desire to win, which helped him succeed in his first half-season of MLB play.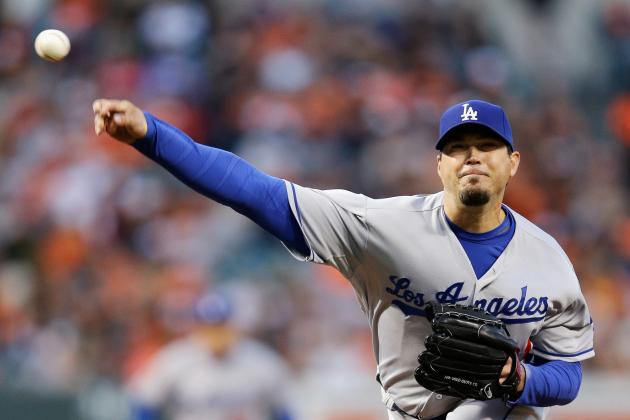 Rob Carr/Getty Images

Judging by the way that Josh Beckett pitched in the first half of the season, it's fair to speculate if his career is on the decline.
In eight starts, the 12-year veteran—who is currently on the disabled list with an arm/hand injury—did not win one game (0-5), giving up eight bombs and 25 earned runs in 43.1 innings pitched (5.19 ERA).
Beckett looked good in his first seven starts with the Dodgers last year (2-3, 2.93 ERA, 38 SO), but hasn't regained his usual form at all this season, perhaps due to the injury that's landed him on the disabled list.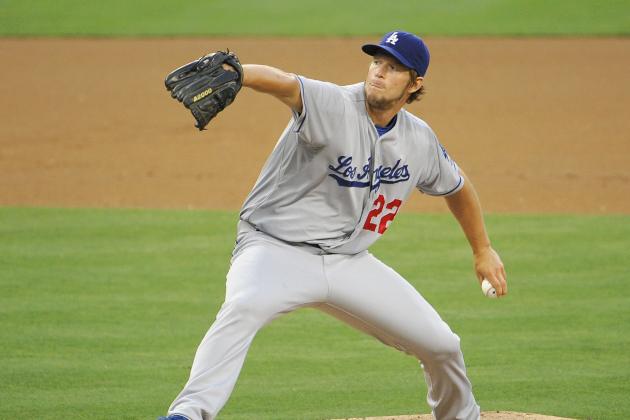 Denis Poroy/Getty Images

Clayton Kershaw has been exactly the potential Cy Young-winning pitcher the Dodgers have come to expect.
The 25-year-old ace is an all-around terrific pitcher who possesses a strong sense of the game of baseball that some players never grasp.
Although his record (5-5) has been plagued by lousy run support, Kershaw has still positioned himself as one of the best pitchers in the MLB with the stellar stats he's posted this season.
In 16 starts, Kershaw has only surrendered 26 earned runs in 113.1 innings pitched (2.09 ERA), with 111 strikeouts and a 0.99 walks and hits per innings pitched average.
To add to his Cy Young-candidate season, Kershaw has been keeping opposing hitters to a mere .197 batting average halfway through the season.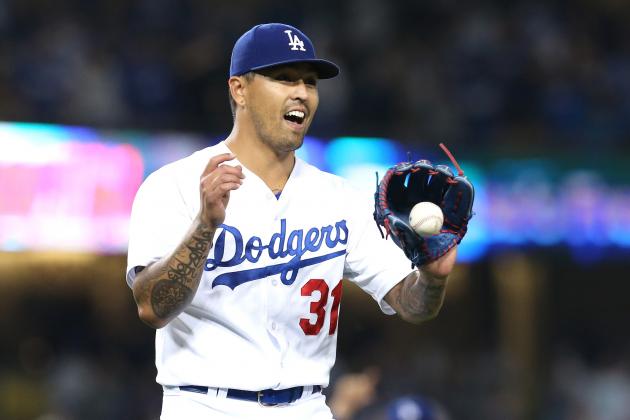 Stephen Dunn/Getty Images

The Dodgers' mad quest to paddle away from treacherous waters has at times been dampened single-handedly by closer Brandon League, who has since been demoted to set-up man.
In 29 appearances, League has garnered 14 saves but has alternatively blown four, surrendering four home runs and carrying a 5.08 earned run average in the process.
Fortunately for the Blue Crew, who were expecting League to be their steady closer by securing him with a three-year, $22.5 million contract in the offseason, Kenley Jansen has been able to fulfill the role.
Nevertheless, League leaves much to be desired in the second half of the 2013 season.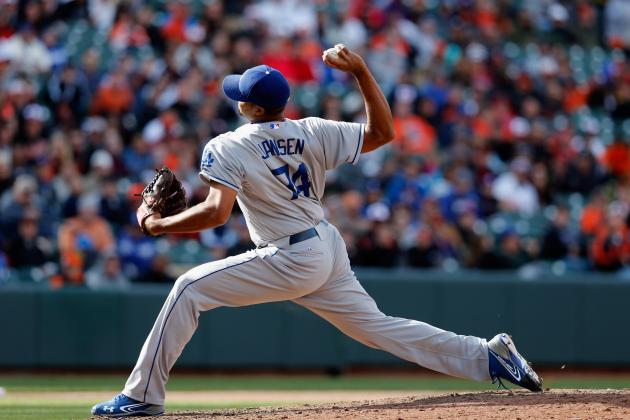 Rob Carr/Getty Images

Being thrust into the role of closer, the most important relief situation, is no easy feat, which Kenley Jansen has discovered over the past few seasons.
Nonetheless, Jansen has thrived upon being officially selected as the Dodgers' closer in mid-June.
Cumulatively, as both set-up man and closer, Jansen had a great first half of the season, registering a 2.37 earned run average with 56 strikeouts in 38 innings pitched.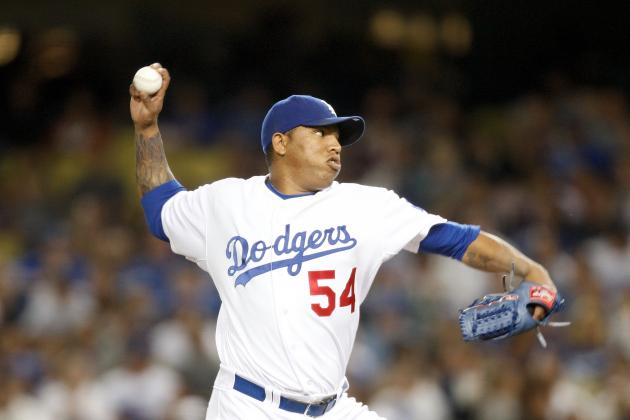 Jacob de Golish/Getty Images

Lumping the bullpen together as a whole overshadows solid performances from relievers like J.P. Howell (32.0 IP, 2.81 ERA, 27 SO) and Paco Rodriguez (26.2 IP, 3.04 ERA, 28 SO), but it's fair to say that as a collective group, the Dodgers' middle relievers have failed them.
Although they have slightly improved over the course of the season, the Blue Crew's middle relievers haven't been able to help the team maintain leads, which has proven very costly given the Dodgers' often lackluster offense.
The middle relief's shortcomings (10-11 4.41 ERA) have been epitomized by frequently used reliever Ronald Belisario.
Although the Venezuelan reliever was very steady for the Dodgers last year with his nasty splitter (8-1, 71.0 IP, 2.54 ERA, 69 SO), Belisario has been very inconsistent for the Blue Crew, posting a 3-5 record with a 4.54 earned run average in the first half.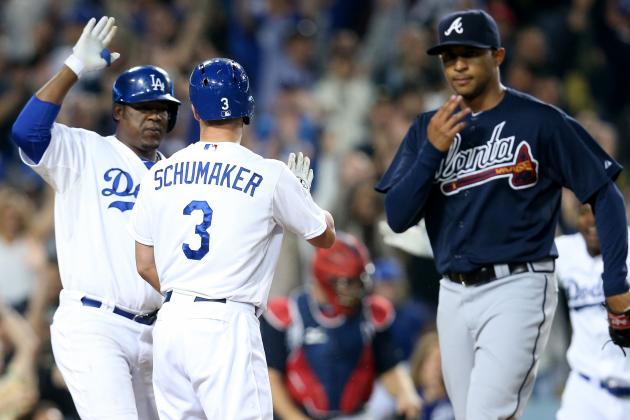 Stephen Dunn/Getty Images

Juan Uribe (3 HR, 16 RBI, .268 BA, .356 OBP)
Mark Ellis (3 HR, 18 RBI, .266 BA, .312 OBP)
Nick Punto (1 HR, 12 RBI, .262 BA, .333 OBP)
Skip Schumaker (0 HR, 15 RBI, .259 BA, .333 OBP)
Jerry Hairston Jr. (1 HR, 10 RBI, .258 BA, .295 OBP)
Scott Van Slyke (6 HR, 11 RBI, .221, .284 OBP)
A.J. Ellis (3 HR, 14 RBI, .248 BA, .347 OBP)
Zack Greinke (4-2, 3.79, ERA, 48 SO)
Chris Capuano (2-4, 4.09, ERA, 33 SO)
Stephen Fife (1-2, 3.25 ERA, 27 SO)