Ranking Rob Van Dam's 5 Coolest and Craziest Wrestling Moves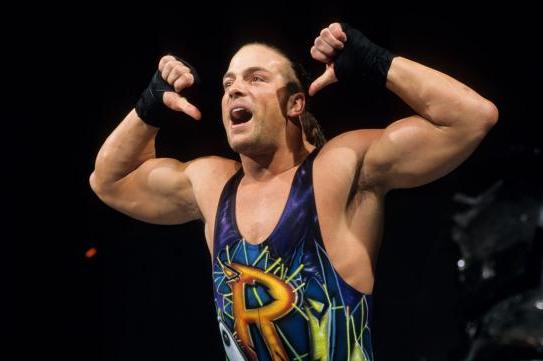 Photo by: WWE
Ever since his days with ECW, Rob Van Dam has always stood out in the ring.
He has a very unique wrestling style. He is a high-flying, risk-taking, kicking machine—the type of Superstar that gives it 110 percent every night. RVD is willing to put his body on the line for the entertainment of the fans.
Over the years, he has amazed wrestling fans with what he can do in and out of the squared circle.
We'll take a look at some of the coolest and craziest moves he's ever performed, excluding moves he's only executed in one or two matches of his career.
Begin Slideshow

»
Before I get into the main list, there are a couple of well-known moves of Rob Van Dam's that are worth mentioning.
Rolling Thunder: One of RVD's signature moves is the Rolling Thunder. While his opponent is down on the mat, he starts on one side of the ring and rolls toward his foe. He then springs to his feet and flips onto his opponent, landing on his back.
While it isn't that powerful, it's a signature move in his repertoire. A Rolling Thunder is bound to make its way into every RVD match.
Monkey Flip: The Monkey Flip is another move only done by RVD.
While his rival is in the corner, he rolls and grabs them behind the neck while his feet are on his opponent's hips. He then falls backward and flips his opponent with his feet and they are sent flying across the ring, landing on their back.
This is another fun move to watch RVD execute with ease.
Rob Van Dam has always been innovative with a chair.
One move that always got the crowd to their feet was the Chair Surf.
RVD would have his opponent seated in the corner. He would then run around holding a chair and then dropkick the chair into his rival's face.
He's also been seen kicking the chair into another weapon, like a ladder, that his opponent is holding.
Unless he's competing in an Extreme Rules match, it's unlikely we'll see RVD do this move in the WWE.
If there is any move that showcases RVD's athleticism and flexibility, it's the split-legged moonsault.
He leaps over his downed opponent, grabbing onto the top rope. He then lifts himself up and places a leg on either side of the top turnbuckle. Using that impact, he flips himself and connects with a moonsault.
This version of the moonsault isn't as powerful as a standard one, but it still gets the job done.
With very little variation among the WWE Superstars, RVD's unique style is a welcome change of pace.
RVD's second chair maneuver makes an appearance on the list. This time, it's the Van Daminator.
Van Dam has carried out this move a couple of different ways. One way is that he tosses a steel chair to his opponent and they catch it. The second way is an opponent picks up a chair on their own and attempts to hit RVD with it.
The result is always the same. He quickly connects with a spinning heel kick, sending the chair into his rival's face.
This move can happen out of nowhere (given the right stipulations) and sound of the chair gets the crowd to its feet.
This is one move by RVD that doesn't need a description, but I'm giving one anyway.
He takes the typical frog splash and brings it to another level.
Unlike a normal frog splash, his opponent does not need to be perpendicular to the corner. Because of his athleticism, he is able to turn in mid-air to land on the downed Superstar, regardless of his position in the ring.
RVD has been known to leap three-quarters of the ring in order to reach his opponent.
With his involvement in the Money in the Bank ladder match, expect to see him attempt a Five Star Frog Splash from the top of a ladder.
Just like the Van Daminator, RVD executes this move two different ways.
One way is to have his opponent seated in the corner. He grabs a chair and climbs to the top rope across the ring. He then leaps and dropkicks the chair into his opponent's face.
The second way is to wedge the chair between the ropes in front of his rival's face. He climbs the ropes and leaps to the other corner, kicking the chair.
There is the rare occasion when he gets help from a friend, who holds the chair in place while RVD leaps from corner to corner. He's also been known to use weapons other than a chair.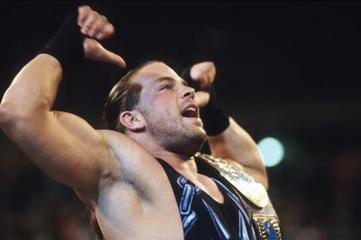 Photo by: WWE
RVD, like his theme song states, is one of a kind. I am very much looking forward to what he does at Money in the Bank, especially since I will be there.
There may be only a couple of high-flyers in the WWE, and he breaks up the monotony of the other Superstars with his daredevil style.
Be sure to share your favorite RVD move in the comments section.