The 5 Most Telling Los Angeles Dodgers Stats of the Season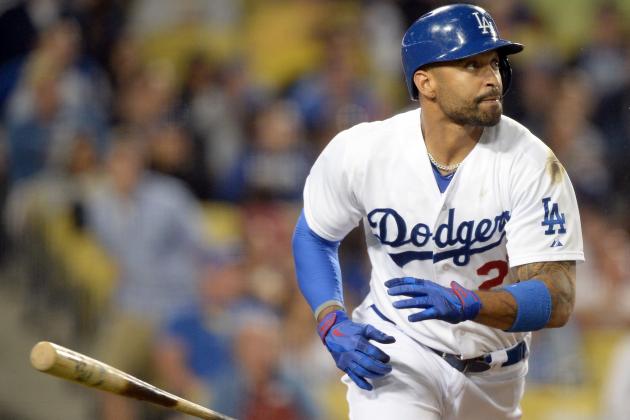 Harry How/Getty Images

The Los Angeles Dodgers are 32-42 entering play on Monday night, as not much has gone right for them so far this season. Injuries have piled up and sheer underperformance from some of the team's top stars have resulted in this poor start.
Baseball is a game of numbers. Over a 162-game season, you'll be able to tell a lot about a team just by looking over the stat sheet and reading the box score on a daily basis. There's always something that can't be seen by the numbers, but you can see almost everything.
By examining just a few statistics, it will be pretty easy to see why the Dodgers have had so many problems meeting expectations this season.
While there is certainly more than a handful to choose from, the focus here will be on the five most telling statistics.
Begin Slideshow

»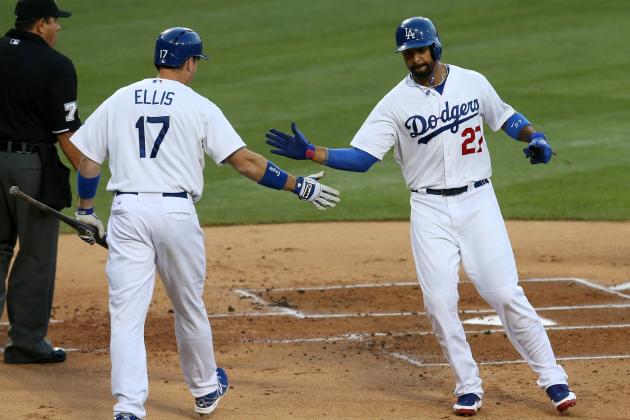 Stephen Dunn/Getty Images

Superstar Matt Kemp has been a major disappointment for the Dodgers this season. Not only has he spent a decent chunk of time on the disabled list, as he has also failed to produce quality numbers when healthy.
In 51 games this season, Kemp has just two home runs and 17 RBI. For a middle-of-the-order hitter, those numbers are just terrible.
A huge reason the Dodgers haven't been very good is the lack of production (and healthiness) from Kemp—as he goes, the team goes. He had trouble staying healthy last season as well, but his 2011 stat line suggests that he could get it going at any time.
This makes him and the Dodgers dangerous in the second-half. If Kemp goes on a torrid hot streak, then the Dodgers will likely become contenders in the National League West. If he doesn't, then it will become much harder for the team to reach the postseason.
He'll need to start hitting for some power and creating some instant offense, as the Dodgers lineup severely lacks pop in the middle of the order without him.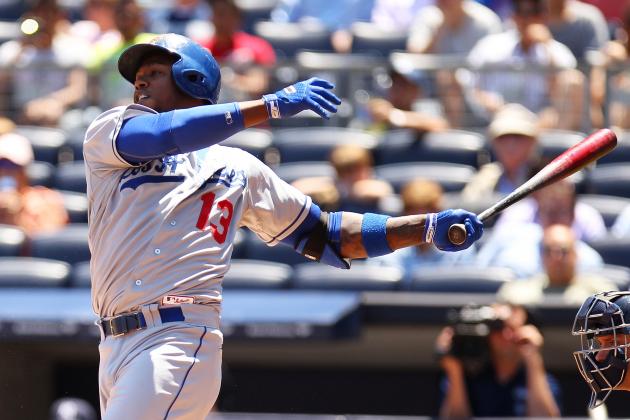 Mike Stobe/Getty Images

The Dodgers lineup has struggled throughout the entirety of the 2013 season. Injuries to Hanley Ramirez, Andre Ethier, Carl Crawford and Matt Kemp haven't helped the cause, but the replacements should have been able to put together a bit more impressive of a showing.
As a whole, the Dodgers average barely over 3.5 runs per contest. Their 264 runs scored is the third-worst in the majors, ahead of only the Washington Nationals (263) and Miami Marlins (235). This really isn't terribly surprising considering they have the fourth-lowest home run total in the bigs (58) and sixth-worst slugging percentage (.377).
Their inability to quickly put runs on the board with one swing of the bat is a huge hurt to the team. On a team that constantly strands runners on base, having someone capable of putting multiple runs up with one swing is invaluable.
To put this lack of power in perspective, consider Adrian Gonzalez and Yasiel Puig. Gonzalez has 10 home runs this season—the most on the team—while Puig already has six (second on the team). He's played just 19 games, 52 less than the 71 games Gonzalez has played.
The Dodgers need to find some power, and fast.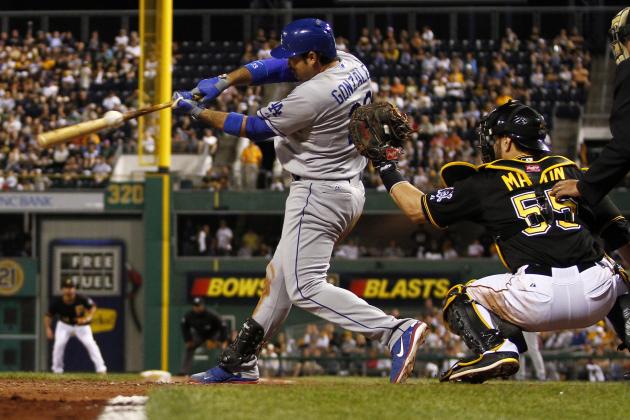 Justin K. Aller/Getty Images

With 115 doubles, six triples and 58 home runs, the Dodgers offensive attack has focused on moving station to station on singles.
Their 928 total bases is fourth-worst in the game ahead of the New York Mets, Kansas City Royals and Houston Astros, even though their 627 hits ranks them 19th in the league.
A ton of those hits have been singles, though, and an inability to score runners in clutch situations has resulted in such a poor offensive display.
A lineup with nearly no power won't win games, even if the pitching staff continues to throw as well as it has nearly all season. Once everyone gets healthy, the lineup should start clicking and putting more runs on the board.
Until then, they'll rely on the other-worldy start of Yasiel Puig. It already seems like he has 627 hits himself this season.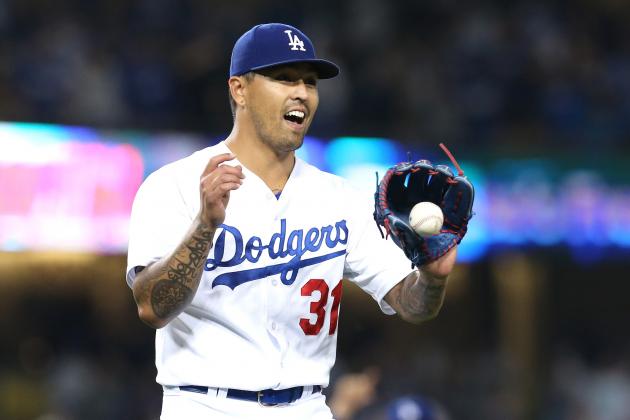 Stephen Dunn/Getty Images

Brandon League has been terrible for the Dodgers this season. He's blown four saves, chalked up three losses and pitched to an ERA of 5.08. That ERA isn't just inflated for a reliever—no, it's inflated for any pitcher in any role.
League has been far from dominant on the mound. He's allowed 33 hits, walked eight and struck out only 13 in 28.1 innings. Opponents are hitting .297 off the right-hander, and his WHIP of 1.45 means that a ton of those batters will continue to move on the bases as more of their teammates reach base as well.
Needless to say, this results in a ton of runs allowed for League.
His appearances have even been sloppy, as four the 20 runs he's allowed have been unearned. Maybe the defense just doesn't like playing behind someone as inconsistent as League.
The inability to close out games is detrimental to a team's success. It's really difficult to go far in the postseason without a consistent (let alone dominant) presence at the back-end of the bullpen. League hasn't been that in 2013.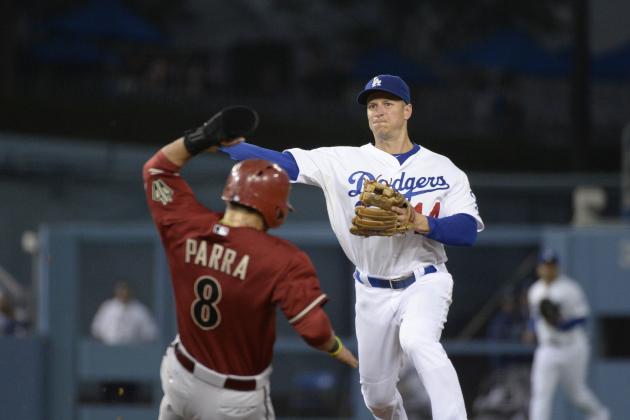 Richard Mackson-USA TODAY Sports

Bad defensive teams don't win many games—period. The Dodgers have committed the fourth-most errors in baseball with 56, and the only teams worse are the Los Angeles Angels, Chicago Cubs and Houston Astros, respectively, and all three teams have losing records.
How are pitchers supposed to rely on their infielders if the plays might not be made? Brandon League has suffered from that, as have nearly all the Dodgers' pitchers. It's hard to have confidence in your defense when easy outs turn into booted balls and runs scored.
Getting consistent play from the starters and healthy comebacks by the stars is likely the best way for Los Angeles to improve without making a trade. It's not often that a team in contention makes a trade solely for defense, and the Dodgers likely wouldn't resort to doing so.
The defense may be bad, but the Dodgers are not in a position to sacrifice offense for better fielding. As it is, both aren't very good.