Jimmer Fredette Can Be This Generation's Vinnie "The Microwave" Johnson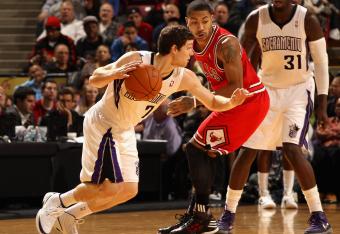 Ezra Shaw/Getty Images
If Jimmer Fredette is willing to engage in identify theft to bolster his career, he might want to find the social security number of Vinnie "the Microwave" Johnson as a start.
Jimmer's career as a valuable role player can blossom just like Johnson's did with the 1980s Bad Boy Detroit Pistons, but only if he gets the same opportunity.
After being drafted seventh overall in the 1979 NBA draft, the Seattle SuperSonics traded Vinnie to the Pistons early in his third season. Fredette has just finished his second season in the league with the dysfunctional, immature, rudderless Sacramento Kings. Jimmer's fans can only pray he gets traded next year to a better, more stable team.
Because if he does somehow escape Sactown in Year 3, Jimmer has the potential to be a key role player in a better situation by providing instant offense off the bench, just like Vinnie Johnson did in helping the Pistons win the 1989 and 1990 NBA Finals.
The Similarities: The Jimmer vs. The Microwave
There are a number of similarities between Fredette and Johnson. Both stand 6'2", weight close to 200 pounds and were top-10 draft picks.
Fredette and Johnson are both "tweener" guards as well. Neither is a natural point guard but can play the position when necessary. They are each better suited for the 2-guard, though both are shorter than most traditional shooting guards.
In their first two seasons their Per-36 minute scoring averages are very similar too, with Fredette's 16.4 points Per-36 slightly eclipsing Johnson's 16.0.
Vinnie's 51.6 field goal percentage was much higher than Jimmer's through Year 2, but that is to be expected given the volume of three-pointers Fredette attempts while Johnson rarely ever shot from downtown. The advanced metric of true shooting percentage is a better measure since it factors in three-point shooting. Through two seasons, Johnson's true shooting percentage of 56.7 was still better than Fredette's 52.0.
Heating Up Fast
In his nine-plus seasons with the Pistons, Vinnie Johnson earned the nickname "The Microwave" for his ability to heat up off the bench. Johnson regularly relieved either Isiah Thomas or Joe Dumars and gave the second unit a solid scoring option.
Jimmer, just like The Microwave, can instantly catch fire.
Last year, Jimmer lit up the Los Angeles Lakers for 18 points in just under 11 minutes. Later in the season, he would drop 14 points in just over nine incredible minutes against the Milwaukee Bucks.
In the 2012-13 season, only four players in the league scored 14 or more points while playing less than 12 minutes in a game. Jimmer Fredette was the only player in the league to pull off the feat twice.
But unless Jimmer can escape the disaster that is the Sacramento Kings, his offensive skills will be left smoldering on the bench instead of catching fire in the right role for a contender.
In the right situation, Jimmer Fredette can be this generation's Vinnie "The Microwave" Johnson.
This article is
What is the duplicate article?
Why is this article offensive?
Where is this article plagiarized from?
Why is this article poorly edited?

Sacramento Kings: Like this team?