5 Potential Notable Philadelphia Eagles Training Camp Roster Cuts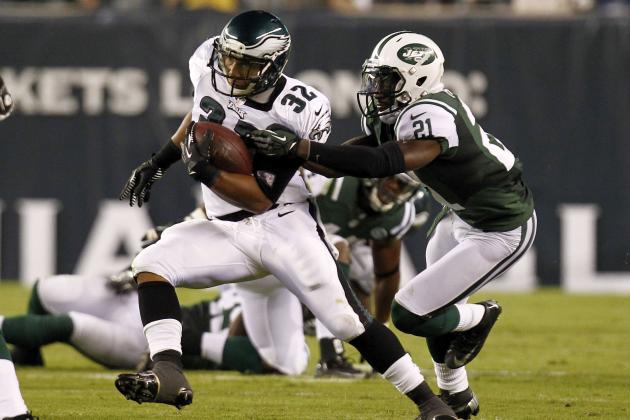 Jeff Zelevansky/Getty Images

Ninety players are currently on the Philadelphia Eagles roster, and the Eagles must find a way to trim that down to 53 by the end of the summer, even if it means cutting players who were once valuable contributors to the team.
In reality, it's not exactly every man for himself. The most elite talent on every NFL team, such as the DeSean Jacksons and LeSean McCoys, are pretty much locks. But don't expect every key role player or established veteran to be safe. Joselio Hanson and Mike Kafka were once considered integral parts of the roster, but at the end of the day, it's whoever wins the roster battle for these role players.
Over the course of the 2013 training camp, don't be surprised if these five players find themselves looking for work at the conclusion of camp.
Begin Slideshow

»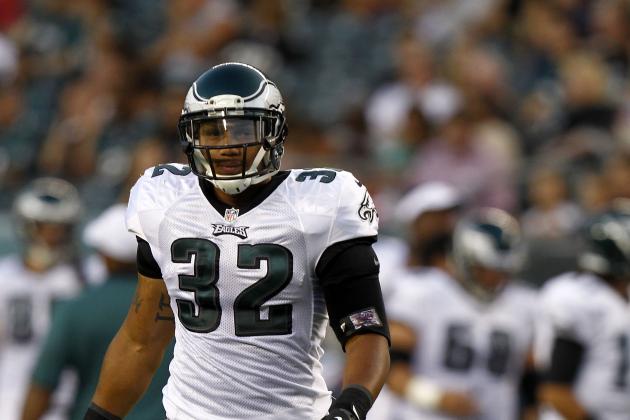 Jeff Zelevansky/Getty Images

While Chris Polk is valuable in short-yardage situations, the competition at his position could make him the odd man out. LeSean McCoy has established himself as the unquestionable starter, and Bryce Brown seems to be a lock for the backup running back spot due to his strong 2012 performance.
Furthermore, the signing of Felix Jones puts Polk's third-string spot even more in jeopardy.
Jones has the advantage in the form of both veteran experience and the ability to return kickoffs. Additionally, Jones has a reputation for being one of the more explosive players in this league when healthy. Kelly's love of speedsters could be the final nail in the coffin for Polk's stint with the Eagles.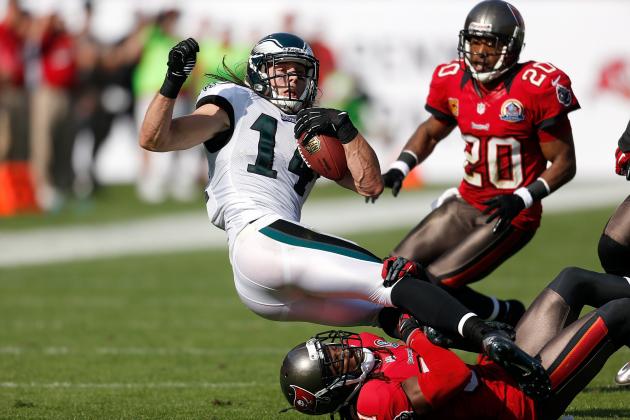 J. Meric/Getty Images

While we all remember Riley Cooper's one-handed catch against the Dallas Cowboys last season, Cooper has fell a bit short of the lofty expectations fans (and likely the coaching staff) had for him and his large frame. Despite standing 6'3" and weighing 222 pounds, Cooper has not been the physical go-to target the Eagles have been looking for.
That spot may be passing on to Arrelious Benn, whom the Eagles traded a sixth-round pick to acquire from the Buccaneers. Unless Benn performs poorly in camp, he will likely get the advantage over Cooper due to what the Eagles gave up to get him.
The rest of the receiving corps is crowded. With Benn in the mix, Cooper could be out of a job. DeSean Jackson is not going anywhere due to his lucrative extension. Jeremy Maclin will not be traded according to team reports, as reported by CSNPhilly.com. And, speaking of Maclin, the Mizzou graduate believes Damaris Johnson will have an integral role in Kelly's new offense due to his speed and versatility.
That locks up four roster spots at wide receiver, leaving Riley Cooper to compete with Jason Avant, Ifeanyi Momah and Russell Shepard. Could the Eagles potentially keep six wide receivers? It's possible. In that case, Cooper may end up sticking around. But if not, he could be out of luck as the Eagles make their final roster cuts.
Streeter Lecka/Getty Images

A few months ago, Dixon seemed like a lock as a third-string quarterback, or even as a potential starter. But unfortunately for Dixon, the Eagles did not know that Matt Barkley would be available in the fourth-round when they signed him.
Now, Dixon will have to perform spectacularly in training camp if he wants to have a chance at making the roster. With Michael Vick and Nick Foles being the likely front-runners for the starting job, and with Barkley being groomed for the future, Dixon will have to convince Kelly and the coaching staff to keep him as a fourth-string quarterback.
It may be difficult for Kelly to retain four quarterbacks this season due to the need for depth on the entire defense, as well as the offensive line. Dixon's best bet may be to perform well enough in training camp and the preseason to latch onto another team at the end of the summer.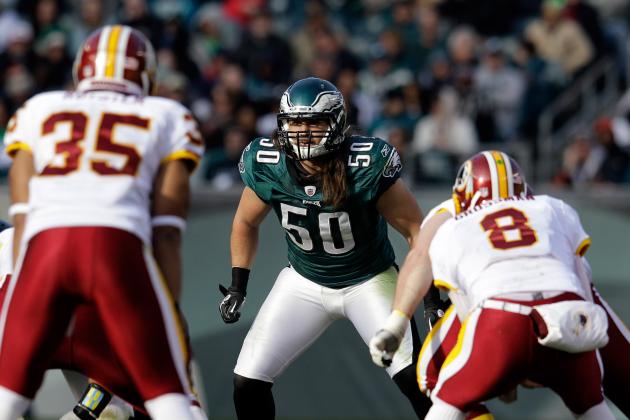 Rob Carr/Getty Images

Casey Matthews has had an underwhelming career so far to date. After showing enough potential to be named the starting middle linebacker in 2011, Matthews played horribly and was quickly replaced by Jamar Chaney, never to regain the starting job.
Still, Matthews was selected with a fourth-round pick, and it's not common for fourth-round picks to be released after just two seasons.
But with so many needs on the roster, especially in the secondary in case Kenny Phillips is unable to remain healthy, Matthews could be another player cut loose.
The Eagles have plenty of bodies at inside linebacker, with DeMeco Ryans, Mychal Kendricks, Jamar Chaney and Emmanuel Acho all being potential difference-makers. Matthews has found himself useful so far only as a nickel linebacker. Kelly was not the coach who drafted him and could be the one to show him the door.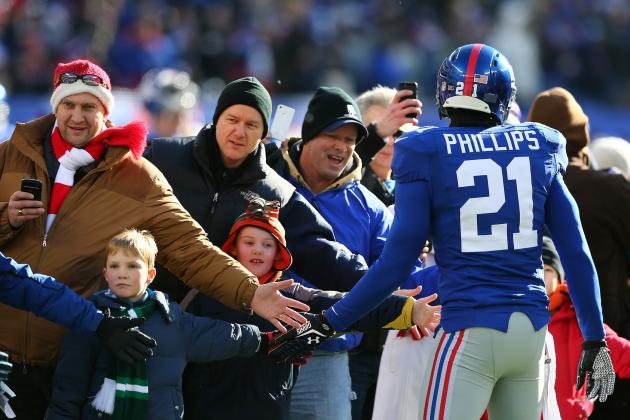 Elsa/Getty Images

Cutting Kenny Phillips would be a shocking move, as Phillips is a Pro Bowl-caliber player who is one of the best safeties in the game when healthy. But that is exactly the key, "when healthy."
Phillips, unfortunately, has been anything but healthy the past few seasons. And so far his tenure in Philadelphia is no exception.
Phillips has consistently missed practice due to the need to continue to rehabilitate his knee. So far, Nate Allen has taken the reps with the first team in his absence and may remain the starter at free safety in 2013 if Phillips can't stay healthy.
Even when Phillips finally sees the field in camp, he may not be 100 percent. Phillips was signed to a relatively inexpensive deal, which did not include a signing bonus, so the Eagles would lose little in cutting him.