Grading Every New York Jets Major Offseason Move to Date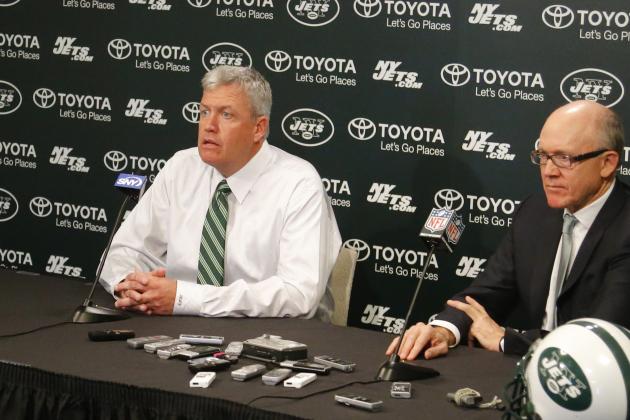 Jim O'Connor-USA TODAY Sports
Rex Ryan's retention was the Jets' first major offseason move.
Grading the New York Jets' offseason moves before they've taken a single snap in pads almost seems pointless. It's not like assigning postgame grades, where there is an actual performance to assess. In many cases, grading offseason moves before the team dons pads relies as much on hope as on anything else.
I hope the Jets let the right players go and the right players stay. I hope the new players stay healthy enough to play their intended roles. I hope the rookies don't let the team down like so many previous draft picks have done. Finally, I hope the Jets have prioritized filling their needs in a way that keeps them interesting this year and lays the groundwork for better years to come.
In other words, many of the moves these slides describe deserve a grade of "Incomplete." It may not be possible to assign a final grade to a draft pick, free agent or trade acquisition for maybe years to come.
However, for the sake of debate if nothing else, it's time to give it a shot.
Begin Slideshow

»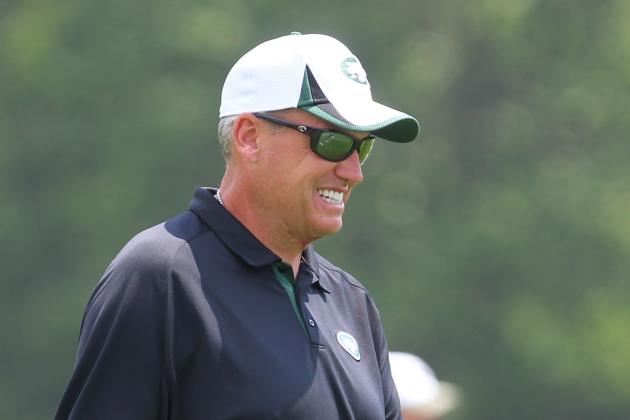 Ed Mulholland-USA TODAY Sports

Someone had to take the fall for the Jets' lack of depth and salary cap overrun. Owner Woody Johnson made it clear that it would not be Rex Ryan.
That left Mike Tannenbaum, whose firing was the Jets' first major personnel move of 2013.
Opinions on Tannenbaum's role in player selection vary. However, the buck stops at his desk when it comes to the salary cap. Contracts like those he negotiated with Mark Sanchez and Santonio Holmes put the Jets almost $20 million over the cap at the start of 2013. Successor John Idzik had to cut six players and restructure three contracts to fix it.
However, retaining Ryan as coach likely made finding Tannenbaum's successor more difficult. It meant that the new GM could not name his own coach. Many were of the opinion that a top-notch candidate would want complete control of the team rebuilding, including head coach selection.
However, Ryan supporters like me approve of his retention. What's more, it looks like the Jets found their strong GM in John Idzik, despite the incumbent coach.
Grade: A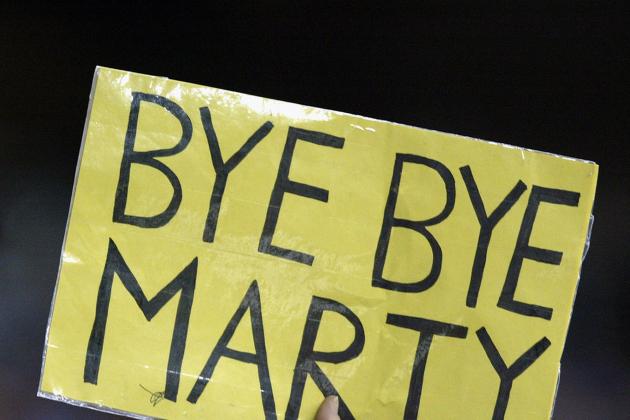 Tom Pidgeon/Getty Images
Were these 2002 Detroit fans glad or sad to see Mornhinweg leave?
This year, Rex Ryan is reverting to the role of defensive play-caller that he played in 2009. That was the best defensive year of the Ryan era.
Having Marty Mornhinweg as offensive coordinator may be what lets Ryan do this.
Head coaches have assumed duties normally reserved for coordinators before, so there's nothing inherently wrong or unprecedented about Ryan's move.
Mornhinweg is the piece that lets Ryan focus on defense. His West Coast offense is sufficiently different from past Jets offenses that Ryan would play a minimal teaching role.
Instead, Ryan plays the role of a CEO who delegates tasks beyond his expertise to specialists after defining the goals. The specialists own the function from that point forward, reporting regularly and requesting support as necessary.
That's Mornhinweg, the offensive specialist. He's the one whose system will bring the Jets into the 21st century. At least that's the plan.
He'll also be the fall guy if the offense continues to struggle. Even though he's the third offensive coordinator the Jets have seen in the past three years, failure is not an option for Mornhinweg.
He must address the major flaw his systems have had: the failure to produce points in the red zone. The Jets have provided him solid weapons in Chris Ivory and (hopefully) Mike Goodson. The key will be the offensive line, especially the new guards, whether they be Stephen Peterman, Willie Colon, Brian Winters or Will Campbell.
So far, the Jets' new offense has been inconsistent. Receivers dropping balls at an above-average rate hasn't helped. That's something Mornhinweg and receivers coach Sanjay Lal must fix between now and Week 1, or the most perfect system in existence won't save the Jets.
If Marty Mornhinweg either revives Mark Sanchez's career or launches that of Geno Smith as part of building an offense that scores between 24 and 30 points each game, he will have made Rex Ryan's decision to specialize look very good. But he needs receivers who hold on to the ball.
Grade: B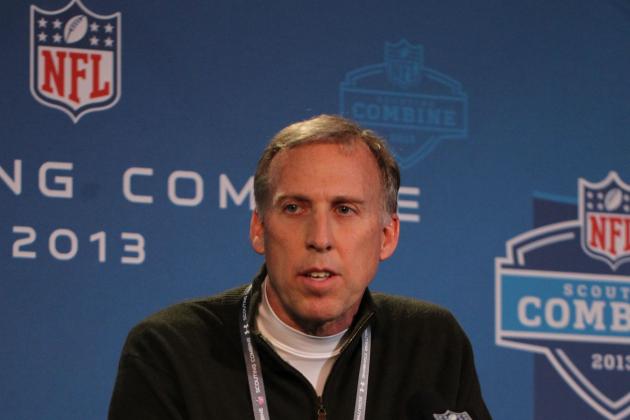 Brian Spurlock-USA TODAY Sports

Mike Tannenbaum's replacement had to combine Tannenbaum's reputation for salary cap expertise with the ability to evaluate football talent. John Idzik had some of both.
Idzik's NFL experience was primarily contract-related, so some questioned his ability to find talent. However, he offered some coaching background, which implied an ability to evaluate players.
He's made one major mistake so far, which was to sign quarterback David Garrard without a complete medical evaluation. Branding Mike Goodson's signing a failure isn't as clear-cut unless Goodson spends the 2013 season in jail.
Issues with Garrard and Goodson make some forget the other needs Idzik has addressed.
He's attacked needs at safety, outside linebacker, the interior defensive line, tight end and running back through free-agent signings. He has addressed needs at cornerback, defensive line and offensive line through the draft. He drafted a possible successor to Mark Sanchez in Geno Smith and a possible upgrade at fullback in Tommy Bohanon.
As for the salary cap, Idzik moved the Jets roughly $33 million in the right direction. They're over $13 million under the cap now.
It's difficult to gauge the final result of most of Idzik's moves. However, so far he appears to have hit more than he's missed.
Grade: A-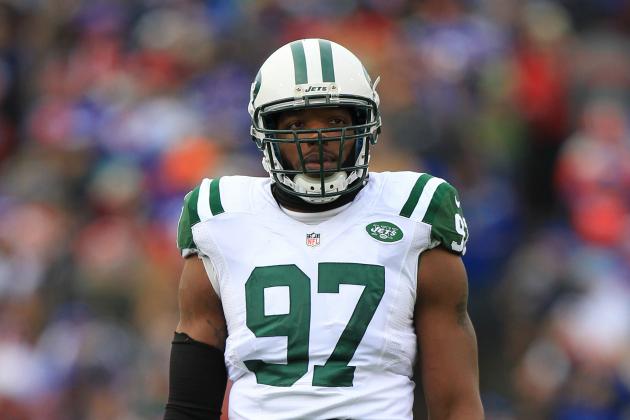 USA TODAY Sports
Calvin Pace was cut, then re-signed as the Jets reworked their payroll.
John Idzik inherited a team that would have been almost $20 million over the salary cap when the 2013 league year began. He reversed the trend dramatically through a series of roster cuts and contract restructurings.
The Jets have yet to sign rookies Dee Milliner, Sheldon Richardson and Geno Smith, so their salary cap picture as of publication date is incomplete. However, according to Spotrac, the Jets are now about $13.3 million under the cap this year.
However, what drops this grade a little is that the contract restructurings moved some money forward. Idzik probably had no choice. There could be another salary cap dance in 2014, but on a much smaller scale.
Grade: A-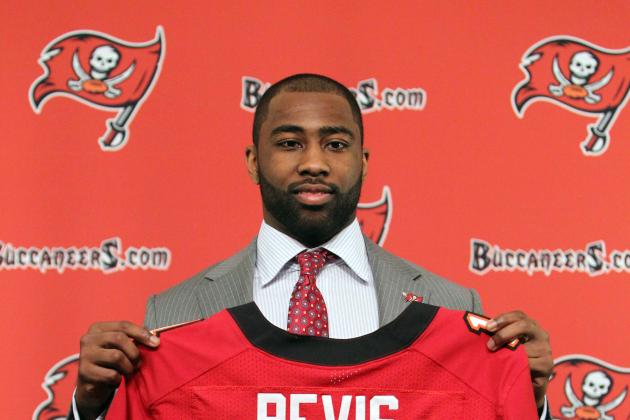 Kim Klement-USA TODAY Sports

The Jets made two significant trades this offseason:
They traded Darrelle Revis to Tampa Bay for the 13th pick in the 2013 draft and a later-round pick in 2014. With the 13th pick, the Jets selected Sheldon Richardson.
They traded their fourth-round pick to New Orleans for running back Chris Ivory.
Both trades had their critics, but the Jets may have made the right moves. Revis was making new contract demands despite missing most of 2012 with a torn ACL. If he fails to regain the form that created "Revis Island," the Jets will have some cap consequences this year but netted a more economical replacement in Dee Milliner.
Ivory's acquisition may have seemed a luxury at the time. Running back was not a high priority and the Jets had already signed a new breakaway threat in Mike Goodson.
However, Goodson's arrest gave Ivory new importance. If Goodson goes to jail, Ivory will be the Jets' chief backfield threat from both a power and breakaway perspective.
Provided Milliner is a solid starter or at least nickelback, the Jets and John Idzik made a couple of good moves.
Grade: B+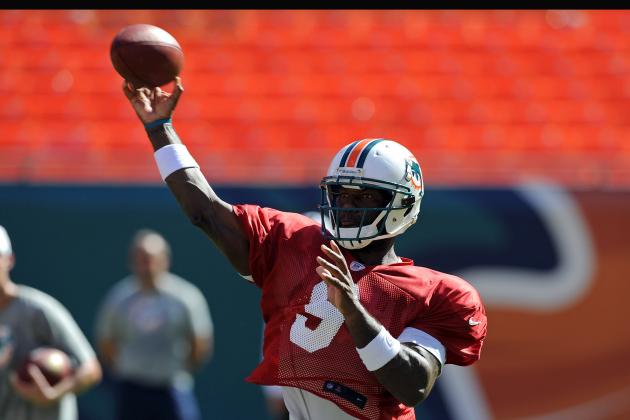 Steve Mitchell-USA TODAY Sports
David Garrard has been the lone free-agent flop so far.
A team with tight purse strings can't afford top-tier free agents.
John Idzik had to be creative. He had to look for players with the potential to address team needs if they played to their potential, but whose signings entailed an element of risk. Most of the time these risks involved a history of injury, but some players added behavioral issues.
So far, however, Idzik has only struck out completely on one: David Garrard. His career numbers surpassed those of Mark Sanchez and his mobility was intriguing. However, the cumulative effect of past injuries made the demands of even OTAs and minicamp impossible to bear. Garrard retired, $100,000 richer for his trouble.
A look at the Jets' projected depth chart and other practice notes tells us more about these signings:
Idzik filled three starting jobs with free agents. Safety Dawan Landry joins guards Willie Colon and Stephen Peterman as projected starters. Tight end Kellen Winslow, running back Mike Godson, wide receiver Ben Obomanu, nose tackle Antonio Garay and outside linebacker Antwan Barnes are all listed as backups.
There will be competition at tight end. Kellen Winslow Jr. could be the fourth free-agent starter if he continues the strong play that got him signed after minicamp.
The defensive front seven should be stronger in passing downs. Antonio Garay and especially Antwan Barnes should provide more quarterback pressure in passing situations than the Jets could muster in 2012.
Mike Goodson may not be a bust if he avoids jail. John Idzik received harsh criticism, not entirely undeserved, for signing Goodson after his recent arrest. In addition to his recent charges, Goodson has a history of child-support actions. However, his explosive play during minicamp got Rex Ryan's attention. Perhaps if he avoids jail and further trouble, his play can make us forget his personal struggles.
Health is the major concern when it comes to this group. Most have lost significant playing time to injuries. Colon, for example, has been on injured reserve for much of the past three years. If injury issues plague this group like they have in years past, the depth the Jets think they have gained will be illusory.
However, if they stay healthy and play significant roles, this grade will definitely go up.
Grade: B-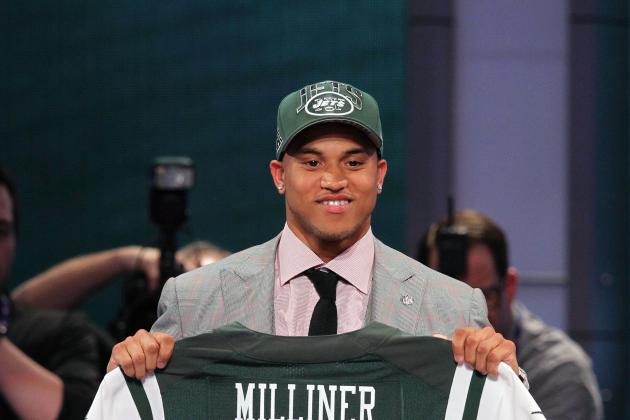 Brad Penner-USA TODAY Sports
Dee Milliner's contribution at cornerback will be a key measure of the 2013 draft's success.
Most draft experts thought the Jets would select an outside linebacker in the first round. They did not. Nor did the Jets fulfill other expectations like filling needs at tight end, wide receiver and safety.
The first round was devoted to defense. After picking quarterback Geno Smith in the second round, the Jets used their picks in the third, fifth and sixth rounds to select offensive linemen and their last round to select a fullback. (They traded their fourth-round pick to New Orleans for running back Chris Ivory.)
Instead of lamenting what might have or should have been, it's time to evaluate the Jets' draft on its own terms. It is what it is; now to make the best of it.
Given the selections they made, the 2013 New York Jets' draft must yield the following results to be an unqualified success:
Cornerback Dee Milliner, defensive lineman Sheldon Richardon and guard Brian Winters must either start or receive significant playing time.
Offensive tackle Oday Aboushi must assume Jason Smith's backup role or earn a place on the practice squad.
Guard William Campbell must either assume Vladimir Ducasse's former role or earn a place on the practice squad.
Fullback Tommy Bohanon must replace Lex Hilliard or earn a place on the practice squad. (The Jets only carried one fullback in 2012.)
Geno Smith's case is not so clear.
It's no surprise that the Jets drafted a quarterback. Otherwise, there might have been a small riot among fans. In Smith, the Jets have the highest-graded quarterback prospect from the NFL Scouting Combine.
So far, Smith has shown that he can make impressive throws if he sets up properly. That may be his undoing. If Smith can't quicken his setup time to meet the demands of the faster-paced NFL, he will join the ranks of top college quarterbacks who couldn't succeed at the next level.
It's too early to pass final judgment. However, the Smith pick will succeed if he wins the 2013 starting job outright or shows enough improvement to be a viable candidate in 2014.
As for the others, Richardson has made the best impression. Milliner won't have an opportunity to showcase himself until he recovers from shoulder surgery. As for Winters, Rex Ryan is eager to see how he plays in pads.
The late-round picks Aboushi and Campbell made their mark as part of an all-rookie line. New York Jets' blogger Eric Allen dubbed William Campbell the "dark horse candidate" of the draft during rookie camp. Ryan said of Campbell, "He's the kid that really intrigues me... I'm surprised Campbell's not making mistakes."
In short, no one has shown he is incapable of filling his projected role. However, until Milliner takes the field, Winters puts on pads and Smith gets preseason game action, grading the draft can only be preliminary.
Grade: B-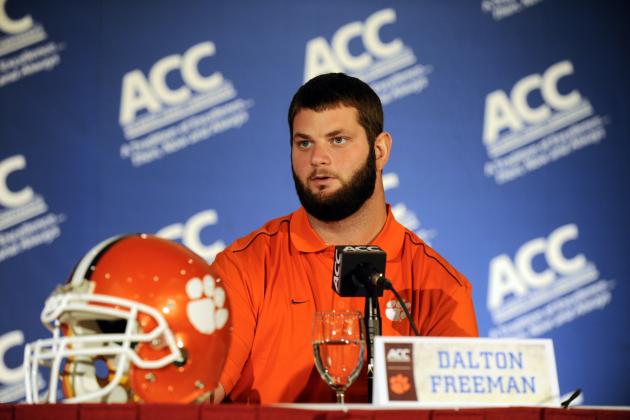 Sam Sharpe-USA TODAY Sports
UDFA Dalton Freeman could win the backup job at center.
A team signs undrafted free agents hoping to find a diamond in the rough, someone everyone else missed who will fill a need. Having one of these players make the 53-man roster, much less win a starting position, is unusual.
However, the Jets have a few UDFAs who have drawn attention this preseason and who may buck the odds.
Two positions where UDFAs have a good chance of making the roster are center and wide receiver.
Center
Dalton Freeman impressed Rex Ryan when playing on a line with draft picks Brian Winters, Oday Aboushi and William Campbell. He's third on the projected depth chart behind Nick Mangold and Caleb Schlauderaff. Schlauderaff saw no action in 2012, so he may be vulnerable if Freeman has a strong camp.
Wide Receiver
Injuries have plagued starters like Santonio Holmes, Jeremy Kerley and Stephen Hill throughout OTAs and minicamp. Holmes' foot injury may keep him out of training camp completely. Moreover, dropped passes have plagued the unit as a whole, especially Stephen Hill.
It's a perfect opportunity for a UDFA to step up and get noticed.
According to Eric Allen, two UDFA wide receivers are doing that. Allen cited Ryan Spadola for having a "very good minicamp" and observed that Zach Rogers "flashed at times."
If Santonio Holmes, Stephen Hill, Jeremy Kerley and Clyde Gates were all healthy, there might be one roster spot for which a UDFA could compete. Others would have to hope for a place on the practice squad.
However, Holmes' recovery timetable is not a certainty. His temporary absence would create another opening. Plus, if UDFA receivers snap out of the drop malaise before their more highly touted brethren, the UDFAs might find themselves on the roster come Week 1.
If three UDFAs such as Freeman, Rogers and Spadola make the 53-man roster, the Jets will have gotten more than they had a right to expect from this group.
Grade: B+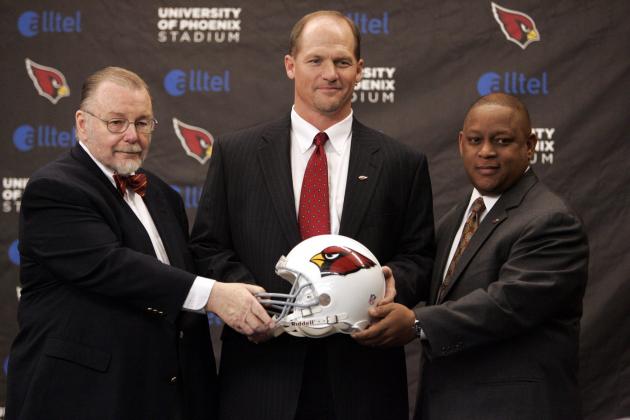 Nick Doan/Getty Images
Rod Grave (left) at a press conference announcing coach Ken Whisenhunt's hiring.
John Idzik's efforts to rebuild the Jets have gone beyond football moves. He rebuilt the Jets' front office, eliminating Terry Bradway's player personnel department while naming Bradway the senior director of college scouting.
However, the move that may determine Idzik's success or failure as a general manager is the hiring of Rod Graves as senior director of football administration.
The purpose of Graves' hiring was to pair someone with experience finding talent with the more fiscally experienced Idzik. It looks like a good fit in that Idzik and Graves have collaborated in the past and already have a working relationship.
However, Graves worked with two Arizona coaches, Dennis Green and Ken Whisenhunt. The talent he assembled for Green was far better, and some blame Whisenhunt for being a poorer scout. The biggest evidence of the talent drop-off is at quarterback, where the Cardinals have yet to find a suitable Kurt Warner replacement.
In other words, it's possible that Graves' success or failure in assembling talent depends heavily on his head coach's input. There's nothing wrong with soliciting such input. But Graves must demonstrate that he can achieve outstanding results while thinking independently.
If Graves matches the work he did with Green, the grade for his hiring will rise. Otherwise, this grade will fall and Idzik will follow Tannenbaum out the door in a relatively short time, maybe two years.
Grade: B-

Follow Philip Schawillie on Twitter: @digitaltechguid