Boston Bruins star Jaromir Jagr suffered a leg injury during the first period of Game 6 in the Stanley Cup finals.
UPDATE: Monday, June 24, at 10:23 p.m. ET by Eric Ball
With Boston's season on the line, Jagr is gutting it out according to Matt Kalman of CBSBostonSports.com:
Jagr's back again

— Matt Kalman (@TheBruinsBlog) June 25, 2013
As notes Jesse Spector of Sporting News notes, he looked just fine in his first shift back:
Jagr looks good on this shift. Fresh, I guess.

— Jesse Spector (@jessespector) June 25, 2013
---End of Update---
UPDATE: Monday, June 24, at 9:38 p.m. ET by Eric Ball
Jagr briefly returned for the second period as
Fluto
Shinzawa
of the
Boston Globe
noted:
Jaromir Jagr on bench to start second.

— Fluto Shinzawa (@GlobeFluto) June 25, 2013
But less than a minute into the period, Jagr once again was forced to leave (via Darren Dreger of TSN):
Jagr just left for dressing room....again.

— Darren Dreger (@DarrenDreger) June 25, 2013
---End of Update---
*Original Text*
According to Kevin Paul Dupont of Boston.com, Jagr limped off the ice at the nine-minute mark in the first period.
Jagr not on bench. Limped off around 9:00 mark, just before Frolik shot.

— Kevin Paul Dupont (@GlobeKPD) June 25, 2013
Joe McDonald of ESPN Boston reported that Jagr was taken back to the locker room soon after the injury.
Jagr just went to the room. Was clearly in discomfort on the bench

— Joe McDonald (@ESPNJoeyMac) June 25, 2013
The Bruins were up 1-0 when Jagr was forced out of the game. He had registered just over three minutes of time on the ice.
The 41-year-old's injury comes at the worst of times for Boston. Down 3-2 in the Stanley Cup finals, the Bruins are faced with elimination in Game 6.
Jagr has been a key addition for the Bruins this season. He has averaged just over 18 minutes of ice time per game throughout the postseason with 10 assists in 21 games played.
The Bruins added the aging veteran during the season via a trade with the Dallas Stars that sent Jagr to Boston in exchange for two prospects and two draft picks, according to TSN.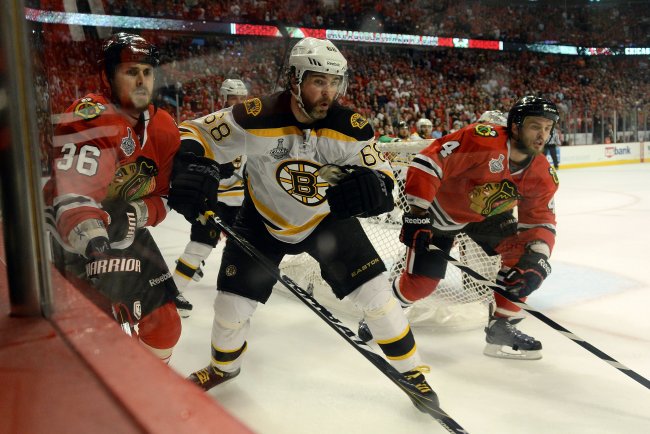 Harry How/Getty Images
Jagr not only adds extra scoring punch to the Bruins attack, but he also brings championship experience. He was a Stanley Cup champion with the Pittsburgh Penguins in 1991 and 1992. With his appearance in this year's Stanley Cup finals, he is the only player in history to play on the grand stage as a teenager and again after turning 40 years old.
Be sure to check back with this page for the latest updates on the future Hall of Famer as information about his status becomes available.