NBA Mock Draft 2013: Final 1st and 2nd Round Predictions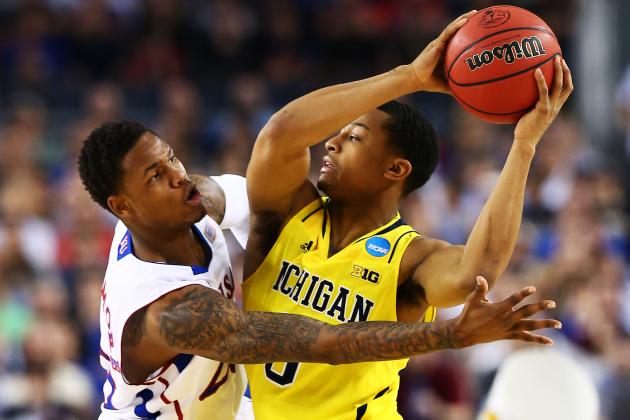 Tom Pennington/Getty Images

From the No. 1 pick to the last name called, the 2013 NBA draft will be an exciting one, with uncertainty surrounding almost all of the selections.
Will Alex Len bump Nerlens Noel out of the top spot? Who will be the first shooting guard selected? Where will international enigmas Giannis Antetokounmpo and Dennis Schroeder land?
These are just a fraction of the questions revolving around the event.
We try to make sense of it all here, as we bring you a final full mock of all 60 picks. Enjoy!
Begin Slideshow

»
Vitals: 7'0", 206 lbs., 7'4" wingspan
Cleveland will listen to trade offers right up until the draft, but if it hangs on to the top pick, Nerlens Noel will hear his name called.
A recent report from Sam Amico of FOX Sports Ohio revealed the Cavaliers' likelihood of picking Noel or Alex Len:
Multiple league executives have told FOX Sports Ohio that the Cavs' recent attempts to trade for a veteran small forward point to general manager Chris Grant settling on a big man with that first pick.
Despite his ACL injury, raw offensive repertoire and feather-light weight at the NBA Combine, Noel remains a quality piece because his future is so bright.
He's not going to change the franchise overnight, but he's a strong building block to put alongside Kyrie Irving and Dion Waiters.
Peter G. Aiken-USA TODAY Sports

Vitals: 6'5", 189 lbs., 6'8" wingspan
There's a small handful of prospects in this draft who are better all-around players than Ben McLemore, but none of them have the offensive skill set and potential he possesses.
When you combine his current shooting skills and athleticism with his dynamic scoring upside, it's easy to see why he's a premiere target.
The Orlando Magic have a boatload of needs heading into 2013-14, so they aren't necessarily approaching the No. 2 pick with a specific in mind. But it helps that McLemore would fill two major holes, as Jacque Vaughn's club finished 25th in scoring in 2012-13 and 29th in three-point percentage.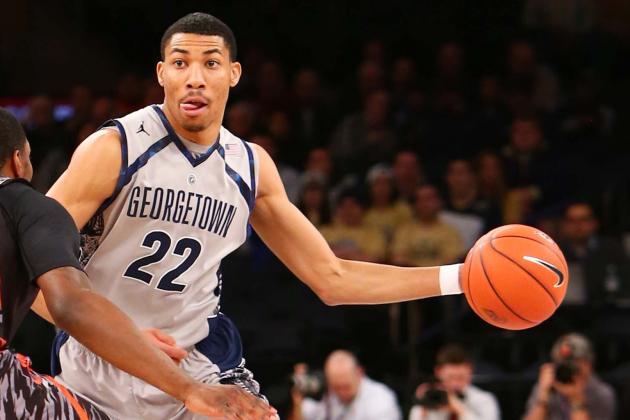 USA TODAY Sports

Vitals: 6'9", 198 lbs., 7'2" wingspan
Georgetown standout Otto Porter has been a prime candidate to go third ever since the Washington Wizards won the No. 3 slot in the lottery.
Even though there are plenty of options for Washington, they are leaning towards the rock-solid safe pick in Porter, according to Chad Ford of ESPN.com.
Porter became a top-tier prospect this year because he demonstrated a knack for influencing games on both ends of the floor. The Wizards can't wait to put his defense, shooting and terrific court sense to use.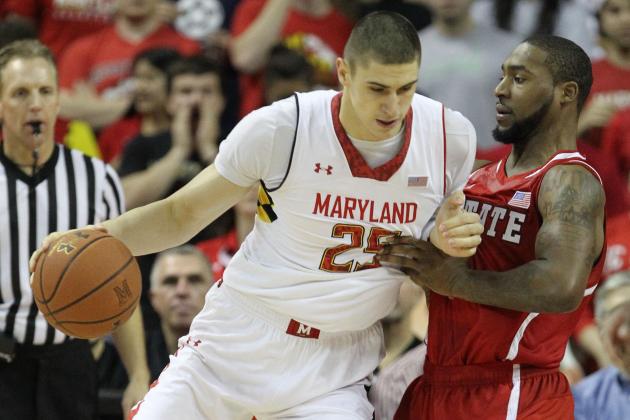 Mitch Stringer-USA TODAY Sports

Vitals: 7'1", 255 lbs., 7'4" wingspan
Maryland big man Alex Len has been lurking in the top-10 and top-five range for much of the year, and it's now highly unlikely that he'll fall past Charlotte at No. 4.
If the Cleveland Cavaliers pick Nerlens Noel before Len, it could end up being a big plus for Charlotte, because Len fits the Bobcats much better from a needs standpoint.
He brings size, length, and a two-way basketball impact, along with youth and upside.
Len might not have the star power and big-name allure of recent top picks, but he's still a good bet to have a robust NBA career.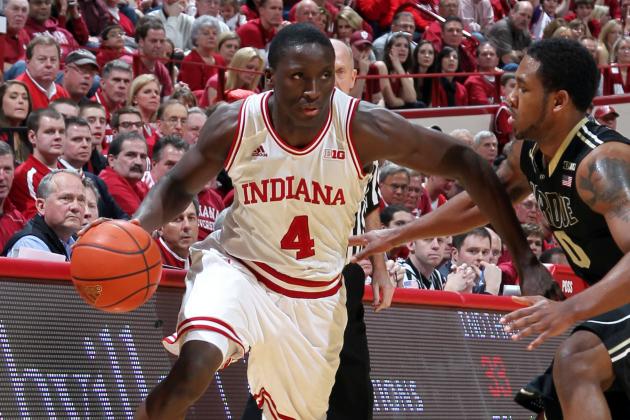 Brian Spurlock-USA TODAY Sports

Vitals: 6'4", 213 lbs., 6'9" wingspan
With Ben McLemore already scooped up by Orlando, there's almost no conceivable scenario where the Phoenix Suns pass on Victor Oladipo at No. 5.
He would instantly help them in several areas. His quickness, length and ridiculous leaping skills will provide Jeff Hornacek with a great weapon on the wing and in transition.
Defensively, his physical tools, motor and tremendous instincts will help the club surrender much less than 101.6 points per game it did in 2012-13.
There's no need for Phoenix to over-think things with this pick. Oladipo is definitely the best all-around player at this juncture, and there's no doubt he'll fit perfectly with the Suns roster.
Vitals: 6'1", 187 lbs., 6'6" wingspan
The New Orleans Pelicans should aim for a true center or point guard with their first-round pick, and if Alex Len and Nerlens Noel are both gone, Trey Burke is their man.
Even though his athleticism and stature aren't astounding, he's still an excellent get for Monty Williams' crew.
The 2012-13 Hornets lacked a dynamic offense, and Burke is the kind of point guard who can strengthen their attack in several areas. His outside shooting, dribble penetration and pick-and-roll prowess will make New Orleans much more dangerous.
He'll be the shortest player chosen in the lottery, but he'll have one of the biggest impacts in this draft class.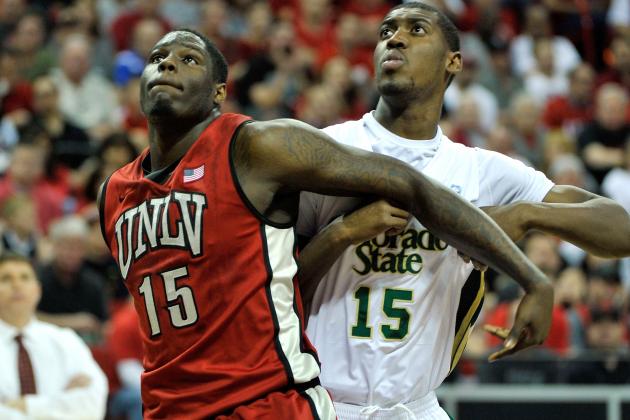 Jeff Bottari/Getty Images

Vitals: 6'7", 239 lbs., 7'1" wingspan
Aside from DeMarcus Cousins, the Sacramento Kings' frontcourt doesn't have much of a future.
Enter Anthony Bennett, whose versatility and strength would aid them in the playmaking and rebounding departments for years.
Sacramento needs to do a better job of keeping opponents off the offensive glass, and it also could use players who are serious inside-outside threats. Bennett would give the Kings a boost in those areas while developing his defense and NBA range.
His skill set, agile 240-pound frame and 7'1" wingspan could make him the type of forward that defies the stereotypes of 6'7" 'tweeners.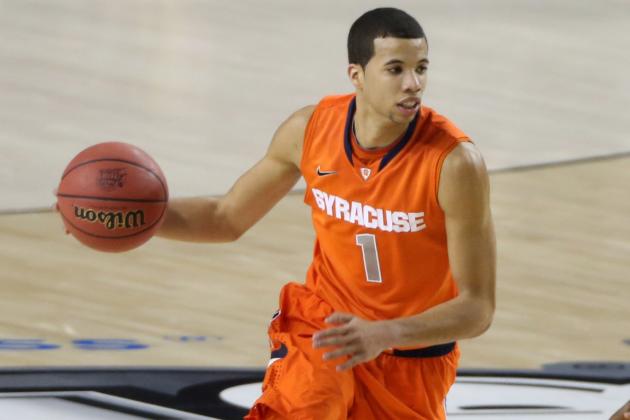 Daniel Shirey-USA TODAY Sports

Vitals: 6'6", 184 lbs., 6'7" wingspan
To amplify the facilitating and playmaking production of the guard corps, the Detroit Pistons will tab Syracuse point man Michael Carter-Williams.
He's not a finished product, as his three-point shot isn't NBA-ready and he's quite wiry. However, he possesses the court vision, passing touch and length that is necessary to direct traffic and effectively play point guard in the NBA.
Moving forward, the Pistons don't have anyone who they can count on to get six-plus assists per night. If Carter-Williams is still available at No. 8, they'll have a chance to remedy that issue.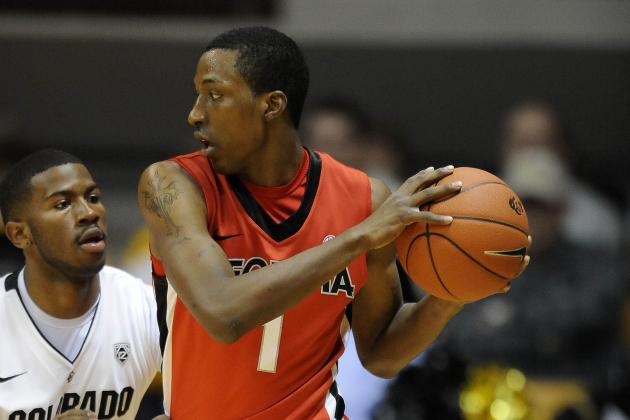 Ron Chenoy-USA TODAY Sports

Vitals: 6'6", 204 lbs., 6'8" wingspan
For starters, Georgia shooting guard Kentavious Caldwell-Pope would help the Minnesota Timberwolves fix their perimeter shooting issues. Sure, they were missing Kevin Love's long-distance stroke for most of 2012-13, but a league-worst .305 three-point percentage and the third-fewest triples in total was ugly.
Caldwell-Pope sank nearly three three-pointers per game at Georgia, and he also has the length and open-court athleticism Minnesota needs from its guards.
The Wolves don't need him to be a superstar; they're just hoping they can plug him into their lineup as a productive and reliable role player.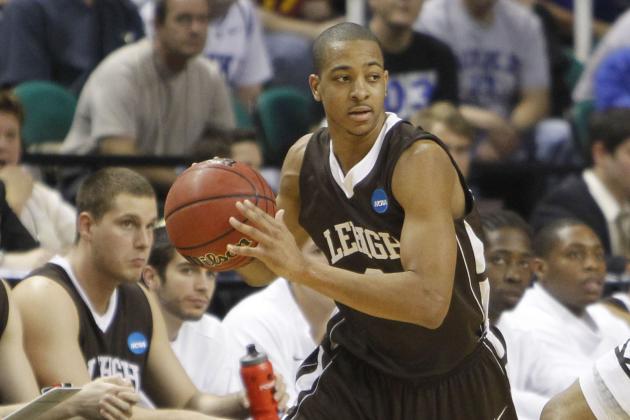 Bob Donnan-USA TODAY Sports

Vitals: 6'3", 197 lbs., 6'6" wingspan
What? Didn't Portland already get the mid-major playmaker they wanted?
Yes, but Damian Lillard needs help in the backcourt, and he also needs a breather once in a while.
McCollum would be a great choice for the Trail Blazers because he can serve as a floor general while Lillard gets a rest (Lillard played 38.6 minutes per game as a rookie), and he can also play alongside Lillard as a capable shooting guard.
Lehigh's star can serve the Blazers in two ways, and he has NBA-ready skills. He'll make their backcourt much more productive, and he will also allow Lillard to be more dynamic than he was as a rookie.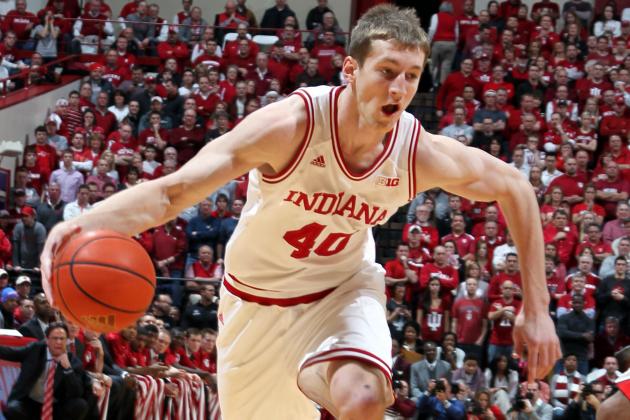 Brian Spurlock-USA TODAY Sports

Vitals: 7'0", 230 lbs., 6'11" wingspan
At this stage of the draft, there will be several quality big men still available, so the Philadelphia 76ers will select which one they like best.
Cody Zeller lost some stock throughout the year because he wasn't as dominant as we had hoped. Plus, he has already achieved more of his upside than a guy like Nerlens Noel or Steven Adams.
That may be true, but Zeller is still young at 20 years old, and he put up phenomenal numbers at the draft combine, including a 35.5" standing vertical and a 37.5" max vertical.
Pair those stats with his impressive assortment of ball skills and footwork, and Philly can't dismiss him.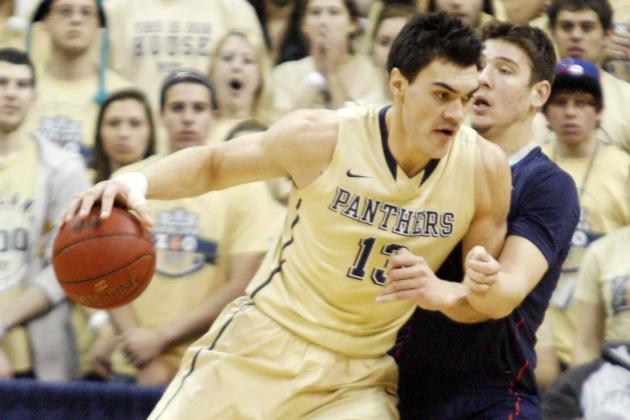 Charles LeClaire-USA TODAY Sports

Vitals: 7'0", 255 lbs., 7'5" wingspan
In this mock, Steven Adams is still available late in the lottery, in which case the Oklahoma City Thunder will snatch him up.
It was painfully evident in the playoffs that OKC needed size and production deep in the post. Kendrick Perkins isn't a serious post-up threat, and Serge Ibaka is more comfortable as a jump-shooter.
Adams would supply a mobile weapon of size and strength to put two-way pressure on foes. He's quickly becoming more comfortable offensively, so the Thunder will soon have an ideal piece for their championship quests.
Vitals: 6'7", 197 lbs., 6'9" wingspan
Sources told Joe Kotoch of Sheridanhoops.com that the Cleveland Cavaliers are pursuing Shawn Marion and the No. 13 overall pick from Dallas in exchange for the No. 19 pick along with taking Marion's $9.3 million salary off of Dallas' hands.
If this deal does not come to fruition, though, the man the Mavericks want at No. 13 is Russian forward Sergey Karasev.
He's only 19, but he's been through some international stages (including the 2012 Olympics) and has tremendous court sense and shooting ability.
Karasev would immediately boost the team's long-distance prowess, and he'll prove to be one of the best non-point guard passers in this draft class.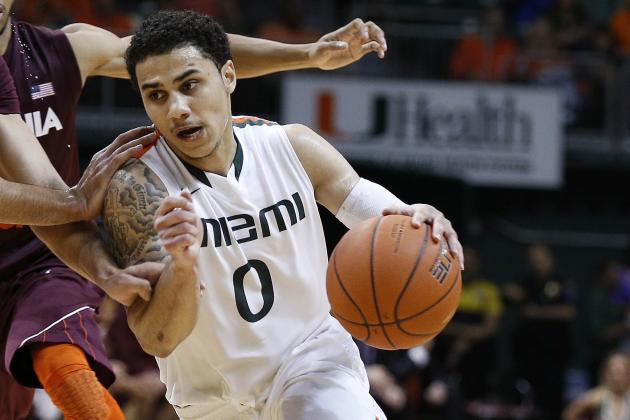 USA TODAY Sports

Vitals: 5'11", 171 lbs., 5'11" wingspan
With Michael Carter-Williams and C.J. McCollum off the board already, the Utah Jazz will be more than willing to select Shane Larkin to round out the lottery.
He doesn't possess the prototypical height or bulk of a guard prospect, but he's an extremely difficult player for any defense to contain.
Tyrone Corbin will love utilizing him in pick-and-roll scenarios because defenses have to honor his jump shot or drive, in which case he can burn them with pinpoint passing. His 44" vertical and blazing speed will serve him well on both ends of the floor as well.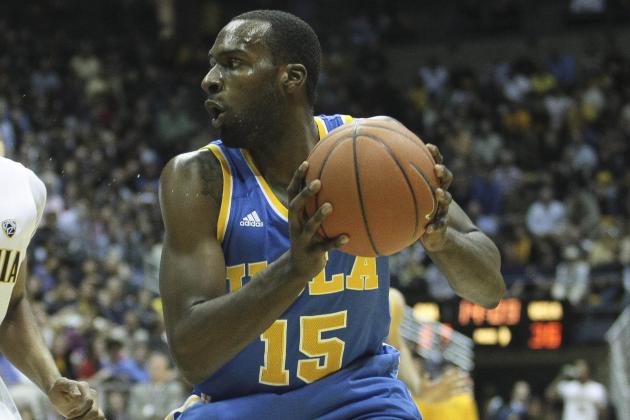 USA TODAY Sports

Vitals: 6'6", 222 lbs., 6'11" wingspan
The Milwaukee Bucks can't pass up a swingman like this at No. 15.
How far has Shabazz Muhammad's stock fallen? Back in October, I had him going No. 1 overall.
He turned out to be less dynamic than we thought, and he must improve his decision-making, court awareness and physique.
However, he still presents phenomenal value in the middle of the first round, especially for a team like Milwaukee. They need production from a slasher and shooter with size, and that's exactly what Muhammad can do for them.
Vitals: 6'2", 165 lbs., 6'8" wingspan
Although he lost some of the momentum that had projected him to go in the lottery, Dennis Schroeder is still going to get snagged in the middle of the first round.
The Boston Celtics are in a major transition phase, so don't put it past Danny Ainge to be quite future-oriented with this pick.
Schroeder is an 18-year-old who offers exciting upside and plenty of time for the franchise to figure things out.
Within a couple years, after he's polished his skills and matured as a floor general, this could end up being one of the absolute best picks in the draft.
Vitals: 6'9", 196 lbs., 7'3" wingspan
The Atlanta Hawks have back-to-back picks at Nos. 17 and 18, so they will have their sights on 18-year-old Greek forward Giannis Antetokounmpo with the front end.
He's a classic case of a high-risk, high-reward prospect. If he pans out, the reward could be colossal.
For starters, Antetokounmpo's length and agility are promising, and his skill set reveals the potential to be one of the most versatile players in the league. If he develops his jump shot, he could be a dangerous scorer, facilitator, rebounder and defender.
In that case, the Hawks wouldn't miss Josh Smith quite as much in the long-term.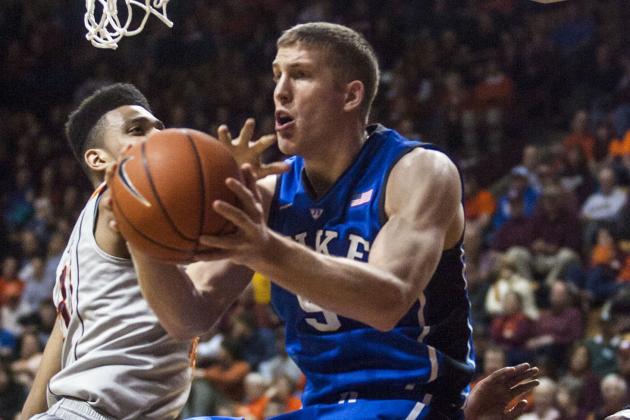 USA TODAY Sports

Vitals: 7'0", 238 lbs., 6'11" wingspan
After free agency, Al Horford will need substantial help in the frontcourt, so the Hawks could bring in a player who has an attractive combination of physical tools and skill.
Duke's Mason Plumlee is an old geezer (23 years old) compared to most of these youngsters, but he offers size, finishing ability and decent post-up moves.
At worst, Atlanta would be picking a hard worker who can jump out of the gym, defend the post, rebound and put back anything near the hoop.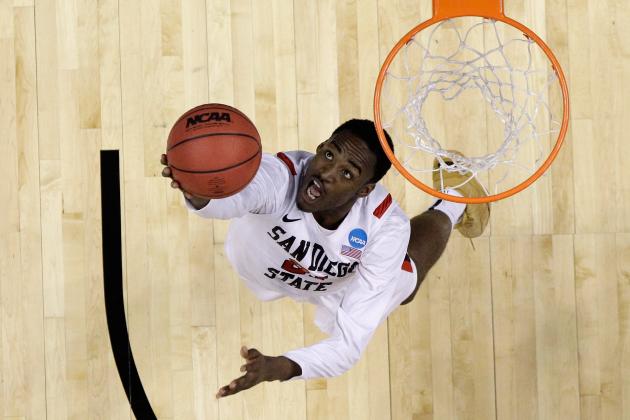 Rob Carr/Getty Images

Vitals: 6'5", 191 lbs., 6'11" wingspan
Depending on how Cleveland's potential trade scenarios work out, they may be seeking a swingman or small forward late in the first round.
The most versatile and dynamic one available is Jamaal Franklin, and his length and slashing skills would complement the Cavaliers backcourt nicely.
He'll be able to take the pressure off Clevelands' star guards from time to time while also rebounding well for his position and playing solid defense.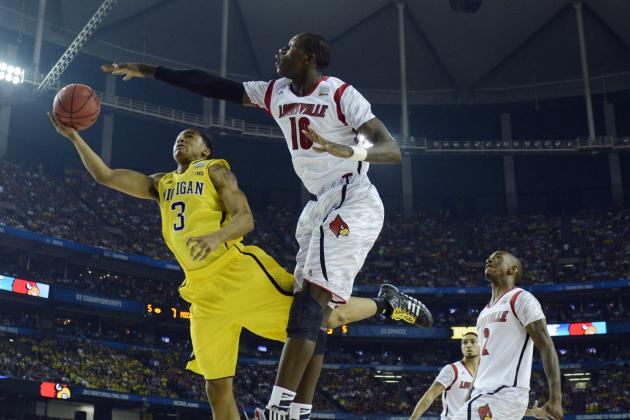 Robert Deutsch-USA TODAY Sports

Vitals: 6'11", 230 lbs., 7'4" wingspan
Lost amid the "Bulls without Derrick Rose" saga was the reality that they also missed backup center Omer Asik, who bolted to Houston in free agency last summer.
Behind Noah, the Chicago Bulls didn't have a true center to compete on both ends of the floor. Gorgui Dieng fits the bill, and Tom Thibodeau can plug him right into their defensive-oriented approach.
In addition to altering shots and cleaning up the boards, Chicago can trust Dieng with some offensive touches, as his low-post game and mid-range jumper are still upgrading as we speak.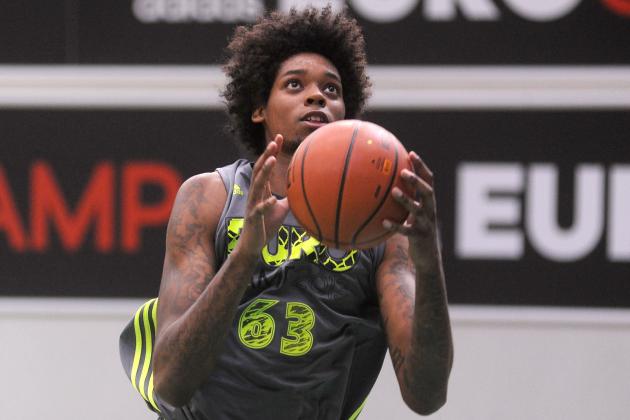 Roberto Serra/Iguana Press/Getty Images

Vitals: 7'0", 220 lbs., 7'6" wingspan
If the Utah Jazz choose a point guard with the No. 14 pick, they will head to the other end of the spectrum with the No. 21 selection.
After selecting 5'11" Shane Larkin in the lottery, they'll grab 7'0" Brazilian tower Lucas Nogueira seven spots later in order to bolster the future of their frontcourt.
He has game-changing potential on both ends of the floor. While his offense is mainly limited to alley-oops and easy finishes, his defense could lock down the paint if he develops more discipline.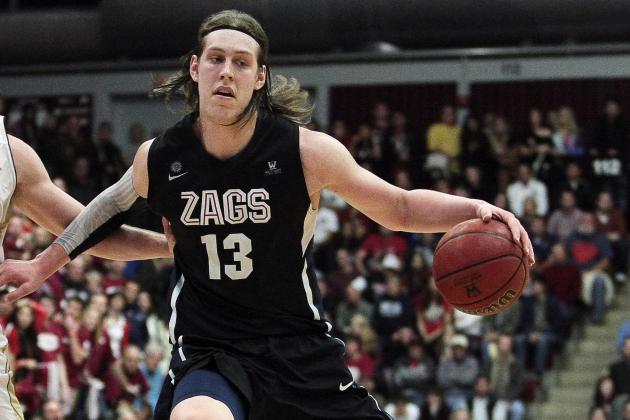 USA TODAY Sports

Vitals: 7'0", 234 lbs., 6'10" wingspan
The Brooklyn Nets might end up with a mid-major version of their current center, Brook Lopez.
Due to his mobility and expansive offensive skills, Olynyk will be able to play at power forward, stretch-4 or center in the NBA.
The Nets will love the scoring flexibility he'll bring to their gameplan.
At times, the scoring ineptitude of their power forwards in 2012-13 crippled their competitiveness against top-tier teams. Olynyk will be able to create his own buckets in addition to moving the ball for Deron Williams and Lopez.
Vitals: 7'2", 238 lbs., 7'9" wingspan
Moving forward, the Indiana Pacers don't have much of an answer at backup center, and Rudy Gobert could be just the guy to groom into an impact player.
Even if his immediate production consists solely of lobs and blocked shots, his upside is worth it, especially once he gets a feel for the NBA game and establishes a rapport with his teammates feeding him the ball.
One thing's for sure, though: Gobert's arrival in Indianapolis would give the Pacers 48 minutes worth of rim protection.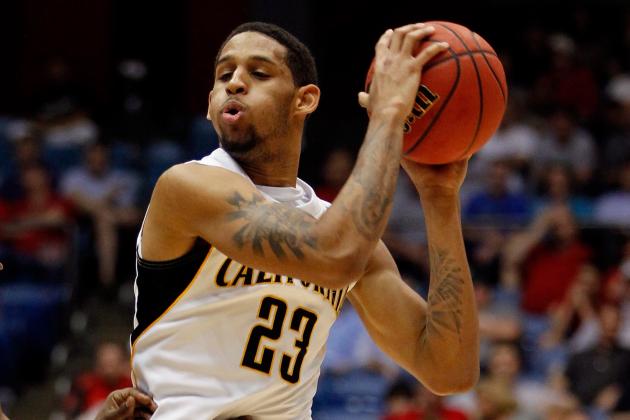 Gregory Shamus/Getty Images

Vitals: 6'6", 197 lbs., 6'11" wingspan
In order to form a better complement of balanced scorers, the New York Knicks will add Allen Crabbe for his size and shooting skills.
He'll work well with Carmelo Anthony because he doesn't need to handle the ball to be an offensive weapon.
Unlike most of 'Melo's 2012-13 supporting shooters, Crabbe will be able to shoot over people, much like Steve Novak, and also be able to attack the rim occasionally.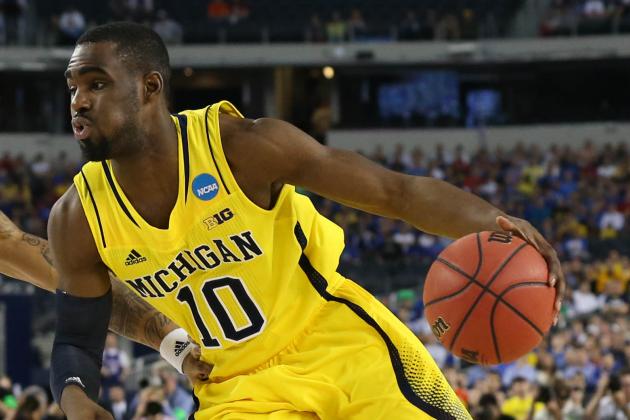 Matthew Emmons-USA TODAY Sports

Vitals: 6'6", 199 lbs., 6'7" wingspan
Doc Rivers' Los Angeles Clippers will aim to be much more efficient in competitive ballgames than they were in 2012-13, so Tim Hardaway, Jr. is a prime candidate to plug naturally into his system.
Trey Burke's supremacy throughout Michigan's Final Four run took some of the glamour from Hardaway's draft status, but Hardaway remains a high-quality prospect late in the first round.
In addition to his unquestioned shooting prowess, Hardaway can attack in transition, slash or pass from the wing when he needs to. He can also play smart defense.
"Lob City" is going to get superb value and impact for this pick.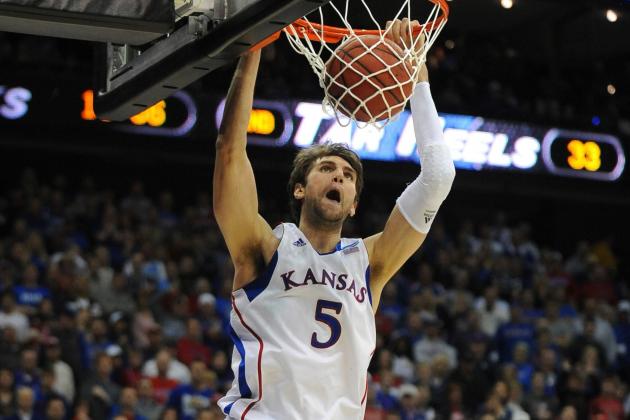 Denny Medley-USA TODAY Sports

Vitals: 7'0", 222 lbs., 7'2" wingspan
Although almost all of the best true centers will be off the board by No. 26, the Minnesota Timberwolves can still get plenty of size and two-way production from Kansas star Jeff Withey.
The Jayhawks anchor will round out the future of the Wolves' frontcourt, and he'll do it by protecting the paint and converting at a high percentage offensively.
He's not going to simply swat shots, he's going to do it without fouling, which is something rare in young players.
Minnesota won't count on him for much as a post-up center, but he'll convert close-range baby hooks and banks along with some mid-range jumpers.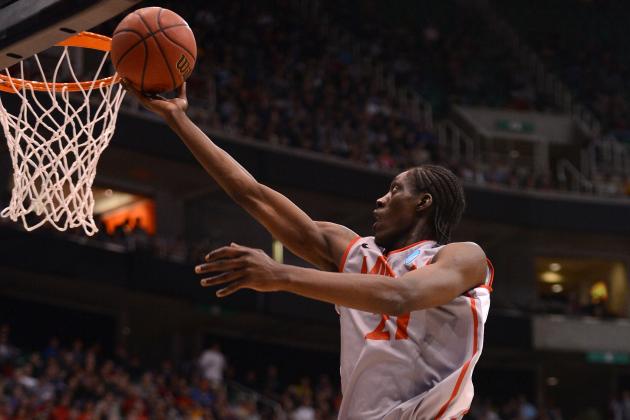 Harry How/Getty Images

Vitals: 6'7", 198 lbs., 6'12" wingspan
Considering the precariousness of the Andre Iguodala returning to Denver scenario, the Nuggets would love to get a swingman who can score and defend multiple positions.
Tony Snell fits that job description in a big way because he's a prolific shooter who possesses a wingspan of nearly seven feet.
With his set of physical gifts, he'd be able to guard almost every 2 and 3 in the NBA, and he'd also be able to shoot over them.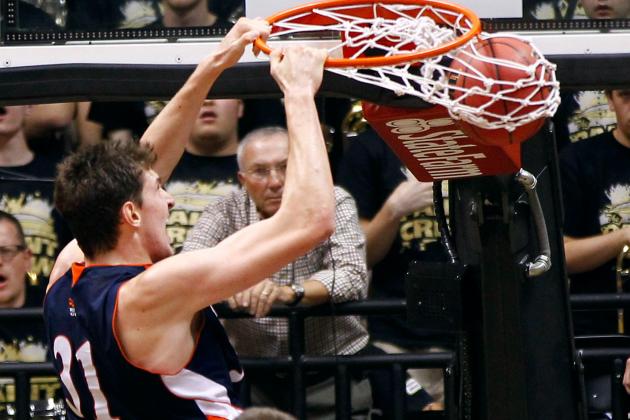 Michael Hickey/Getty Images

Vitals: 6'11", 230 lbs., 7'1" wingspan
This would be a classic case of size rising in the draft because Mike Muscala was projected to go in the middle of the second round for months.
But there's nothing wrong with the San Antonio Spurs making this pick here because he fills a need, is tall enough and is a polished scoring threat.
The Spurs need depth and offense at the 4 and 5, and Muscala is the kind of player who can instantly supply efficient minutes behind Tim Duncan. He might seem like a reach at No. 28, but we won't be arguing when he's a contributor on another strong playoff squad.
Vitals: 6'6", 197 lbs., 6'7" wingspan
Due to the fact he sat out his freshman season (academic issues) at Providence, Ricky Ledo has some question marks regarding his character and ability to excel against top-tier foes.
But when you watch him, he passes the eye test for shot-creating and shot-making. Ledo can create separation off the bounce, adjust in the air and score through traffic. He can also convert mid-range opportunities as well.
Ledo's a compelling option for the Oklahoma City Thunder because he would be able to take some of the playmaking pressure off Russell Westbrook and Kevin Durant.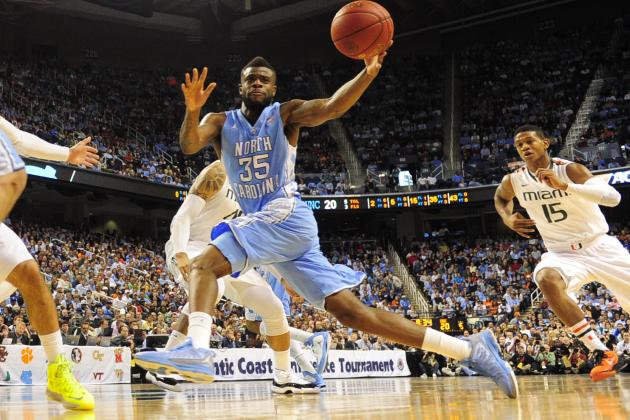 Bob Donnan-USA TODAY Sports

Vitals: 6'7", 200 lbs., 6'9" wingspan
After grabbing a surefire impact shooting guard in Victor Oladipo, the Phoenix Suns will target a small forward who can drill long-distance attempts.
Bullock would complement Oladipo, Goran Dragic and Luis Scola superbly.
His talent as a stopper would be put to use against bigger swingmen, and his shooting skills would play well off Oladipo and Dragic's slashing tendencies.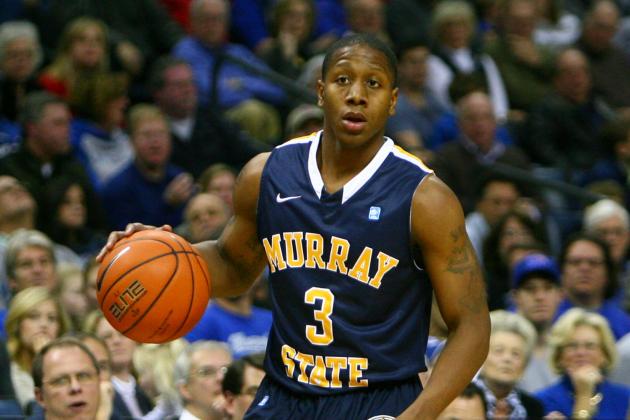 Spruce Derden-USA TODAY Sports

Vitals: 6'0", 188 lbs., 6'5" wingspan
At this point in the evening, the Cleveland Cavaliers will have addressed most of their needs via the draft or through a trade.
One area that might need cleaning up, though, is point guard. The Cavs would like to add a floor general to supplement Kyrie Irving's starting production.
Isaiah Canaan's athleticism, facilitating skills and NBA three-point range would give Cleveland a massive boost off the bench.
Vitals: 6'9", 217 lbs., 7'3" wingspan
Since they already have a championship-caliber roster and a couple of first-round picks, the Oklahoma City Thunder can approach the No. 32 selection with long-term development in mind.
Livio Jean-Charles is a prime suspect for this pick because he's young and showed promise with mobility, solid court awareness and a soft touch at the Nike Hoop Summit. OKC can also "stash" him in Europe for a little longer if it works out.
The Thunder won't make him a star in 2013-14, but he could be a key piece in the team's subsequent title runs.
Vitals: 6'5", 190 lbs.
Unless the Cleveland Cavaliers don't make any trades during the first half of the draft, their roster is going to be stocked with young talent by the time the second round rolls along.
There are only so many youngsters you can expect to lead the team, so the No. 33 pick won't be based on the near future.
Alex Abrines shows the potential to be a great shooter, but he must expand his game and prove that he can compete against elite defenses.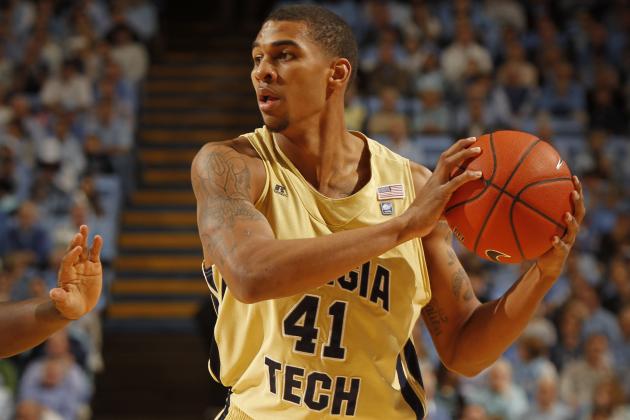 Bob Donnan-USA TODAY Sports

Vitals: 6'6", 211 lbs., 6'9" wingspan
Glen Rice, Jr. would be something of a steal in the second round.
If he falls this far, the Houston Rockets would take him without hesitation. He can shoot and finish at a high level, which is a combination that's not commonly found in the second round, especially in this draft.
It would also be a great pick because he has ties to the organization, as he led the team's affiliate Rio Grange Valley Vipers to the D-League title.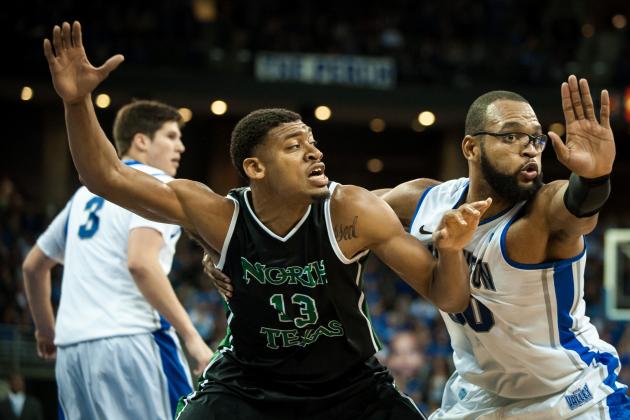 Eric Francis/Getty Images

Vitals: 6'9", 236 lbs., 7'3" wingspan
Tweener concerns may cause Tony Mitchell to free-fall, but he won't slip past the Philadelphia 76ers at No. 35 because he's easily the best remaining prospect.
Philly has several small forwards on its roster, but they could still use young depth in the frontcourt.
Mitchell gives the Sixers explosiveness and agility, and more importantly, the flexibility to move some pieces around if they need to.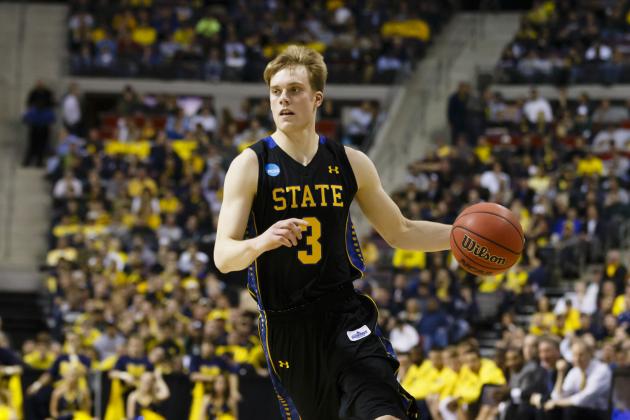 Rick Osentoski-USA TODAY Sports

Vitals: 6'5", 196 lbs., 6'4" wingspan
Instead of reaching for a non-impact center or a tweener forward, the Sacramento Kings should add a known commodity to their backcourt
Nate Wolters enters the league with slightly less scoring stock than Kings guard Jimmer Fredette did two years ago but with a better grip on finding his teammates and facilitating.
He would make Sacramento a stronger unit without bringing the risk that many second-round playmakers possess.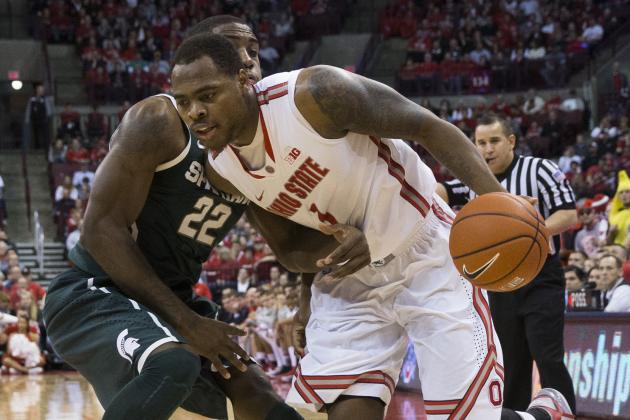 USA TODAY Sports

Vitals: 6'7", 220 lbs., 6'10" wingspan
Several shooters are heading out the door in Detroit, so they would like to replenish them, ideally with size.
Deshaun Thomas is one of the best available offensive weapons on the wing, and he could serve the Pistons well as a role player.
No one will expect the kind of production he had at Ohio State because his lack of athleticism will be exposed at this level. However, he will put the ball in the hoop any time defenders give him breathing room.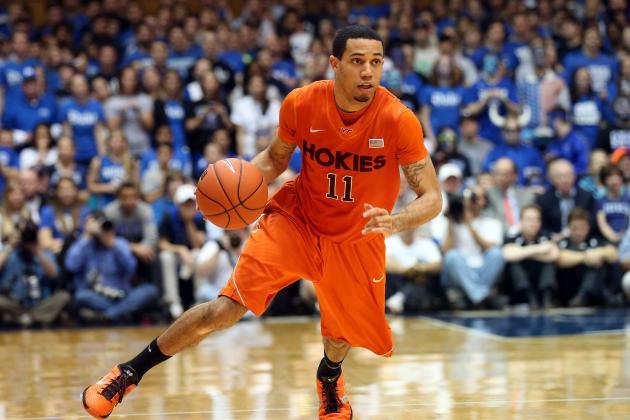 Streeter Lecka/Getty Images

Vitals: 6'3", 178 lbs., 6'6" wingspan
The Washington Wizards don't really have any reserve playmaking guards, so Virginia Tech standout Erick Green could give the second unit a new dimension in 2013-14.
He projects to be a combo guard in the NBA, so the Wizards won't rely on him for heavy quarterbacking responsibilities.
During his brief stints of giving John Wall a breather, Green will use his speed to wear down opponents while also keeping his comrades involved in the attack.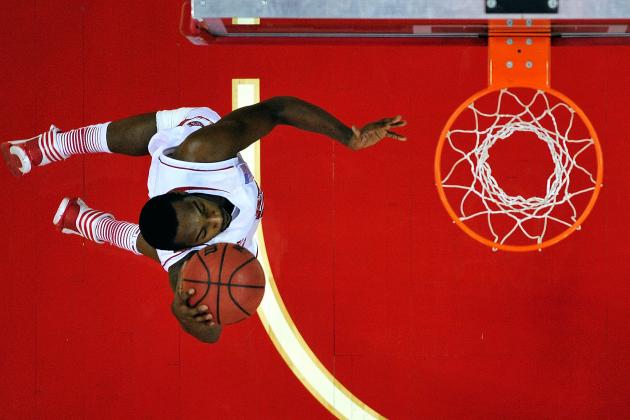 Grant Halverson/Getty Images

Vitals: 6'9", 209 lbs., 7'3" wingspan
From a physical attributes perspective, C.J. Leslie would be filling a big hole in the Portland Trail Blazers roster.
The squad is poised to contend for a playoff spot, but it lacks depth, and the forwards and post players are quite unathletic.
Leslie's kangaroo display at the draft combine cemented his status as one of the most explosive and agile prospects in the entire draft class. Portland won't pass on him here, especially considering how the roster is currently constructed.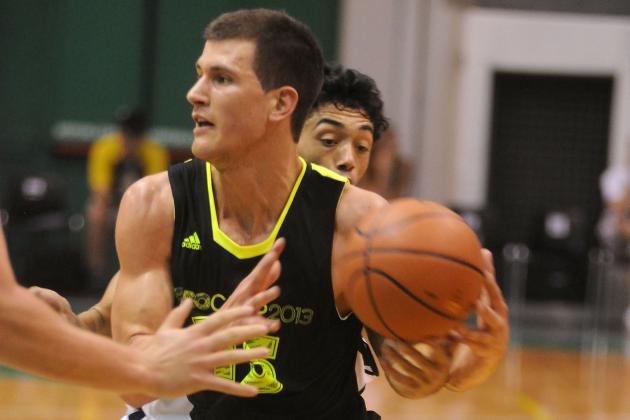 Roberto Serra/Iguana Press/Getty Images

Vitals: 6'4", 200 lbs., 6'7" wingspan
At a certain point, Portland's draft picks aren't viewed as 2013-14 roster spots and simply become assets.
ESPN.com analyst Chad Ford explains the Trail Blazers' likely approach with the No. 40 pick:
GM Neil Olshey may not love international players, but he's not adding more than two rookies to his roster. Nedovic is a great athlete and could be a nice addition down the road.
Nedovic is a superb athlete who could thrive as a combo guard once he matures as a basketball player. The tools are there, and the intangibles will follow.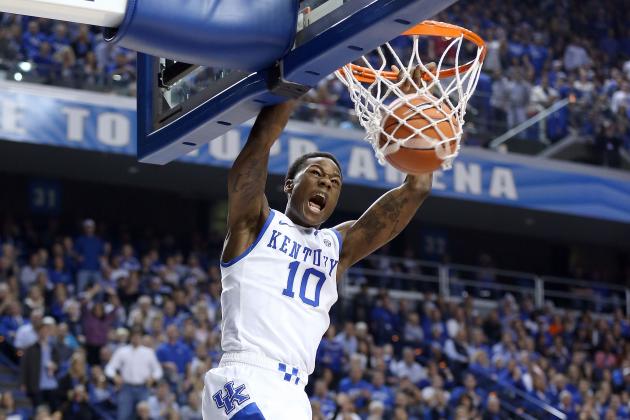 Andy Lyons/Getty Images

Vitals: 6'5", 189 lbs., 6'10" wingspan
It's hard to believe that a young, athletic former McDonald's All-American could fall to No. 41, but here is Kentucky's Archie Goodwin.
He's not equipped with an NBA-ready jumper, nor does he have top-tier court sense or passing abilities. In fact, Goodwin could drop further than No. 41.
If it wasn't for the Memphis Grizzlies banking on his upside and bolstering their shooting-guard future, he might have slid to the later half of the second round.
Fortunately for Goodwin's sake, he has strength, agility and a knack for getting to the tin.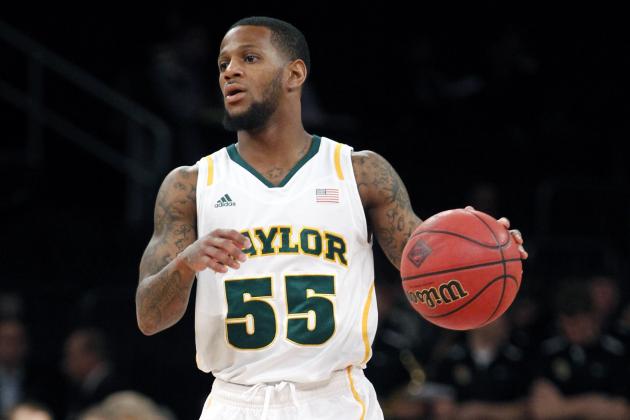 Jason Szenes/Getty Images

Vitals: 5'10", 176 lbs., 5'10" wingspan
Outside of Jrue Holiday and Evan Turner, the Philadelphia 76ers don't have anyone to kick-start the offense, making plays to open things up for everyone.
That will change when the undersized Pierre Jackson takes the floor. His pure speed and change of direction skills could be the mid-game edge the Sixers need to compete with teams in the Atlantic Division.
Philly has a long way to go to become a robust contender, but pieces like Jackson go a long way in building a winning club.
Grant Halverson/Getty Images

Vitals: 6'5", 189 lbs., 6'7" wingspan
Sometimes in the draft process, scouts and teams get lulled into a trance by buzzwords like "explosiveness" and "upside," and they often forget about basic functions like passing the basketball.
N.C. State point guard Lorenzo Brown doesn't have much athleticism or a super-high ceiling, but he can dish the rock. He proved as much during his three seasons in the ACC.
The Milwaukee Bucks shouldn't pass on Brown's skills here, as they will be looking to add a capable passer to their attack this offseason.
Vitals: 6'11", 240 lbs.
We're hitting the portion of the draft where international selections abound.
The Dallas Mavericks don't seriously intend to improve their 2013-14 roster with the No. 44 pick, so they will choose a young overseas talent who could pay dividends in the future.
Montenegro tower Marko Todorovic has the low-post skill, potential and size desired in a foreign big man.
Vitals: 6'7", 200 lbs., 6'9" wingspan
It's a similar situation here for the Portland Trail Blazers, and for this particular pick they will have an eye on Ukrainian standout Oleksandr Lypovvy.
He owns a first-rate jumper and splendid all-around skills and instincts, but he could use a little more time overseas to test himself against stronger competition.
In the meantime, the Blazers get the rights to him and can wait until he blossoms.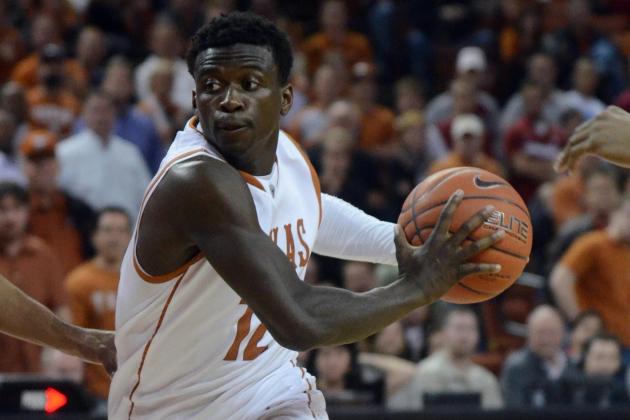 Brendan Maloney-USA TODAY Sports

Vitals: 6'3", 180 lbs., 6'6" wingspan
Since the Utah Jazz already got a tower and a shooter in this mock, it's time for them to make a pick based on depth and upside.
Texas point guard Myck Kabongo is certain to supply first-round caliber playmaking.
Even though he's a turnover risk and an unreliable perimeter threat, Kabongo would be a strong value pick to start off the second half of the second round.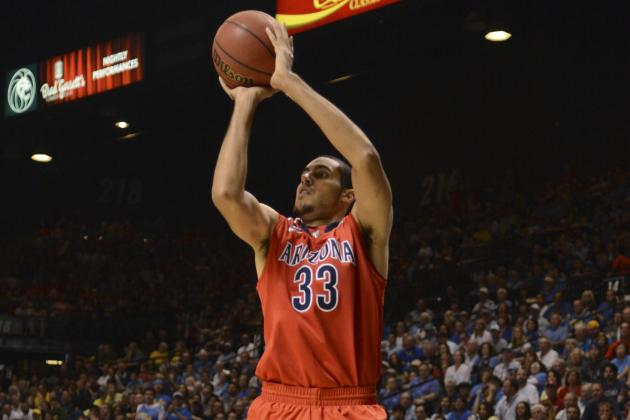 Kyle Terada-USA TODAY Sports

Vitals: 6'10", 232 lbs., 7'2" wingspan
Late in the second round, the Atlanta Hawks will be looking for more size to supplement Al Horford and Mason Plumlee.
Grant Jerrett's height and length would do the trick, and his deep range sweetens the frontcourt and adds versatility to the lineup.
He might not be completely ready for the rigors of the Association, but his shooting skills are attractive and could fill a unique role for Mike Budenholzer's squad.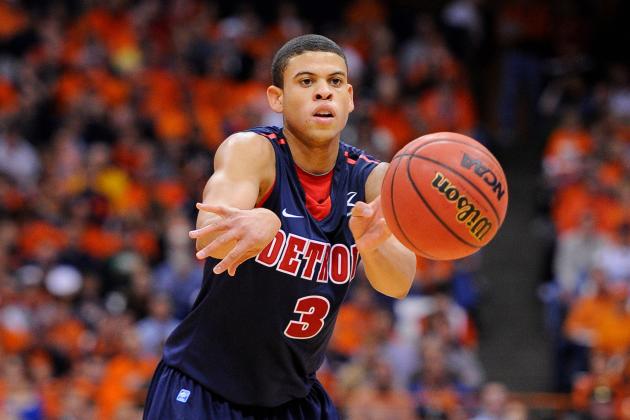 Rich Barnes-USA TODAY Sports

Vitals: 6'2", 191 lbs., 6'4" wingspan
With their first and only pick of the 2013 draft, the Los Angeles Lakers aren't seeking a major contributor, yet they should look for a playmaker that they won't have to babysit.
This makes Detroit point guard Ray McCallum a solid choice because he can create offense for himself and for teammates during his brief cameos. He's a terrific finisher for someone who's barely 6'2", and he can move the ball efficiently within Mike D'Antoni's system.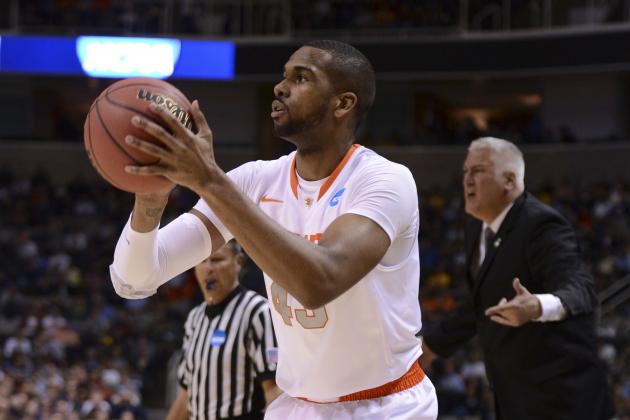 Kyle Terada-USA TODAY Sports

Vitals: 6'8", 221 lbs., 7'1" wingspan
The Chicago Bulls could use a wing shooter with size, and Syracuse forward James Southerland is the best one on the board.
Luol Deng is the only other forward who can consistently connect from NBA range, so Southerland's long-distance talents would be welcomed in the Windy City.
Southerland also displays the kind of defensive intensity and instincts that Tom Thibodeau looks for, and that will help his candidacy as he slips into the later stages of the second round.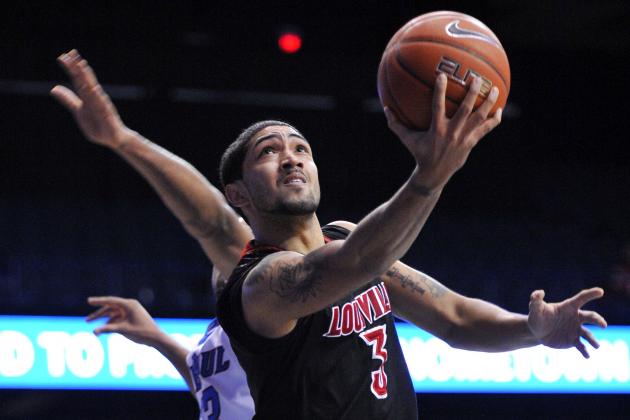 Rob Grabowski-USA TODAY Sports

Vitals: 6'1", 181 lbs., 6'3" wingspan
Louisville point guard Peyton Siva will round out Atlanta's four-pick draft night, as they'll seek a backup quarterback for Jeff Teague.
Siva's role on the Hawks would consist of feeling out the opposition, using his speed to get into the paint and generating high-percentage chances for everyone. Defensively, he'll rely on his lateral quickness and collegiate experience to pressure other backup guards.
He's never been a hot prospect due to his shooting woes, but there's a lot that Siva can add to Atlanta's attack.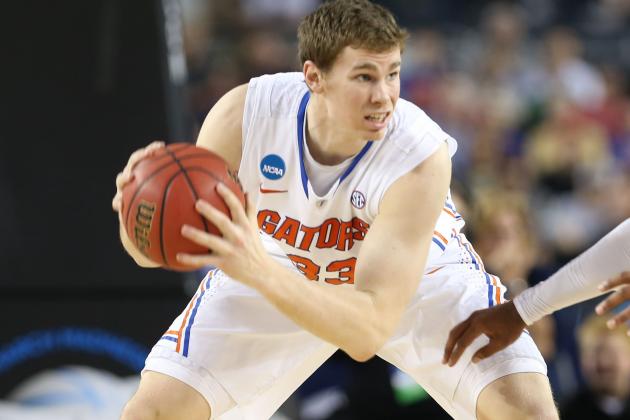 Kevin Jairaj-USA TODAY Sports

Vitals: 6'10", 240 lbs., 6'11" wingspan
Instead of trying to fill a major need via the draft in the 50s, the Orlando Magic should aim for reliable reserve performance.
Erik Murphy shot 44 percent from beyond the arc at Florida, which bodes well for him as a stretch-4 in the NBA.
He's not going to be a versatile playmaker or a tremendous scorer, but he will keep defenses honest with one of the most accurate strokes in this draft class.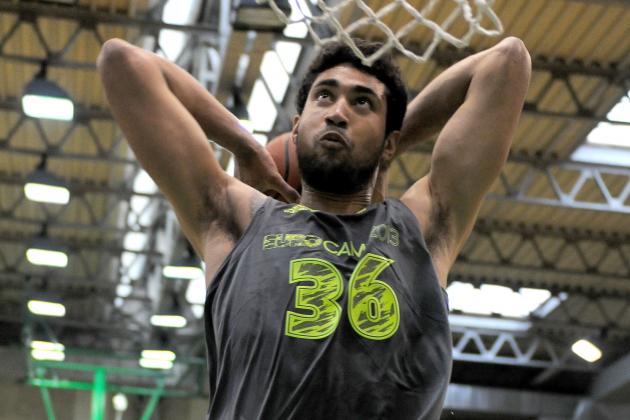 Roberto Serra/Iguana Press/Getty Images

Vitals: 6'11", 234 lbs., 7'0" wingspan
If Kentavious Caldwell-Pope and Jeff Withey are selected with Minnesota's first two picks, they are locks to make the roster, which would leave little room for anyone else.
Cue the international stash.
Augusto Cesar Lima is an explosive power forward who could be a rim-rocker and paint-protector in upcoming years, but 2013-14 isn't his time.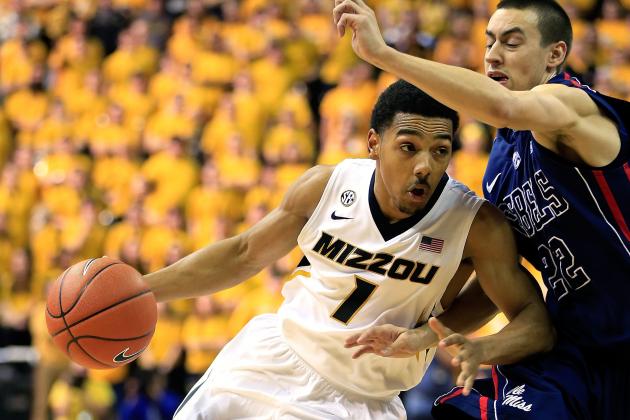 Jamie Squire/Getty Images

Vitals: 5'11", 177 lbs., 6'2" wingspan
During several stretches of his Missouri career, Phil Pressey showed the ability to distribute the basketball at an elite level.
The Indiana Pacers should keep that in mind when he's available at No. 53.
He's undersized for sure, and he also had some bad turnover bunches when forcing things too much. However, he's worth the risk this late in the draft.
Vitals: 6'10", 242 lbs., 7'1" wingspan
You won't find too many power forwards with Bojan Dubljevic's mid-range touch and low-post coordination, so the Washington Wizards should be eager to snag him and boost their offensive arsenal.
His ceiling is limited due to his underwhelming leaping ability and defensive concerns, but he will undoubtedly help Washington put more points on the board.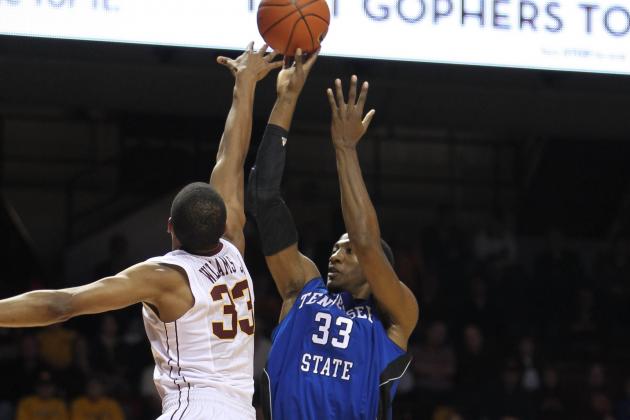 Brace Hemmelgarn-USA TODAY Sports

Vitals: 6'8", 209 lbs., 7'2" wingspan
The one thing Memphis definitely lacks is shooting.
If they decide to address this area with the No. 55 pick, Robert Covington should be at or near the top of their wish list.
He's a consistent threat from the perimeter, and even though he played for a small school, he has the size to get his shot off in the NBA.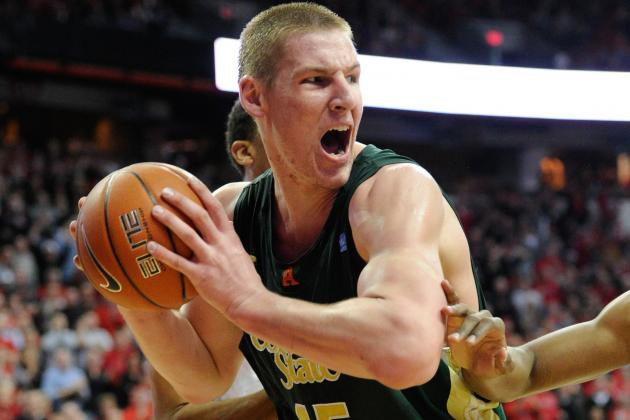 Josh H. Holmberg-USA TODAY Sports

Vitals: 7'0", 263 lbs., 7'2" wingspan
Colton Iverson's hopes of being drafted rest on a team looking to add a dependable backup center.
If he falls all the way to No. 56, the Detroit Pistons will take him off the board and use him to back up Andre Drummond.
When Iverson enters the game for Drummond, there will be a huge drop-off in athleticism and rim protection. However, the rebounding production won't disappear, and he'll be a respectable offensive role player.
Paul Halfacre-USA TODAY Sports

Vitals: 6'9", 242 lbs., 7'2" wingspan
The Phoenix Suns weren't a horrible rebounding team in 2012-13 (18th in the NBA), but they often allowed opponents to assert themselves on the offensive glass.
Adding a power forward like Jackie Carmichael would be an excellent move to help this problem, as he became a strong rebounding force in the Missouri Valley Conference during his junior and senior seasons.
If he tumbles to the back end of the second round, Phoenix should draft all 242 pounds of him.
Vitals: 6'11", 240 lbs., 6'10" wingspan
The San Antonio Spurs have made a habit of turning fringe international prospects into key players, and if there's anyone who knows how to cultivate French prospects, it's Gregg Popovich.
With the right development plan, Joffrey Lauvergne could be a surprising inside-outside presence in the NBA. He has the physical makeup of a true power forward, and his shooting repertoire shows promise as a stretch-4.
Vitals: 6'9", 219 lbs., 7'4" wingspan
As previously mentioned, the Minnesota Timberwolves won't likely be picking any immediate-impact players in the second round.
That makes Vitalis Chikoko an intriguing option with the second-to-last pick of the draft.
He boasts a 7'4" wingspan, which is magnificent, but his offensive game is rudimentary and nowhere close to being ready for the NBA hardwood. The 'Wolves would draft him only to keep him in Europe for a couple of years.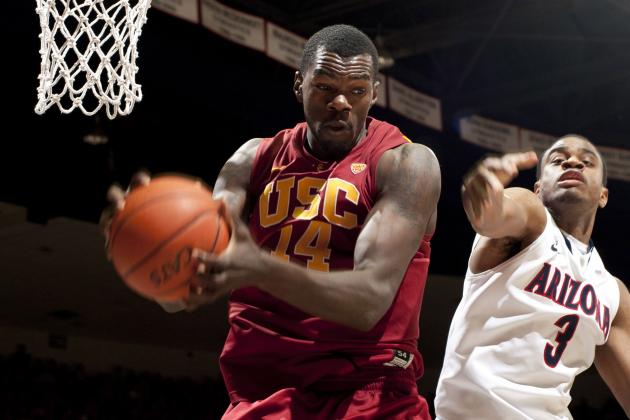 Casey Sapio-USA TODAY Sports

Vitals: 6'11", 239 lbs., 7'4" wingspan
The last prospect to hear his name called could be USC center Dewayne Dedmon.
He could help the Memphis Grizzlies out in the athleticism department, as their bigs aren't too mobile or agile at all. Dedmon's jumper is improving, and he'll be a capable body to throw in there as a low-post defender and fouler.
Follow Dan O'Brien on Twitter for more draft coverage: @DanielO_BR