Stock Up, Stock Down for Red Sox Top 10 Prospects for Week 12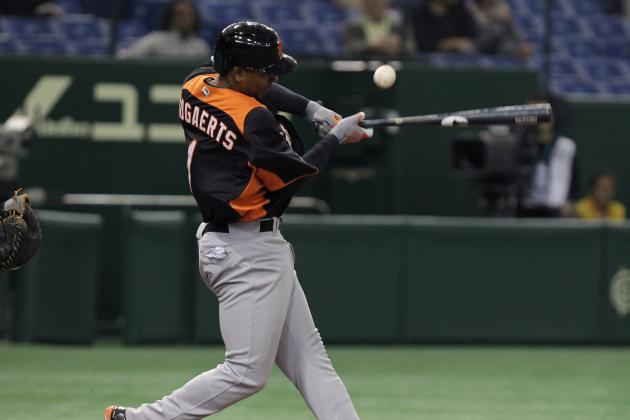 Chung Sung-Jun/Getty Images

While the Red Sox continue their fight for the top in a historically competitive AL East, prospects throughout the system are working hard to reach the big leagues some day.
Here, I have featured Boston's top 10 prospects and details about their current standing in the minor league system relative to their peers. Fortunately, most have done very well.
Please note: Players recently drafted by the Red Sox will not be included, as they do not have any statistics to draw from. If you would like more information about Boston's most recent additions to the minor league system via the draft, have a look at their scouting profiles right here on B/R.
Begin Slideshow

»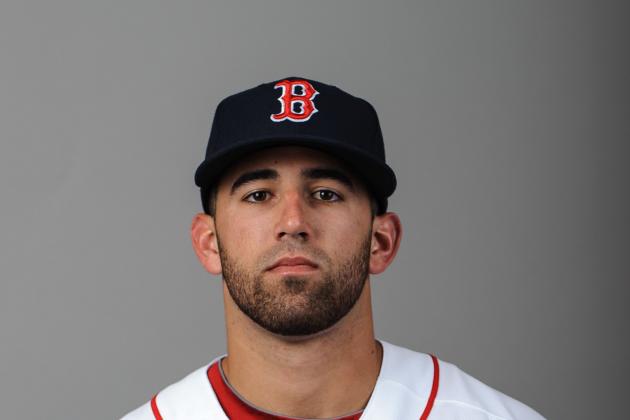 USA TODAY Sports

2013 Stats: .253/.326/.339, 15 XBH (0 HR), 31/19 K/BB (45 G, Salem)
Last 10 Days: .289/.372/.342, 2 XBH (0 HR), 8/5 K/BB
Marrero was taken early in the first round last year by Boston in the hopes that he would blossom into a star and ascend the organizational ladder quickly. That hasn't quite happened yet.
The shortstop is still a star defender who should compete for gold gloves in the big leagues, but his bat has not progressed as hoped.
In fact, Marrero has regressed in many areas. While he still makes contact at a decent rate, his power has all but vanished from his game and his once solid plate discipline has been very poor.
While he has seen an uptick in his bating average lately, he has only registered one extra-base hit in his past seven games. That trend does not bode well for the future.
Marrero is certainly talented enough to turn things around. However, his performance this year has really been horrendous. At this rate, Marrero is dangerously close to dropping out of the top 10.
Conclusion: Stock down
2013 Stats: .283/.360/.444, 22 XBH (2 HR), 36/23 K/BB (55 G, Salem)
Last 10 Days: .262/.300/.421, 4 XBH (1 HR), 12/2 K/BB
After a somewhat disappointing first full season of pro ball last year, Swihart has started to show off some of his impressive raw tools this year.
His stats won't blow you away, but they are certainly respectable for a player of his youth and limited experience.
In his most recent contest on June 22nd, Swihart went 2-for-5 with a double and two RBI.
Swihart has made some improvements this year, particularly with regards to plate discipline. His statistics have shown noticeable steps up from last year as a result.
Conclusion: Stock up
Derick Hingle-USA TODAY Sports

2013 Stats: .269/.321/.492, 29 XBH (14 HR), 62/17 K/BB (64 G, Salem)
Last 10 Days: .220/.273/.463, 4 XBH (3 HR), 10/2 K/BB
Brentz has continued his solid production this season.
The young right fielder has posted impressive power numbers at every level of the minor leagues, and this season is certainly no exception. At Triple-A now, the right-handed slugger appears nearly ready to start mashing balls over the monster.
While his power has remained consistent, Brentz has struggled to maintain a high average. In fact, he has only managed a .220 batting average over his last 10 games.
The simple fact is that Brentz cannot afford to be so impatient at the plate. His inability to take pitches and work counts has crippled his ability to maintain a high on-base percentage. Until he fixes this problem, he will not be ready for Boston.
Conclusion: Stock down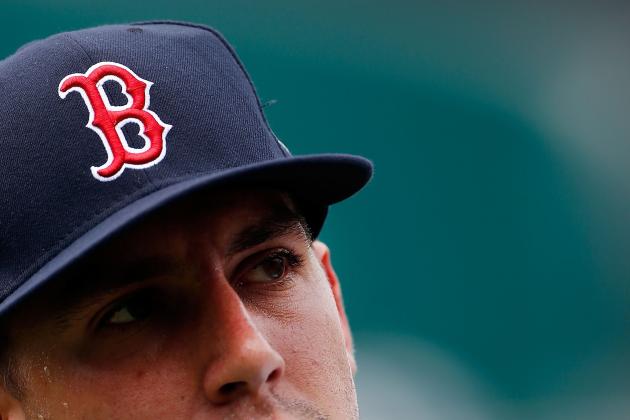 Jamie Squire/Getty Images

2013 stats: 62.2 IP, 5.03 ERA, 1.452 WHIP, 78/23 K/BB (14 GS, Portland)
Last 10 Days: 9.0 IP, 0.00 ERA, 1.444 WHIP, 14/7 K/BB (2 GS, Portland)
Matt Barnes continues to struggle in his first taste of Double-A ball.
The tall righty still has great stuff and the potential to pitch at or near the top of Boston's rotation some day, but his first taste of Double-A ball hasn't gone particularly well.
Barnes still has as good a strikeout-to-walk ratio as anyone in Boston's system, and his durability as a pitcher is unmatched. However, he just hasn't been able to hold off opposing hitters as usual.
His struggles are not unprecedented. A pitcher like Barnes, who has historically relied almost exclusively on his fastball, often experiences growing pains in the upper levels where a quality secondary pitch is required to retire hitters.
As of late, Barnes has shown signs of life. Over his last 10 starts, Barnes has posted a solid 3.88 ERA with 61 strikeouts in 48.2 innings.
It's taken time, but Barnes may be on the right track towards turning his season around. Stay tuned.
Conclusion: Stock up
2013 stats: 65.1 IP, 3.03 ERA, 1.148 WHIP, 80/28 K/BB (13 GS, Salem)
Last 10 Days: 4.1 IP, 4.15 ERA, 1.951 WHIP, 7/3 K/BB (1 GS, Salem)
Owens is in the midst of a real breakout season.
After posting huge strikeout numbers last season, many in baseball recognized Owens' massive potential. And the tall lefty has not disappointed.
While he has been dominant for the most part, Owens has struggled with consistency. After a dominant April, Owens had an awful 5.04 ERA in May, and has followed it up with a 1.26 June ERA.
His problems stem from inconsistent command and control, the Achilles heel of his game as a pitcher.
He still has some kinks to smooth out, but his massive potential should not be taken lightly. Keep a close eye on this one.
Conclusion: Stock even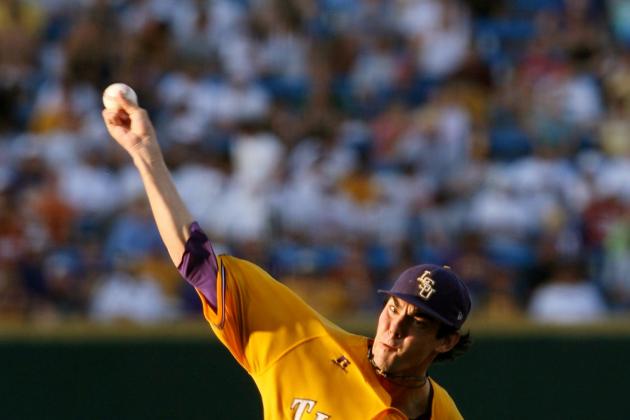 Elsa/Getty Images

2013 stats: 73.0 IP, 2.34 ERA, 0.959 WHIP, 82/23 K/BB (11 GS, Portland)
Last 10 Days: 13.2 IP, 2.03 ERA, 0.909 WHIP, 19/4 K/BB (2 GS, Portland)
With each passing day, Anthony Ranaudo is looking more and more like Boston's future ace.
The tall righty is enjoying a brilliant rebound year after an utterly horrendous season in 2012 where he spent much of his time on the disabled list.
Ranaudo has always had a very high ceiling. His curveball is still the best in the organization. Most impressively, Ranaudo has been able to vastly improve his fastball command this year, an area in which he has struggled in the past.
If he keeps up his current pace, the Red Sox may soon promote him to Triple-A. If that happens, look for the 2010 first-round pick to make his Red Sox debut some time this year.
Conclusion: Stock up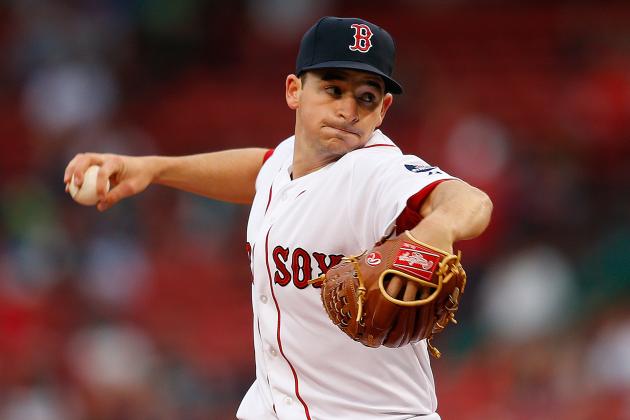 Jim Rogash/Getty Images

2013 stats: 51.1 IP, 2.98 ERA, 0.994 WHIP, 56/22 K/BB (10 GS, Pawtucket)
Last 10 Days: 6.0 IP, 0.00 ERA, 0.333 WHIP, 6/1 K/BB (1 GS, Pawtucket)
Ever since being acquired from the Dodgers last year, Allen Webster has grown into Boston's most exciting pitching prospect. He should become a staple in Boston's rotation in the coming years.
Webster has recently bounced back from a string of lackluster starts to move his ERA back under the 3.00 mark.
Despite his minor league success, Webster has struggled in his few major league appearances. In 12 innings pitched, Webster owns an 11.25 ERA, complete with two losses and no wins.
While his small big league sample size should not be taken too seriously, it is disappointing enough to offset his progress in Triple-A for the moment.
Conclusion: Stock even
2013 Stats: .345/.466/.535, 29 XBH (5 HR), 36/47 K/BB (66 G, Salem/Portland)
Last 10 Days: .250/.400/.333, 1 XBH (0 HR), 3/3 K/BB
After demolishing opposing pitchers this year at High-A Salem, Garin Cecchini has recently been promoted to Double-A. His .250/.400/.333 line in 12 at-bats in Portland so far isn't overly exciting, but is far too small a sample size to draw any significant conclusions from.
It may take some time for Cecchini to adapt to his opponents in Portland. This is his first real taste of quality breaking pitches.
The talented third baseman shouldn't have any problem dealing with whatever is thrown at him, however. He still sports the best hit tool in Boston's system and some very impressive plate discipline. Given time, he will adapt to his new environment.
Conclusion: Stock even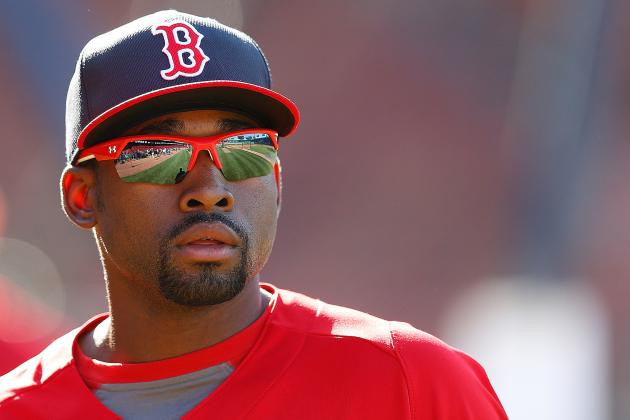 Jim Rogash/Getty Images

2013 Stats: .310/.411/.496, 17 XBH (3 HR), 28/19 K/BB (32 G, Pawtucket)
Last 10 Games: .220/.347/.366, 4 XBH (1 HR), 9/7 K/BB
After jumping back and forth between Boston and Pawtucket a couple times, Bradley has been handed a lengthy stretch in Triple-A to continue to hone his craft.
While his overall numbers have been strong, he has taken a nasty dive in the wrong direction as of late.
Over his last 10 games, Bradley has hit just .195/.313/.341 at Triple-A Pawtucket.
It's hard to decipher an exact explanation for this negative trend. Hopefully it is not a sign of things to come. The best-case scenario is that the pitchers in the International League are starting to adapt to Bradley by pitching to his weaknesses. If this is the case, it will provide a good test for the young center fielder.
Time will tell whether he can overcome this challenge.
Conclusion: Stock down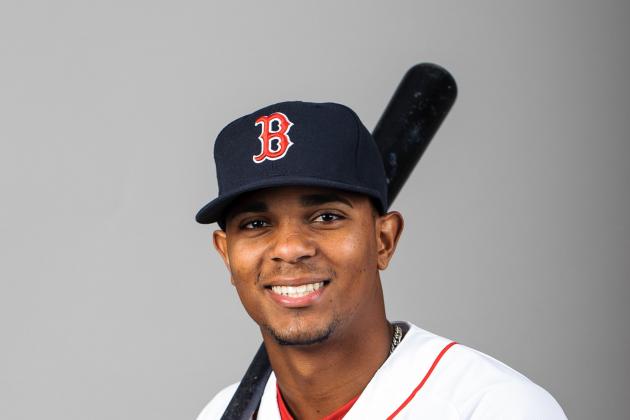 USA TODAY Sports

2013 Stats: .295/.389/.492, 27 XBH (9 HR), 62/39 K/BB (66 G, Portland/Pawtucket)
Last 10 Games: .205/.279/.436, 3 XBH (3 HR), 11/4 K/BB
Xander Bogaerts has been the talk of the town lately. Well, at least he would be if it weren't for the Stanley Cup. Bruins in seven!
Anyway, I digress. The 20-year-old shortstop has exceeded all expectations this year. He thrived at Double-A, hitting for power and posting some of the best on-base numbers of his career. He hit so well at in Portland that the Red Sox gave him a very aggressive promotion to Triple-A.
His first taste of the highest minor league level has not been stellar. In 10 games, he's posted a .205/.279/.436 slash line. He has, however, mashed three home runs already, which gives you a preview of his impressive power.
While his work at Triple-A so far has not been great, it's far too early to judge him. In all likelihood, Bogaerts will spend the rest of the season in Pawtucket to refine his approach at the plate and work on his defense. There will be some rough patches here and there, but in the end, he will be a vastly better player for it.
With any luck, he will make his Red Sox debut when rosters expand in September.
Conclusion: Stock even