Ottawa Senators: Complete Guide to the 2013 Offseason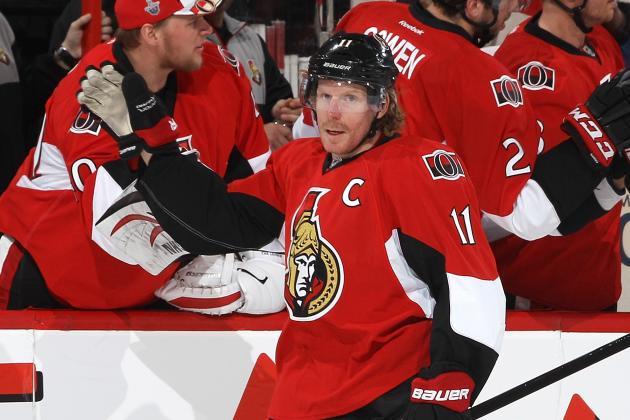 Jana Chytilova/Freestyle Photo/Getty Images

The Ottawa Senators made a lot of progress this season, but ultimately started their offseason earlier than they would have liked after a five-game series loss to the Pittsburgh Penguins.
The Senators rolled over the No. 2 seed Montreal Canadiens in the first round, taking just five games to do so, before running into the buzz saw Pittsburgh Penguins' offense in the second round.
Ottawa vastly improved, even from the previous year, despite missing 382 "man games" to injury this regular season, per mangameslost.com.
But in order to get better and not just dwell on the season that was had by the young Ottawa Senators, general manager Bryan Murray and company must develop an efficient offseason strategy for the coming months.
Here is what part of that plan should and will look like.
Begin Slideshow

»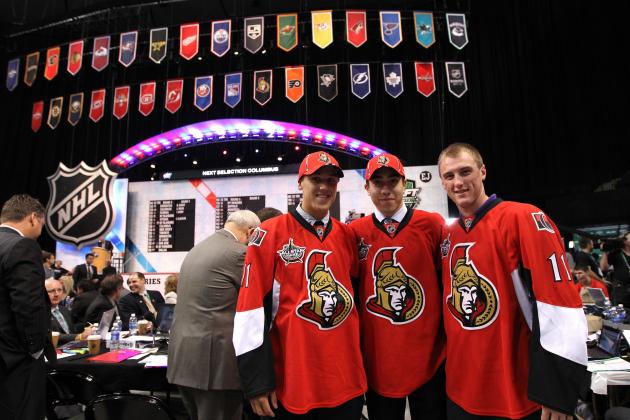 Bruce Bennett/Getty Images

The Senators' management has done an excellent job of drafting over the past five seasons.
Starting with Erik Karlsson at 15th overall in 2008, the Senators have gotten NHL regulars like Patrick Wiercioch, Zack Smith, Jared Cowen, Jakob Silfverberg, Robin Lehner, Mika Zibanejad and Jean-Gabriel Pageau to name a few.
So who will the Senators take with the No. 17 overall selection this year? Well, no one knows for certain—probably not even Bryan Murray.
This is because Murray is actively pursuing moving up in the draft to "maybe [get] a better player," according to Ken Warren of the Ottawa Citizen.
Murray continues in the Ottawa Citizen to say: "Where we are right now, I don't think we'll get that top six (forward)...maybe if we're patient enough and wait three or four years (to develop), but if you move up, there's a chance to maybe get that better player."
Strictly put, Murray doesn't have four years to wait for a top-six forward. This is because the Sens need offense now, as they were 27th in the NHL in scoring with 2.33 goals per game.
Although some would chalk that up to the lack of highly skilled offensive players like Erik Karlsson and Jason Spezza—they were injured for the majority of the season and really didn't get back to full speed, even in the playoffs—the fact remains that the previous season, Ottawa was only middle of the pack at 15th overall in goals per game.
The thing to watch in this draft, obviously, is whether the Sens will actually get to move up and possibly select that "top-six" player—whoever it may end up being.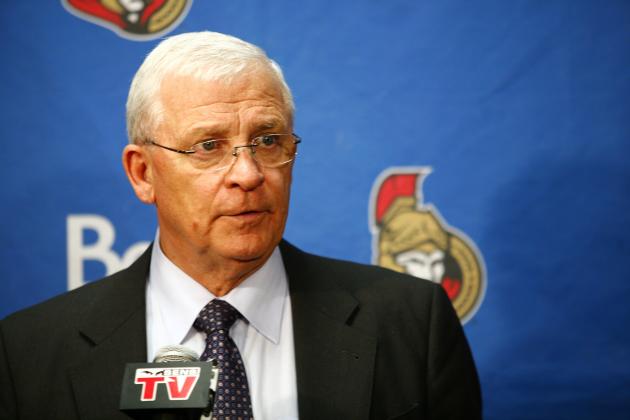 Phillip MacCallum/Getty Images

Per CapGeek, the Senators have just over $22 million in cap space in the days leading up to the draft. This is plenty of space, as they have seven free agents this offseason.
The Senators have the cap space they need to make some serious moves in free agency if they want to do so. Although not normally a high free-agent destination, when it comes to a bidding war, the Senators could win one if they were forced into such an event.
Although the free-agency market is thin this year, the extra cap space that they have over most other teams (sixth most cap space with 19 players already under contract for next season) will come in handy when they attempt to go after players in free agency in a couple weeks.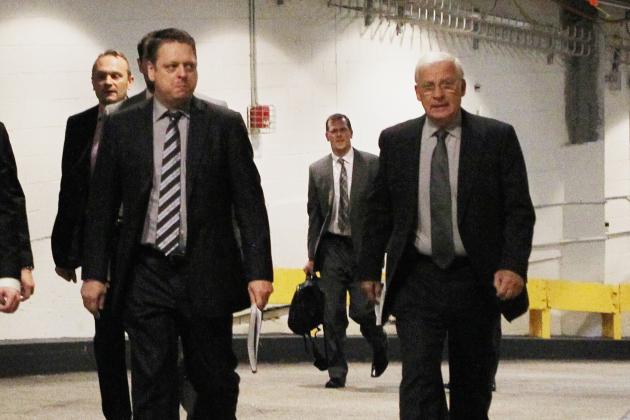 Bruce Bennett/Getty Images

With $22 million in cap space and 19 players signed to the roster, it would be nothing short of incredible if the Senators used either of their cap compliance buyouts this offseason.
There are three free agents who likely won't be re-signed, but they will be mentioned on the next slide.
For now, the only thing that needs to be stated is that unless Bryan Murray goes absolutely crazy in free agency this year in terms of big-money signings, the Senators will not have to buy out anyone in the near future.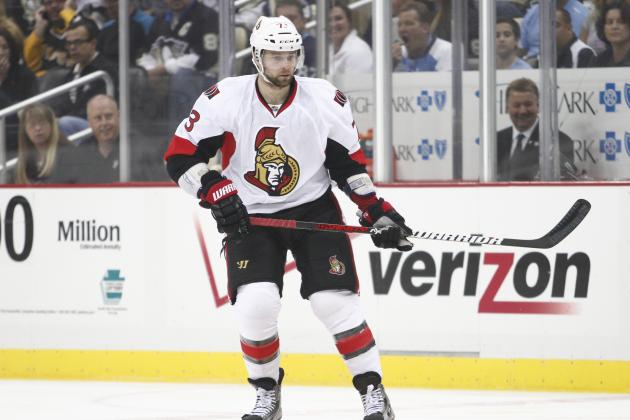 Justin K. Aller/Getty Images

Three unrestricted free agents likely won't be back with the Ottawa Senators next season. Those three players are Guillaume Latendresse, Peter Regin and Mike Lundin, as per Bruce Garrioch of the Ottawa Sun.
Garrioch wrote a couple weeks ago "Ottawa won't be bringing [Latendresse] back next year. Expect center Peter Regin and defenceman Mike Lundin to be given similar news if they haven't been already." Lundin and Regin combined for just four points in the regular season, while Latendresse had just 10 points.
The big remaining question for Sens' fans is then: "What about Alfie?"
Daniel Alfredsson has yet to make up his mind one way or another as to whether he will play another season as the captain of the Ottawa Senators.
Chris Lund of OttawaSenators.com asked Murray about Alfredsson.
We have talked, I've talked to Alfie in the past couple of days. I told him to take whatever time he needs and come back to me when you can -- as early as you can, that would help me -- but do whatever you have to do to satisfy your family to make sure you're ready to play. When he's ready to give me an answer we're ready to talk about doing something going forward.
The fact of the matter is that Alfredsson, in the eyes of many fans and hockey pundits, has one more good year left. The Sens captain had 26 points in 47 games this season.
But whether or not Alfredsson wants to play another season is up to him completely.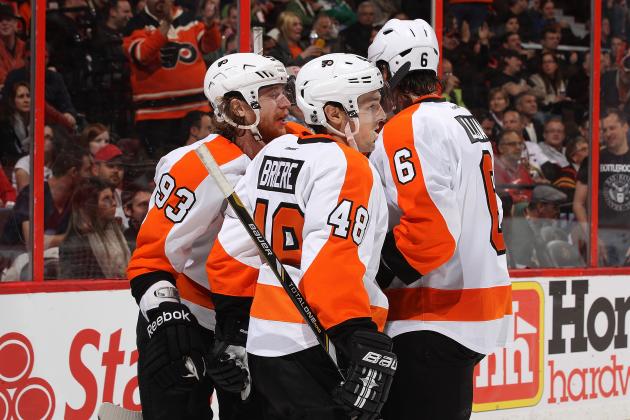 Jana Chytilova/Freestyle Photo/Getty Images

So just who will the Ottawa Senators go after in the free-agency market?
Well Danny Briere is certainly an option after getting bought out by the Philadelphia Flyers. But Briere would only be in play if Daniel Alfredsson retires, according to Ken Warren of the Ottawa Sun.
This is mostly because Briere doesn't fit the Sens' "chief need" which, according to Warren, is "a big power forward in his mid to late 20s."
But a lot will be decided at the NHL draft, where there could be a flurry of action as general managers try and dump salary for next season.
The Senators will look to the very thin free-agent market, but only if they cannot accomplish anything at the draft in the way of trading for a top-six (or even top-line) forward.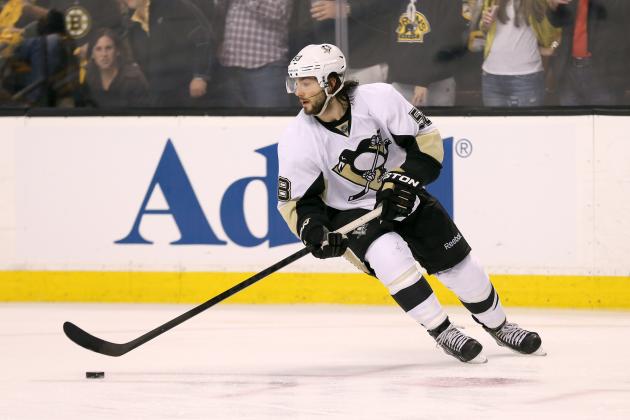 Bruce Bennett/Getty Images

The Pittsburgh Penguins have worked themselves into a bit of a financial bind with the recent contract extensions to Sidney Crosby and Evgeni Malkin. The Penguins have an astonishing $38 million tied up in just six players for the 2014-15 season and need to figure out how to dump players with big-time salaries.
Enter the Ottawa Senators and their cap space.
The Sens' ability to take on cap space, but more importantly give Pittsburgh cap space with a trade of a top player, would be a great bargaining chip for Bryan Murray if he tries to pull a trade with Pittsburgh GM Ray Shero.
Shero would be hard-pressed to trade one of his prized top players, like James Neal or Kris Letang, to the Ottawa Senators, while enhancing his conference rival's chances of making the playoffs and knocking out the Penguins in a future matchup.
But a player like Neal or Letang is exactly what the Senators need to re-ignite their stagnant middle-tier (at best) offense.
Ken Warren of the Ottawa Citizen suggests that Neal might make a nice fit in Ottawa but also lays out the possibility of getting Bobby Ryan from Anaheim.
But forwards aside, imagine Kris Letang and Erik Karlsson on the same power play.
Yikes.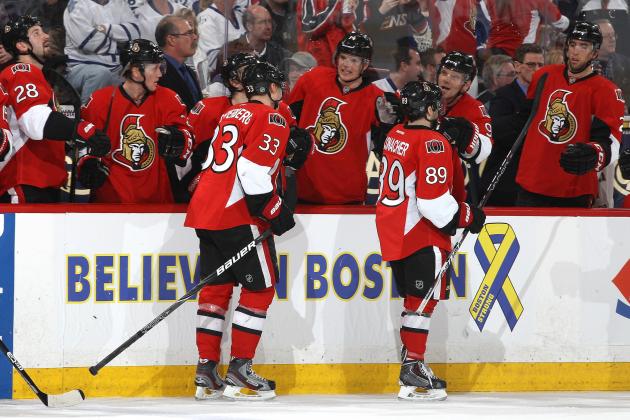 Jana Chytilova/Freestyle Photo/Getty Images

Mike Zibanejad and Jakob Silfverberg made up the Senators' second line for most of this season. Then the Senators got Cory Conacher at the trade deadline for Ben Bishop.
Those three former prospects form the future face of the franchise for the Ottawa Senators.
Zibanejad had 20 points in 42 games this season, Silfverberg had 19 points in 48 games and Conacher had 29 points in 47 games.
The Senators have eight forwards and defensemen who are either restricted free agents this year or in the coming years, so they are extremely deep in the talent pool in that regard. Their AHL affiliate, the Binghamton Senators, won the Calder Cup in 2011, so there are players that are likely ready to come up to the NHL as well.
Even if the Senators can't get that big name or two via a trade, but their prospects continue to develop offensively, Ottawa is in excellent shape.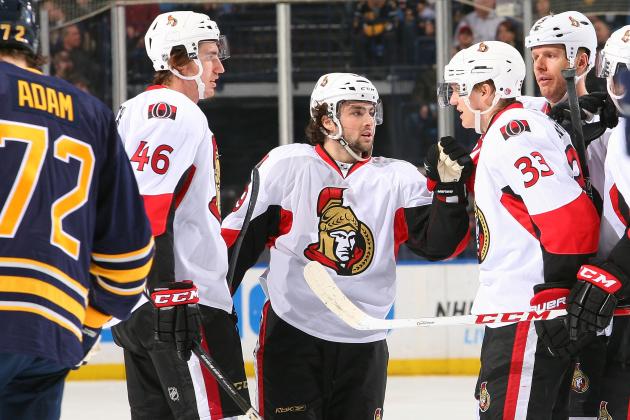 Jen Fuller/Getty Images

The future is here and now for the Ottawa Senators. With their prospects (as mentioned on the last slide) being excellent and the cap space that Bryan Murray has to work with, the Sens are well on their way to greatness.
There are three things that stand between the Ottawa Senators and excelling exponentially.
The first is that the Senators are having three teams added to their division next year, so it will potentially be harder to qualify for the playoffs with 16 teams in the Eastern Conference.
The second is experience.
Some of the players on the Senators have only played one or two seasons of NHL action. While a season or two is better than nothing, these players still have yet to face a year in and year out kind of grind in the NHL.
The third thing is injuries. Will the Senators be a healthy team next year? Just how healthy will they be? Will they again be among the lead leaders in man-games lost to injury?
The Senators will likely be even better next season than they were this season. But that depends mostly on the health of their players, as well as how quickly some of the younger guys can fully excel in the NHL.
All numbers courtesy of NHL.com or CapGeek.com unless otherwise noted.
For more article updates, Follow @Isaac_Smith91