The big news over the weekend in the NBA was Doc Rivers' move from the Boston Celtics to the Los Angeles Clippers (as noted here by NBA.com), but that deal will pale in comparison to the chatter that's preparing to grace the rumor mill in the days before the 2013 NBA draft.
And in the days after, for that matter.
We've got you covered on the latest rumors surrounding a trio of small forwards—Dallas Mavericks' Shawn Marion, Chicago Bulls' Luol Deng and Boston's Paul Pierce—who all might have new teams in the next few weeks, and other reports that could affect your favorite NBA franchise.
The 2013 draft will surely shake up the framework of the league, like it does every year, and the best time for teams to really explore the possibility of acquiring assets for players is the period we're sitting in right now.
Take a look at the latest batch of NBA rumors below, and what they might mean for your franchise moving forward.
Luol Deng to Washington for No. 3 Pick?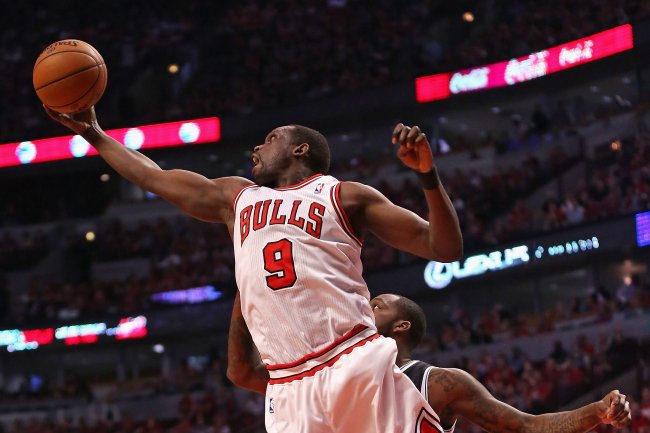 Jonathan Daniel/Getty Images
Luol Deng has been a key cog in the success of the Chicago Bulls over the last few years, even taking on a bigger role to make up for the fact that Derrick Rose didn't play a minute for the team this year.
Even so, it seems that he's been in the midst of some "exploratory" trade discussions between the Bulls and the Washington Wizards, the latter of whom reportedly has offered the No. 3 pick and Emeka Okafor to the Bulls in exchange for the two-time NBA All-Star.
ESPN's Marc Stein had the report on Monday afternoon.
Deng has just one year and roughly $14.3 million left on his contract, while Okafor would have to opt in to the final year of his contract ($14.5 million) for the trade to go through. Stein also mentions Cleveland as a franchise with possible interest in the 28-year-old small forward.
However, Michael Lee of the Washington Post later reported that two league sources with knowledge of the team's thinking said that there was no truth to the reported conversations between the two teams, and that Washington fully intends to use the No. 3 pick on Thursday night.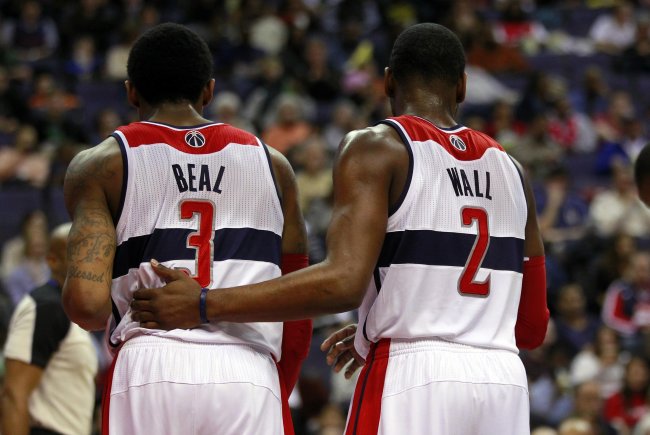 Geoff Burke-USA TODAY Sports
The chasm between rumor and reality is often a fine line, so you're now left to decipher which rumor is closer to the truth. While Deng would fill an obvious need for the Wizards at shooting guard, he does have only one year left on his contract, and there are two noted options (Otto Porter and Anthony Bennett) who could be available for the Wizards when this pick is made.
Either way, it appears the Bulls are at least mulling over the possibility of life without Deng, an option made possible because of Jimmy Butler's strong sophomore season.
Shawn Marion/Paul Pierce Both Linked to Cavs
The Cavs are mentioned above as a potential suitor for Deng, and they have also been mentioned league-wide over the past few weeks as suitors for a number of different players because of the assets they have acquired in different deals.
Add Mavs forward Marion and C's forward Pierce to the list.
Marion has been a key cog for the Mavericks for the last few seasons, most notably as a defensive stopper and offensive spark plug during the team's 2011 NBA championship. He has a player option for just over $9 million he'll need to decide on this offseason, and that option impacts his ability to be dealt.
Stein noted as much for ESPNDallas.com on Monday, claiming that while Marion remains high on Cleveland's most-coveted list, the Mavs have not had any discussions about trading the 35-year-old in conjunction with the No. 13 pick that Dallas owns in the first round of the draft.
The Mavs have been looking to trade the No. 13 pick and shed cap space since the draft lottery (as noted here by ESPN's Tim MacMahon), and dumping Marion together with that pick would free up roughly $11 million for Dallas to throw at Dwight Howard and others in free agency. Right now, though, don't count on Marion changing uniforms just yet.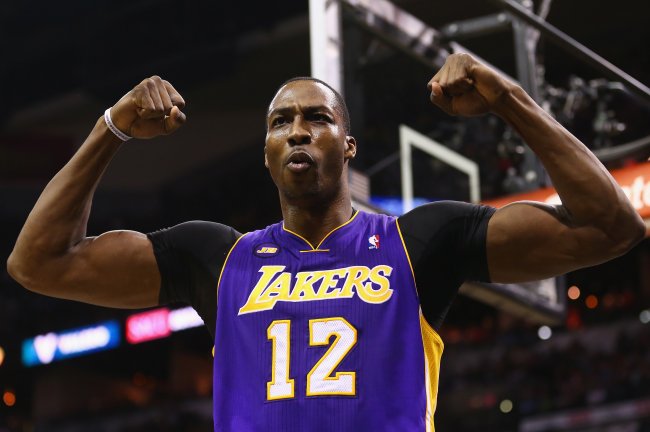 Ronald Martinez/Getty Images
Pierce is the more likely of the two to be joining the Cavs this offseason, an idea that gained a lot of ground when Rivers made his move to the Clippers official over the weekend. As noted by Fox Sports' Sam Amico, the C's are now looking to gut the roster, and Pierce—along with his $15.3 million salary—is a good place to start.
Which player should the Cavs target?
Baxter Holmes of The Boston Globe also chimed in with a similar report on Monday, claiming his sources have linked the Celtics and Cavs on discussions that would send the one-time NBA champion and his lifetime of experience in Boston to Cleveland to pair with Kyrie Irving next season.
Holmes notes that discussions are in the preliminary stages, but getting draft picks and cap space has to be at the top of Boston general manager Danny Ainge's list when it comes to offseason priorities.
Right now it looks like Pierce is a hotter trade candidate to join the Cavs than Marion is, but a lot can change between now and the draft on Thursday, and even more can change in the days to follow.
More NBA Rumors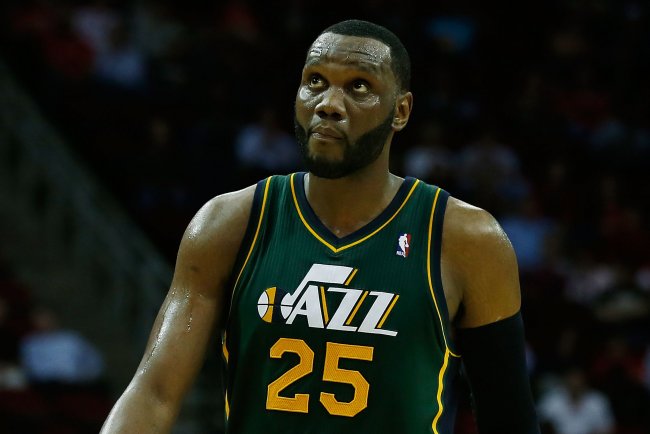 Scott Halleran/Getty Images
Al Jefferson has been downright dominant at times during his nine-year NBA career, but it appears his third NBA stop will not be his last.
According to Stein, the Utah Jazz are prepared to let Jefferson's third season with the franchise be his last:
Been hearing this one more and more lately: Rising sense out there that Jazz might simply let big man Al Jefferson walk in free agency

— Marc Stein (@ESPNSteinLine) June 24, 2013
Jefferson averaged 18.5 points and 9.5 rebounds in his three years with the Jazz, but Utah has two emerging posts (Enes Kanter and Derrick Favors) that need consistent minutes, and the future of Paul Millsap is also in the air.
Although he would likely draw less interest on the open market than Howard or Andrew Bynum, there could be a premium for a guy who puts up the numbers he does and shoots 50 percent from the floor for his career.
According to ESPN's Ric Bucher on Sulia, Danny Granger and LaMarcus Aldridge are two other players who are noted All-Star veterans who could be dealt in the coming weeks. Both have had injury concerns over the past couple of seasons, but both are no-doubt big-time players and would be welcomed additions to a hole at their position.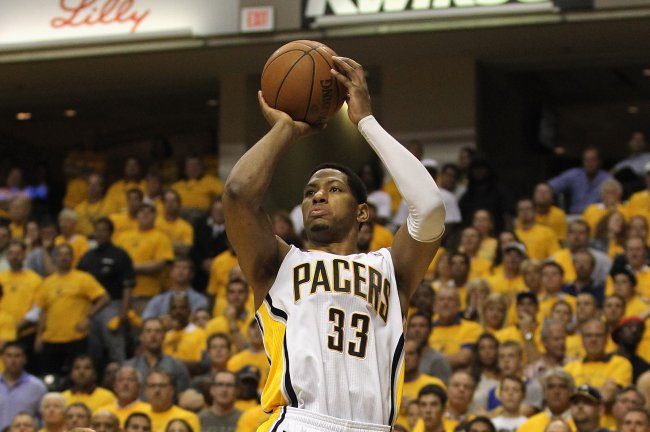 Jonathan Daniel/Getty Images
Granger missed the 2013 playoffs, but his team made it within one win of the finals, opening the door to the idea that he and his large salary are expendable. Portland missed the playoffs, and Aldridge's exit would open the door for the Blazers to officially start rebuilding around 2012-13 Rookie of the Year Damian Lillard.
Some other notes from Amico's earlier post include the idea that Cleveland is still undecided about the No. 1 pick, noting that as many as five players (Alex Len, Nerlens Noel, Ben McLemore, Otto Porter and Anthony Bennett) are still in play for the top draft spot.
Amico addressed embattled Kings center DeMarcus Cousins in his Monday piece, too, but his findings were similar to his tweet from Sunday evening:
Quick note: Kings quietly finding out value of C DeMarcus Cousins not real high, sources say, because of his well-documented issues.

— Sam Amico (@SamAmicoFSO) June 24, 2013
The topic on everyone's mind—D12 and free agency—also appeared in Amico's latest roundup, but he claims that the Houston Rockets are now the front-runner for Superman:
In the most-pressing Lakers news, league executives are beginning to strongly believe center Dwight Howard will sign with the Houston Rockets in free agency. That said, not one of those executives is certain of Howard's actual plans, and he too appears to remain undecided.
One final draft note—Yahoo! Sports' Marc J. Spears noted on Monday that the Atlanta Hawks are looking to dangle their two first-round picks (No. 17 and 18) in hopes of moving up earlier in the round.
According to Spears, the target of that attention could be UCLA small forward Shabazz Muhammad, who was a sure-fire lottery pick earlier in the process but has dropped below some of his fellow prospects during the course of the draft process.
Follow B/R's Ethan Grant (@DowntownEG) on Twitter.