What Early Vegas Win Totals Tell Us About 2013 College Football Season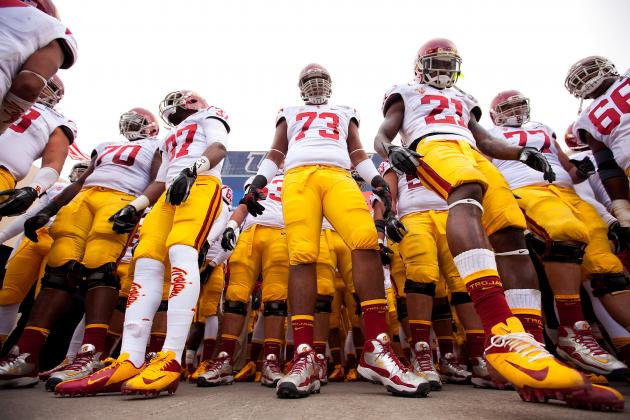 Ivan Pierre Aguirre-USA TODAY Sports

College football fans everywhere spend the gloomy days of the offseason predicting the win totals of their favorite teams. Some like to shoot for the stars and hope for a miracle, while others are a little more realistic and know that their team isn't going to amount to much.
Via Beyond the Bets, offshore sportsbook 5Dimes has released a sample of the win totals for some of the top programs. Odds like these can tell you a lot about which teams are expected to make a run and which should be prepared for their season to end early.
Although many odds are still to be determined, there is enough to draw a few conclusions. One Pac-12 team begins the season with insane expectations, another is no longer the team flying under the radar and one SEC team is expected to run through its schedule.
Begin Slideshow

»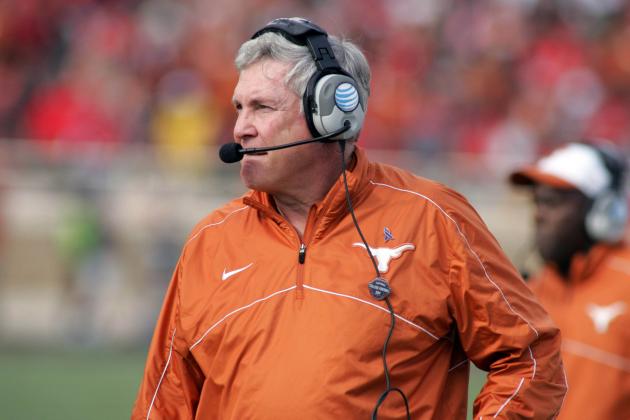 Michael C. Johnson-USA TODAY Sports

Every year is supposed to be the year for Texas, but the last three haven't been so kind. Like many die-hard Longhorns fans, Vegas isn't giving up hope. The win total has been set to a solid 9.5, which would be the most victories since 2009 if the over can be met.
While falling short of expectations has become a trend for this program, this would be the season to turn things around. Texas returns 19 starters, has experience at quarterback and a favorable schedule with Oklahoma State, Kansas State and Texas Tech having to travel to Austin.
Texas would put itself in position to win a wide-open Big 12 with 10 victories. It would also make a case for a BCS bowl and easily save Mack Brown's job for another season.
Hey, at least Vegas believes.
USA TODAY Sports

Texas, Michigan, Notre Dame and USC are just a handful of the schools that receive media hype regardless of the circumstances. The Trojans could have lost every starter from a year ago and have a team full of freshmen, and some would still pick them to win the Pac-12.
The win total for the team out west is set at 10.5.
Huh? Did oddsmakers not have a television set last season? Somebody might want to send these guys some film on last season's disaster. That line is steep for a team that doesn't have an answer at quarterback, little depth at wide receiver, questions in the secondary and a questionable head coach in Lane Kiffin.
A road schedule that includes games at Arizona State, Notre Dame and Oregon State doesn't inspire much confidence.
Even USC fans would be shocked with more than 10 wins.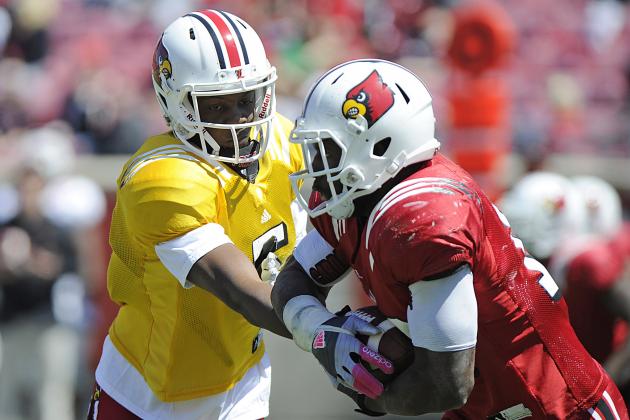 Jamie Rhodes-USA TODAY Sports

Without looking, where would you put the win total for Louisville?
The Cardinals are probably the best bet to go undefeated. They have a Heisman candidate quarterback and a schedule full of teams your local high school could beat.
Vegas still isn't sold, as the win total is set at 10.5. This must have something to do with the questionable health of quarterback Teddy Bridgewater. If he stays healthy, there is little reason why Louisville can't beat Ohio, FIU, UCF and Connecticut with ease.
This line is incredibly low for a team returning 15 starters, including one of the best NFL draft prospects. Like many college football fans, oddsmakers may simply not know enough about this team to move the line any further.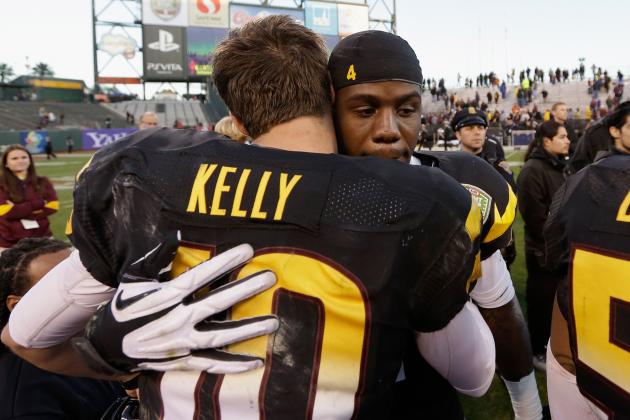 Ezra Shaw/Getty Images

Arizona State has received a lot of hype this offseason, and some are bold enough to predict a Pac-12 title. The Sun Devils return six key pieces offensively and have eight defensive starters who helped produce 51 sacks last season.
Head coach Todd Graham has this team heading in the right direction.
It was going to be interesting to see if some of the chatter would make its way to the betting world. It clearly did. The Sun Devils win total is set at 9.5, which may only be one win more than last season, but is saying a lot in an improved Pac-12.
Arizona State also has Wisconsin on the road and Notre Dame at Cowboys Stadium as non-conference opponents. That doesn't include the task of playing Stanford and UCLA on the road.
The Sun Devils can no longer be considered a dark horse with Vegas officially jumping on board.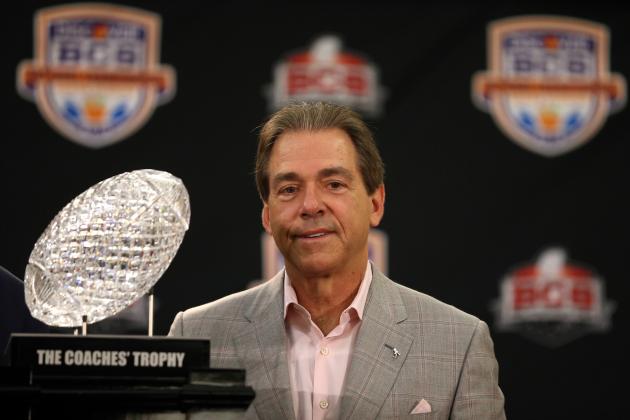 Streeter Lecka/Getty Images

Word around town is that Alabama is the best team in the country and expected to win a third straight national title.
If you needed any more reason to believe how serious the expectations are, the win total has been set to a ridiculous 11.5. That means there is a slight chance the Crimson Tide could lose one game, but don't you go getting carried away expecting anything more.
LSU? Virginia Tech? Texas A&M? Just pick one team to knockoff the defending champions.
It wasn't a question that Alabama was the favorite. The win total is just a reminder how great this team is expected to be.