Why We All Should Have Seen the Los Angeles Angels' 2013 Letdown Coming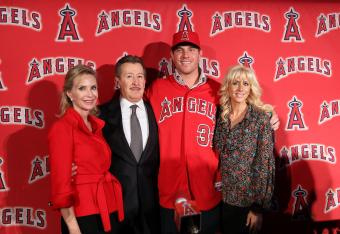 The fix?
Victor Decolongon/Getty Images
Heading into the 2013 season with the fourth-highest payroll in the MLB, stacked with a lineup that, on paper, was good for at least 900 to 950 runs scored and two above-average arms atop the rotation, you would never think that a word such as "quagmire" would best describe the Los Angeles Angels' current situation.
Well, then consider this the unthinkable: The Los Angeles Angels are currently in a quagmire.
It was almost destined to happen. Angels' fans and suits within the organization should have seen this struggle coming.
The made-for-TV script had all the makings of possible failure: money, hype and questionable acquisitions that failed to fix the problems of 2012.
There was the loss of the "clubhouse guy" in Torii Hunter.
There was the loss of Zack Greinke to the Los Angels Dodgers.
There was the release of Dan Haren—but not without the confusing Chicago Cubs' talk first.
There was the trade of Ervin Santana for Brandon Sisk (remember him?).
There was the blockbuster—albeit confusing—signing of Josh Hamilton.
There was the pick up of two health-risked relievers, Ryan Madson and Sean Burnett, trumped by the trade of Jordan Walden for also-injured Tommy Hanson.
There was Joe Blanton—never forget.
At some point in all this, the Angels moved the writers' beloved press box down the first-base line, in order to make room for the All-Star Club. It was a velvet rope short of being a true Los Angeles scene, but I digress.
Regardless, things were happening. Not necessarily things that win championships, but it made for a nice read.
Behind it all, there was a heavy-spending owner—who doesn't understand chemistry, but does understand headlines—and a general manager who was unproven in my opinion (Houston Astros?).
I guess when you get it all down on paper (or the computer screen) you really have to ask, "How did the general masses of Halo-toting fandom not see this coming?"
This wasn't some hidden virus for scientists (or MLB analysts) to snuff out, while dawning the yellow HAZMAT suit. This was Godzilla in a giant, red hat and Angels jersey that said, "Money won't solve the problem!"
But it happened anyway.
There, by the beginning of April, stood a team that had no idea about the amount of pressure that was going to rest on its shoulders, nor was it built to handle it.
Period.
There stood a team we couldn't wait to see fail, and they have certainly failed.
Naysayers rejoice.
It was a perfect storm—the Angels were banking on a solid starting nine, while lacking a decent bench or farm system, should there be trouble down the road—and, as we have seen, there has been trouble down the road.
But the media and fans didn't dissect this too much. The hype of the lineup, collectively led by the new trio—Hamilton, Mike Trout and Albert Pujols—overshadowed the questionable pitching staff, and injuries are usually not put on the worry list until they have already happened.
With the amount of run potential, it made sense at the time, but it was still a huge risk. Top-heavy rosters almost always get exploited at some point, and the Angels are no exception.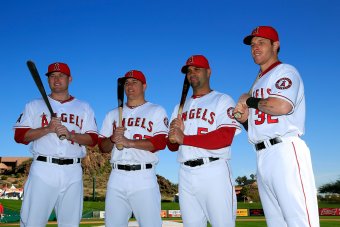 Jamie Squire/Getty Images
For all of the movement, it landed well short of making the team look any better than the previous year.
Then the season began…
Now, as the team sits 10.5 games back from first place for the first time since 2003, all of the mistakes in the offseason are magnified.
But is it a surprise?
It's OK, I didn't think so either.
Though it's never good to include anything related to the Los Angeles Dodgers when it comes to lessons learned for the Angels, perhaps this is the one time—especially for the front office—the Halo community should listen to Don Mattingly, because he saw it coming.
In fact, he explained it, adamantly, to members of the media, including Fox Sports' Ken Rosenthal:
There has to be a mixture of competitiveness. It's not, 'Let's put an All-Star team together and the All-Star team wins.' It's finding that balance of a team that has a little bit of grit and will fight you. And also having talent to go with it.
Too little, too late, Donny Baseball, but that's what all of Los Angeles—Anaheim to Downtown—should have understood back in February.
For more opinionated wisdom, or the random re-Tweet from Rick, follow him on Twitter@rick_suter.
This article is
What is the duplicate article?
Why is this article offensive?
Where is this article plagiarized from?
Why is this article poorly edited?

Los Angeles Angels: Like this team?