Analyzing the Resumes of the Current UFC Champions
Buda Mendes/Getty Images

The UFC talent pool, from weight class to weight class, is as good as it's ever been. No, it's better. The competition has never been this good.
And the heightened competition has yielded a field of champions unlike any we've seen. From Anderson Silva and Georges St-Pierre, who have dominated for years and years, to Ronda Rousey and Renan Barao, champions currently working to create legacies, the 10 UFC champions (including one interim champion) have resumes ranging from respectable to downright incredible.
Bleacher Report takes a look at the resumes of these champions, analyzing them by taking strength of competition, statistics and other factors into account.
Check out the insight into the body of work for each UFC champion.
Statistics Courtesy of FightMetric.
Begin Slideshow

»
Jayne Kamin-Oncea-USA TODAY Sports

We don't have a ton to look at when it comes to Ronda Rousey, but the info we do have is pretty impressive.
Rousey debuted in the UFC at UFC 157 against Liz Carmouche, putting away the heavy underdog with a first-round submission—an armbar. Speaking of first-round armbar submissions, Rousey has finished all seven of her professional fights in that manner, including her two Strikeforce championship tilts.
Unfortunately, when it comes to putting together a resume, Rousey doesn't compile a body of work as impressive as most UFC champions, if only because her career with the promotion is so young, while the competition is so shallow.
With wins over former Strikeforce champions Sarah Kaufman and Miesha Tate, along with her first UFC title defense, Rousey has wins over a few of the women's bantamweight division's top fighters. In fact, all three are top-five contenders.
But, as the division builds, so too must Rousey's resume.
She next meets Miesha Tate. The two are currently coaching opposite one another on the latest season of The Ultimate Fighter. She'll need a win in that fight plus a few more before she matches the resumes of the other UFC champs. But, given her skill set, Rousey should be able to accomplish that...and more.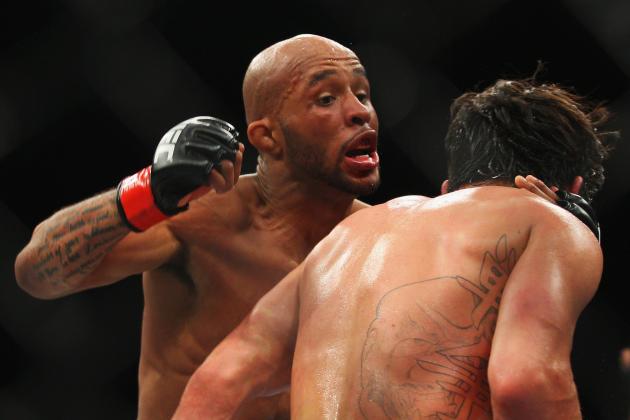 Mark Kolbe/Getty Images

Demetrious Johnson is currently ranked No. 7 on the official UFC pound-for-pound rankings, and that has a lot to do with how competitive he was as an undersized bantamweight.
He was 4-2 at the 135-pound mark between his WEC and UFC careers, losing only to contender Brad Pickett (his WEC debut) and Dominick Cruz, the bantamweight champion.
Now at a more natural 125 pounds, Johnson is 3-0-1 and holds the flyweight title, but, considering the weight-class change and the lack of depth in the division, his track record could use a few more wins.
Johnson's first fight in the new division came against Ian McCall, which ended in a draw and led to an immediate rematch. Johnson won in their second meeting via unanimous decision, setting him up for a title shot opposite Joseph Benavidez.
At UFC 152, Benavidez, the favorite, fell short on the judges' scorecards, and Johnson walked away with the split-decision and the belt.
His next contest, a championship tilt against John Dodson, also ended with a decision in favor of the "Mighty Mouse."
Of course, Johnson doesn't have the resume of some of the other champions, but the UFC flyweight division is just over a year old, and we've had just two title fights since its inception.
Johnson has been good—or at least good enough—thus far, but it's still a bit too early to tell how strong a champion he will be.
His fight against John Moraga will be another test, and if Johnson should get through the challenger, we'll have a better grasp on where he stands as a champion. Of course, a second win over Benavidez after their close first fight would go a long way in further solidifying Johnson as the top flyweight.
Todd Warshaw/Getty Images

Dominick Cruz has a good resume, make no mistake. One problem: It hasn't been updated in almost two years.
"The Dominator" has been sidelined for some time due to knee issues. Though a return seems to be in sight, no one is quite sure when he will be back to defend his title.
And the division is waiting.
During his time in the WEC, Cruz was 3-0 in championship fights, earning victories over Scott Jorgensen, Joseph Benavidez and Brian Bowles. When the WEC folded, he was brought over to the UFC as the first-ever bantamweight champion.
He went 2-0 in his new home, defeating Demetrious Johnson and Urijah Faber, but he's been absent since then.
In his place, Renan Barao serves as the interim champion as he patiently awaits Cruz's return. But he's not the only one waiting in the wings. Michael McDonald, Urijah Faber, Eddie Wineland and a handful of others have only improved since Cruz's time away from the cage, leading to a growing list of contenders.
And a fight against Barao would be the biggest test of Cruz's career.
Another troubling aspect of Cruz's resume is this: Two of his four title defenses have come against guys now fighting at flyweight (Johnson and Benavidez).
Obviously, those matchups weren't as lopsided as, say, Jon Jones vs. Vitor Belfort, or Jon Jones vs. Chael Sonnen, considering Belfort and Sonnen went from 185 pounds to 205 pounds. But Benavidez and Johnson are definitely more competitive at flyweight, where they aren't so undersized.
But what about Cruz's other victories?
In his three other victories in title fights, Cruz topped the aforementioned Faber, Scott Jorgensen and Brian Bowles. The Faber win is a quality one, as "The California Kid" has long been competitive at the elite level of whatever division he wants to fight in.
But the wins over Bowles and Jorgensen were not nearly as significant. The former is on a two-fight losing streak and can't stay healthy. The latter is 1-3 in his last four fights, sending him out of contention.
In order for Cruz to prove he is the top bantamweight, he's going to need to get healthy...and quickly. Barao has fought and defeated tougher competition and, for my money, is the top 135-pound fighter on the planet.
More on that on the next slide.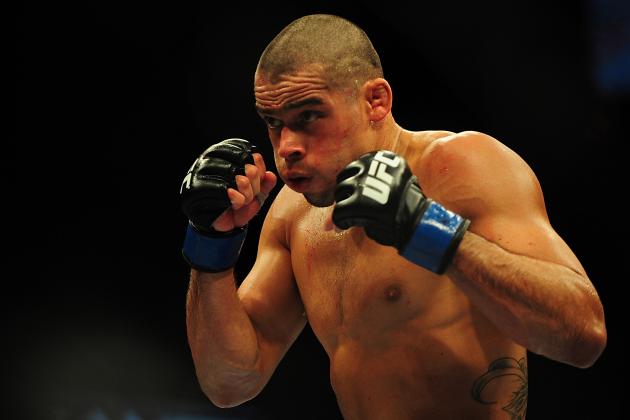 Anne-Marie Sorvin-USA TODAY Sports

Yes, I meant it when I said it. Barao is the best bantamweight on the planet.
Here's why.
Barao is 5-0 in the UFC, including a win over Urijah Faber at UFC 149 to secure the interim title. He went on to defend that title this past February against Michael McDonald. And prior to that he defeated Brad Pickett, Scott Jorgensen and Cole Escovedo.
Altogether, he has defeated three top-five bantamweights, while Cruz has defeated one. Barao is 4-0 against the division's top 10, including two submission wins. Cruz is 2-0 and hasn't stopped a guy since March of 2010.
Cruz also hasn't been active for nearly two years, and, in a sport with a what-have-you-done-for-me-lately mentality, that's a big issue. It's also an issue because the division wasn't better when Cruz was active. In fact, it was much more shallow than it is now.
But let's focus on Barao.
The Brazilian hasn't lost a fight since 2005 (his professional debut) and has been dominant since joining the Zuffa bantamweight roster. He can finish fights, and his wins over McDonald, Pickett and Faber are bigger than any three wins Cruz can put together at the moment.
Of course, a title unification bout would go a long way in improving either Barao or Cruz's resume. For now, I'm giving Barao the slight edge.
But it's close.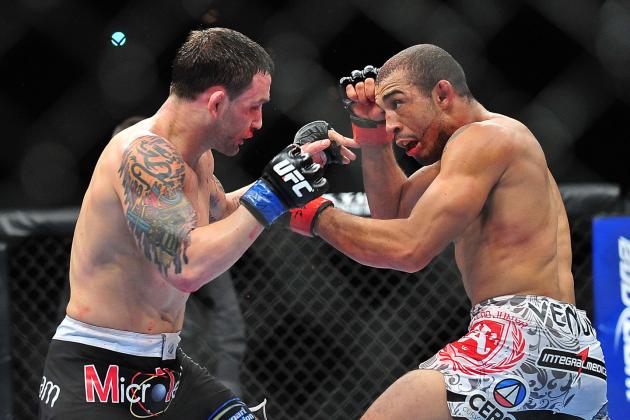 Gary A. Vasquez-USA TODAY Sports

The crown jewel of the UFC-WEC merger was undoubtedly Jose Aldo.
The featherweight champion was a human wrecking ball in the WEC. He seemed untouchable and was a featured player in just about every top-10 pound-for-pound list.
Guess what? He still is.
Aldo is marketable, frightening and serves as the face of the lighter weight classes. And he's done quite well for himself, putting together easily the most impressive resume of any champion at 145 pounds or lower.
Aldo is 7-0 in title fights, dating back to his November 2009 win over Mike Brown at WEC 44, and 4-0 in UFC title fights. He holds notable wins over Urijah Faber, Chad Mendes, Frankie Edgar and Kenny Florian. Pretty big names, right?
The fact of the matter is, Aldo has yet to really be put in danger, and he's fought the best of his division.
Out of the featherweight, bantamweight and flyweight divisions, the 145-pound weight class is the deepest. But that hasn't slowed Aldo's roll through the elite competition.
He's currently ranked the No. 4 pound-for-pound fighter according to the official UFC rankings, coming in behind Georges St-Pierre, Jon Jones and Anderson Silva.
Aldo is unquestionably one of the most prominent fighters in the UFC, and the end of his reign doesn't seem likely anytime soon. He is 26 years old, after all.
If he tops Chan Sung Jung, the No. 4 featherweight, at UFC 163, he will hold victories over four of the top five 145-pound fighters, leaving Ricardo Lamas as the lone top-five guy who hasn't lost to Aldo.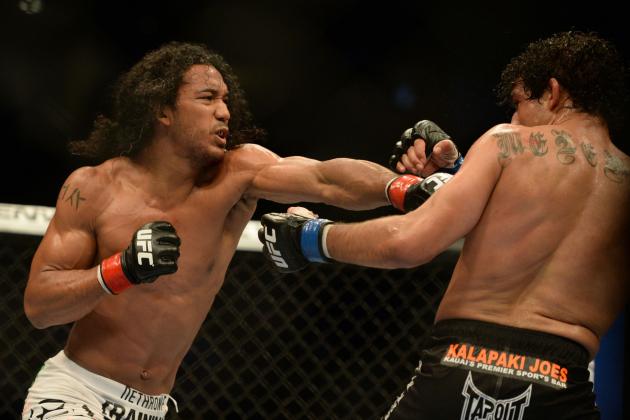 Kyle Terada-USA TODAY Sports

I'll be honest. Benson Henderson becoming the lightweight champion of the UFC was a moderately shocking moment for me.
His WEC career was great, up until Anthony Pettis basically erased all the success "Bendo" had achieved previous to their WEC 53 matchup. That "Showtime Kick" was so brilliant, yet brutal, I wasn't sure if Henderson would ever regain championship form after it.
Well, he has, and his UFC career has been even more impressive than his run from anonymity up the WEC ranks a couple years back.
After a 5-1 stint in the UFC's sister promotion, Henderson made the move over following the merger, earning back-to-back-to-back unanimous decision wins over Mark Bocek, Clay Guida and Jim Miller, earning him a title shot.
He made it count, topping Frankie Edgar via unanimous decision at UFC 144, then defending the title in an immediate rematch at UFC 150. He has defended the title twice since.
However, Henderson has failed to stop any opponent in the UFC, while he earned four stoppages in five WEC wins.
The former WEC lightweight champion made an improbable run to the lightweight title of the UFC after joining the division alongside the rest of the WEC talent pool. He next faces T.J. Grant at UFC 164, but a rematch against Anthony Pettis seems to be on the horizon.
That's the fight that will either solidify Henderson as the lightweight champion or send him crumbling down the ranks. His resume needs a revenge victory over "Showtime." And a few stoppage wins wouldn't hurt either.
Henderson simply finds himself winning by narrow decisions too often to be on the level of Jon Jones, Anderson Silva or Jose Aldo. He's going to have to gain some distance from the rest of the field before earning a spot as one of the sport's great champions.
Right now, apart from an injury-prone Dominick Cruz, Henderson might be the UFC's weakest champion.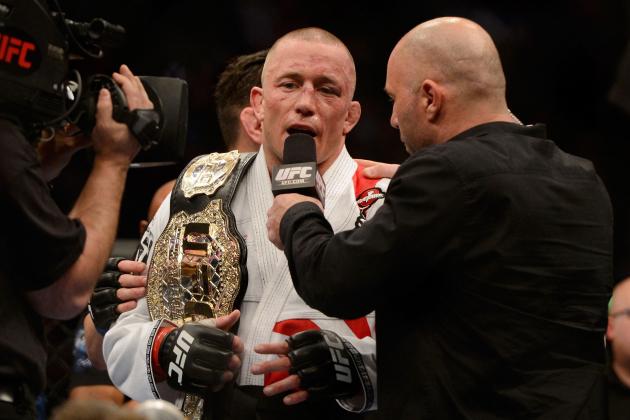 Eric Bolte-USA TODAY Sports

January 31, 2009.
That date marked the last time UFC welterweight champion Georges St-Pierre finished an opponent—B.J. Penn's corner called it quits ahead of a fifth and final round.
Since that day, the Canadian superstar has entered the Octagon on six occasions, winning every time by way of unanimous decision.
Now, his lack of finishes, alongside his apparent willingness to out-point his opponent, have all but ruled him out of the running for the No. 1 pound-for-pound slot. That spot belongs to Jon Jones or Anderson Silva.
But St-Pierre's dominance has not wavered.
In his last six fights, he has defeated, in order: Thiago Alves, Dan Hardy, Josh Koscheck, Jake Shields, Carlos Condit and Nick Diaz.
All of those wins came via unanimous decision, yes, but the statistics display just how dominant St-Pierre has been.
Since his April loss to Matt Serra way back in April of 2007, St. Pierre has never been outstruck in a bout—a scary statistic considering his wrestling remains his most dynamic weapon. And, since 2007, he has been taken down two times, with Josh Koscheck being the only man completing the task.
And his 75 percent takedown accuracy is the best in UFC history, while no fighter has landed more significant strikes.
Furthermore, he's fought, and defeated, every different type of fighter the UFC could throw at him. He topped muay thai specialist Alves without a problem, and kickboxer Condit couldn't mount much offense against GSP. The wrestler Koscheck was unable to keep St. Pierre down, while Jon Fitch and Jake Shields couldn't get him to the ground at all.
And Nick Diaz—trash talk and all—was always a step or two behind St-Pierre when they met at UFC 158.
Between his longevity and the fact that, 20 fights into his UFC career, he is still so dominant, St-Pierre's resume is one of the most impressive of any of the UFC champions. He doesn't get the knockouts that Silva gets, and his wins aren't always as effortless as Jones' seem to be, but St. Pierre has compiled one of the most impressive records in UFC history.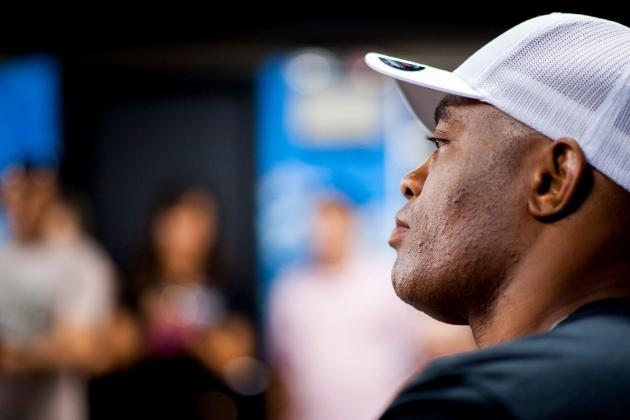 Buda Mendes/Getty Images

If there ever was a resume to analyze when looking for the greatest run in the history of Zuffa, it's Anderson Silva's.
The middleweight champion—and the greatest fighter in UFC history and probably the sport's—is a perfect 16-0 since debuting against Chris Leben at UFC Fight Night 5, and he's done it against the best.
Here are his notable victims:
Rich Franklin (twice), former middleweight champion
Dan Henderson, former Pride welterweight and middleweight champion
Vitor Belfort, former UFC light heavyweight champion
Chael Sonnen (twice)
Forrest Griffin, former UFC light heavyweight champion/TUF 1 Winner
That accounts for seven of his 16 wins, and Silva earned stoppages in all of them.
There really isn't much to say about "The Spider" that he hasn't already made clear in the cage during his seven years in the UFC. He fights the best, and he beats the best. And he's only happy when he is fighting the best—the Demian Maia and Thales Leites fights made that quite apparent.
While Jon Jones and Cain Velasquez are capable of building legacies similar to Silva's, they still have plenty of work to do to catch "The Spider," who easily owns the most impressive resume out of all UFC champions.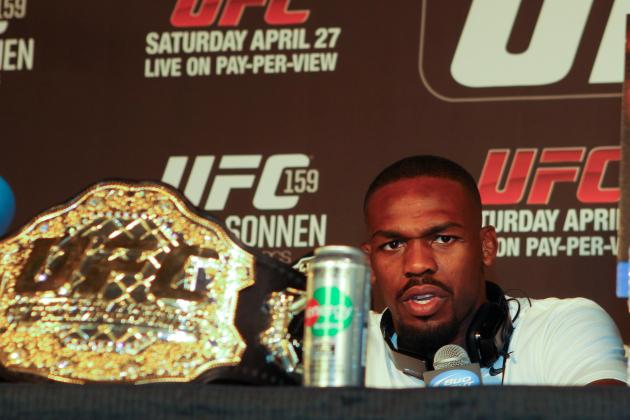 Brad Penner-USA TODAY Sports

The NBA has LeBron James. The UFC has Jon Jones.
But Jones seems to be more like MMA's Michael Jordan as opposed to LBJ, mostly because we've never seen anything like "Bones" before, at least at light heavyweight.
Jones is a freak athlete—a physical specimen whose physique outmatches anyone he's faced. He uses his incredible strength to bully opponents, his reach to win the striking game, and his power to finish, whether by submission or knockout.
And his resume, though cluttered with a few middleweights, is almost as impressive as his stature.
At 12-1 in the UFC, Jones will not finish his career with the promotion without defeat, something Silva is hoping to accomplish. But that loss—a disqualification against Matt Hamill—is hardly a black mark on his young career.
Also, of the 10 ranked light heavyweight contenders, Jones has defeated four of them, including Lyoto Machida (No. 1), Rashad Evans (No. 4) and Mauricio "Shogun" Rua (No. 7), from whom Jones stole the title.
However, in his past two contests, he defeated former middleweight top contenders Vitor Belfort and Chael Sonnen, leading to questions regarding the strength of competition for the champ.
And those questions are, at least to some extent, fair.
Fortunately for Jones, there are still challenges at light heavyweight, because he could use them. Alexander Gustafsson, who is next to fight Jones, and Glover Teixeira are two 205-pound fighters who could challenge the champion, while Machida is knocking on the door for a rematch.
Jones certainly has the most impressive resume in UFC light heavyweight history; Chuck Liddell and Tito Ortiz can't provide a body of work equivalent to what "Bones" can. Also, Jones is tied with Ortiz for the light heavyweight record for most consecutive title defenses.
Jones already is the top light heavyweight of all time, but if he could notch wins against Machida (in a rematch), Gustafsson and Teixeira, his career at 205 pounds may be insurmountable.
Kind of like Jordan's career in the NBA.
Gary A. Vasquez-USA TODAY Sports

The UFC heavyweight division, after years of mediocrity, has finally become a competitive class in the UFC, and Cain Velasquez holds the keys to the top spot.
The UFC heavyweight champion has been the most dominant fighter in his division for about three years now, ever since he usurped Brock Lesnar to take the title back at UFC 121.
The future seemed bright, the possibilities at greatness almost certain. Then came Junior dos Santos.
"Cigano" stole the title away from Velasquez at UFC on Fox 1 with an opening round knockout in November of 2011. In the rematch of their first fight at UFC 155, Velasquez dominated dos Santos en route to a unanimous decision victory, and the Brazilian was left almost unrecognizable after the contest.
Now, at 10-1 in the UFC, Velasquez looks to continue to build up his resume.
So far, here are his five biggest wins:
Junior dos Santos (UFC 155)
Brock Lesnar (UFC 131)
Antonio Silva (UFC 160)
Antonio Rodrigo Nogueira (UFC 110)
Antonio Silva (UFC 146)
Excluding dos Santos, the other four listed fighters have a combined UFC record of 11-9. Obviously, there's room for improvement in terms of strength of competition.
And fighting Silva a second time seemed to be more an issue of the division lacking contenders than "Bigfoot" actually deserving it. He was almost murdered in their first meeting, after all.
But strength of competition isn't Velasquez's fault; the division is witnessing the fallout of some aging veterans, while prospects attempt to fill their slots.
The champion will likely be challenged more in the coming years than he was previously, and his resume could use it. He has the tools to be the greatest heavyweight champion of all time, and he's not far off.
A second win against dos Santos would go a long way in making that happen.