The first day of action at the 2013 Wimbledon Championships featured many a predictable result, but there were some shocking scores that nobody saw coming.
Among those who coasted through Round 1 were Roger Federer and Victoria Azarenka. Maria Sharapova and Jo-Wilfried Tsonga also made it past their first-round opponents, but it wasn't as easy.
Other top players didn't fare as well, losing in surprising fashion to lesser opponents.
Here's a look at how all the top players fared on Day 1 at the All England Club in London.
Day 1 Singles Results
Match
Score
Men's Draw
Roger Federer (3) defeats Victor

Hanescu

6-3, 6-2, 6-0
Steve

Darcis

defeats Rafael Nadal (5)
7-6, 7-6, 6-4
Marin

Cilic

(10) defeats Marcos

Baghdatis

6-3, 6-4, 6-4
Jo-Wilfried

Tsonga

(6) defeats David

Goffin

7-6, 6-4, 6-3

Jerzy

Janowicz

(24) defeats Kyle Edmund
6-2, 6-2, 6-4

Viktor

Troicki

defeats

Janko

Tipsarevic

(14)
6-3, 6-4, 7-6

Jurgen

Melzer

defeats Fabio

Fognini

(30)
6-7, 7-5, 6-3, 6-2
Mikhail

Youzhny

(20) defeats Robin

Haase

6-4, 7-5, 7-5
Benoit

Paire

(25) defeats Adrian

Unger

6-4, 4-6, 6-3, 6-1
Juan Monaco (22) defeats Bastian

Knittel

6-4, 6-2, 6-3
John

Isner

(18) defeats

Evgeny

Donskoy

6-1, 7-6, 7-6
Women's Draw
Maria Sharapova (3) defeats Kristina

Mladenovic

7-6, 6-3
Victoria

Azarenka

(2) defeats Maria

Joao

Koehler

6-1, 6-2
Ana

Ivanovic

(12) defeats Virginie

Razzano

7-6, 6-0

Jelena

Jankovic

(16) defeats Johanna

Konta

6-2, 7-5
Monica

Puig

defeats Sara

Errani

(5)
6-3, 6-2
Eva

Birnerova

defeats

Varvara

Lepchenko

(26)
6-2, 4-6, 6-4
Carla Suarez Navarro (19) defeats Lourdes Dominguez Lino
6-2, 6-2

Alize

Cornet (29) defeats Vania King
4-6, 6-3, 6-1
Lucie

Safarova

(27) defeats Lauren Davis
6-4, 6-0
For a full list of results, visit Wimbledon.com
Most Surprising Results From Day 1
Monica Puig Defeats Sara Errani (5)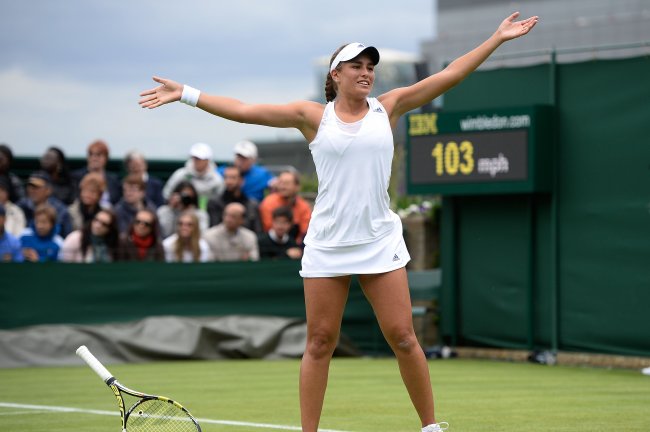 Dennis Grombkowski/Getty Images
Those who follow the sport of tennis closely may not have been too shocked to see Errani lose in Round 1 of this year's Wimbledon, but it's always a surprise when a top-ranked player is ousted so soon.
Errani lost in the first round last year, and she's never gotten out of the third round at the All England Club in her six Wimbledon appearances.
Which result shocked you the most?
Puig dominated her match against Errani. She scored four aces, hit 38 winners to Errani's 13 and had Errani running wild throughout the match.
The Puerto Rican teenager has not yet won a single event on the WTA Tour. This was her first Wimbledon, and thus far she's made the most of it.
Steve Darcis Defeats Rafael Nadal (5)
In the most surprising match of the day—nay, the year—Nadal lost to an unheralded veteran who had only won two matches before this one in 2013.
Darcis—the No. 135-ranked player in the world—looked like Pete Sampras on the grass court at the All England Club on Monday.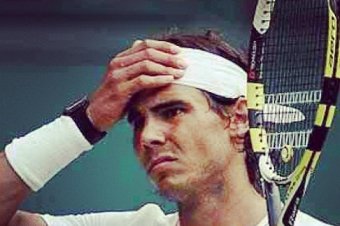 The Belgium-born player outplayed Nadal in every facet of the game and punished the King of Clay with powerful serves and a brilliant display of shotmaking from everywhere on the court. He landed 13 aces, blasted 53 winners and won three break points in his improbable victory.
For Nadal, this loss will certainly be a huge disappointment after his stellar return. As ESPN Stats & Info noted, it was Nadal's first career Round 1 loss in a Grand Slam:
Rafael Nadal: loses in 1st round of a Grand Slam for 1st time in career (34-1)

— ESPN Stats & Info (@ESPNStatsInfo) June 24, 2013
For Darcis, his adventure is just getting started. He'll take on Lukasz Kubot in Round 2 to fight for a chance to move on in the brutal bottom half of the men's draw at Wimbledon.
Follow me on Twitter @JesseReed78