NHL Draft 2013: Final Look at Philadelphia Flyers' Best Options in 1st Round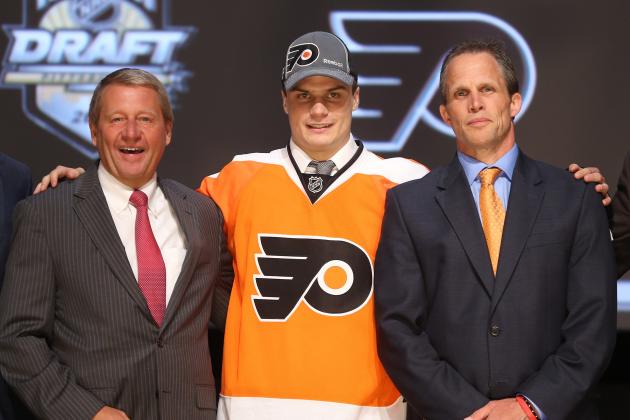 Bruce Bennett/Getty Images

The 2013 NHL draft is just six days away, and speculation continues to run rampant about what teams will do in the days leading up to the draft and then on draft day itself.
The Philadelphia Flyers always seem to be among the league's most active clubs, and rumors have already surfaced about the team's interest in acquiring Anaheim's Bobby Ryan.
But the asking price for Ryan, and any other attractive trade targets, will require a package that likely would have to include Philadelphia's first-round pick (11th overall). The Flyers have needs, particularly on defense, that must be addressed this offseason, and this draft is already being projected as one of the deepest in recent memory. With that, it seems hard to imagine the club parting with its first-round selection.
Here's a final look at the five best options for the Orange and Black in the first round.
Begin Slideshow

»
The Flyers' biggest needs clearly exist on defense.
Philadelphia isn't overly young, mobile or physical on the back end right now. Selecting Nurse would change all of that.
The nephew of longtime Philadelphia Eagles quarterback Donovan McNabb, Nurse is quickly becoming the most attractive defensive option on the board after Seth Jones.
A 6'4", 185-pound native of Hamilton, Ontario, Nurse is the total package. He defends well in his own end, has improved his transitional play on the offensive side of things and plays with the kind of physical edge that will quickly make him a fan favorite in Philly.
After just one goal and 10 points with the Sault Ste. Marie Greyhounds (OHL) last season, Nurse produced 12 goals, 41 points and 116 penalty minutes this past year.
It remains to be seen if Nurse will fall all the way to the 11th selection, but if he does, he's just too good for the Flyers to pass up.
A considerably more likely option at the 11th slot, Ristolainen would be a solid selection for the Flyers if Nurse is no longer available.
A native of Turku, Finland, Ristolainen is a strong skating defenseman who possesses a solid 200-foot game. At 6'2", 190 pounds, he has the size, stature and willingness to be a force in front of his own net and has developed into a regular offensive contributor as well.
In two seasons with TPS Turku, Ristolainen amassed six goals, 17 assists and 23 points to go along with 110 penalty minutes in 92 games.
The Flyers have certainly enjoyed the services of one Finnish-born defender in recent years and could be on their way to securing another.
The addition of Mark Streit coupled with the return of Kimmo Timonen means the Flyers have essentially identified their two power-play quarterbacks for next season. But what about beyond?
Even though he's inked to a four-year pact, Streit is already 35 and has logged a ton of ice time in recent years. Meanwhile, Timonen has just one more guaranteed season in Philadelphia after signing a one-year extension with the club in early February.
The answer could be Ryan Pulock.
A native of Grandview, Manitoba and one of the oldest players in this year's draft, Pulock will turn 19 in October and already has three years of major junior playing experience under his belt.
A dynamic skating offensive leader, Pulock recorded 14 goals, 31 assists and 45 points in 61 games with the Brandon Wheat Kings (WHL) this past year while tallying 147 points in 195 career games in Brandon.
As evidenced in the highlight video above, Pulock's most attractive attribute is his shot. The right-handed blueliner possesses an absolute cannon from the point, which helped produce 41 goals in his three-year tenure with the Wheat Kings.
Pulock's blistering trigger from the high slot coupled with his smooth skating and offensive mindset make him tremendously well suited to quarterback an NHL power play for many years to come, and at 6'1", 200 pounds, he possesses good enough size to compete in his own end.
The Flyers desperately need to restock their defensive corps, but if Nurse, Ristolainen and Pulock are all gone by the time Philadelphia selects 11th overall, it could be hard to pass on a player like forward Sean Monahan.
Widely regarded as one of the smartest two-way players in the entire draft, Monahan could be set to join an NHL squad sooner than most.
A 6'2", 190-pound native of Brampton, Ontario, Monahan spent the past three seasons with the Ottawa 67's and spent this past year as the team's captain.
While not an overwhelming point producer, Monahan paced Ottawa in scoring this past season with 78 points (his second straight 78-point campaign) while recording 84 goals and 203 points in 185 career games with the 67's.
More importantly, he possesses exceptional hockey sense at the game's most responsible position, center.
The Flyers have had outstanding success recently when drafting centers in the first round (Claude Giroux, Jeff Carter, Mike Richards), and while the need to add yet another young, dynamic forward may not be that overwhelming for Philadelphia, it might be hard for the Orange and Black to allow a player like Monahan to slip through.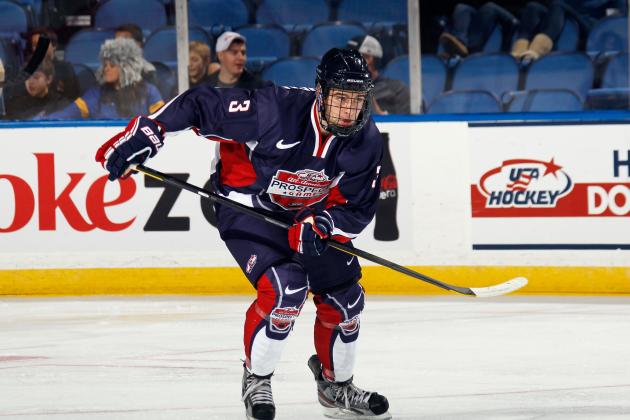 Bruce Bennett/Getty Images

At the 11th spot in this year's draft, Ian McCoshen would be a slight reach.
But if the four names previously mentioned are gone by the time the Flyers pick, it might behoove Philadelphia to trade down in the first round to acquire immediate value while still securing McCoshen.
A 6'3", 205-pound defender from Hudson, Wis., McCoshen has all of the tools to be a reliable NHL blueliner for many years to come.
He's not afraid to use his size to physically intimidate the opposition and also possesses above-average skating and hockey sense to contribute offensively at the other end.
One of the top defensemen in the USHL last season, McCoshen notched 11 goals, 33 assists and 44 points to go along with a plus-35 rating in just 53 games with the Waterloo Black Hawks.
His versatility will make him valuable when teams need shutdown defenders or contributions from the defensive unit, and his on- and off-ice leadership will be invaluable in all situations.